Epson SureColor T3170 Review
Epson's SureColor T3170 makes our list as our best pick for architects. This model creates crisp lines, is reasonably sized and can quickly print items up to 24 inches wide. By thinking small and stripping wide-format printing to its essential elements, Epson's SureColor T3170 can have a huge impact on a company's largest printing jobs. It's an excellent alternative to an office tabloid printer without sacrificing speed and print quality.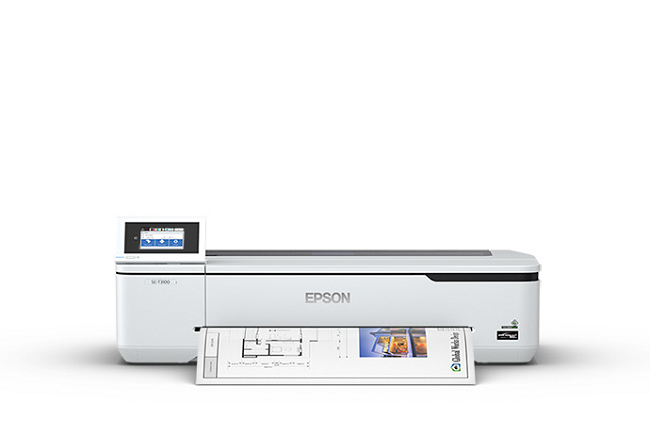 Epson SureColor T3170
The Verdict
The Epson SureColor T3170 is our best pick for architects. The printer works efficiently and draws accurate lines, which is critical for architects.
With a 24-inch-wide carriage, the T3170 may not compete as well as printers that use 36-, 44- or 65-inch stock, but it works well for projects like architectural plans, school banners, large Excel spreadsheets and marketing materials.
To view all our recommendations for wide-format printers, visit our best picks page.
Pricing
At $995, the T3170 is incredibly affordable for this size of machine. It is no hulking machine that needs its own room – it's compact without losing performance or quality.
Epson sells 16 kinds of paper on 24-inch-wide rolls, including premium photo media of several different finishes, as well as plain paper for works in progress, but it lacks fabric and vinyl options. Paper typically costs between $65 and $250 per roll, and the T3170 can print directly onto 11 x 17-inch paper stock.
The T3170 is one of the most affordable wide-format printers in the industry. Small architectural firms, or even larger firms looking for an affordable and dependable option, should look at this model.
Product Specs
Smaller and lighter than the company's SureColor T3270 printer, the T3170 measures 38 x 20 x 9 inches and weighs 59 pounds. It can sit on a table, shelf or even wheeled cart. Unlike traditional wide printers, it doesn't include an output tray or print catcher, but Epson sells an optional stand.
Like HP's more expensive DesignJet T120, the Epson SureColor T3170 uses four inks: black, cyan, magenta and yellow. Epson's pigment-based UltraChrome XD2 ink family uses an aqueous formulation, and the inks are colorfast and quick to dry. They should be fine for mixing text with images, such as in a plan for a new office complex with a 3D color image in the corner, or a spreadsheet with outlines of sales regions and product photos. A drawback, however, is that printed materials are not rain or weather-resistant and are intended for indoor or occasional outdoor use.
With a 1.3-inch-wide MicroTFP piezoelectric printhead, the SureColor T3170 matches the output of the SureColor T3270 with droplets as small as 3.5 picoliters. The printer has a top resolution of 2,400 dots per inch, twice the fine details that the DesignJet T120 can print. It also matches the T3270 with lines as small as 0.018 mm with an accuracy of +/- 0.1 percent – more than enough for a technical drawing, scientific plot or a marketing poster. However, the T3170 can't produce borderless 24-inch prints.
The printer has self-cleaning nozzles and Epson's Nozzle Verification technology to monitor its spray pattern. If any nozzle clogs, the printhead sends a signal to adjacent nozzles to assist so there are fewer wasted prints or delays. The only necessary maintenance is periodic replacement of the overflow tank in the back.
A disadvantage, though, is that the printer's ink cartridges are small: They hold 26 and 50 ml for colored ink and 50 or 80 ml for black ink. You'll change the cartridges more often than you would with wide-format printers that use larger ink modules.
Without a native processor or hard drive, the T3170 relies on its host computer more heavily than some other printers. It can use ESC/P, HP-GL/2 and RTL languages; Postscript is not available on this bare-bones printer.
It connects via Ethernet or Wi-Fi so your office can share the printer. Alternatively, it can use USB cabling with a dedicated computer, but the printer lacks a USB port in front for inserting a flash drive to produce quick prints. The system comes with software and drivers for PCs and Macs, as well as wireless apps for iPhones, iPads and Android devices.
Features
The Epson SureColor T3170's control center is its 4.3-inch color touchscreen. In addition to letting you select print quality and resolution, the display shows the current configuration, the type of paper being used and ink levels.
Unlike the larger members of the SureColor T family, the T3170 doesn't have an add-on scanner available that could turn it into a large-format multifunction copier/printer. You can directly connect the company's DS-530, DS-7500 or DS-70000 external page scanners to the T3170. Because the T3170 holds a single roll of paper, it takes a few minutes to change media.
After the print is done, the rotary cutter slices it from the roll. Rather than using an output tray or fabric print catcher, the T3170 gently holds the output in place until someone grabs it.
By stripping everything to the basics, the T3170 is fast. Epson rates its speed at 34 seconds to produce a D-sized (24 x 36 inches) print. The printer's size, speed and reliability make it an ideal option for architectural firms. The combination of size and speed also make it a printer that can be used by working professionals who frequently use detailed spreadsheets. An affordable price makes this printer a quality option to produce large spreadsheets on larger paper than the traditional 8.5 x 11-inch route.
Designed with architects in mind, the exact lines, reasonable price and simplicity make this an ideal selection for architects. The ability to also create large spreadsheets is a bonus. Overall, the printer keeps everything simple – the SureColor T3170 isn't overly complicated.
The SureColor T3170 is efficient, fast and precise. Yes, there are wide-format printers on the market with more features, that produce significantly larger prints and that are more suited to industries outside architecture. Despite all the other fancy offerings on the market, few printers, if any, are as consistent, reliable and trustworthy as Epson's SureColor T3170.
It gets the job done in a timely fashion and rarely makes errors. It might not be the only printer in an architecture firm, but it's earned the right to have a place in smaller architectural firms.
November 2020: Epson has announced its expansion of the SureColor line of multifunction large-format printers with the launch of the SureColor ST-T3100M and the SC-T5100M. These models are designed specifically for workplaces with limited space for a printer.
These two new printers, sized at 24 and 36 inches respectively, are best suited for "technical drawing, plotting CAD, GIS maps and printing a range of assets for the retail and hospitality sectors." They feature a top-loading 600 dpi scanner, can print and scan directly to and from USB, and have internet connectivity with support for cloud storage as well as the Epson Cloud Solution PORT platform.
Customer Service
Like other SureColor T printers, the T3170 includes a one-year warranty. Epson sells extended coverage, but you'll have to buy it before the original coverage has ended. This is standard for most of the warranties we've seen across the industry, as most companies offer one-year warranties with the ability to purchase additional warranty time.
Additional reporting by Brian Nadel.
Image Credit: wir0man / Getty Images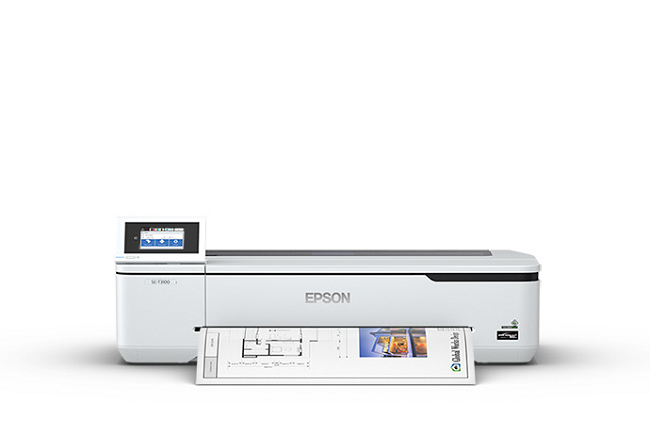 Epson SureColor T3170
The Verdict
The Epson SureColor T3170 is our best pick for architects. The printer works efficiently and draws accurate lines, which is critical for architects.

Bennett Conlin
business.com Member
Bennett is a B2B editorial assistant based in New York City. He graduated from James Madison University in 2018 with a degree in business management. During his time in Harrisonburg he worked extensively with The Breeze, JMU's student-run newspaper. Bennett also worked at the Shenandoah Valley SBDC, where he helped small businesses with a variety of needs ranging from social media marketing to business plan writing.