Exact Data Review
By Business.com Editorial Staff
Last Modified: January 24, 2019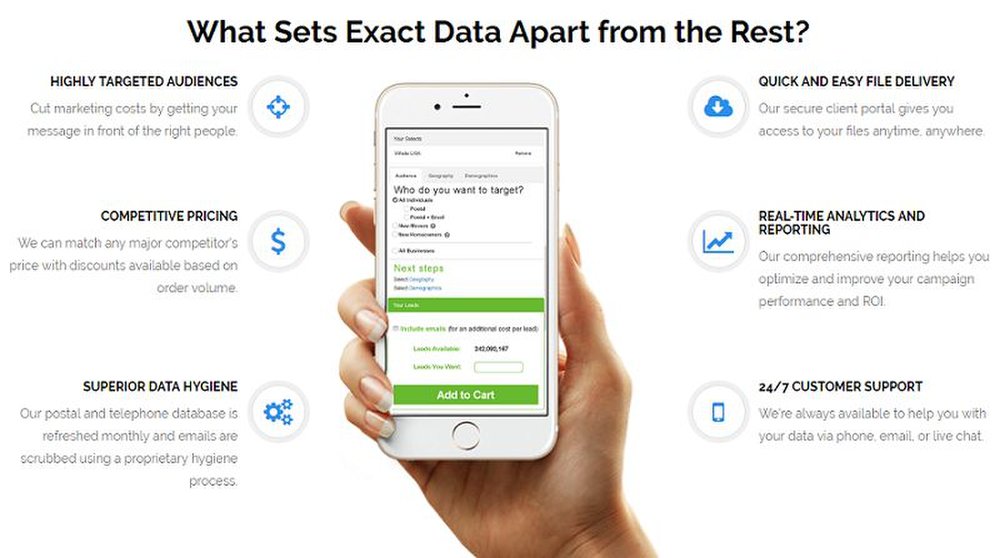 Exact Data image: This list broker allows you to build lists from your phone with its mobile site.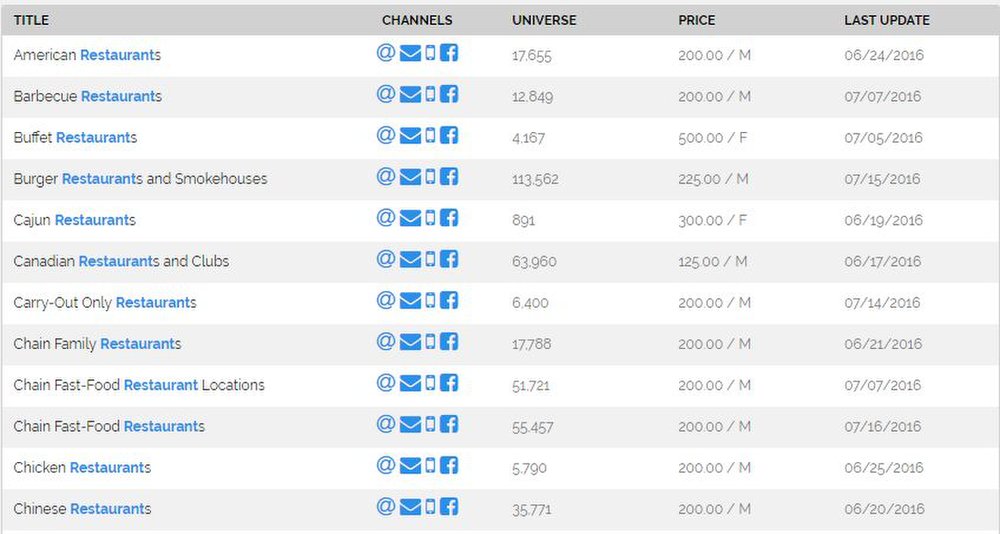 Exact Data image: You can search for keywords and browse preassembled lists to pick from.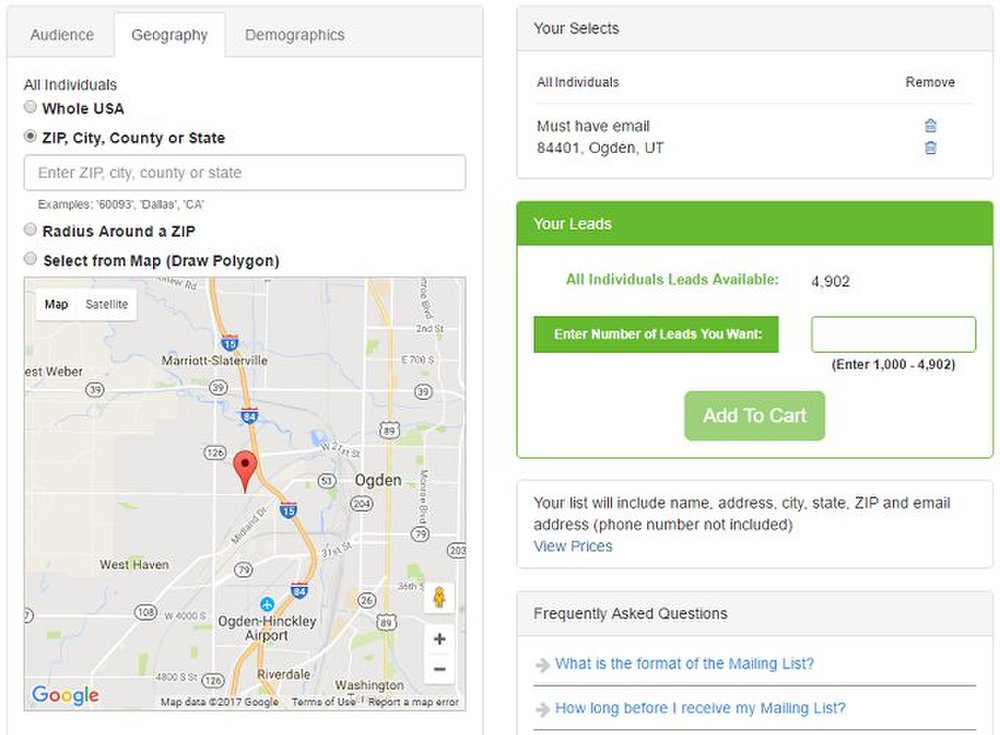 Exact Data image: The list builder allows you to refine a list based on geographic location, which you can customize with an interactive map.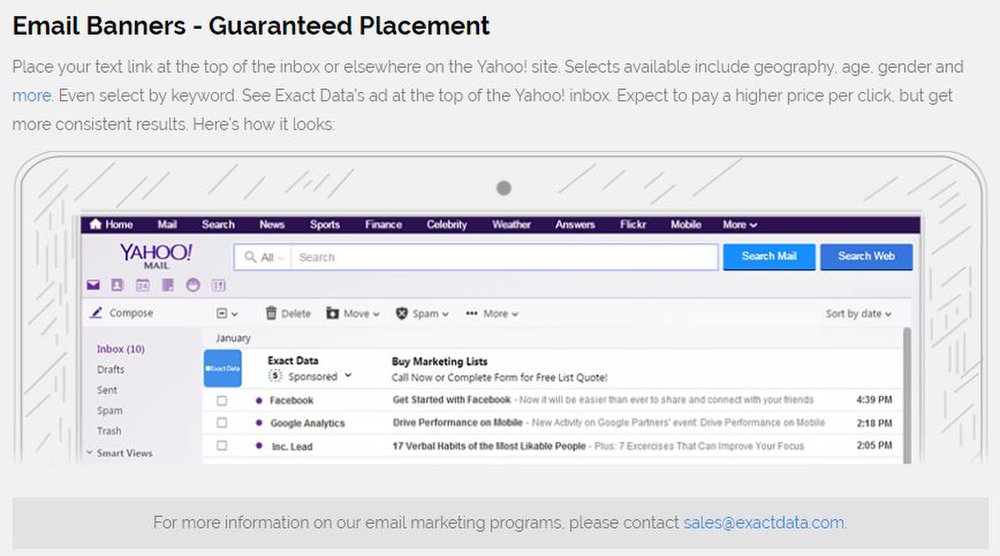 Exact Data image: A unique way to direct market besides postal and email is the email banner service, which places your business at the top of certain email platforms' inboxes.
Exact Data is a list broker service that lets you craft your ideal customer prospects list, or, as another option, it gives you a selection of consumer and business lists to choose from. This company also has multiple direct marketing avenues, some of which aren't offered by the other list brokers we reviewed.
While Exact Data offers numerous lists with niche titles such as "affluent jewelry buyers," "aircraft owners who travel internationally," and "Canadian Catholic clergy," their actual list-building feature contains few of the criteria required to make such specific lists yourself. In addition to these prospect lists, they also offer propensity lists, which are lists of customers who have expressed loyalty to certain brands. These lists are more expensive, however.

When building a list, you can also request that email addresses and phone numbers be included, which gives you opportunities to conduct follow-up email or telemarketing campaigns. International lists are also available. One of Exact Data's biggest drawbacks, though, is its $750 minimum purchase requirement, which was among the highest minimums out of all the companies on our list.
Exact Data can help you conduct several different types of direct marketing campaigns through online means. For example, it has an email broadcast service that will transmit your marketing materials to a list of contacts they determine to be the most receptive to your product or service.
Other marketing avenues they offer include an email banner that appears in a prospect's inbox. This is for users of certain email platforms, including Yahoo Mail. Exact Data also allows you to conduct a social media marketing campaign, which can be targeted toward your desired audience on platforms like Facebook.
We awarded Exact Data's customer service a satisfactory score. Representatives were straightforward and offered us helpful answers; however, the time it took for them to respond to our inquiries was slow, with the response to our first inquiry taking a few days. The website features a responsive live chat feature, and you are paired with a representative who serves as your point of contact for support and sales.
Exact Data is a list broker that can connect you with hundreds of different premade lists for niche markets. It lacks the ability to help you build an effective list of your own, and its lists are pricey. That said, its direct marketing features further allow you to craft follow-up campaigns through email and social media, which, for some businesses, may offset the cost of its lists.


Business.com Editorial Staff
The purpose of our community is to connect small business owners with experienced industry experts who can address their questions, offer direction, and share best practices. We are always looking for fresh perspectives to join our contributor program. If you're an expert working in your field – whether as an employee, entrepreneur, or consultant – we'd love to help you share your voice with our readers and the Business.com community. We work hard to only publish high-quality and relevant content to our small business audience. To help us ensure you are the right fit, we ask that you take the time to complete a short application: https://www.business.com/contributor/apply/ We can't wait to hear what you have to say!