Fishbowl Review
By Business.com Editorial Staff
Last Modified: October 27, 2018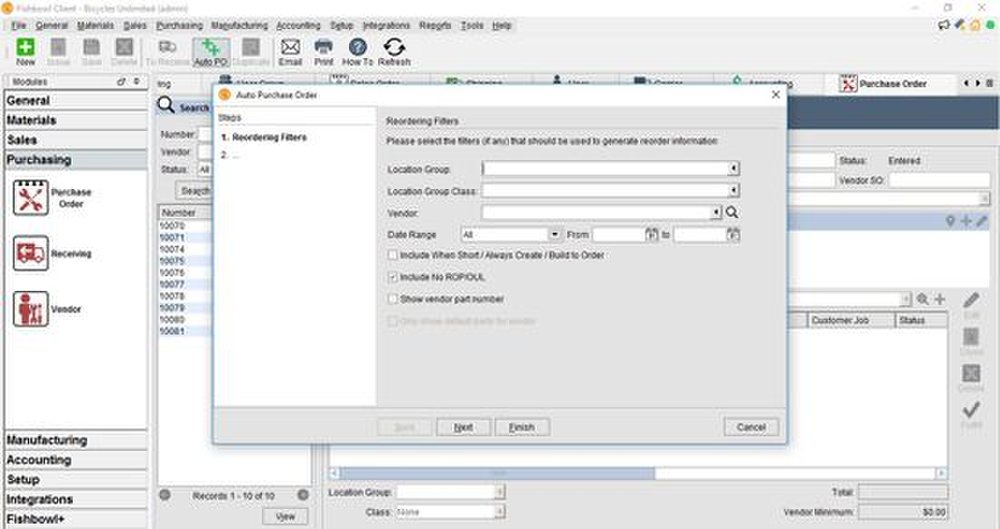 Fishbowl image: You can determine at which level the software will automatically reorder the item in question from your vendors.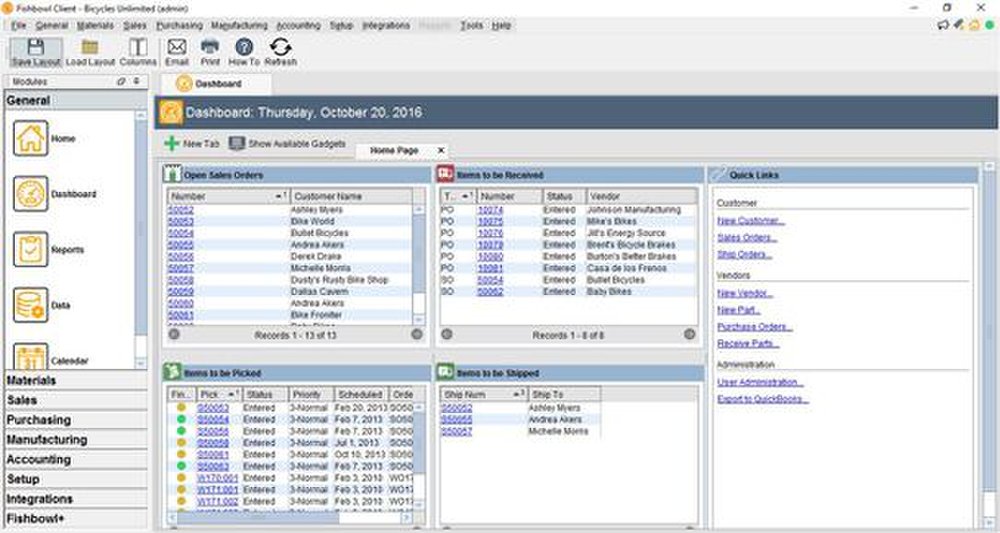 Fishbowl image: Your Fishbowl dashboard shows items that need to be shipped, received and picked as well as other important data.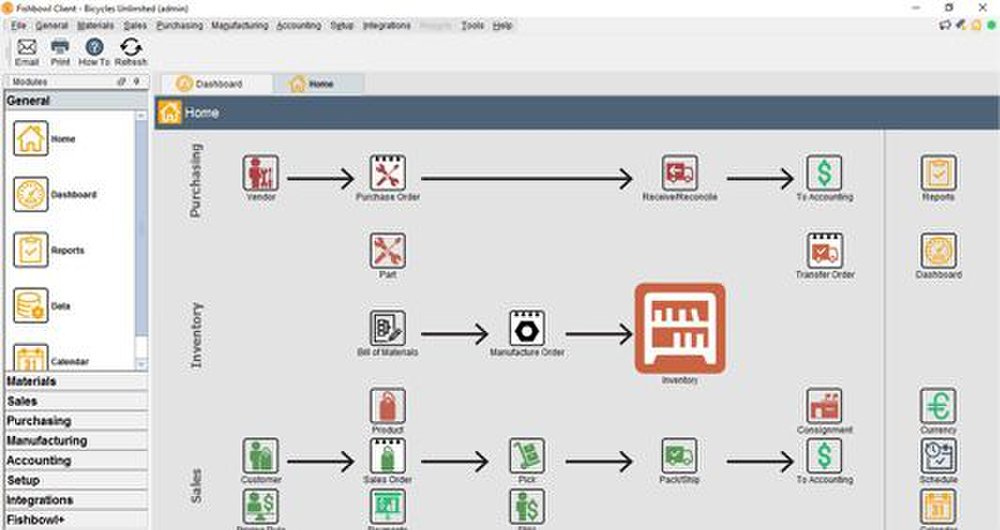 Fishbowl image: The Fishbowl homepage illustrates how to purchase, track and sell your inventory.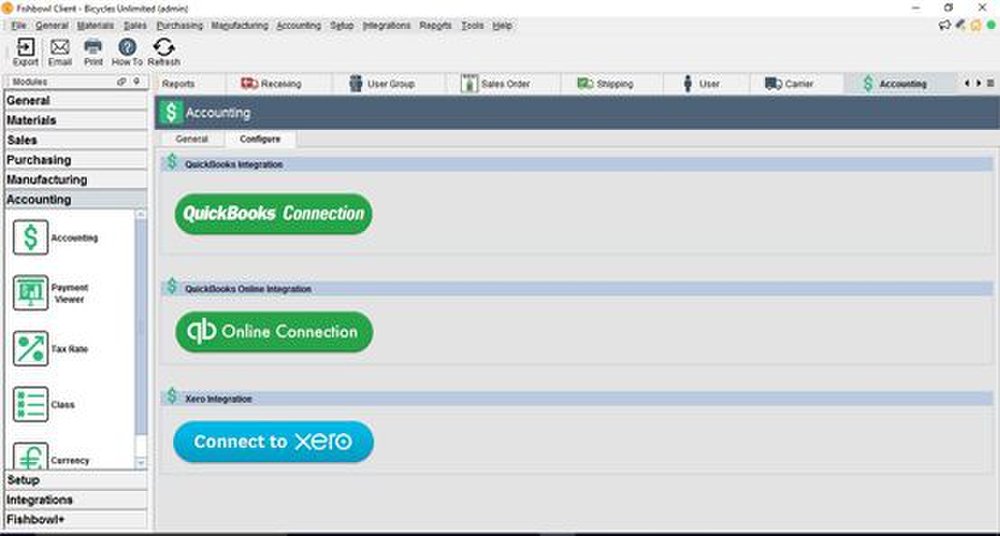 Fishbowl image: This inventory tracking software can integrate with QuickBooks and Xero.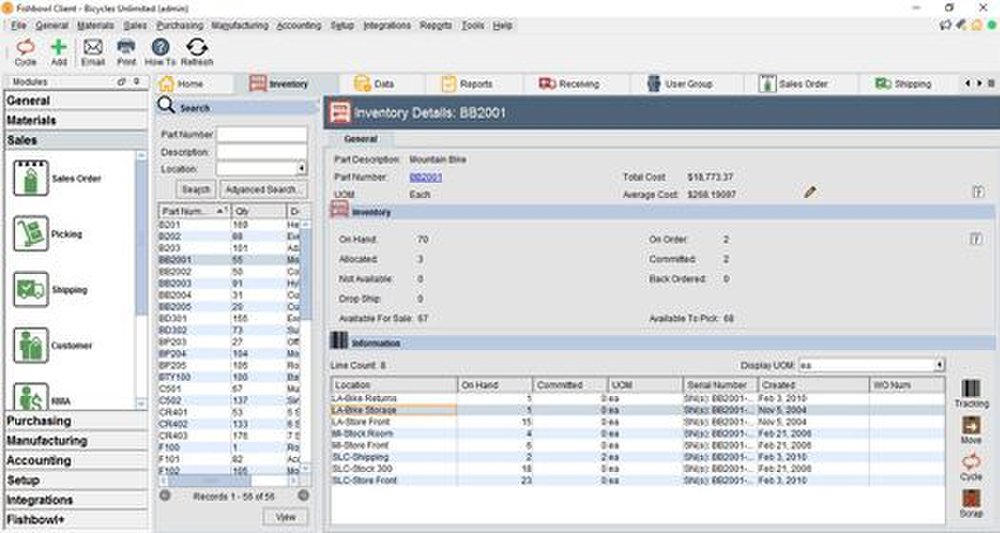 Fishbowl image: The Inventory Details window shows you how many items you have on hand as well as how many are available to sell and how many are back ordered.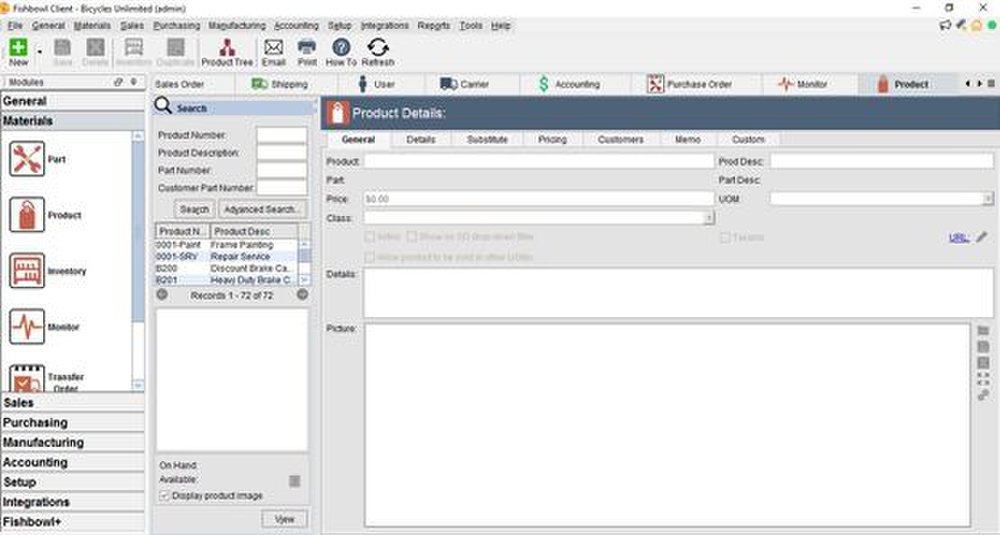 Fishbowl image: You can add product details, including custom notes and pictures, to your inventory items.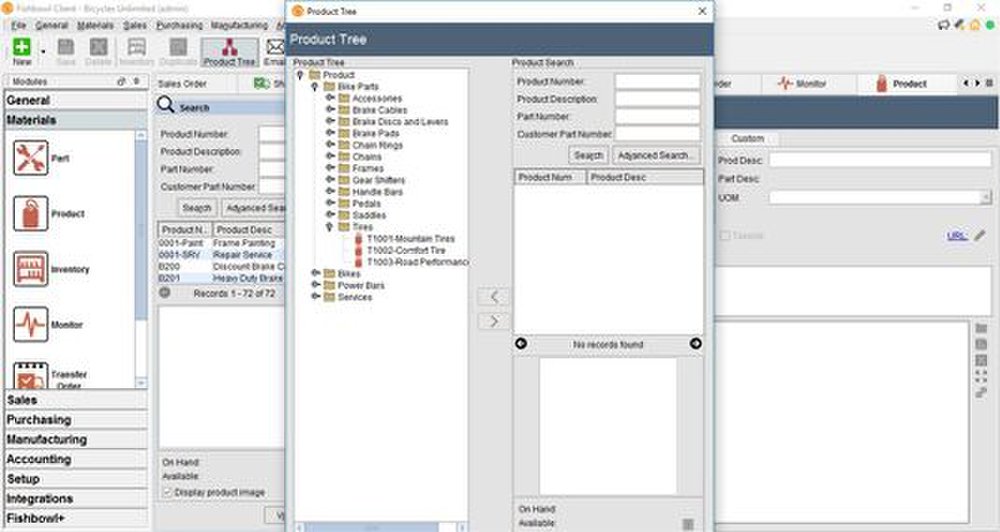 Fishbowl image: Fishbowl organizes your inventory into a product tree so you can easily find your stock.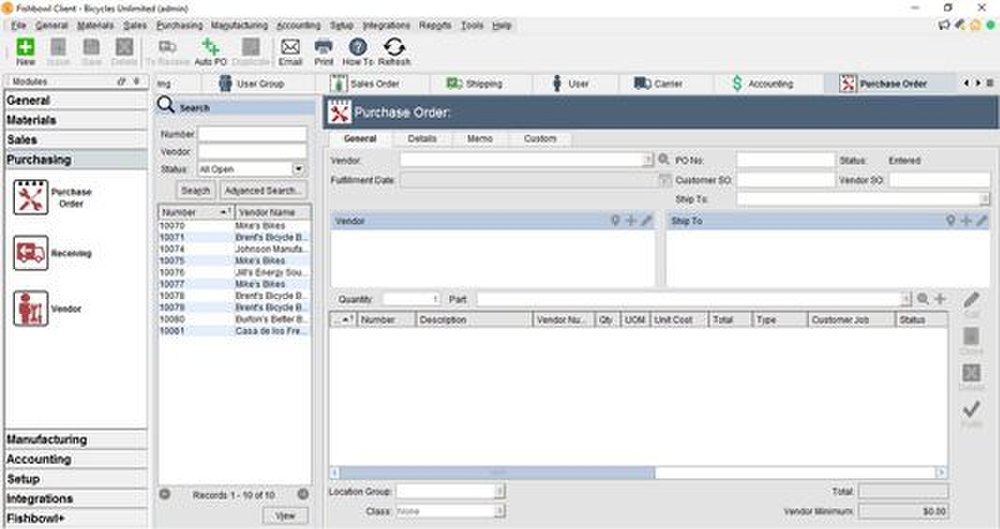 Fishbowl image: You can create new purchase orders as you need to order more stock from your vendors.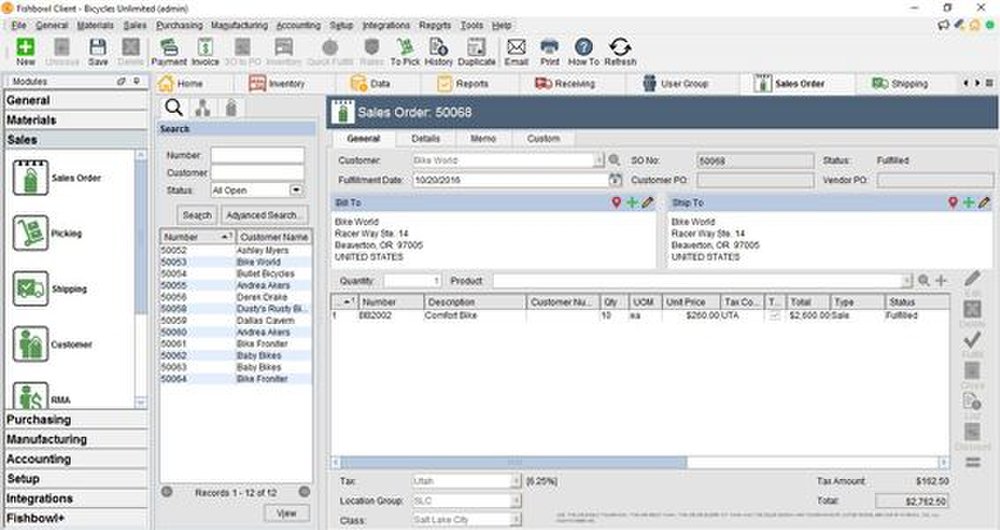 Fishbowl image: Fishbowl lets you create sales orders so you can track where your inventory is going and who is buying which products.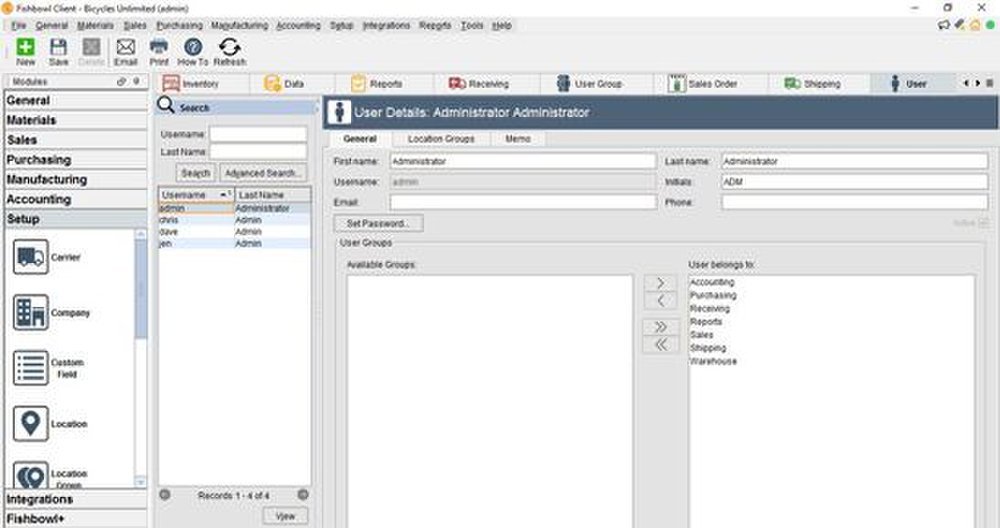 Fishbowl image: You can set up different levels of access for the different departments in your business. This ensures that your employees only see what they need to see.
Fishbowl is an inventory software program that integrates directly with QuickBooks. It is easy to use and has a clean, modern interface. Importing your products into your program is easy, and Fishbowl is one of the more organized inventory software applications we reviewed since it allows you to track serial and lot numbers. Because of its comprehensive feature set, including its strong collection of inventory management, sales, order-tracking tools and multiple customer support options, this inventory management software receives our Gold Award.
Fishbowl has several different programs geared to manufacturing or warehouse businesses. The cost depends on the number of users and the particular integrations to your business. The cost of this software may be higher than what many small businesses can afford, but if you plan to scale up, this inventory program may be a good option. As with all of the services in our review, a free trial is available so you can try it out before you commit.

Fishbowl
Best Inventory Software
The Verdict
Fishbowl combines an easy-to-use platform with excellent sales and order tracking features. Though you can't import products from your online sales channel, you can customize it to match your particular business's needs.
Visit Site ▶
Fishbowl is highly customizable and includes modules for time tracking, retail management and asset tracking, making it ideal for businesses looking for an all-encompassing program to help them run multiple facets of the business.
A good inventory management program includes administrative features so you can manage the users who will use the program. Fishbowl lets you set access levels for your employees, and you can customize your reports. You can export data in CSV files as well as directly to QuickBooks. One possible disadvantage of Fishbowl is that it does not have the ability to support multiple languages, which may be a problem if you're a global business.
For our review of inventory software, we tested each program, evaluating each one based on how easy it was to use, how intuitive the interface is and how accurate it is with tracking inventory. Fishbowl received a score of 83 percent, which is higher than the average. Our reviewers found it simple to use, with an uncluttered, understandable interface. There are a few extra steps involved in creating sales orders, but they ensure thoroughness and prevent you from making mistakes. The extra steps also help you with accuracy, as this was one of the few programs that requires you to pick the stock you sell, meaning that you track it by serial number. This process does take some additional time to learn and master, however, so if you're looking to process orders in a hurry, this may not be the software for you.
We looked at the options for importing products. With Fishbowl you can input products by lot or serial number, by manually entering product data, by importing from spreadsheets, or by scanning the product barcodes. You can't import directly from a sales channel, which is one of the biggest disadvantages of this program. While this software does integrate with eCommerce platforms, not being able to import from an online sales channel might not make this the best choice for online businesses.
This inventory management program sends you low inventory notifications. You can also attach notes or photos to a product as you add stock. Manufacturers can send bills of materials with the program, making it one of the few programs we reviewed that offered this option. This feature, along with its ability to track serial and lot numbers, makes Fishbowl ideal for warehouses.
Fishbowl has its own proprietary POS system, making it a good option for small businesses that need a customer-facing system, including brick-and-mortar businesses. You can manage partial orders and handle multiple currencies, which can be helpful if you deal with clients and customers from different countries. Fishbowl also lets you track your customer and vendor information in databases so that you can easily organize your data all in one place.
In terms of help and support, Fishbowl earned high marks. It has a thorough knowledgebase that is comprehensive and easy to use. Email, phone and live chat support are available if you can't find an answer to your questions in the knowledgebase.
This inventory software is available for Windows and Mac operating systems. It does not offer SaaS options or an accompanying mobile app. If you value the flexibility of a cloud-based inventory program or want to track inventory on the go, a SaaS-based option may be preferable.
Fishbowl is our highest-rated inventory software. It combines an easy-to-use platform with excellent sales and order-tracking features. It integrates with a wide range of popular programs and is well suited for businesses of all sizes. Fishbowl is especially well equipped to work with warehouses since it can track serial and lot numbers. This inventory software has a comprehensive feature set, lacking only multiple language options and the option to import your products from various sales channels.

Fishbowl
Best Inventory Software
The Verdict
Fishbowl combines an easy-to-use platform with excellent sales and order tracking features. Though you can't import products from your online sales channel, you can customize it to match your particular business's needs.
Visit Site ▶
Ready to choose your Best Inventory Software? Here's a breakdown of our complete coverage:
Business.com Editorial Staff
The purpose of our community is to connect small business owners with experienced industry experts who can address their questions, offer direction, and share best practices. We are always looking for fresh perspectives to join our contributor program. If you're an expert working in your field – whether as an employee, entrepreneur, or consultant – we'd love to help you share your voice with our readers and the Business.com community. We work hard to only publish high-quality and relevant content to our small business audience. To help us ensure you are the right fit, we ask that you take the time to complete a short application: https://www.business.com/contributor/apply/ We can't wait to hear what you have to say!