Stratasys Fortus 250mc Review
As the leader of the 3D printing world, Stratasys accounts for 25 percent of the global revenue share. That's some $406 million in machine sales. The company holds 1,200-plus patents and has been used in the aerospace, automotive, consumer products, dental and medical fields. Among its options is the Fortus 250mc.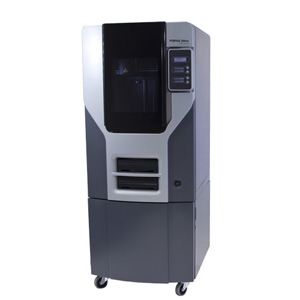 Stratasys Fortus 250mc
The Verdict
It may not be the biggest, fastest or most versatile 3D printer, but the Stratasys Fortus 250mc is worth every penny of its $45,000 price tag because of its flexibility to either make prototype designs quickly or pump out production items.
Combining the ability to rapidly prototype parts and then manufacture them en masse, the Stratasys Fortus 250mc is a jack-of-all-trades for 3D printing. An excellent starter production machine, the $45,000 Fortus 250mc is a solid pick because of its ability to create accurate objects for internal use or to sell to others.
To view all our recommendations for 3D printers, visit our best picks page.
Features
Based on fused deposition modeling (FDM) technology, the Fortus 250mc extrudes molten plastic, precisely building the object a layer at a time. It can't work with traditional polylactic acid filament but uses Stratasys' ABSplus starting material. With 40 percent more internal strength than standard ABS plastic, the material holds its shape to roughly 205 degrees Fahrenheit.
Able to faithfully render swooping complex curves, angled sections, overhangs and thin regions of a design without warping or deforming, this printer can make prototypes or manufactured parts that need to stand up to wear and punishment. While it can't make items out of metals, the Fortus 250mc's output is used on everything from race car cowlings and airfoils to medical equipment.
The Fortus 250mc provides the choice of building in three layer thicknesses: 178, 254 or 330 microns. This allows you to make a quickie draft model with the low-resolution 330-micron setting or the fine detail required of the final product in 178-micron mode. Its ABSplus filament is available in nine colors, from the basic white, red, blue and black to the unexpected ivory, dark gray, olive green, nectarine and fluorescent yellow.
Rather than on spools, the Fortus 250mc's filament comes in cartridges that contain 56 cubic inches of raw material that sell for roughly $110 each. The modules sit below the building stage for quick changes. While the waste isn't recyclable and you can't refill the cartridges on your own, you can return the empties to Stratasys for reuse.
The printer's dual-extruder head design has one tip for laying down the ABS plastic for manufacturing next to a separate tip for creating the supports. It has an extrusion tip cleaner built in to streamline operations by minimizing clogs that might stall a job.
A big timesaver is that, instead of picking the supports off the final product, they are removed by dissolving them in a water-based solution. In other words, all it takes is a quick bath and rinse to prepare the item for use.
At 45 x 33 x 29 inches, the Fortus 250mc weighs a substantial 326 pounds and can either sit on a stand, a sturdy table or Stratasys' optional cabinet. The base includes locking casters, allowing you to move the substantial machine to where it fits best.
Able to create items up to 10 x 10 x 12 inches, the printer can handle things as big as about 20 liters in volume. This makes it ideal for a wide assortment of small and midsize parts and products, like gears, cases and custom earbuds. It has even been used to make items as big as bowling alley pins.
Need more? The Fortus 380mc and 450mc use the same raw materials and processes but can produce items up to 14 x 12 x 12 inches or 16 x 14 x 16 inches, respectively. On the other hand, at about the size of a commercial refrigerator and weighing more than 1,300 pounds, these printers can cost close to $200,000 each.
Ease of Use
While the newer Fortus 450mc has a touchscreen to control its operations and settings, the 250mc relies on three old-school monochrome alphanumeric screens. The 250mc's main screen shows the status of the current build and options, while the pair of auxiliary displays are context sensitive and show fault codes, and each has a pair of actuation buttons for selecting and entering choices.
Once you've gotten used to the system, it's easy to set up a build, monitor its progress on the screen, and control and customize the build parameters. The machine has several built-in test files for making standard parts to help get you going and check on whether the Fortus 250mc is working properly.
The printer includes the company's Insight software that starts with a standard STL CAD model of the item that is then sliced into manufacturing sections. It automatically optimizes the build's orientation, scaling, location and construction parameters. The software also fixes design problems, adds supports where needed and previews the item.
For the experienced pro, the program is wonderfully flexible and powerful, with the ability to override its automatic settings to customize its supports, manipulate its tool paths, adjust the item's air gaps and fine-tune contour widths. On the other hand, it might require some specialized training to get the most out of the printer.
Unfortunately, Version 12 of Insight (the latest available) only works with 64-bit Windows workstations. It lacks compatibility with Macs and Linux computers. There's no mobile app available; this feature is rare in 3D printers.
Designed to run unattended, whether it's for 10 minutes or a full day of construction, the Fortus 250mc has interior lighting that switches on as soon as the build starts. The printer, however, does without an internal webcam for remote monitoring of the build.
The printer's 100BASE-T Ethernet interface connects to your company's network infrastructure but lacks the gigabit-level networking that newer designs have. It can't connect via Wi-Fi, USB-connected workstation or flash drive.
In addition to the building and support filaments, the Fortus 250mc requires maintenance to keep running properly. Every day, the machine needs an inspection of the extrusion head's wipe tip assembly and tip shields, and a vacuuming of the build area to clear away any debris or waste filament. After 500 hours of use, you'll need to clean the air filter, empty its waste container, and replace the tip shield and wipe assembly. The parts cost roughly $150.
Customer Service
Stratasys stands by the Fortus 250mc with a one-year warranty that includes some heavy-duty support. The company sells extended service contracts that cover onsite repairs, hardware and software updates as well as preventative maintenance, which makes it money well spent.
On the company's site you'll find a good assortment of training seminars, videos and webinars to help you get the most out of the system. In addition to best practices articles, Stratasys has case studies showing how others are using the equipment.
There's a lot of self-serve help online, including several documents showing how to set the machine up and get the most out of it, as well as a thorough manual and instructions on how to recycle empty filament cartridges. The company lacks a 24/7 call center for late-night printer emergencies, but you can call its toll-free number Monday through Friday from 7 a.m. to 7 p.m. CT. It promises 24-hour turnaround for email queries.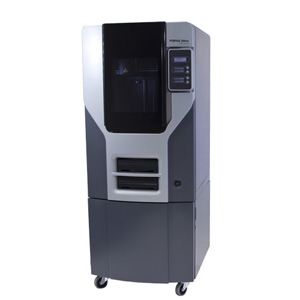 Stratasys Fortus 250mc
The Verdict
It may not be the biggest, fastest or most versatile 3D printer, but the Stratasys Fortus 250mc is worth every penny of its $45,000 price tag because of its flexibility to either make prototype designs quickly or pump out production items.
Brian Nadel
business.com Contributing Writer
Brian is a technology writer based north of New York City. He writes stories for Business.com, Tom's Guide, ComputerWorld and Scholastic Magazines. He is the former editor-in-chief of Mobile Computing & Communications magazine.