FreeConferenceCall.com Review
By Chad Brooks
Last Modified: May 20, 2019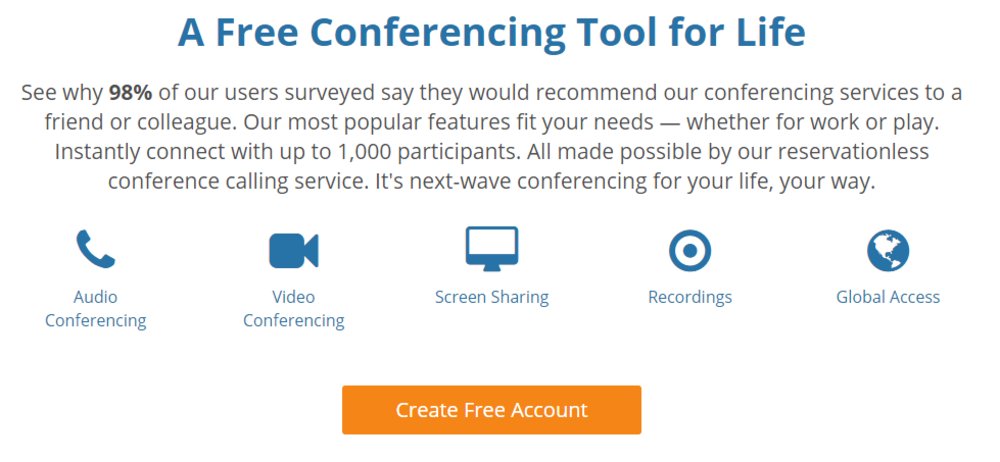 FreeConferenceCall.com offers screen sharing as well as dial-in numbers in more than 65 countries.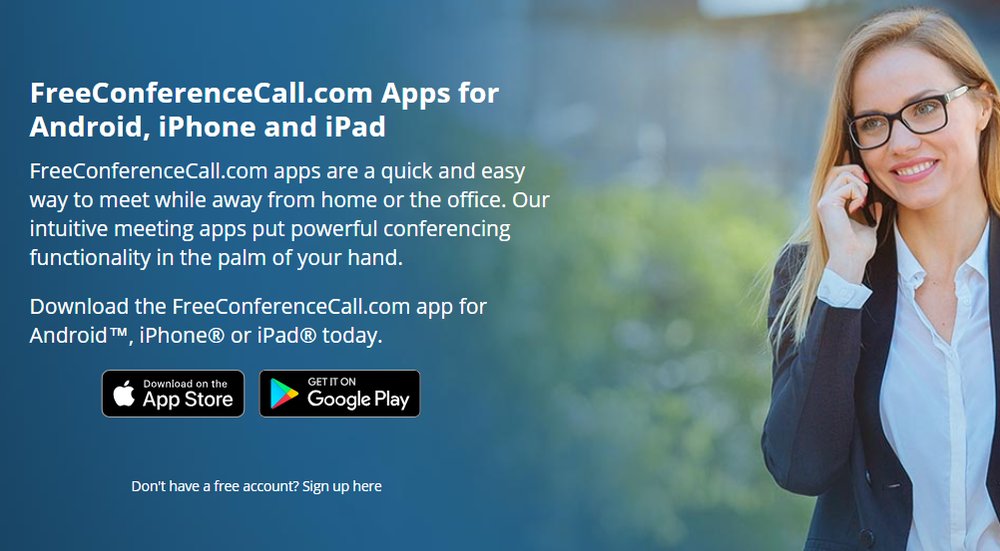 The app allows users to meet outside of the office and can be downloaded on Androids, iPhones and iPads.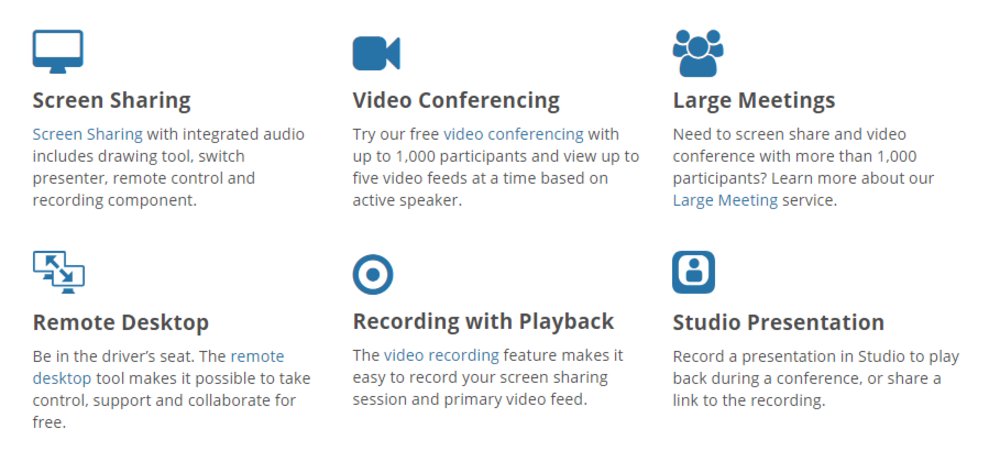 Users can record meetings and play back parts of the meeting if needed. The service also offers a large meeting service for groups looking to share a video conference with over 1,000 members.
FreeConferenceCall.com is our choice as the best free conference call service because it offers everything a business needs in a conference calling service for no cost. While there is a paid service plan, the free service offers many of the same features and tools, including web management, call recording and calendar integrations. In addition, the service allows users to host online meetings, also for free.
View all our recommendations for conference call services on our best picks pages.

FreeConferenceCall.com
The Best Conference Call Services of 2019
The Verdict
FreeConferenceCall.com is our choice as the best free conference call service because it offers a wide selection of valuable features, is simple to use and provides excellent customer support, all for no cost.
Compare Quotes ▶
Advertising is the area where the free and paid plans differ most. Free plan users see and hear ads with this service, while paid plan users are not played or sent any ads. What also makes this service so appealing is how easy it is to use. You can sign up in seconds and be making your first call shortly after that.
Pricing and Terms
Unlike some conference call services that tout their product as free, FreeConferenceCall.com lives up to its name. You can access the system and all of its features, including audio conference calls, web meetings, screen sharing and call recording, for no cost. There are several add-on features that businesses can purchase. If you want to provide your meeting participants with a toll-free number to dial in to the meeting, the charge is 3.9 cents per minute. You can also get your own personalized number that doesn't require access codes for $3.95 per month. Custom greetings and on-hold music are each $2 per month, and you can purchase an additional 10GB of cloud storage space for meeting recordings for $3 per month.
In addition to its free plan, FreeConferenceCall.com does offer a paid business plan. The paid plan is $6.95 per month for an individual account, or $6.95 per user per month for a team account. Advertising is really where the free and paid plans differ. While paid plan users hear no ads on conference calls, free plan call participants are played an ad for FreeConferenceCall.com each time they log in to a meeting. There are also ads on email invites that are sent to meeting participants with the free plan. Paid plan users can replace the FreeConferenceCall.com branding with their own company branding. Other features that are automatically included in the paid plans are custom greetings and custom on-hold music.
There are no contracts with FreeConferenceCall.com, and your account never expires. You can use the same account for an unlimited number of conference calls and online meetings.
Free Conference Calling Services
FreeConferenceCall.com's free service plans includes many of the features and tools that businesses are looking for in a conference call service. The service is easy to sign up for, meetings are easy to schedule, and the system, whether you use it for an audio call or online meeting, is simple to use.
This is a reservationless service. This means that you can host a meeting anytime 24/7. Additionally, while you can schedule meetings in advance, it isn't required with this service. If you need to host an impromptu meeting, you can do so.
With FreeConferenceCall.com, you can host audio or online meetings with as many 1,000 participants. Of the free services we considered, this is one of the largest caller maximums. Many of its competitors can't accommodate meetings with so many participants. If for some reason you need to host a meeting with up to 50,000 participants, you can contact FreeConferenceCall.com's large meeting services team to arrange that.
Signing up for the service takes seconds. You create your free account by entering your email address and choosing a password. You then immediately receive a confirmation email that includes your conference call telephone number, access code and host PIN. It also includes your online meeting ID, your playback number and a brief overview on how to host your first call.
After you are signed up for the service, you can log in to FreeConferenceCall's online portal. From there you can send out invites to your meetings. The invitations include the dial-in number, access code, date and time of the meeting, and any notes you want the participants to know about the meeting. From the email, participants can automatically download the meeting details to their calendar.
When hosting a call, you can control the meeting from your account's online meeting wall. The web controls allow you to see who is on the call, mute all or individual callers, pause the meeting, record the meeting, and drop callers from the meeting.
If you aren't in front of your computer, you can also complete these tasks from your phone's dial pad. For example, pressing *9 will start to record the meeting and *5 will mute all the call's participants. Then, if individual callers need to speak, they can press *6 to unmute themselves. Other dial pad controls include *1 to manage Q&A sessions, *2 to hear a caller count and *3 to create a breakout room.
You can change various settings for your conference calls. You can turn on entry and exit tones so you know when callers are entering and leaving the meeting. Additionally, you decide if you want each caller to announce themselves when they enter the room, if meeting participants can enter the room before the host and if a call can continue after the host leaves. Other settings you can control include whether you want an attendance list displayed in your web portal, if you want meetings automatically recorded and if you want to be prompted for a job code when the meeting begins.
All calls can be recorded for free. You decide if you want the entire meeting recorded or just a portion of it. When the meeting is over, the recording is automatically stored in your account. All users receive 1GB of storage for free. You can purchase more storage for a small monthly fee. You have the option of listening to the recording directly from your meeting wall. With this option, you will need an access code and reference number, which is sent after every call. You can also download the recording and listen to it from your computer, or email it to others.
In addition to conference calls, FreeConferenceCall.com allows account holders to host online meetings for no cost. The online meetings support video conferencing and screen sharing. This gives all of the participants the chance to see everyone in the meeting, as well as the host's screen.
Paid Conference Calling Services
While you can access nearly everything FreeConferenceCall.com has to offer in the free account, there are some benefits to choosing a paid plan.
The biggest benefit of the paid plan is that there is no advertising at the start of each call. With the free plan, each participant hears a message saying the meeting is brought to you by FreeConferenceCall.com when they dial in. There isn't any FreeConferenceCall.com branding on the meeting invites either with the paid plan.
The paid plans also include several features that free plan users would have to pay for if they wanted to use them. For example, you can create a customized greeting that callers hear when they join each meeting. Paid plan users also have the option of uploading their own music for when callers are waiting for a meeting to start. Other features paid users have access to, depending on the plan they choose, include activity summaries, API access, custom branding, dedicated global number sets, a dedicated account manager, training, an active directory and single sign-on.
Additional Considerations
Multiple other factors make FreeConferenceCall.com worth considering.
The service offers local country numbers in more than 60 countries worldwide. This gives businesses an easy and cost-effective way of holding international meetings.
com integrates with Microsoft Outlook and Google Calendar. With the Outlook plugin, which is only available for Windows computers, you can schedule meetings directly from your email account. You don't have to log in to the FreeConferenceCall.com portal to schedule a meeting. The Google integration allows you to create a Chrome extension, which also makes it simple to schedule meetings. The service also integrates with Slack, Dropbox and Evernote.
com has a mobile app for iOS and Android devices. You can host and join both audio and video meetings from the app. You can also manage calls from the app.
The customer support FreeConferenceCall.com offered us was exceptional. Since this is a free service, we were impressed at how accommodating the representative we spoke to was. First off, being able to speak to someone by phone was a plus. Some of the other free conference calling services don't offer phone support. The FreeConferenceCall.com representative we spoke to couldn't have been more helpful. He answered all of our questions in detail and thoroughly explained the differences between the free and paid plans. He didn't try to pressure us into signing up for the paid option. Instead, he said we should try out the free version and could easily switch to a paid plan if the need arises.
Drawbacks
For a free service, there's not much we don't like about FreeConferenceCall.com. The biggest downside we saw was that it doesn't offer operated-assisted conference calling. This type of service has an operator help you plan the call, greet callers when they join in, manage Q&A sessions, and provide you with recordings and transcriptions after the call is complete. FreeConferenceCall.com, however, isn't alone in lacking this type of service. Most of the free services we looked into don't offer operated-assisted services, and the ones that do charge for them.

FreeConferenceCall.com
The Best Conference Call Services of 2019
The Verdict
FreeConferenceCall.com is our choice as the best free conference call service because it offers a wide selection of valuable features, is simple to use and provides excellent customer support, all for no cost.
Compare Quotes ▶
FreeConferenceCall.com isn't an accredited member of the Better Business Bureau. That being said, the company does have an A+ rating and, as of May 2018, had not had any complaints filed against it in the past three years.
Editor's Note: Looking for a conference calling solution for your business? Click the Compare Quotes button below to have our sister site Buyer Zone connect you with vendors that can help.

FreeConferenceCall.com
The Best Conference Call Services of 2019
The Verdict
FreeConferenceCall.com is our choice as the best free conference call service because it offers a wide selection of valuable features, is simple to use and provides excellent customer support, all for no cost.
Compare Quotes ▶
Ready to choose your The Best Conference Call Services of 2019? Here's a breakdown of our complete coverage:

Chad Brooks
Chad Brooks is a Chicago-based writer with more than 20 years of media experience. A graduate of Indiana University, Chad began his career with Business News Daily in 2011 as a freelance writer. In 2014, he joined the staff as a senior writer. Currently, Chad covers a wide range of B2B products and services, including business phone systems, time and attendance systems, payroll services, and conference call services. Before joining Business News Daily, Chad spent nearly a decade as a staff reporter for the Daily Herald in suburban Chicago. Chad's first book, "How to Start a Home-Based App Development Business," was published in 2014. He lives with his wife and daughter in the Chicago suburbs.