Freshworks' Freshmarketer is our best pick for businesses seeking software with solid email marketing tools and robust marketing integrations. Its email marketing features provide multichannel opportunities to engage with customers.
Pros
Freshmarketer has comprehensive features allowing personalized emails and campaigns.
The platform is easy to use and navigate, whether you're communicating internally or externally.
There are many customizations, add-ons and integration options.
Cons
Freshworks has multiple plans with similar offerings at different price points, making it difficult to find your ideal package.
There is a semi-steep learning curve, specifically when you're setting up the system and troubleshooting small issues.
The company has limited customer support.
Freshworks recently rebranded and separated its system into different types of software. Its email marketing platform is now called Freshmarketer, and it allows businesses to implement marketing integrations better than before, fueling meaningful customer interactions. Because of its extensive integration capabilities, Freshmarketer is our choice for the best email marketing platform for businesses prioritizing marketing integrations.
Freshworks Freshmarketer Editor's Rating:
9.2 / 10
Pricing/value

9/10

Features

9.5/10

Customizations, add-ons and integrations

9.7/10

Ease of use

8.8/10

Customer service

8.9/10
Why We Chose Freshmarketer as Best for Marketing Integrations
Freshmarketer is our best pick for businesses seeking an email marketing platform that emphasizes marketing integrations, because it is a robust platform that can serve all of your email marketing needs while coordinating with other key business tools. The software allows companies to send promotional emails based on how their audience responds to certain products, schedule newsletters, dispatch event invites, communicate updates and more. This can be a huge advantage for businesses that are trying to strengthen their sales leads. [Related article: Complete Guide to Understanding the Sales Funnel]
Through Freshmarketer, companies can streamline all of their customer interactions within this one system, and sales teams can connect with customers through Gmail, Shopify, SMS, Zapier and other tools that integrate easily. Once implemented, the software is simple and easy to use, which means you and your team don't need to be too tech-savvy to reap the benefits of this multifaceted solution.
The Freshmarketer platform helps startups and small businesses sort through their customer base and send personalized messages to build strong client relationships.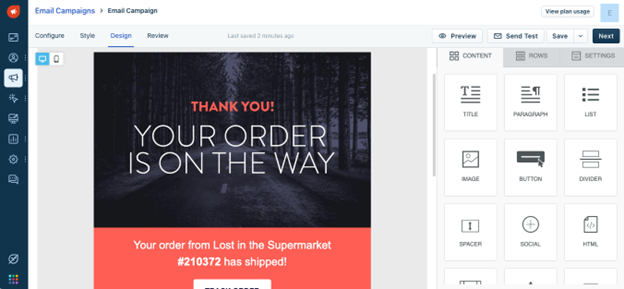 Ease of Use
When using Freshmarketer, we discovered it has a simple, clean interface that makes it very user-friendly. Unlike with email marketing platforms of the past, users don't have to be tech-savvy to learn the basics of email marketing quickly and become accustomed to the interface. This ease of use, combined with the system's AI-powered insights, allows business owners to make data-driven decisions that positively impact their email marketing efforts. Not all email marketing software offers the ability to tap into AI insights, which is one of the reasons this solution stands out. However, we don't recommend using the software on a mobile device, as the user experience is smoother on a desktop.
In addition to its email tools, Freshmarketer gives you multiple ways to interact with customers, such as text messages. These functions let you incorporate your established sales and marketing practices into the platform to meet your customers' needs. We particularly love that the system has multiple integrations that allow you to keep using your existing third-party software and even increase its effectiveness when combining it with Freshmarketer's email campaign function. Current users have even stated that the platform has solved their problems with bulk email campaigns and pipeline management, as well as other issues.
Freshmarketer's email campaign function offers engagement through multiple channels, which is where all the API integrations take place. These integrations include popular tools like Trello, Zapier, Shopify, Outlook, Gmail and Asana. As with any API integration, you may come across minor bugs, depending on the specific integration and customization settings, but users say Freshmarketer has helped them increase sales, drive conversions and improve customer management.
By integrating all of your existing tools, Freshmarketer makes it easier for your sales team to convert prospects into leads.

Freshworks' Freshmarketer Features
Freshworks' Freshmarketer platform has the essential capabilities for email marketing and then some. We particularly like the below features.
Integrations
Freshmarketer is designed to connect with your favorite tools so you can more seamlessly operate your business. Freshworks has its own marketplace and gives users API access, in addition to integrating with Zapier, Shopify, WooCommerce, Magento, Asana, Trello and Typeform. Of course, the platform also meshes flawlessly with Freshworks' other products. These integrations make it much easier to execute and manage marketing campaigns.
Promotional Emails
Freshmarketer allows you to create virtual product demonstrations and send emails to potential customers based on how they interacted with the demonstration. We found this to be a valuable feature, as it helps businesses customize and personalize their messaging, which builds a unique relationship with the prospective purchaser.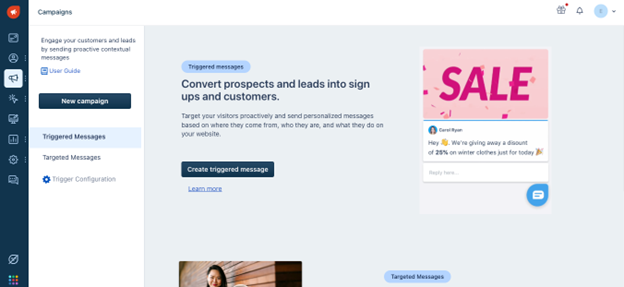 Newsletters
Freshmarketer's email campaign tools allow you to compile email lists of interested customers and schedule newsletters for specific audiences. These newsletters are ideal if you want to educate customers on new products and services, send updates on existing products and services, or share other exciting news.
Event Invites
Like other email marketing platforms, Freshmarketer can segment lists, enabling you to easily define the parameters of your audience. Based on these parameters, you can promote specific events to a target customer base you know will be interested. Additionally, you can send event email blasts to boost registration numbers or motivate customers to participate.
Product Communication
We love that with Freshmarketer you can quickly and easily communicate product updates to your customers. This email process can be automated in conjunction with the Freshworks Freshsales product, which helps you track your customers. Find out more in our detailed review of Freshworks CRM.
Announcement Emails
Personalization is more important than ever, and Freshmarketer gives you the ability to engage customers with personalized announcement emails targeting segmented email lists. Because the platform's email capabilities can be tied to the vendor's full-featured CRM, your business has multiple points of data to craft individualized messages at scale.
Internal Updates
Keeping internal stakeholders up to date is often as important as communicating with customers. You can keep your key internal players informed at the right time with Freshmarketer's segmentation and email-scheduling features. This is an appealing function for corresponding with employees.
Freshworks' Freshmarketer Pricing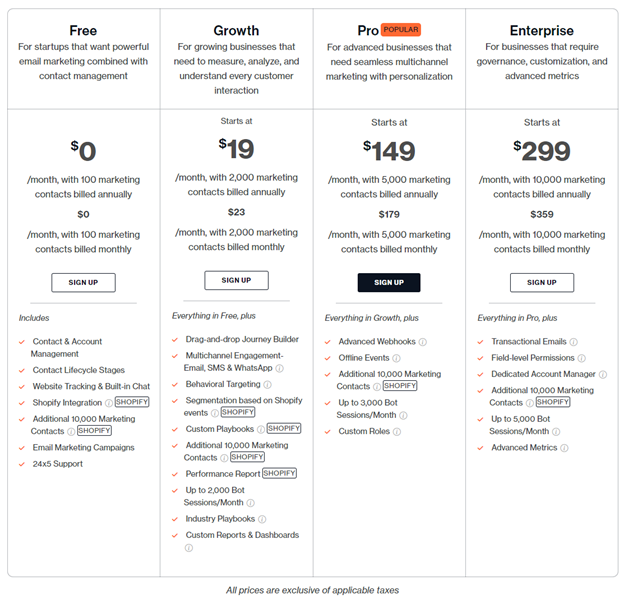 Freshworks offers a free starter version of Freshmarketer, which includes contact and account management, contact lifecycle stages, and built-in chat, email and phone communication for up to 100 marketing contacts. This is great for smaller businesses that are just starting out with a limited client base, but to go beyond 100 contacts, you'll need to upgrade to a paid subscription, which increases your capacity to 1,000 contacts.
The paid version of the product is broken into three plans: Growth, Pro and Enterprise. Each plan is priced per user per month, and the vendor offers significant discounts if you pay annually rather than monthly. But the large gap in price points may make it difficult for business owners to choose the best package for their needs.
| | | |
| --- | --- | --- |
| Plan | Starting price (per user per month) | Highlights |
| Growth | $19 when billed annually; $23 when billed monthly | This plan offers powerful automation functions that can help fast-growing businesses personalize and scale their customer relationships by measuring, analyzing and understanding every interaction. |
| Pro | $149 when billed annually; $179 when billed monthly | Freshworks' most popular plan includes the ability to manage multiple sales pipelines and teams. |
| Enterprise | $299 when billed annually; $359 when billed monthly | According to Freshworks, this plan delivers "advanced customization, governance and controls." |
Freshworks has a 21-day free trial with no credit card required, allowing you to try the Freshmarketer software without any commitment.
Implementation and Onboarding
The time it takes to incorporate any new software often depends on your business and your team. Most of the time, it takes between a few days and two weeks to set up the Freshmarketer platform. Depending on the level of data migration and customizations you need, your experience may vary. It's a fairly simple setup process, but those who are less technically focused have reported difficulties in implementation. As for the email campaign portion of the platform specifically, we estimate it takes up to one week (usually less) to set up, depending on the level of customization, segmentation and targeting your business requires.
Fortunately, the knowledge base on the Freshworks website holds dozens of how-to guides, videos and training to help you get started. As of this writing, there are a lot of articles about creating marketing emails and configuring email settings, many of which have step-by-step instructions with screenshots.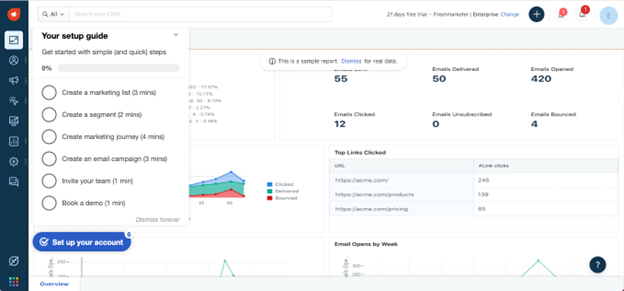 Customer Service
If you need to troubleshoot an error, the first step is to go to the Freshworks support page and select Freshmarketer. You'll then be redirected to a support hub page specific to that product. From this page, you can choose to interact with a representative through the live chat in the bottom-right corner of the page or explore the knowledge base, which offers helpful documents about using the software and answers common questions.
Freshworks does not advertise a phone option for customer support, but the live chat feature will connect you with a sales representative.
If you use Freshworks' live chat option, you will interact with an automated system that gathers basic information and then wait for a live representative to connect. In our tests, we found that representatives responded to our questions in two to five minutes. Live chat for Freshworks is available 24/7. You can also fill out a form to submit a support ticket. There is an option to qualify your issue as low, minor, major or critical, but it's frustrating that you can't reach someone by email or phone.
Limitations
The biggest drawback with Freshmarketer is the limited customer support. With no phone option, you may feel abandoned by a lack of hands-on technical support. Some users have continued to have issues even after submitting support tickets. If customer service is a priority for you, especially the ability to connect with someone over the phone, you may want to consider rival vendor Benchmark, which offers customer support via phone as well as live chat and email. You can learn more in our comprehensive Benchmark review.
Freshmarketer is best suited for startups and small businesses just beginning to expand, as the customization of reports and API integrations aren't built for quick functionality. Some users have stated that the software has a somewhat steep learning curve, specifically when they were troubleshooting minor bugs in the system. Still, as noted, the platform is user-friendly overall, and the specifics of the implementation and onboarding experience will vary by company.
Methodology
To determine the best email marketing software, we compiled a list of popular platforms based on online research. We meticulously examined each vendor's online reputation before narrowing our list to a select group of finalists. Then we investigated each service's specific offerings, watched tutorials and how-to videos, tried the software ourselves whenever possible, and read user reviews. We also considered each system's pricing options and customer service. When researching Freshworks' Freshmarketer, we took note of the features that would be most important to businesses looking to combine marketing functions with CRM solutions and other integrations. 
Freshworks' Freshmarketer FAQs
Freshmarketer is marketing software that seamlessly integrates with Freshworks' other products and third-party applications to build more valuable relationships with customers and leads.
Freshworks' Freshmarketer starts at $19 per user per month when billed annually, unless you opt for the free version.
Bottom Line
We recommend Freshmarketer for …
Small companies looking to scale their enterprise through email marketing campaigns.
Small business owners searching for affordable email marketing software with integration opportunities.
Marketing and sales professionals who don't require intensive customer support or guidance.
We don't recommend Freshmarketer for …
Small and midsize businesses without a vested interest in integrated marketing solutions.
Marketing professionals who want dedicated assistance troubleshooting email marketing issues.