GotFreeFax Review
By Adam C. Uzialko
Last Modified: April 5, 2018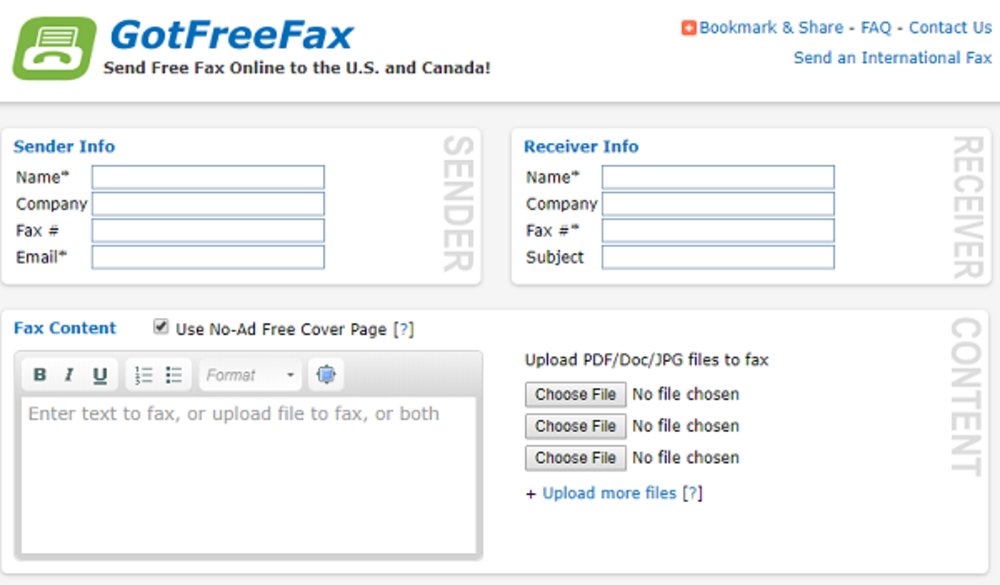 GotFreeFax has a simple, no-frills user interface that lets you easily upload and send faxes for free.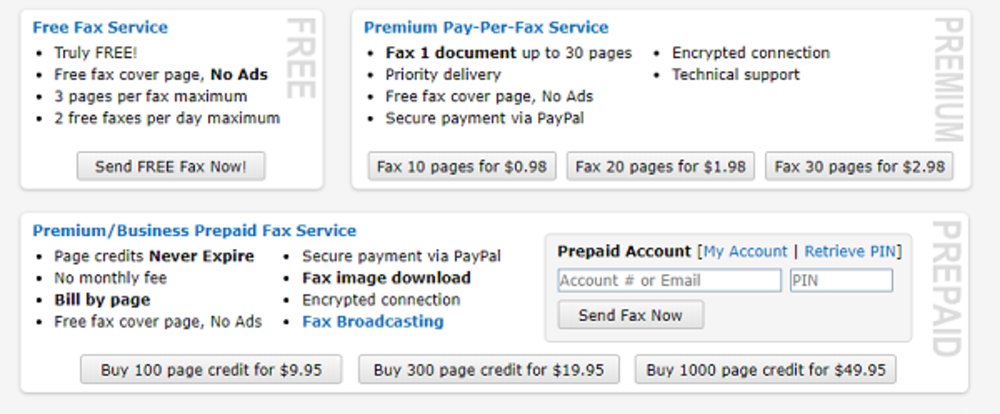 The free service allows two three-page faxes per day with a standard no-ad cover page. GotFreeFax also offers a premium pay-per-fax plan, as well as prepaid page credits that never expire. It does not, however, have an incoming fax service.
GotFreeFax's FAQs page goes into more detail about the service's features, including international faxing and supported file types.
GotFreeFax offers a useful and free online fax service that is our best pick for free outgoing faxes. It also offers a pay-as-you-go service that we chose as our best pick for that type of service as well. It is an incredibly easy-to-use online fax service that doesn't attach advertisements with your free faxes, maintaining a professional look without the cost.
To view all our recommendations for online fax services, visit our best picks page.

Pricing
As the name suggests, GotFreeFax offers a free service, which lets you send two faxes per day, each with a three-page maximum. GotFreeFax also maintains a pay-per-fax service that is priced by the page.
10 pages: 98 cents per fax
20 pages: $1.98 per fax
30 pages: $2.98 per fax
Finally, GotFreeFax also offers a prepaid service that include page credits that never expire. There is no monthly subscription fee for this service like there is for other online fax services, because GotFreeFax bills per page.
100 page credits: $9.95
300 page credits: $19.95
1,000 page credits: $49.95
Once purchased, these credits can be used at any time. This arrangement makes sense for companies that only have occasional faxing needs but know they will have to fax in the future.
Features
The beauty of the free service is that, unlike many other free fax services, GotFreeFax does not attach advertisements to your faxes. Each fax also includes a free cover page.
The pay-as-you-go faxes include the ability to attach documents, send payment via PayPal, access technical support and use an encrypted connection for secure sending.
GotFreeFax is a browser-based faxing service that is intuitive and straightforward. The homepage contains the entirety of the faxing system, where you can fill out your information and the receiver's, write a message, and attach necessary documents. GotFreeFax supports PDF, DOC and JPG files.
The body of the fax is a simple HTML-enabled text box that you can fill out directly before sending your fax. You can check or uncheck the box to include the ad-free cover page as well. Sending a fax is as easy as filling out these fields and clicking Send.
Though GotFreeFax is exceptionally easy to use, in case you do run into issues, you can contact support by email, fax or the contact form on its website. The website also has a fairly lengthy FAQs page that may answer your questions.
Drawbacks
GotFreeFax does not include an inbound fax service; it recommends either RingCentral or Faxage for that service. You may also want to consider FaxBetter, our best pick for free incoming fax service.

Ready to choose your The Best Online Fax Services of 2019? Here's a breakdown of our complete coverage:

Adam C. Uzialko
Adam C. Uzialko, a New Jersey native, graduated from Rutgers University in 2014 with a degree in political science and journalism and media studies. He reviews healthcare information technology, call centers, document management software and employee monitoring software. In addition to his full-time position at Business News Daily and Business.com, Adam freelances for several outlets. An indispensable ally of the feline race, Adam is owned by four lovely cats.