Hibu PPC Review
By Saige Driver
Last Modified: February 6, 2018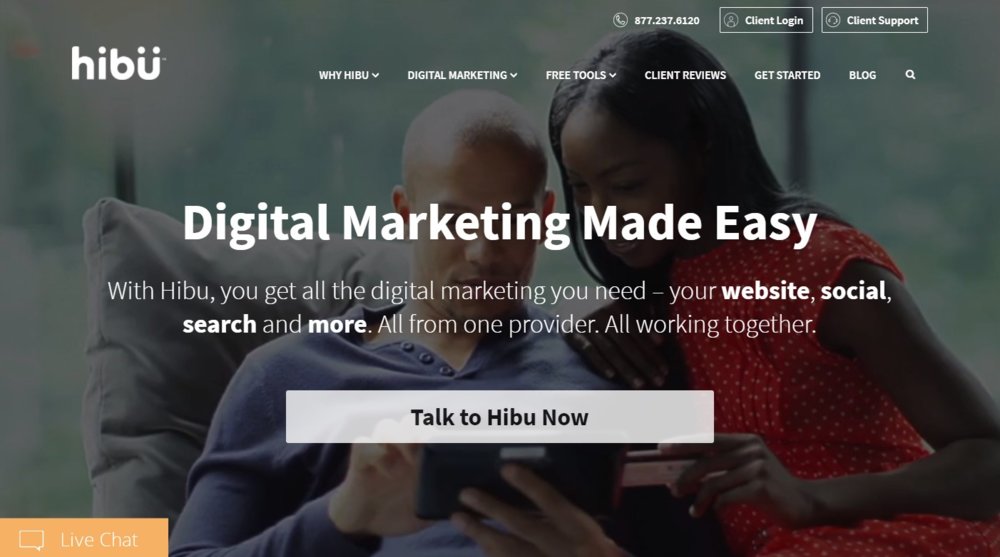 Hibu is an all-encompassing internet marketing service that offers assistance with your website, social media and SEO.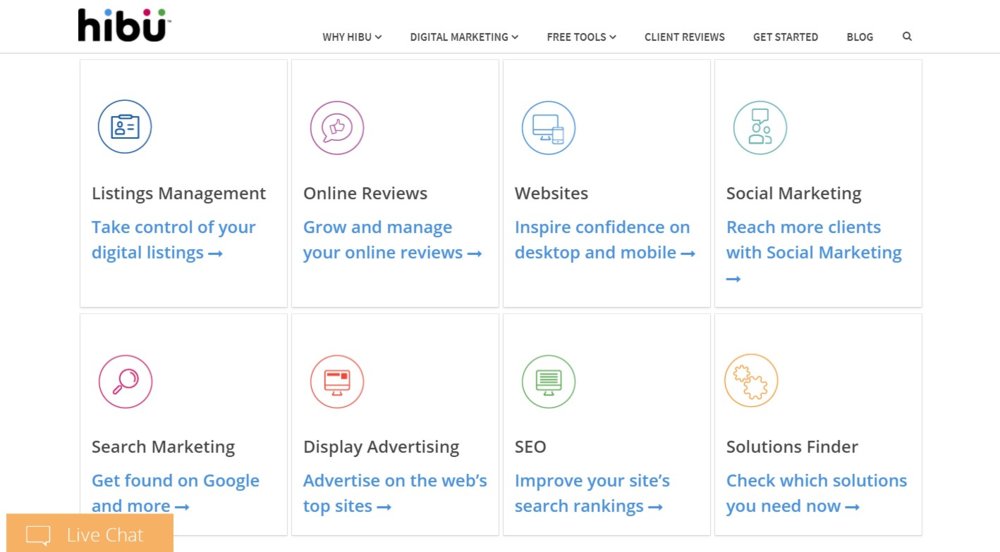 Hibu's tools include ones for social media marketing, search, SEO and online reviews.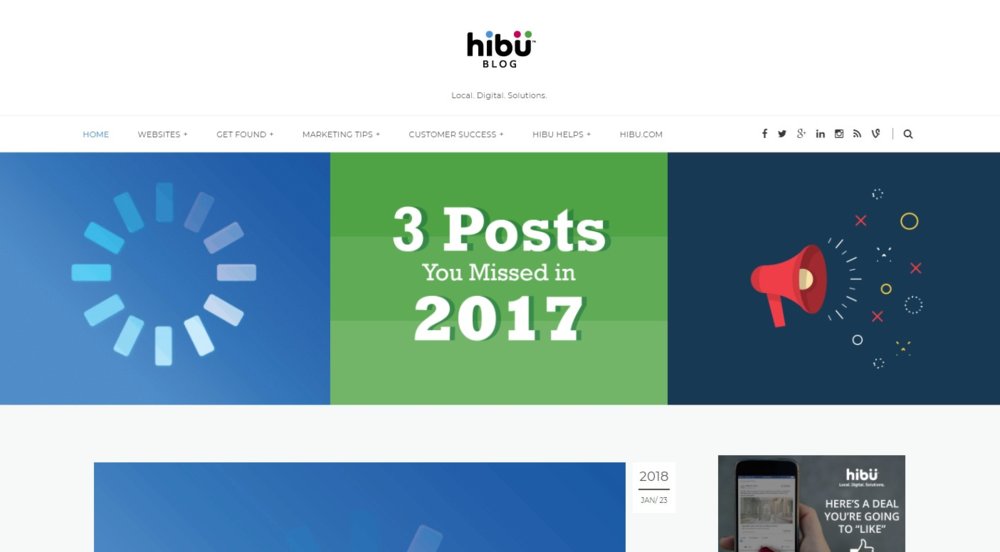 On its website, Hibu has a blog with updated digital marketing information.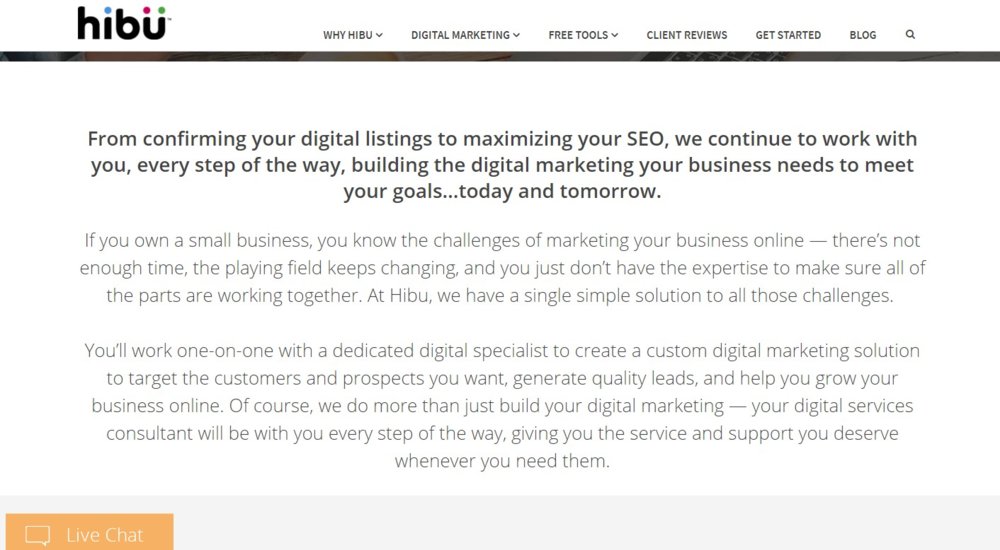 If you sign on with Hibu, you get a dedicated digital specialist who can create a custom digital marketing solution for your business.
Hibu is an internet marketing service with strong offerings in web design. Its website design tools offer a unique solution for businesses that need to target local audiences with their websites. With its focus on low-cost web design services, this is a great solution for small businesses. However, Hibu offers more than just website help; its goal is to provide all the digital marketing services a business needs, including website development, social media marketing and search engine marketing. Since Hibu strives to meet every online marketing need, it can connect your website with your social platforms to give you a consistent online presence.
Pricing
Hibu doesn't list prices on its website. If you're interested in this provider, you'll have to reach out for a quote.

Features
Listings management. This tool can ensure your listings are bringing customers to you and not your competition. It also makes sure your business information is correct across the internet.
Reporting and insights. With Hibu's reporting and insight tools, you can access reports 24/7.
Review management. Hibu Reviews collects and shares customer feedback, ratings and reviews.
Custom ads for your business. Hibu tailors these ads for search engines like Google, Bing and Yahoo.
Social media marketing tools that work with Facebook, Twitter and Instagram.
Social monitoring. You receive biweekly social monitoring updates that show who is interacting with you on Facebook, Twitter and Instagram.
Search engine marketing tools. Hibu is a Yahoo Preferred Partner, Bing Ads Partner and Google Premier Partner.
Video ads creation. Hibu will create display ads and video ads for your business.
Search optimization tools. These tools are designed to drive traffic and reach more customers.
Website design information
Hibu's website designs typically have a consistent style that looks like a template from a design service or blogging system, such as WordPress. While they may have a cookie-cutter appearance, they're clean designs.
It offers responsive web design. This ensures that your website looks great and works on desktop browsers, tablets and mobile phones.
Hibu sets up domain registration for your website and works with you to create a design. You make most of the design decisions, such as the look you want, the images and where everything should go. Then, the Hibu team assembles it for you.
Additional Considerations
Hibu provides digital marketing information on its blog and has a monthly digital marketing newsletter.
While Hibu provides services across the United States, its headquarters are in the United Kingdom.
Hibu lists a variety of free tools on its website.
You can call, email or chat with customer support.
Drawbacks
Hibu doesn't list prices on its website, so you'll have to reach out to a representative for a quote.
Hibu is a good and solid internet marketing service with all the services we expect from a digital marketing solution. While it has solid website design tools, it also has an array of other features, including social media marketing, ad design and SEO tools. Prices aren't available online, but this company will create a customer digital marketing solution to fit your needs and budget. Hibu is a solid option for most businesses, especially those looking to focus on their website design while still enhancing their digital marketing efforts.
Editor's note: Looking for an online marketing solution for your business? Click the Compare Quotes button below to have our vendor partners contact you with information for free:
buyerzone widget

Ready to choose your Best Internet Marketing Services and PPC Management? Here's a breakdown of our complete coverage: