Hitachi Review
The Hitachi ZX10U-2 mini excavator is a compact zero tail swing excavator with a Yanmar engine and an adjustable undercarriage. This mini excavator weighs 2,447 pounds and is 9.7 feet long and 4.8 feet wide.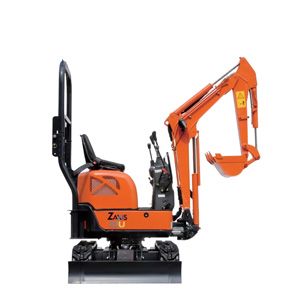 The Hitachi ZX10U-2 packs a powerful, large exhaust engine. It is an 854 cc water-cooled, three-cylinder, four-cycle, injection-type diesel engine with a rated power of 12.7 horsepower and a top rev of 2,100 rpm. The engine drives the compact excavator to a top speed of 2.5 mph, although it can also go at a minimum travel speed of 1.3 mph. The excavator has a 4.2-gallon fuel tank and a 5.6-gallon hydraulic system.
This Hitachi mini excavator has a tail swing radius of 2.7 feet. Therefore, its compact body has a short rear end, and the tail of its operator house does not overhang the tracks. This zero tail swing design makes it well suited for working parallel to walls and tight spaces. Also, the Hitachi ZX10U-2 has a retractable undercarriage. You can adjust its blade and span of its foot crawler from a maximum width of 39.4 inches to 35.9 inches. Retracting its undercarriage makes it possible to take the excavator through gates and narrow passageways.
The Hitachi ZX10U-2 has a rigid-type folding roll bar at the rear of the operator's area, although you can also get the optional rotary roll bar. It has no canopy or cab option, and amenities for the operator are limited. Therefore, if you are considering the ZX10U-2 as a mini excavator rental, you should know that its operator housing offers very little protection from inclement weather and flying debris at job sites.
While the operator gets a seat belt, a 12-volt outlet and a work light, the operator's area lacks conveniences like air conditioning, heat, a cup holder, a coat rack and a radio. In fact, besides its levers and switches, there is only a rudimentary instrument panel in the cockpit. This mini excavator uses a hydraulic pilot system for its boom, arm, swing and bucket. However, the boom, swing and blade use mechanical controls.
The ZX10U-2 has a tractor-type undercarriage with welded track frames and rubber shoes. While these rubber shoes are not as sturdy as steel types on rough terrains, they are gentler on pavements and landscaped job sites. There are three track rollers on each side of the undercarriage, and the tracks generate a ground pressure of 3.5 pounds per square inch.
The Hitachi ZX10U-2 is lightweight for a compact excavator, but it does not lack power. The zero tail swing and adjustable undercarriage design make it the right mini excavator to take digging on construction sites with narrow passageways. However, the excavator's operator area is far from comfortable or protective.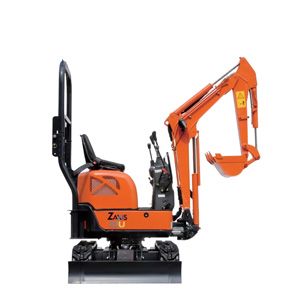 business.com editorial staff
business.com Member
The purpose of our community is to connect small business owners with experienced industry experts who can address their questions, offer direction, and share best practices.