HostPapa Review
By Matt D'Angelo
Last Modified: January 4, 2019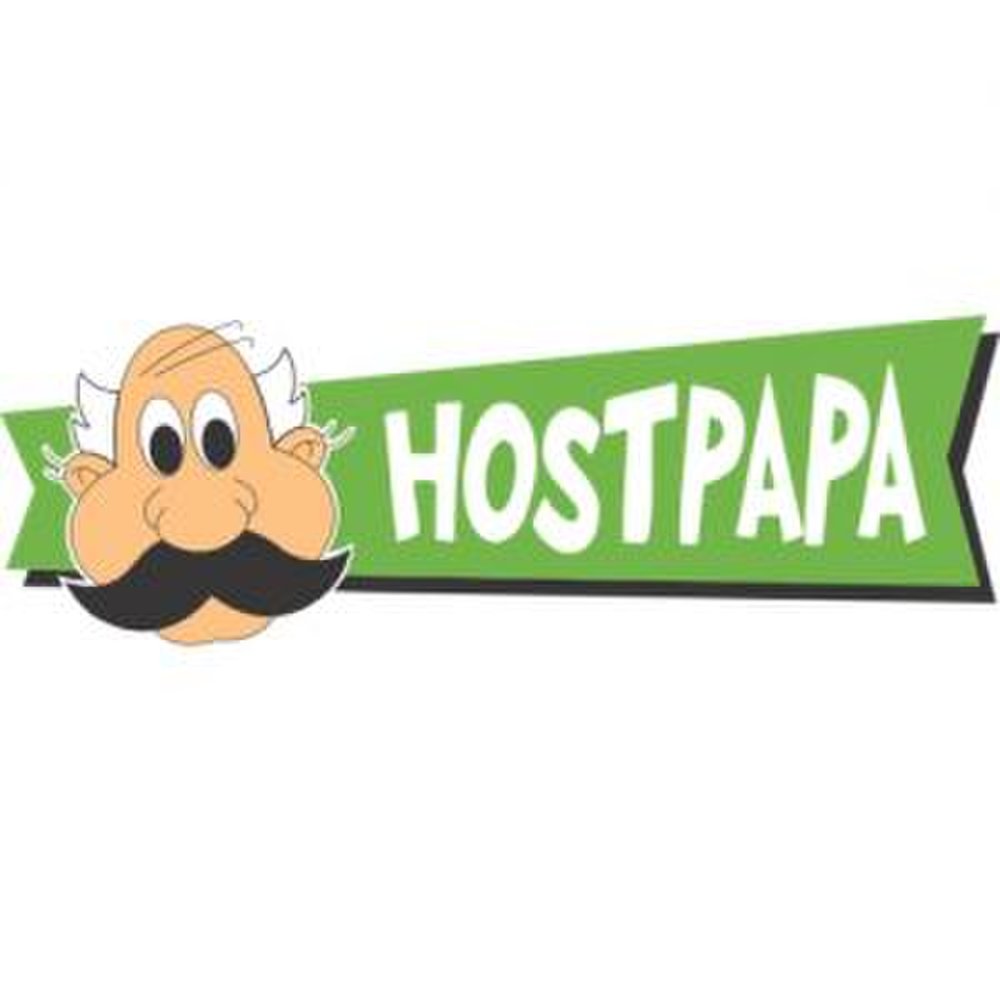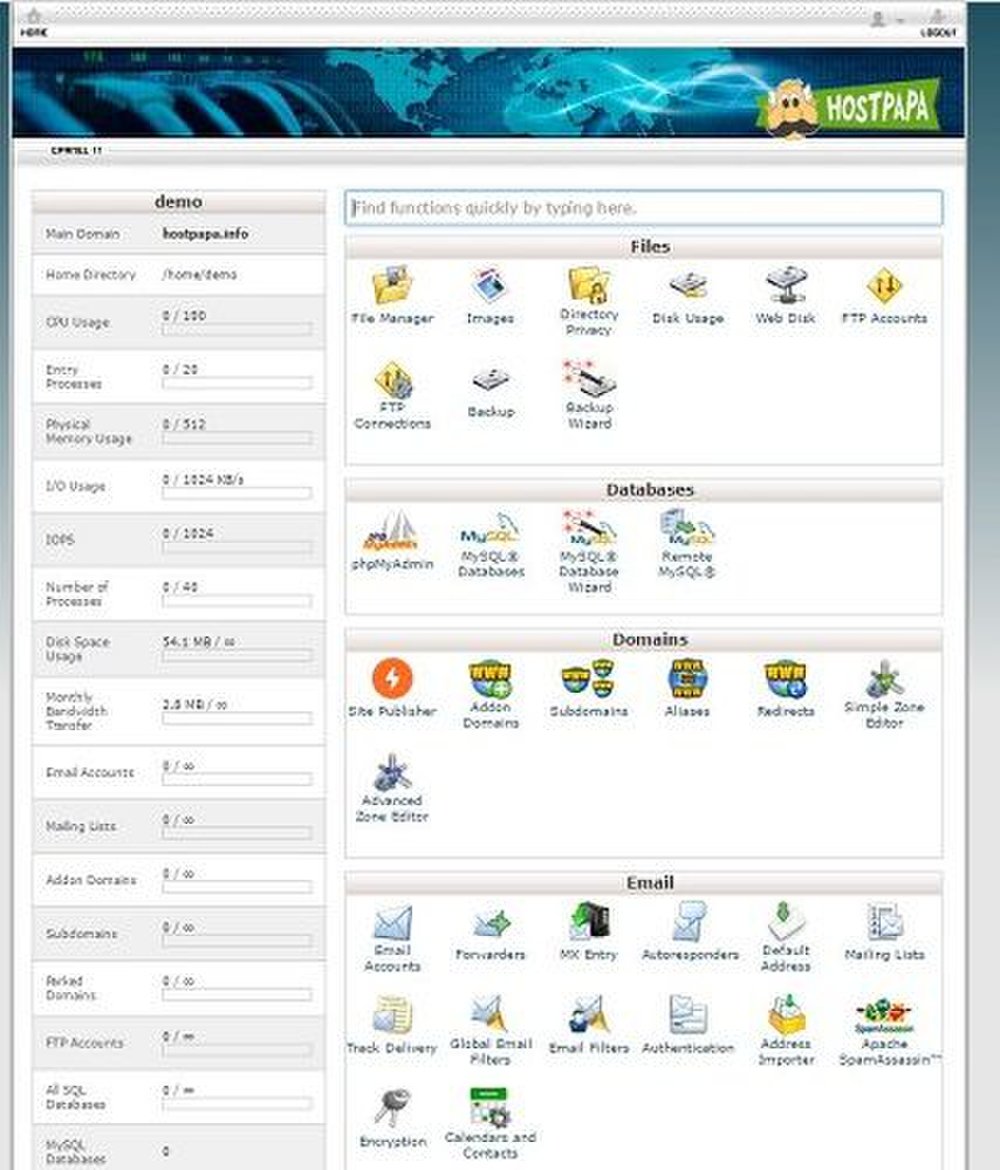 The control panel is standard but shows all the tools you need, plus your web host usage stats.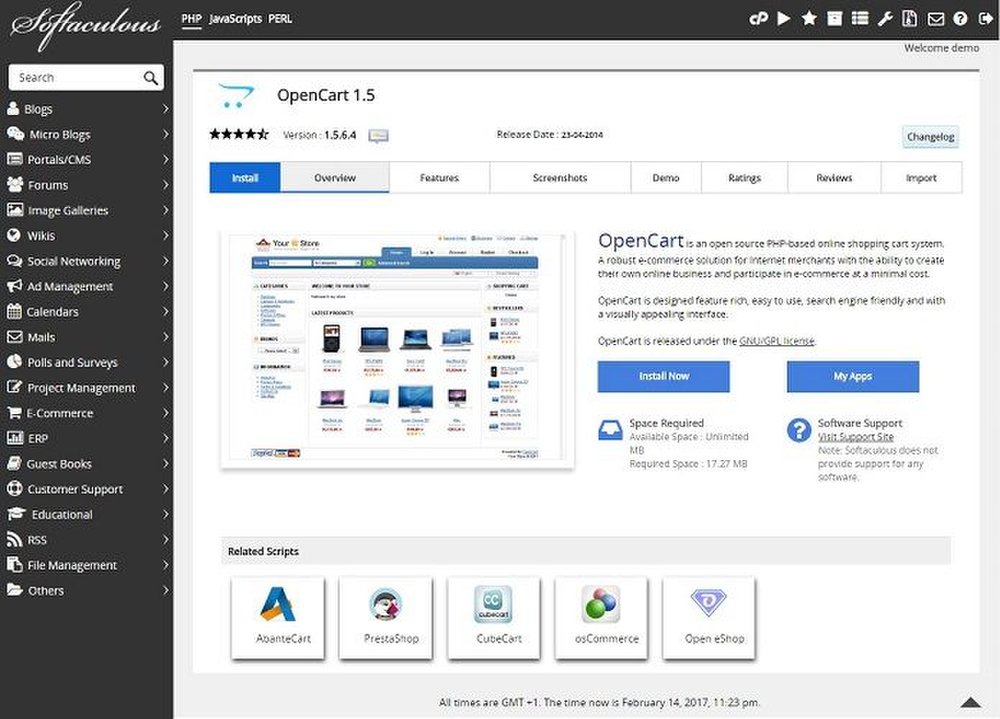 There are shopping cart apps available for creating an e-commerce site.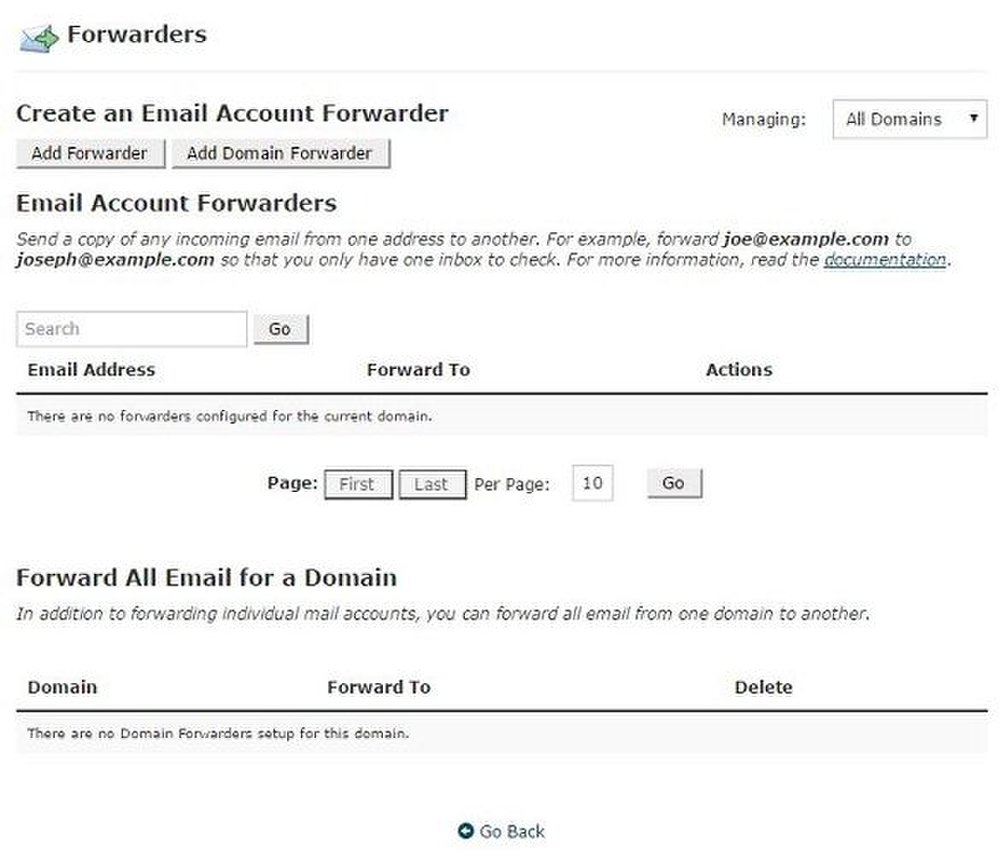 Email accounts come with the usual tools, including autoresponders and forwarding.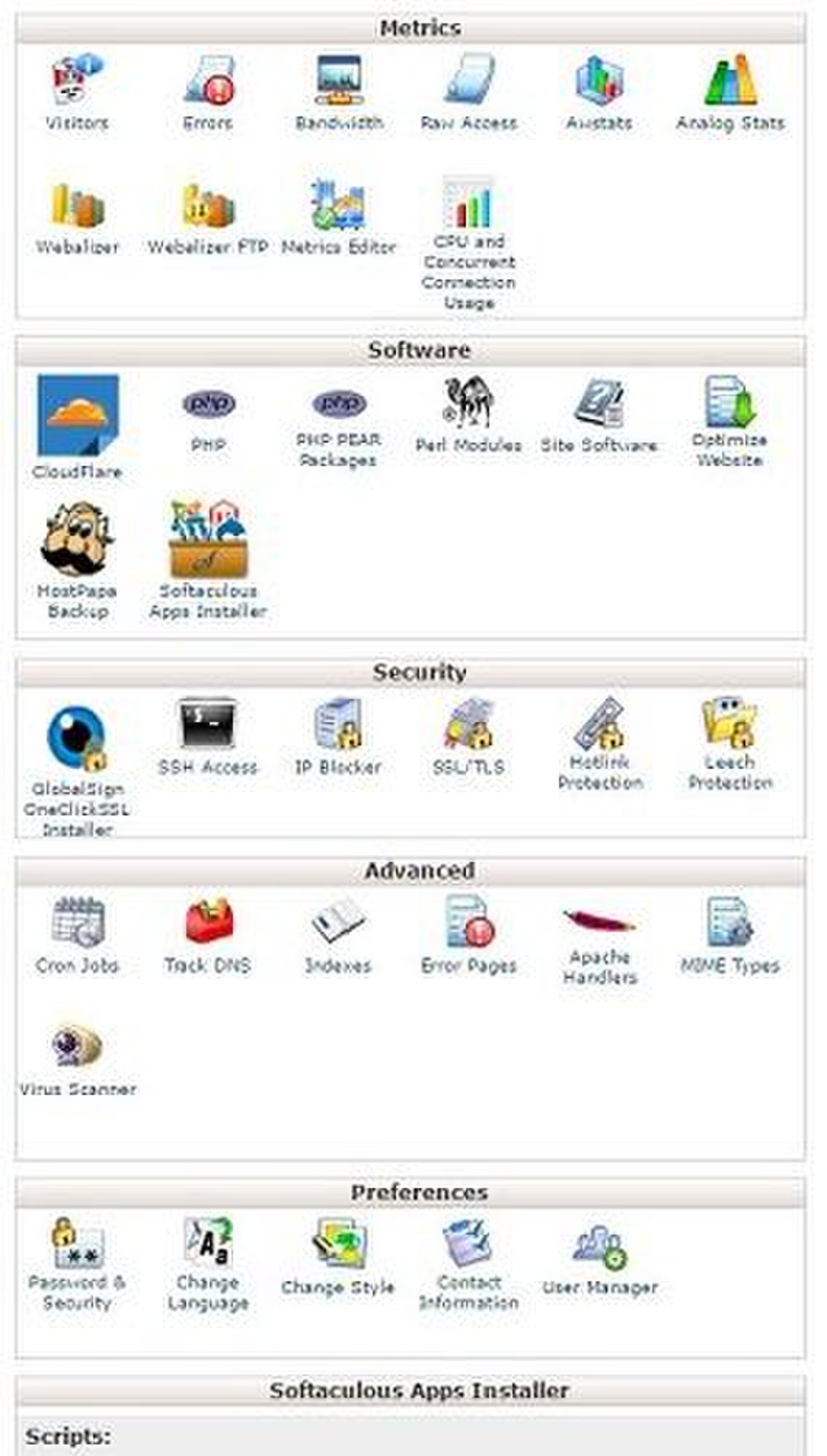 The cPanel offers a wide range of useful tools and is organized for easy access.
HostPapa provides shared hosting, virtual private servers, reseller hosting and WordPress hosting for small businesses. It's been providing web hosting services to customers worldwide since 2006, putting it on a par with the veterans in the web hosting industry. It provides a solid security offering, with SSL certifications, DDoS protection and other features as well as good overall shared hosting offering. HostPapa offers a 30-day, money-back guarantee. While the company provides a solid offering, it doesn't offer cloud hosting services. Several other companies we reviewed offer the same types of hosting as HostPapa in addition to cloud hosting.
View all our recommendations for web hosting services on our best picks page.

HostPapa offers multiple different plans under each type of hosting, making it a good option for small businesses looking to scale their service over time. Pricing and terms vary, but you may register your domain name for free when you sign up. You can also use the company's drag-and-drop web builder to build a new site.
HostPapa's service integrates with other solutions, like WordPress and Joomla. This web hosting service also has a good online reputation. It scored an A with the Better Business Bureau and sports positive reviews on other websites. Businesses looking to get in touch with HostPapa to learn more about its service offering can do so via phone, live chat or email.
Overall, HostPapa provides businesses with solid services and has a good online reputation. Despite not providing cloud hosting services, the company has a good service offering for small businesses.
Pricing
If you're interested in signing up for shared web hosting services with HostPapa, there are a few different plans to choose from. The company provides Starter, Business and Business Pro plans for small businesses. Both the Starter and Business plans are listed at $3.95 per month, and the Business Pro plan is listed at $12.95 per month.
As with most hosting companies, HostPapa displays promotional pricing. In this instance, the "regular price" for Starter is $7.99 per month, while the Business plan is $12.99 per month and the Business Pro plan is $19.99 per month.
The web hosting industry is competitive, and companies often display promotional pricing to attract customers. Keep in mind that once you sign up, you likely will only receive the more favorable rate for a set amount of time. Each company has different protocol for promotional pricing. It's not clear how HostPapa handles its regular and promotional pricing. With many companies, you pay the promotional pricing for the first year. This is a good thing to check in on with your HostPapa sales representative before signing up.
HostPapa provides terms ranging from one to three years, depending on what's best for your business. As with any service you sign up for, the longer you commit, the lower the monthly price.
It's also very transparent about its offering. You can view a full breakdown of what features are included in which plans here. There are many similarities between the Business and Business Pro plans, with the Business Pro plan being the faster of the two.
When you sign up with HostPapa, expect to pay some one-time fees. These are usually for setup. HostPapa provides free domain registration to customers but may require you to pay a fee after the first year. This depends on your specific contract and is a good thing to ask about before signing up. You can cancel your service with HostPapa at any time for no additional fee. You may, however, be required to pay out certain fees and charges to your overall account. You can read more about the company's cancellation policy here.
One important thing to note is that HostPapa may automatically renew your service once your defined term ends. The company says in its terms of service agreement under the Renewals section that services purchased for a set period will be automatically renewed upon their termination unless you provide a written termination notice. This is something to keep an eye on as you come toward the end of your service.

All of HostPapa's services are included in the listed price and service breakdown, but the company may suggest that you sign up for extra features like SiteLock Security seal and Automated Website Backups. These are both security features. These fees, prices and terms are all for HostPapa's shared hosting plans. It provides other types of hosting with different features, plans, pricing and terms.
Features
HostPapa provides solid security, storage, bandwidth and integration features on all its plans. The Starter plan is meant for smaller websites while the Business and Business Premium plans are meant for established small businesses and larger operations. The big difference between the Business and Business Premium plan have to do with security and overall performance. Still, the Business plan has solid features depending on your needs.
Storage and bandwidth: HostPapa provides "unlimited" storage for its Business and Business Premium plans, and 100GB of storage for its Starter plan. All three plans have unlimited bandwidth usage. HostPapa, like most other companies, defines exactly what unlimited means. Unlimited does not mean infinite, but rather expected usage. You can read more about the specifics of how HostPapa defines unlimited here. Essentially, HostPapa does not set limits on the amount of bandwidth you use, but it does need to account for the fact that you're on a shared server and everyone needs to be afforded equal access. The same goes for storage: The company doesn't provide truly unlimited services. Instead, there are some minor restrictions.
Security: HostPapa's security offering is one of the best we reviewed. It provides firewalls, monitoring and intrusion detection, DDoS attack prevention, RAID-10 redundancy, network monitoring, brute force detection, SSL encryption and ModSecurity. The Business Premium has advanced security features, like domain privacy protection, premium wildcard SSL certificates, automated backup and SiteLock Detect. Automated backups and SiteLock Detect can be added to your Business or Starter plan for an extra monthly cost. Other hosting companies we reviewed were vague about their security offering. HostPapa was one of the few that laid out exactly what was included and with which plan.
Cancellation policy: You can cancel services at any time for no additional fees. However, you may have to pay additional fees or other charges associated with your account depending on your agreement with the company.
Pre-installed apps/integration: HostPapa offers solid support and integrations with other platforms and applications. Some of these integrations are with programs like WordPress, Joomla and Drupal. The company also provides the latest version of cPanel to control your website.
Types of Hosting Offered
HostPapa also provides VPS, WordPress and Reseller hosting to small businesses. It does not provide cloud hosting. The pricing and terms for these types of services vary based on usage.
The overall structure mirrors that of web hosting – it provides basic packages and then scales up to meet larger business' needs. VPS hosting is more expensive compared to shared hosting. Expect to pay between $49.99 and $299.99 per month after the first month of promotional pricing.
The advantage to VPS hosting is faster speeds and extra features like more application integrations and email features. The pricing for WordPress hosting is on a par with shared hosting. WordPress hosting is a nice addition to HostPapa's offering as many small businesses use WordPress to build and design their websites.
HostPapa's reseller hosting options differ from its shared, VPS and WordPress offerings. Reseller hosting has a completely different structure and provides services that are different from the other types of hosting we looked at. However, it does provide multiple plans with several different features for you to choose from.
Domain Transfer
HostPapa provides free domain registration, but you may have to pay for other domain fees. Some companies charge yearly fees for using a domain name. In HostPapa's terms of service, the company indicates that it will pair you with a third-party to register your domain. It says HostPapa will assist you to register a domain name, but once it's registered, HostPapa's "involvement ends."
As you sign up for your services, this is another point of contention to discuss with HostPapa.
Reported Uptime
HostPapa reports that it has 99.9 percent uptime. Every company we reviewed claimed to have 99.9 percent uptime. While this claim may be true, the realities of shared hosting plans mean there are times when you may not experience this level of uptime.
HostPapa has scheduled maintenance periods, which it will provide at least 48 hours' prior notice about. All of this is standard and comparable to other companies we reviewed, including some of our best picks.

Reputation and Customer Service
HostPapa has a good online reputation. It scored an A with the Better Business Bureau and has a 4.34 out of 5 stars with the company. This is one of the highest scores of all the companies we reviewed.
It also only has 15 complaints on the Better Business Bureau website, which is impressive considering the company has been accredited with the rating agency since 2010. Other companies we reviewed has a multitude of complaints and ratings as low as a C+.
HostPapa has good customer service. We spoke briefly with the company via live chat and asked questions about their service. The representative was timely and informative in his response. Businesses with sales or support questions can contact HostPapa via phone, live chat or email. This offering is standard with other companies we reviewed.
Drawbacks
The primary downside of HostPapa is that it doesn't provide cloud hosting services. For most small businesses, however, this is a minor catch in light HostPapa's hosting options, features, competitive pricing, favorable reputation and responsive customer service.

Ready to choose your The Best Web and Cloud Hosting Services of 2019? Here's a breakdown of our complete coverage:

Matt D'Angelo
Matt D'Angelo is a staff writer covering small business for Business.com and Business News Daily. After graduating from James Madison University with a degree in journalism, Matt gained experience as a copy editor and writer for newspapers and various online publications. In addition to his writing and reporting, Matt edits articles. He reviews small business services, including PEOs, small business loans and GPS fleet tracking services. He's been with Business.com and Business News Daily since 2017.