HostPapa Review
HostPapa provides shared hosting, virtual private server (VPS), reseller hosting and WordPress hosting for small businesses. It provides a solid security offering, including SSL encryption, DDoS protection and RAID-10 redundancy. HostPapa offers a 30-day, money-back guarantee for users to try its service risk-free. It doesn't offer cloud hosting.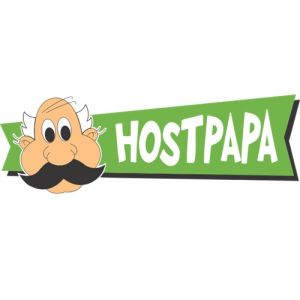 HostPapa
The Verdict
HostPapa provides great security features and multiple hosting options; however, it lacks cloud hosting and dedicated servers.
To view all of our recommendations for web hosting services, see our best picks page.
HostPapa offers multiple price plans within each hosting type, making it a good option for small businesses looking to scale their service over time. Pricing and terms vary; new users are permitted a free domain name. You can also use the company's drag-and-drop website builder to build a new site, if you don't already have a website.
HostPapa's service integrates with other solutions, like WordPress and Joomla. Despite not providing cloud hosting services, the company has a good web hosting service offering for small businesses.
Types of Web Hosting Offered
Shared hosting is the most cost-effective option for small businesses and HostPapa comes with all the essential features needed (more on that below). WordPress hosting is similar to shared hosting and is a nice addition as many small businesses use WordPress to build and design their websites.
The advantage of VPS hosting is faster speeds and extra features, like more application integrations and email features. However, VPS hosting is typically designed for larger corporations with a bigger web hosting budget.
HostPapa's reseller hosting options differ from its shared, VPS and WordPress offerings. Reseller hosting has a completely different structure and provides services that are different from the other types of hosting we looked at. However, it does provide multiple plans with several different features you can choose from.
HostPapa Pricing and Plans
If you're interested in signing up for shared web hosting services with HostPapa, there are a few different plans to choose from. The shared web hosting is available in three pricing plans: Starter, Business and Business Pro.
The standard price for the Starter plan is $7.99 per month, while the Business plan is $12.99 per month and the Business Pro plan is $19.99 per month. However, the company offers promotional pricing of $3.95 per month for both the Starter and Business plans and $12.95 per month for the Business Pro plan if you choose a three-year billing term, and this only applies to first-time customers.
HostPapa provides terms ranging from one to three years. As with any service you sign up for, the longer you commit, the lower the monthly price. One important thing to note is that HostPapa may automatically renew your service once your defined term ends.
HostPapa is transparent about what features you get with each plan. You can view a full breakdown of the features included in each plan. There are many similarities between the Business and Business Pro plans; however, the Business Pro plan is the faster and more advanced of the two.
When you sign up with HostPapa, expect to pay some one-time set-up fees. HostPapa provides free domain registration to first-time customers but standard renewal rates apply after the first year.
You can cancel at any time without being charged a cancellation fee. If you cancel within 30 days, you will receive a refund minus the domain registration fee. Unlike its competitors, HostPapa provides refunds on its other tools, too, such as its website builder, reseller hosting, shared hosting, VPS hosting, SiteLock, site backup and protection power.
HostPapa Web Hosting Features
HostPapa's Starter plan is intended for smaller websites, while the Business and Business Pro plans support larger websites and larger corporations. Here's more about its web hosting features:
Storage and bandwidth: HostPapa provides unlimited storage for its Business and Business Pro plans, and 100GB of storage for its Starter plan. All three plans have unlimited bandwidth usage. HostPapa does not set limits on the amount of bandwidth you use, but you're on a shared server, and everyone needs to be afforded equal access. The same applies to disk space.
Security: HostPapa's security offering is one of the best of the hosting services we reviewed. It provides firewalls, monitoring and intrusion detection, DDoS attack prevention, RAID-10 redundancy, network monitoring, brute force detection, SSL encryption, and ModSecurity. The Business Pro has advanced security features, including domain privacy protection, premium wildcard SSL certificates, automated website backup and SiteLock Detect. Advanced security features can be added to your Starter or Business plan for an extra monthly cost.
Preinstalled apps and integrations: HostPapa offers solid integrations with other platforms and applications, such as WordPress, Joomla, and Drupal. The company also provides the latest version of cPanel.
Domain transfer: HostPapa provides free domain registration to new users, but you may have to pay other domain fees. Some companies charge annual fees to register or renew a domain name. HostPapa doesn't register your domain for you. Instead, they pair you with a third party.
Reported uptime: HostPapa reports a 99.9% uptime. (Every company we reviewed claimed to have 99.9% uptime.) While this may be true, the realities of shared hosting mean there are times when your site may be down. HostPapa has scheduled maintenance periods. When these arise, the company provides at least 48 hours' notice.
Reputation and Customer Service
HostPapa has a good online reputation. It is an accredited member of the Better Business Bureau and has an A+ rating. It also only has 11 complaints closed against it in the past three years.
The company has good customer service. You can contact customer support via phone, live chat or email. You can also access HostPapa's online resources, including a searchable knowledge base, customer care center, video tutorials and support tickets. This offering is standard with other companies we reviewed.
Limitations
HostPapa doesn't provide cloud hosting or dedicated servers. For most small businesses, however, this is a minor issue since HostPapa offers shared and WordPress hosting options at affordable rates.
If you don't need a dedicated server plan (your business is large) or a cloud plan (which is more technical), you may be able to find the right web hosting option from HostPapa.
Image Credit: Yanawut / Getty Images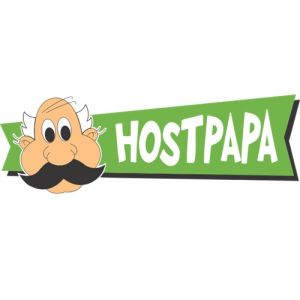 HostPapa
The Verdict
HostPapa provides great security features and multiple hosting options; however, it lacks cloud hosting and dedicated servers.

Skye Schooley
business.com Staff
Skye Schooley is a staff writer at business.com and Business News Daily, where she has written more than 200 articles on B2B-focused topics including human resources operations, management leadership, and business technology. In addition to researching and analyzing products that help business owners launch and grow their business, Skye writes on topics aimed at building better professional culture, like protecting employee privacy, managing human capital, improving communication, and fostering workplace diversity and culture.