HP DesignJet T830 Review
The HP DesignJet T830 is our best wide-format printer pick for detailed applications. Boasting a line accuracy of +/- 0.1% with a 2,400-dpi printing resolution, the 36-inch model of the T830 stands out as an affordable option for users that need a machine that can deliver intricate prints for everything from ultraprecise blueprints to intricate photos and prints.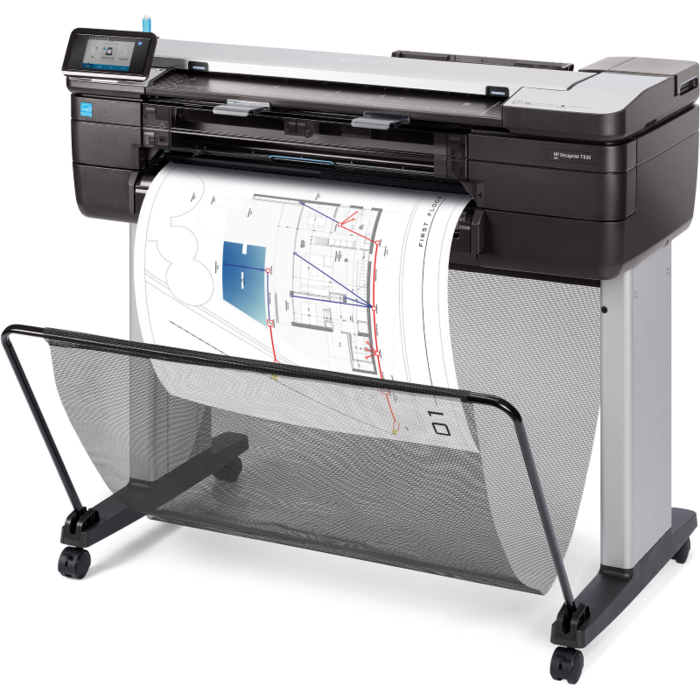 HP DesignJet T830
The Verdict
The HP DesignJet T830 is a versatile machine with high marks in print precision. At under $6,000, it is our choice as the best wide format printer for detailed applications.
Pricing
One would expect that the T830 would come with a hefty price tag. And while it's not comparable in price to the Epson SureColor T2170, a DesignJet T830 can be had for under $6,000 directly from HP at $5,995. Third-party vendors sell this model at comparable prices, so you may want to shop around to find a lower price elsewhere.
As for financing options, from our research, we were not able to determine if HP offers a payment plan for the T830; however, there are third-party retailers who are very likely offering low-interest financing.
Product Specs
According to HP, the DesignJet T830 printer has a 36-inch output, it weighs 138 pounds, and it measures 55.2 x 24.8 by 45.5 inches. Based on those dimensions, this printer will take up a decent amount of space, especially in a small office, but not so much that you'll have to dedicate an entire room to the machine like some of the more robust and expensive wide-format printers.
With a maximum print resolution of 2,400 dpi, the T830 uses thermal inkjets to print at a speed of 25 seconds per page on D, or 82 D prints per hour, which HP describes as "mechanical printing time, printed in Fast mode with Economode on, using HP Bright White Inkjet Paper (bond) and Original HP inks."
The T830 uses four color cartridges in the CMYK color spectrum to complete its prints. Normal capacity ink cartridges cost roughly $40 for a 40-ml color cartridge and $65 for a 69-ml black ink cartridge. For larger capacity cartridges, expect to pay $189 for a 300-ml black ink cartridge and $98 for each 130-ml color cartridge.
While some third-party ink makers sell cartridges that are compatible with the T830, HP advises against using non-HP ink cartridges, since the machine is a dynamic security-enabled printer. HP designed the T830 to only work with cartridges that have an HP chip in them. Ink cartridges without that chip may not work, with the company warning that cartridges that may currently work today could be useless in the future.
As for internet connectivity, the HP DesignJet T830 has a gigabit ethernet port (1000Base-T), with Wi-Fi functionality that can connect to 802.11b/g/n access points. The machine has 1GB in memory, though it does not feature a hard drive.
Features
When it comes to features with the HP DesignJet T830, there are several features that make it attractive to small businesses looking to produce high-quality prints. As previously mentioned, the DesignJet T830 has a very low error threshold at +/- 0.1% and a 2,400-dpi print resolution.
That level of precision is welcome for businesses where accuracy is a must. As a further benefit, the T830 supports several printing mediums. According to HP, the T830's input tray can handle A4, A3, 8.3 x 11 to 13 x 19-inch paper sizes. The manual feed supports A2, A1, A0, 13 x 19 to 36 x 74.7-inch sized paper. This wide-format printer also prints on the following types of media:
Bond and coated paper (bond, coated, heavyweight coated, recycled, plain, bright white)
Technical paper (natural tracing, vellum)
Film (clear, matte)
Photographic paper (satin, gloss, semigloss, premium, polypropylene)
Self-adhesive (adhesive, polypropylene)
The standard media sizes range from 11 to 36 inches, with the thickness of each print medium having a maximum of 11.8 millimeters. For print medium rolls, the T830 can support a roll with an external diameter of 3.9 inches.
The T830 supports mobile printing functionality. Smartphones and tablets using the Android or iOS operating systems can connect directly to the DesignJet T830, giving users the ability to print documents straight from those devices. The printer also supports Wi-Fi Direct and local Wi-Fi connectivity to enable mobile printing through the use of HP ePrint, Apple AirPrint and the HP Smart App.
As for other software included with the printer, HP provides HP Click, HP Support Assistant, HP Print Preview for Windows, and HP DesignJet Utility for macOS and Windows.
Customer Service
Each purchase of an HP DesignJet T830 comes with a one-year limited warranty, though additional service packages and warranties can be purchased. According to the company's website, HP Care Packs include installation support and network setup, while other packages provide on-site support. For the T830, the HP Care Pack costs $369, while the three-year Next Day Onsite Support costs $1,099, and the five-year Next Business Day Onsite Support costs $1,749.
Two things to be aware of with the DesignJet T830 is that, one, shipping may take a while. HP didn't specify whether this is COVID-19 related, only stating that the machine "can only be shipped via FedEx Freight Economy," which could take anywhere from three to six days – longer if you are in Hawaii or Alaska.
The second consideration, if you're strongly considering the DesignJet T830, is that according to HP, because of the size of the printer, they do not accept returns.
Image Credit: wir0man / Getty Images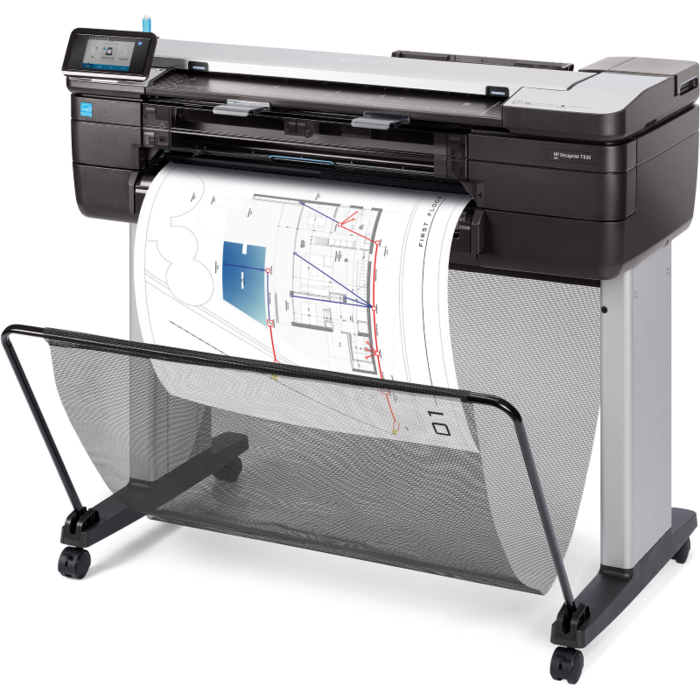 HP DesignJet T830
The Verdict
The HP DesignJet T830 is a versatile machine with high marks in print precision. At under $6,000, it is our choice as the best wide format printer for detailed applications.

Andrew Martins
business.com Staff
Andrew Martins has written more than 300 articles for business.com and Business News Daily focused on the tools and services that small businesses and entrepreneurs need to succeed. Andrew writes about office hardware such as digital copiers, multifunctional printers and wide format printers, as well as critical technology services like live chat and online fax. Andrew has a long history in publishing, having been named a four-time New Jersey Press Award winner.