HP DesignJet T100 Review
Affordable and small, the HP DesignJet T100 is our best pick for small businesses. The wide-format printer produces prints up to 24 inches wide, and the printer can produce materials in under 30 seconds, depending on the job. The ability to connect from Wi-Fi and print smaller sizes make the T100 a versatile large-format printer that can do a little bit of everything for small businesses. While it doesn't have the deluxe features that other wide-format printers offer, the HP DesignJet T100 offers everything a small business might need in a large-format printer.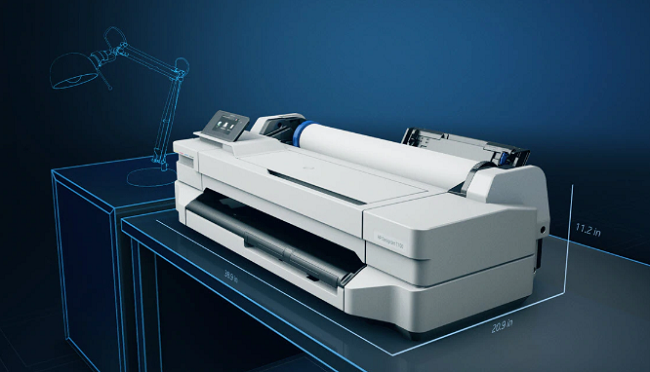 HP DesignJet T100
The Verdict
The HP DesignJet T100 is our best pick for small businesses thanks to its speed, simplicity, size and price.
To view all our recommendations for wide-format printers, visit our best picks page.
Pricing
Coming in at roughly $1,000, the T100 doesn't break the bank for small businesses. Spending under $1,000 for a versatile wide-format printer is a bargain, and that's a major reason why we consider this HP model the best large-format printer for small businesses.
Depending on the color of ink you're replacing, ink cartridges for the T100 cost between $29.92 and $58.33 on HP's website – a manageable price for most small businesses. By producing quality prints and limiting costs, the printer appeals to even the smallest businesses.
Editor's note: Looking for information on wide format printers or plotters? Use the questionnaire below, and our vendor partners will contact you with the information you need:
Product Specs
HP designed the T100 with the goal of keeping costs low and minimizing the amount of space this printer occupies in your office. It measures 38.9 x 20.9 x 11.2 inches and weighs 56.2 pounds.
This is a printer one or two people can install without much hassle, which is not the norm for wide-format printers. The size is one of the T100's top selling points.
In terms of speed, the T100 has an output of 70 seconds per page, which is good for 32 A1 prints per hour. That's a respectable number, although the printer doesn't produce anything over 24 inches, so it's expected to move at a quick pace. Small businesses can expect their prints to be produced in a timely fashion, which is important.
The printer uses one printhead and four different ink cartridges. The T100 uses a CMYK color scheme. The T100 uses only four inks, and while this is fewer than other wide-format printers that use 10 or more different colored inks, the fact is, most small businesses don't need that level of coloration in standard prints. This printer likely won't be the main printer used by a photography store, but a small business looking to print marketing materials could certainly get by with four ink colors.
With a print resolution of up to 1200 x 1200 dpi, the printer competes favorably against similarly sized printers. While the resolution isn't the best on the market, a small business shouldn't have issues producing quality prints with a resolution of 1200 x 1200 dpi.
A line accuracy of +/- .01% is a good mark and one that small businesses should be content with. The printer can accurately produce designs, marketing materials, and more, and, again, most small businesses will likely be pleased with the accuracy of the prints.
Setting up this printer isn't difficult, and small business owners with limited experience using wide-format printers should figure it out without much trouble. HP includes a poster on how to set up the printer along with introductory ink cartridges and a quick reference guide.
From setup to printing, HP states this printer is "radically simple," according to its website, and a radically simple solution is something most small business owners will appreciate.
Features
Although it's not a fancy feature, the printer's size helps it stand out from the crowd. The T100 is one of the few printers on the market weighs under 60 pounds. It takes up minimal space and can be easily placed in different locations in your office. This is in stark contrast to large-format printers that require their own room or that gobble up a significant amount of space. Being able to move the printer to different locations within a workspace without needing a team of five to 10 people is another perk for small businesses.
Simplicity isn't necessarily a feature, but it is what makes the HP DesignJet T100 so beneficial for small businesses. The setup process isn't cumbersome. There aren't unnecessary features, and users can easily print using standard colors on plain paper. There's Wi-Fi connectivity, and the printing speeds are quick. An A3 and A4 printing tray let you print both large and small-format prints.
HP also offers a few different helpful apps and tools, including HP Click, the HP Smart app and the HP Poster app. HP Click allows businesses to quickly print standard file formats with just one click. Again, HP strives to make using this printer as simple and user-friendly as possible.
The HP Smart app allows users to print and access documents from one's smartphone. This adds convenience to the printing process, and allows users to access different documents and print them from different locations. The app even allows users to email documents to the printer and print them remotely.
The HP Poster app helps businesses create basic posters for marketing needs. The app simplifies the process and is yet another way HP makes the process of using a large-format printer easier.
Overall, usability distinguishes the T100 from other wide-format printers. Small businesses won't have an issue making posters, creating marketing materials, moving the printer around or installing the product. Everything about using the HP DesignJet T100 is easy. That ease of use makes it an exceptional option for small businesses wanting to buy a large-format printer.
Customer Support
The HP DesignJet T100 includes a one-year limited hardware warranty. A one-year warranty is standard across the industry, especially for printers of this size. Using HP Subscription Services, a T100 owner can browse and select extended warranty plans if so desired.
Additionally, HP offers next day onsite printer repair. This isn't the most pressing need given the small size of the DesignJet T100, but it's refreshing to know that you won't have to pack up the printer, leave the office, and take valuable time out of your workday to fix it.
While the installation process is easy for a business owner, HP offers installation service. This is yet another way businesses can save time. HP's willingness to help small businesses use the printer to the best of its ability is an important consideration.
HP keeps this printer simple, which is a breath of fresh air in an increasingly complex industry.
Image Credit: wir0man / Getty Images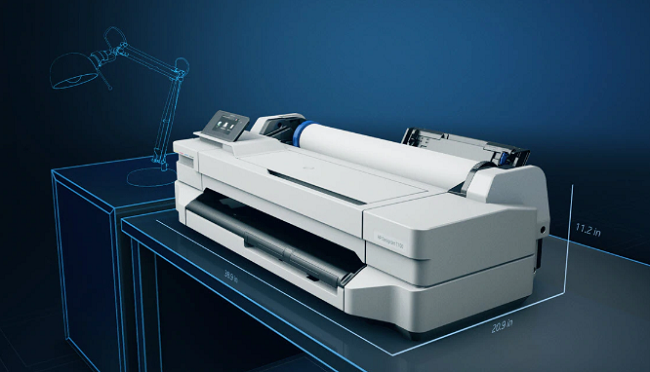 HP DesignJet T100
The Verdict
The HP DesignJet T100 is our best pick for small businesses thanks to its speed, simplicity, size and price.

Bennett Conlin
business.com Member
Bennett is a B2B editorial assistant based in New York City. He graduated from James Madison University in 2018 with a degree in business management. During his time in Harrisonburg he worked extensively with The Breeze, JMU's student-run newspaper. Bennett also worked at the Shenandoah Valley SBDC, where he helped small businesses with a variety of needs ranging from social media marketing to business plan writing.