HP EliteDesk Review
Many office PC brands are marketed to both consumers and businesses, but the HP EliteDesk 800 series is designed specifically for small and medium-sized businesses. The cost-effective design makes it a great option if you need multiple computers for your business. However, while the processor is adequate for multitasking with a lot of business-oriented software, it lacks the power you'd find in the best business computers.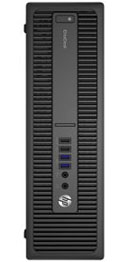 HP EliteDesk
The Verdict
The HP EliteDesk 800 has a powerful high-end processor, but it comes with below-average storage.
For our review of business computers, we looked primarily at the processor for performance. To do this, we used the PassMark score of the processor, which is a user-submitted score based on industry benchmarking tests. Then we analyzed the RAM and the storage. The best business computers should provide excellent performance with sufficient storage. Finally, we evaluated the chassis' connectivity and expansion potential, as you should get an office PC that can expand with the needs of your business.
The HP EliteDesk 800's processor is the Intel i5-6500, which is a quad-core processor with a 6MB cache and 3.6GHz speed. In the PassMark benchmark tests, this processer has a score of 7,035, which is well-above the passable mark of 6,000. This means this desktop has sufficient processing power to multitask with most business apps. However, the highest PassMark score in our review is 11,000. A difference of 3,000 in a PassMark score is generally considered to be exponential, meaning that the best processor in our review is more than twice as good as this processor at multitasking and processing data.
The EliteDesk also lacks a dedicated graphics card, which means that the graphics are integrated with the i5-6500 processor. This computer will struggle to handle data-intensive graphics programs like AutoCAD. However, you can upgrade the processor and add a dedicated graphics card prior to purchase, though at a significant cost.
You get 4GB of memory and a 500-GB hard drive, which is disappointing. While 4GB of RAM is plenty for most business apps like Microsoft Office and Excel, 8GB of memory is the preferred standard. Also, the best office PC has at least 1TB of storage. The best business computer in our review, the Dell XPS 8900, comes with 16GB of RAM. However, you can upgrade the memory to 8GB, and you can upgrade the storage to 4TB. In addition, the motherboard can support up to 64GB of RAM, though you have to manually install the memory yourself.
The motherboard has four expansion slots, which is standard. This allows you to add hard drives or other devices, like upgraded audio or video cards. In addition, eight USB 3.0 ports and two USB 2.0 ports give you plenty of ways to connect external devices like card scanners and printers. These features make the EliteDesk an office PC that can grow with your business. When you need more out of your business computer, you can add the necessary hardware.
Another downside to the HP EliteDesk 800 G1 is the lack of some important support services with HP. While you get a three-year warranty that covers labor and parts, HP doesn't have asset-recovery services, online backup or remote diagnostic services. These are important services, because your business computer is a critical aspect of your business. If it fails or you're having trouble with some components, it affects your business.
The HP EliteDesk 800 has the quad-core processor and memory necessary to make sure that your computer doesn't slow down while multitasking with basic software, but the Intel Core i5-6500 processor has a middling PassMark score of 7,035. The 4GB of RAM and 500GB hard drive is disappointing, but you can easily add more hard drives as needed to fit your business needs. The lack of support services means you may not be able to retrieve vital information if you encounter a problem though.
Image Credit: Getty Images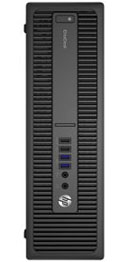 HP EliteDesk
The Verdict
The HP EliteDesk 800 has a powerful high-end processor, but it comes with below-average storage.

business.com editorial staff
business.com Member
The purpose of our community is to connect small business owners with experienced industry experts who can address their questions, offer direction, and share best practices.