HP Z240 Review
Hewlett-Packard's Z240 series of business workstation computers come in only two types of form factors, small form and tower, but it has a wide range of processors and memory options to meet your business' computing needs. The most affordable options lack the processing power and efficiency necessary for most businesses, but the midrange and high-end models rival the best business computers available. Based on its processing power, performance, memory and storage, Hewlett-Packard's Z240 earns our Silver Award for best business computer.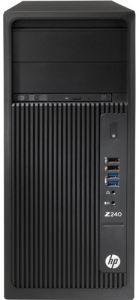 HP Z240
The Verdict
The HP Z240 is an excellent business computer with a high-end processor, a dedicated GPU and good memory.
To determine the best business computers, we looked at the comparative performance by evaluating the installed processor's PassMark score, a third-party CPU benchmarking score. Then we evaluated the installed memory and storage, followed by the chassis' connectivity and expansion potential. Your business requires a PC that can operate efficiently while providing room to grow.
The HP Z240 comes with the most USB ports of any business computer our lineup. There are seven USB 3.0 ports and six USB 2.0 ports. You can never have too many USB ports. As a rule, you should always have at least two or three more USB ports than you know you'll need.
One downside to the Z240's connectivity is the lack of a media card reader – a slot that reads memory cards and sticks typically used by digital cameras and phones. You can add a media card reader at an additional cost.
The base HP Z240 model features the Intel Xeon E3-1240 v5 processor, which has four cores and hyper-threading on each core. This makes it perform as though it has eight cores, which is why it has a 10,177 PassMark score. Only one other processor in our review received a higher PassMark score.
Since the PassMark tests evaluate a processor's multitasking and data-processing abilities, a score above 10,000 is very good for a business computer. We considered any score below 6,000 to be passable. So the Intel Xeon processor is more than capable of handling multiple apps at a time.
The Z240 also comes with the Nvidia Quadro K620 graphics card. Most of the office PCs on our lineup only have integrated graphics, which means that all the graphics are processed by the CPU. However, with a separate GPU, the Z240's processor doesn't have to process graphics, which leads to better performance. In addition, since the Nvidia Quadro is AutoCAD certified; it's an excellent GPU for data-intensive graphics-based programs.
The HP Z240 comes with 8GB of memory, which is the standard amount of RAM for a business desktop computer. Most software that a business relies on doesn't require a lot of memory, because the bulk of the data is easily processed. However, programs that require visual or audio files often require a lot more memory, because the programs are a lot more complicated and require much more processor resources. You can upgrade the memory to 64GB before purchase, which is also the maximum that the motherboard can support.
As with most business computers, the installed hard drive has 1TB of storage. You can upgrade to a 4-TB hard drive if you need extra storage. You can also upgrade to solid-state drives (SSD), which can provide better performance. SSDs offer faster bootup times and faster access to data, but it adds a lot to the price and doesn't provide as much storage.
HP provides a three-year warranty, which is the industry standard for a business computer. You can extend the warranty up to five years. HP also provides on-site support, which means they can send an IT expert to your business to fix problems. The warranty also covers accidental damage and asset-recovery services. The only support feature not included is remote access, which is when an IT expert fixes issues through an internet connection to your computer.
The biggest downside to the HP Z240 is the relatively weak power supply unit: It's just 280 watts. This is plenty of power for the installed components, but it doesn't provide much of a ceiling for expansion, which is unfortunate, because the motherboard has six expansion slots and the chassis has three internal and three external bays. As such, you may have to upgrade the power supply unit when you want to add components, like additional hard drives or a dedicated sound card.
The HP Z240 has a powerful Intel Xeon E3-1240 v5 quad-core processor that has a high 10,177 PassMark score. The computer comes with 8GB of memory, which is comparable to the best business computers available in this price range. The hard drive has 1TB of storage, which is average. The downside is the low-wattage capabilities of the power supply unit, but this is only an issue if you want to add components to expand its capabilities.
Image Credit: Getty Images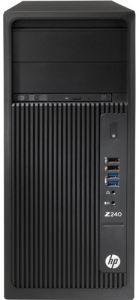 HP Z240
The Verdict
The HP Z240 is an excellent business computer with a high-end processor, a dedicated GPU and good memory.

business.com editorial staff
business.com Member
The purpose of our community is to connect small business owners with experienced industry experts who can address their questions, offer direction, and share best practices.