HP ZBook Review
The HP ZBook 15u G3 is a unique laptop, even among the best business notebooks. Classified as a mobile workstation, this professional-grade laptop boasts unique processing and graphics hardware that are built to meet the demands of business users that need to do more than file documents and work in simple spreadsheets. Instead, it's made with more resource-intensive uses in mind like financial analysis, rendering 3D objects and working with enormous data sets. While there are far more impressive workstation PCs on the market, this is one of the few that delivers this sort of high-grade performance while still fitting the budget constraints of a small business and delivering a more standard office laptop experience. The combination of impressive performance and overall attainability make it one of the best laptops for small business and office professionals.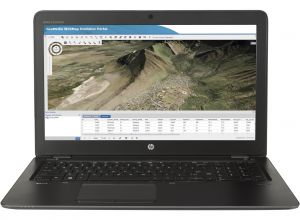 HP ZBook
The Verdict
The HP ZBook 15U G3 earns top marks with high-end performance and a rich feature set that combine in one highly capable business-class laptop.
The system we tested was outfitted with a 256GB solid-state drive (SSD), which makes for good speed and quick boot times. HP offers several different storage options for the ZBook 15u, with SSD options ranging from 128GB up to 512GB and hard drive (HDD) options of 500GB and 1TB. For the security conscious, encrypted drives are also available.
The laptop boasts an Intel Core i7-6600u processor, a 2.6GHz dual-core CPU. Our review unit paired this with 16GB of RAM, but you can configure the ZBook 15u with up to 32GB of memory at purchase. That combination of processor and RAM lead to solid overall performance, scoring a B-plus in our ratings. This score is derived from a Geekbench 3 score of 7,497 points, outpacing many of the laptops in our review. It was held back slightly by a slower time in the Laptop Mag Spreadsheet Test – it completed this test in four minutes 31 seconds, right in the middle of the pack. Regardless, it has some of the best overall performance of any business-class laptop we reviewed.
The AMD FirePro W4190M graphics card has excellent 3DMark Pro performance in more demanding circumstances. While it scored only 30,127 points in the moderate Ice Storm Unlimited test, it scored an impressive 1,372 points in the more demanding Fire Strike Extreme test, which is designed to push graphics processors to their limits with high-resolutions and advanced rendering of particles, textures and lighting.
It also has something non-workstation laptops don't, namely graphics with independent software vendor (ISV) certification. This certification ensures that programs from many vendors, such as Adobe, not only work with the GPU in question but do so without glitches and errors. Casual users editing photos can accommodate a glitch now and then, financial analysts with large amounts of money on the line cannot.
On the left side of the laptop is a single USB 3.0 port, along with a VGA port for connecting older monitors and projectors. A SmartCard slot lets you set up security-card-based access to the laptop for enhanced security. On the right you'll find a second USB 3.0 port, an Ethernet port for wired network connectivity, a headset jack, a DisplayPort, a USB-C port, an SD card slot and a SIM card slot for optional mobile broadband. A large slot-shaped port on the side connects to HP's line of desktop docks, letting you set up a full desktop of accessories – like monitors, keyboard, mouse, and external storage – all while still letting you quickly connect and disconnect the laptop with a single plug as you take the laptop with you. For wireless connectivity, the laptop is equipped with dual-band 802.11ac Wi-Fi and Bluetooth 4.0.
Additional security features include a built-in fingerprint scanner for biometric security; an integrated lock slot to physically secure the laptop; and less visible solutions like Intel's Trusted Platform Module (TPM) for hardware-based encryption, optional drive encryption and BIOS-level protections.
HP built the ZBook 15u to withstand the rigors of the workaday world with a magnesium-reinforced chassis and sturdy aluminum paneling across the lid. Despite the beefy construction, it's also comfortable to hold, with a soft-touch finish around the edges and across the palmrest. This mobile workstation is far more portable than similar systems from just a few years ago, but compared to the other business laptops in our review, it's one of the largest, measuring 15.09 x 10.1 x 0.78 inches. With many work laptops weighing 3 pounds or less, it's also one of the heaviest, tipping the scales at 4.18 pounds. While that's still a very portable weight, it's a bit much for people looking to bring their laptops along on their daily commutes.
The 15-inch chassis affords enough space for a full-size backlit keyboard and 10-key numeric pad, which adds convenience for anyone who regularly enters in lots of numbers. Unlike most laptop numeric pads, this one uses full-size keys, so you aren't cramped for space as you enter data into spreadsheets. The keyboard is accompanied by a dual-pointer setup, with a standard gesture-capable touchpad and a second pointstick built into the keyboard. The touchpad has two buttons below for right and left clicking, with another set above for use with the pointstick.
HP covers the ZBook 15u with a generous three-year warranty. Not only is this the longest standard coverage period offered in our review, but it also includes perks like free phone support, remote diagnosis and service, and even onsite support all as part of the warranty included with purchase. In Laptop Mag's independent ranking of support services, HP ranked fourth out of 10 brands surveyed, with helpful resources available online as well as knowledgeable support staff. Additional services include extended warranty periods, accidental damage protection and asset recovery service, but all of these options come at additional expense.
The laptop's 15.6-inch display has full HD (1920 x 1080) resolution, and our review unit came with a touchscreen, even though touch support does not come standard on most models. The touchscreen has a glossy display that may be more reflective than you want – it can be rather mirror-like at the wrong angles – but non-touch displays are available with an anti-glare coating that reduces the reflections. Non-touch options are also available at higher resolutions, up to ultra HD (3840 x 2160).
In our testing, the laptop display had a maximum brightness of 203 nits, which is noticeably dimmer than the displays of competing systems. The color accuracy was also a bit disappointing, with an average DeltaE of 11.5. This measurement was found on the unaltered default settings for the display, so color accuracy may be improved with adjusted settings of calibration. As it stands, however, the display was both the dimmest and least accurate of systems in our review. This may not have a large impact if you're working with spreadsheets or typing up reports, but if you're doing color-sensitive work, it is an issue.
The HP ZBook 15u G3 delivers on all fronts, with impressive performance, sturdy construction and a feature set that will help you stay productive for years to come. Security features abound make it easy to protect your work and your business, while a generous warranty includes support services that go above and beyond the usual offerings. All in all, it's one of the best business laptops in our review.
Image Credit: Getty Images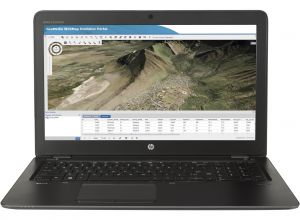 HP ZBook
The Verdict
The HP ZBook 15U G3 earns top marks with high-end performance and a rich feature set that combine in one highly capable business-class laptop.

business.com editorial staff
business.com Member
The purpose of our community is to connect small business owners with experienced industry experts who can address their questions, offer direction, and share best practices.