Imperva Incapsula Review
By Business.com Editorial Staff
Last Modified: November 5, 2018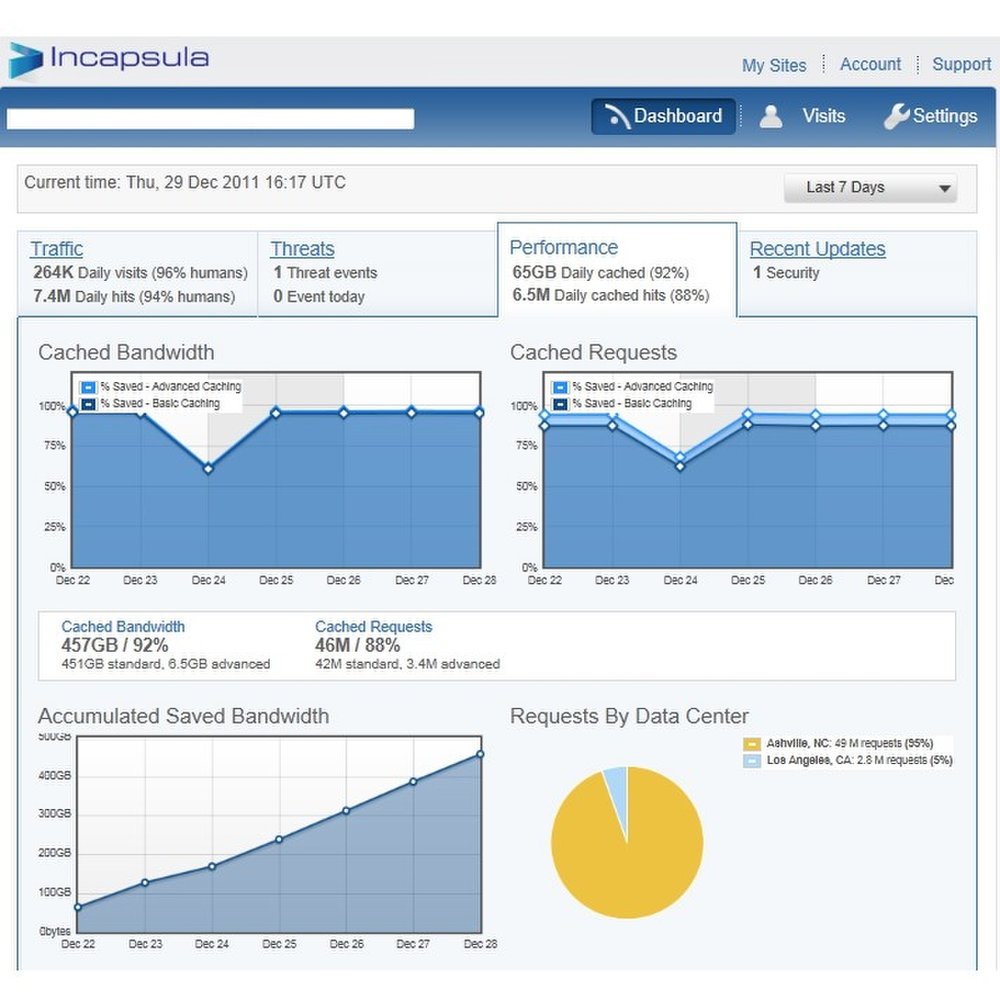 This image shows the website security and performance service Imperva Incapsula. Here you can see the performance screen.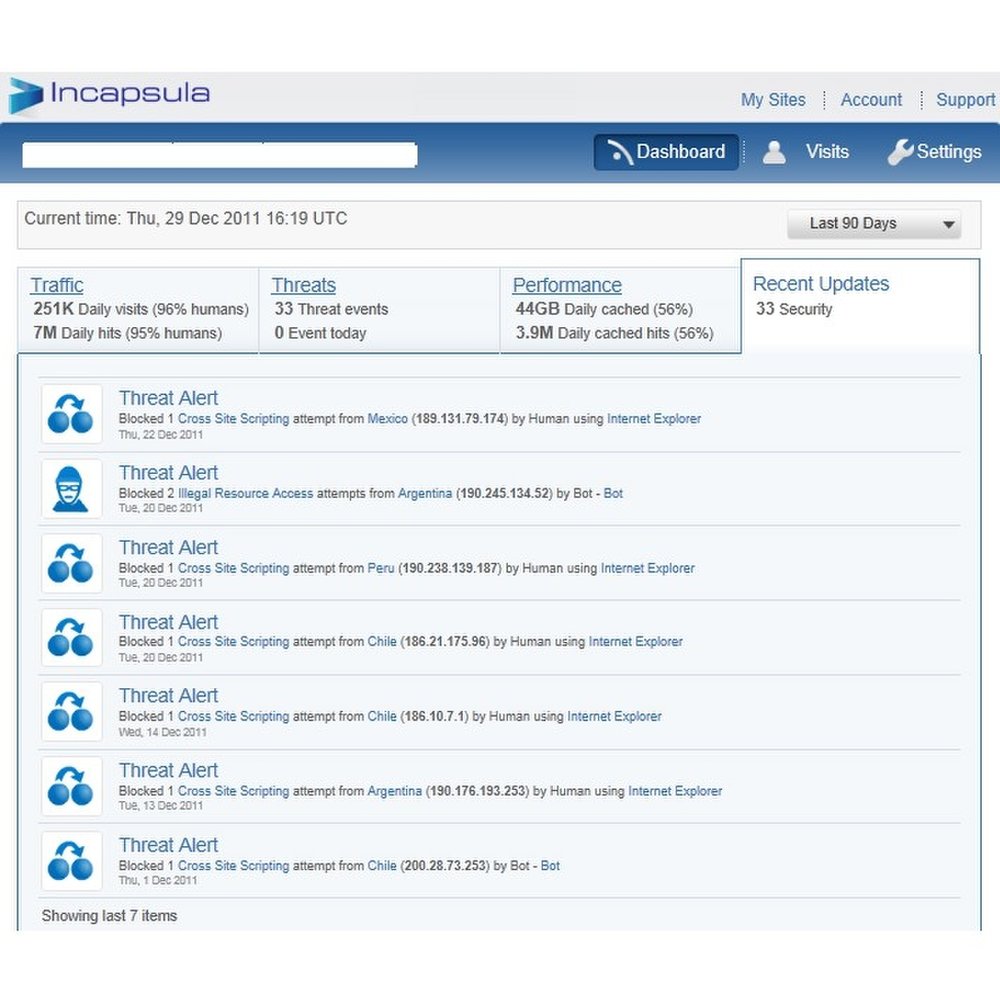 Pictured here is the recent update screen.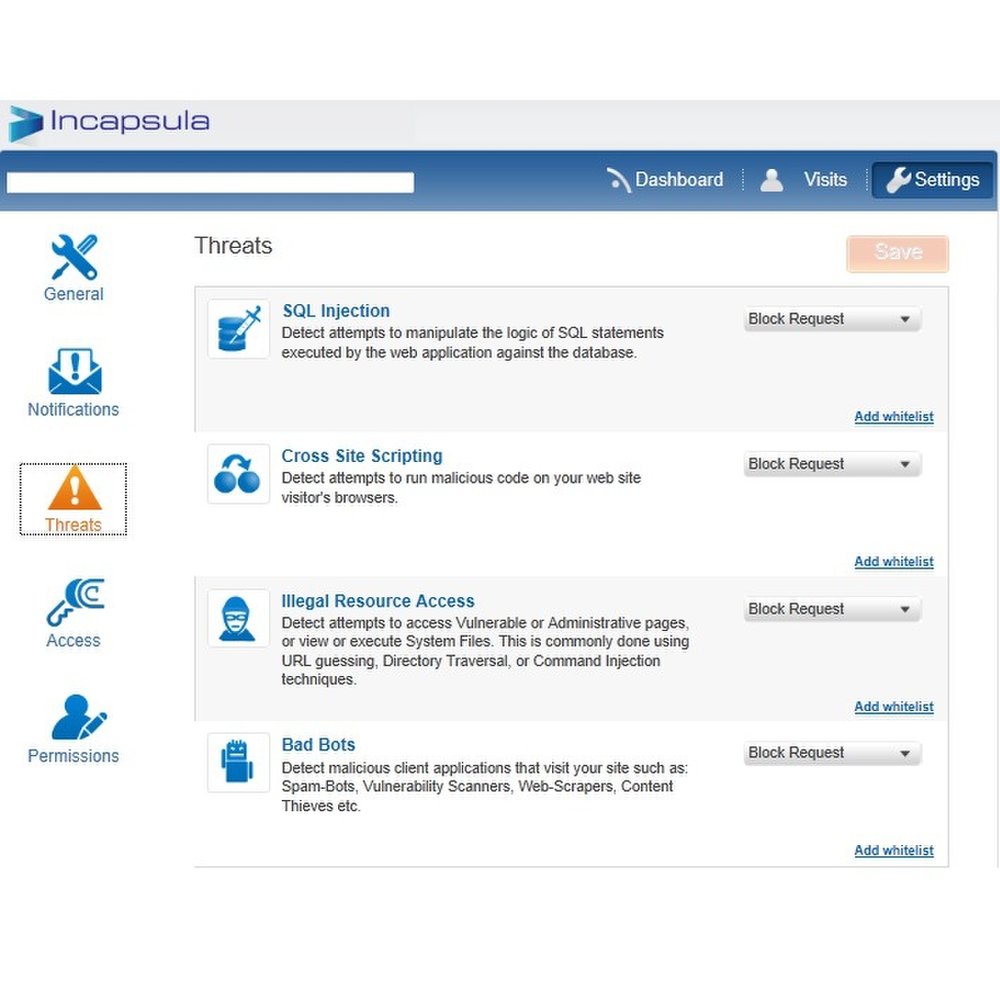 Here you can see the Settings screen.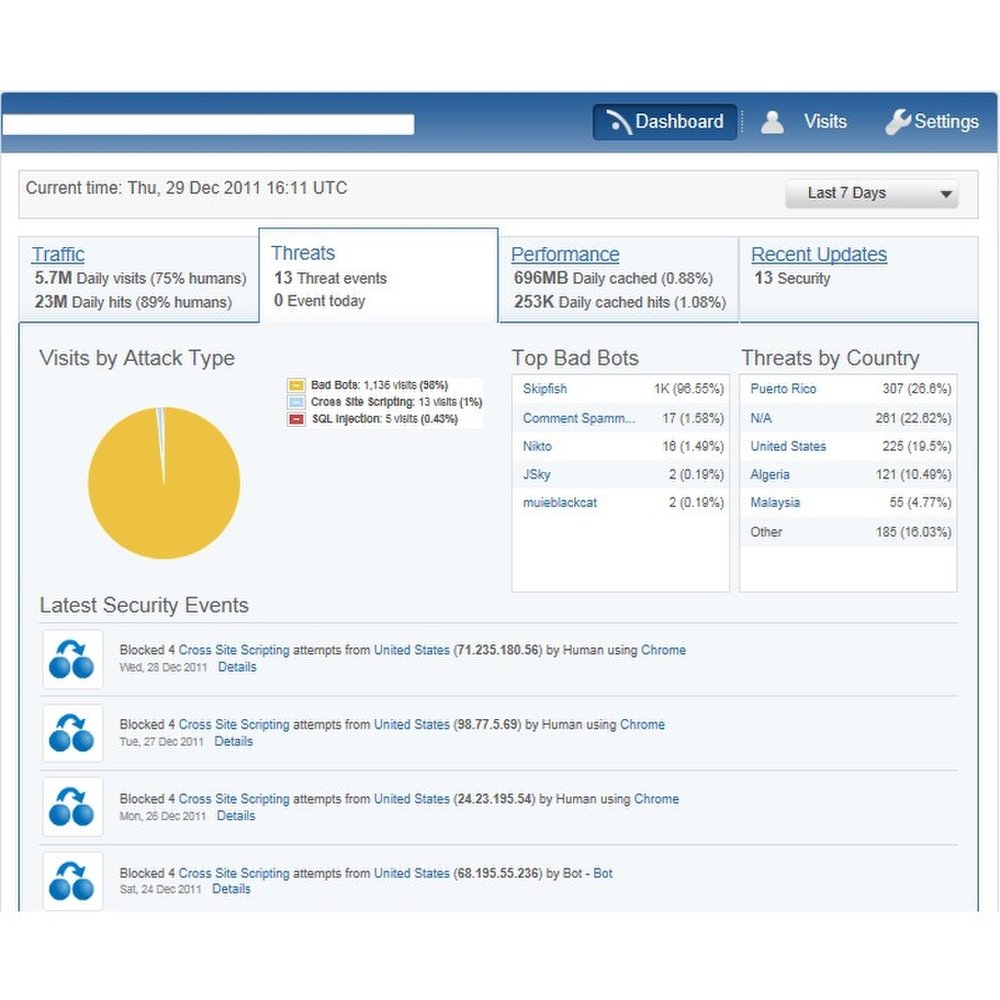 Here you can see the Threats screen.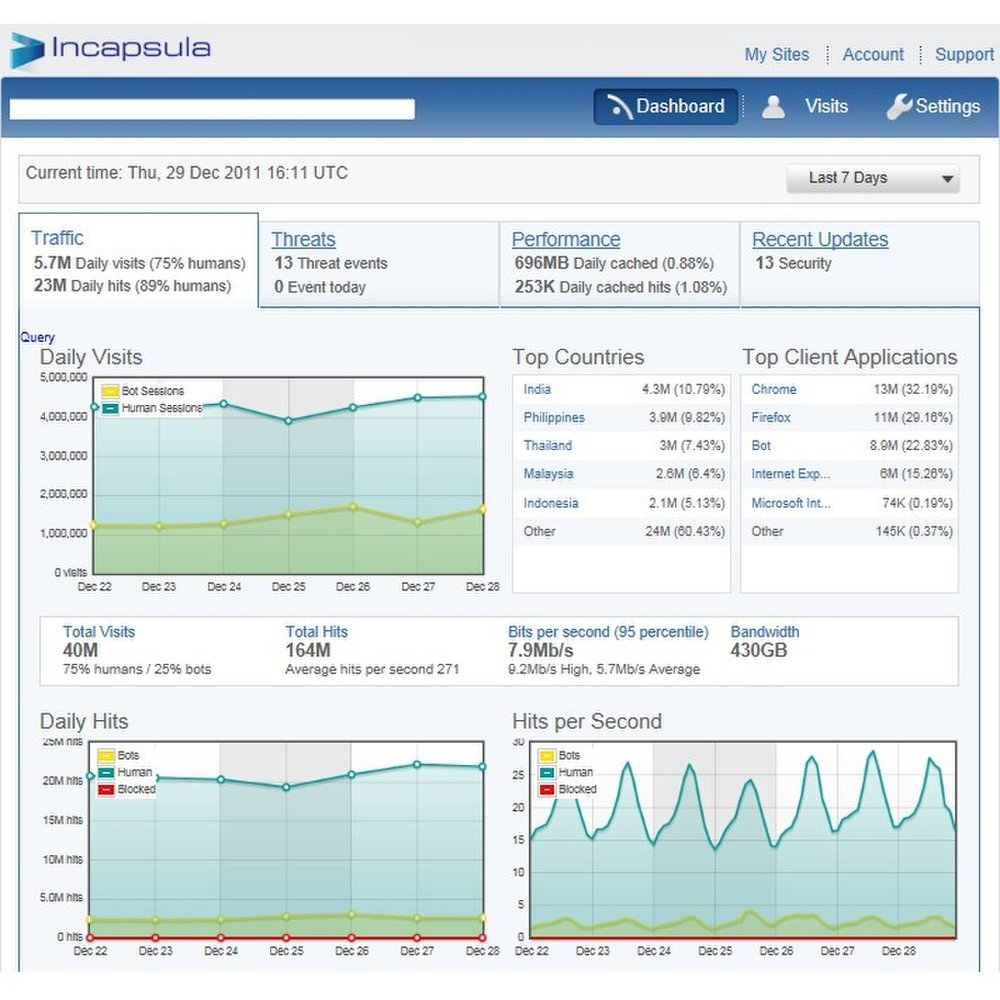 This image shows the website security and performance service Imperva Incapsula. Here you can see the Traffic screen.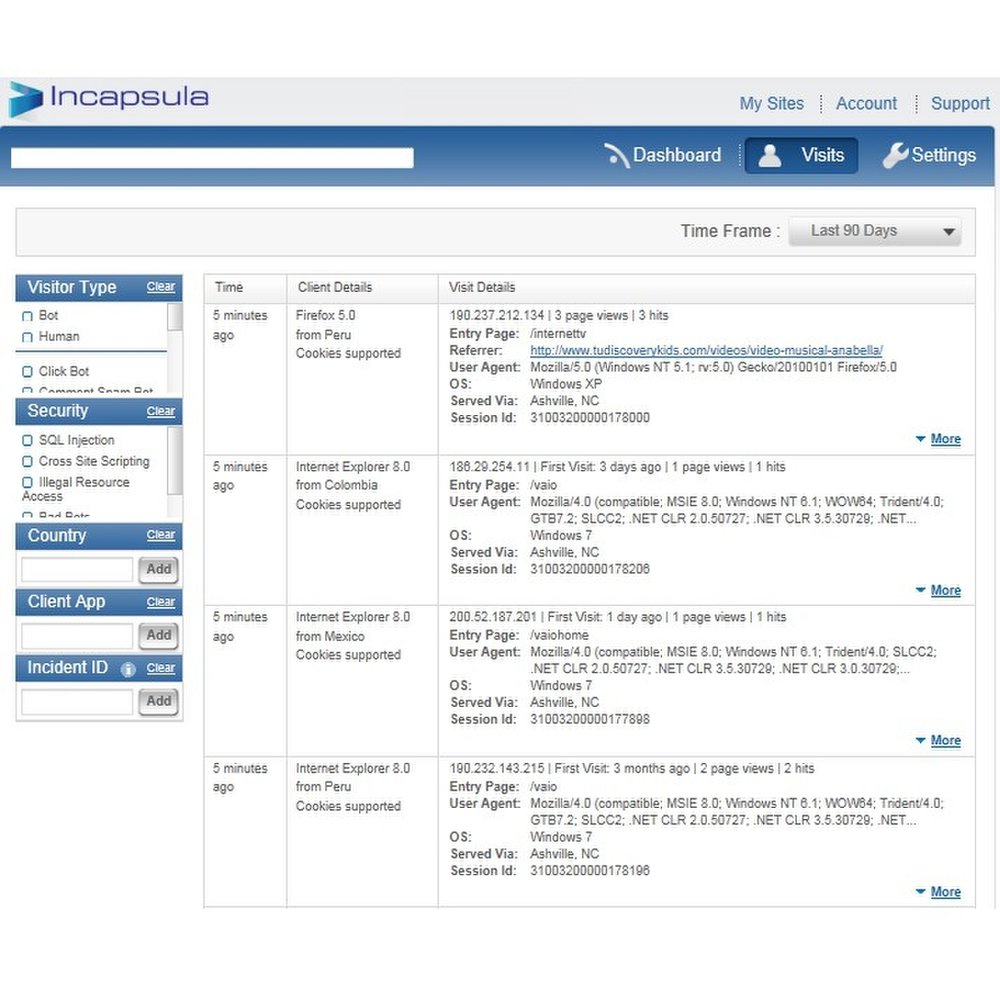 Here you can see Visitors screen.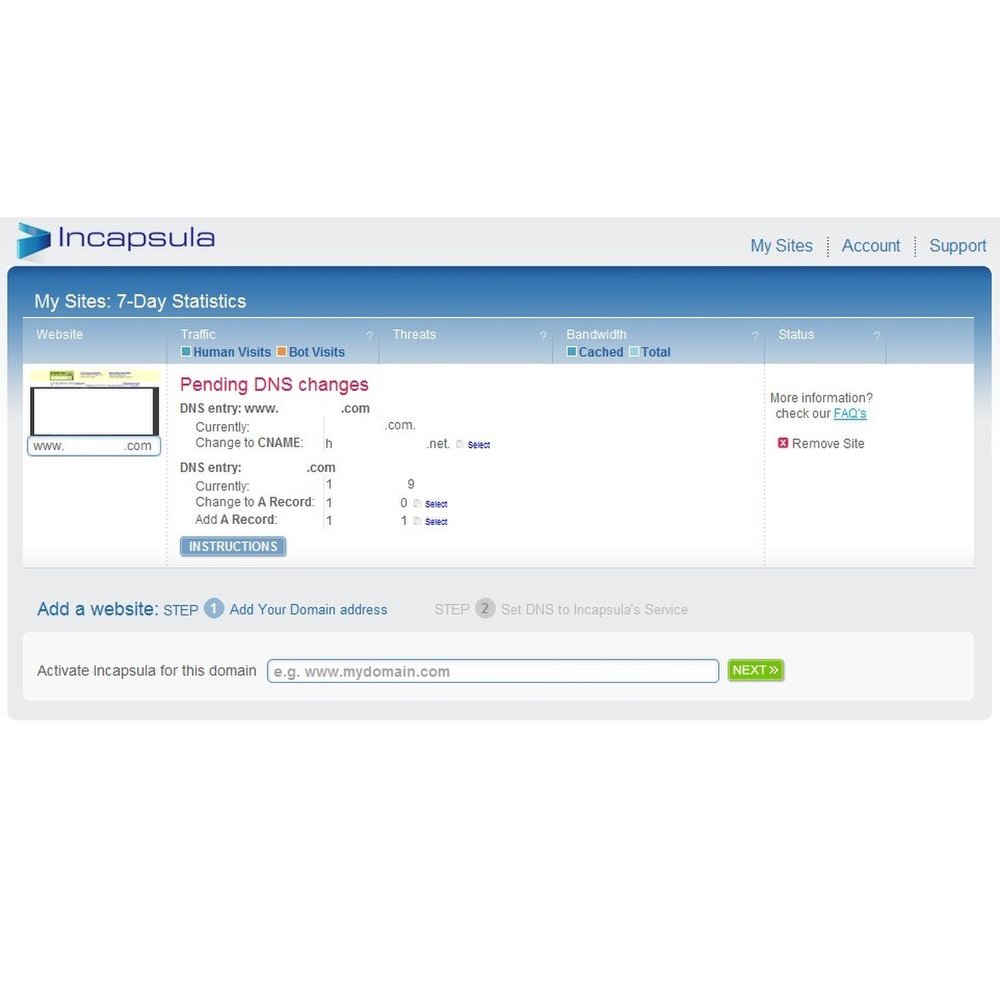 Here you can see DNS Change screen.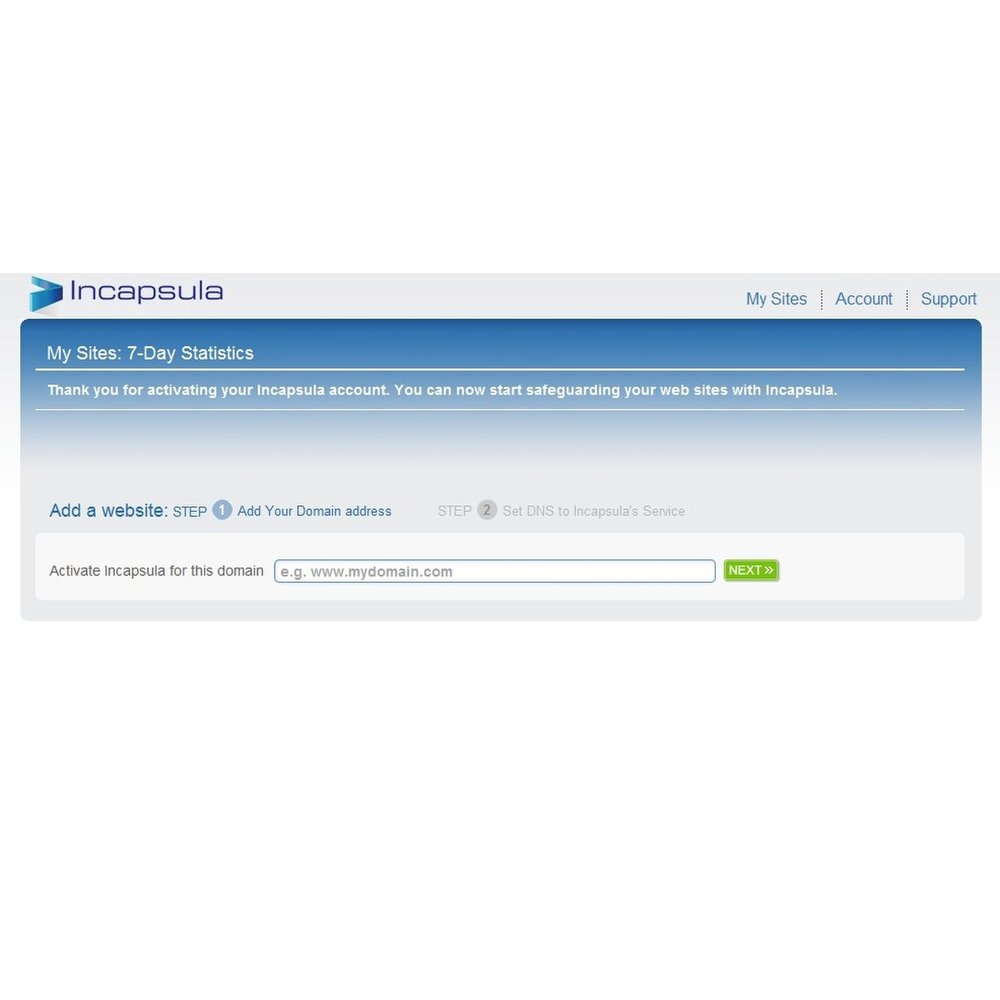 Pictured here is the New Site Setup screen.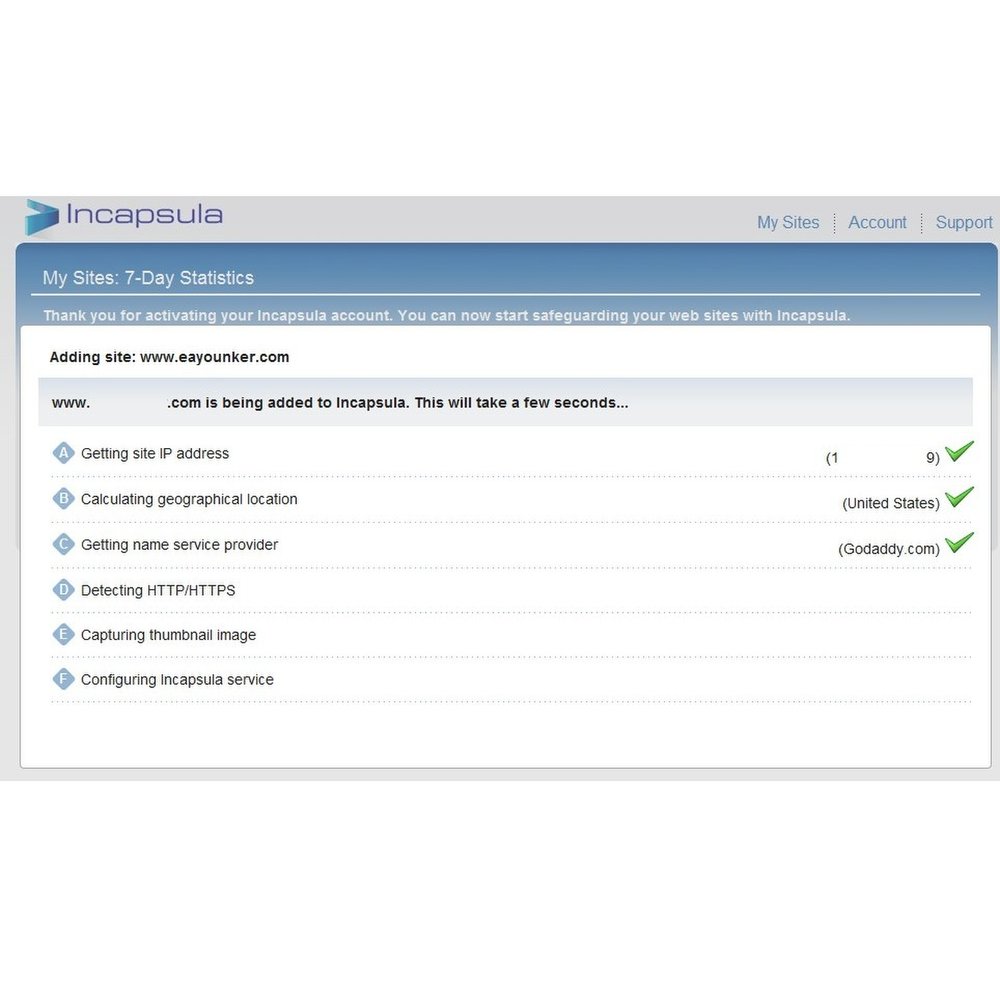 This image shows the website security and performance service Imperva Incapsula. Here you can see the screen that gets the process started.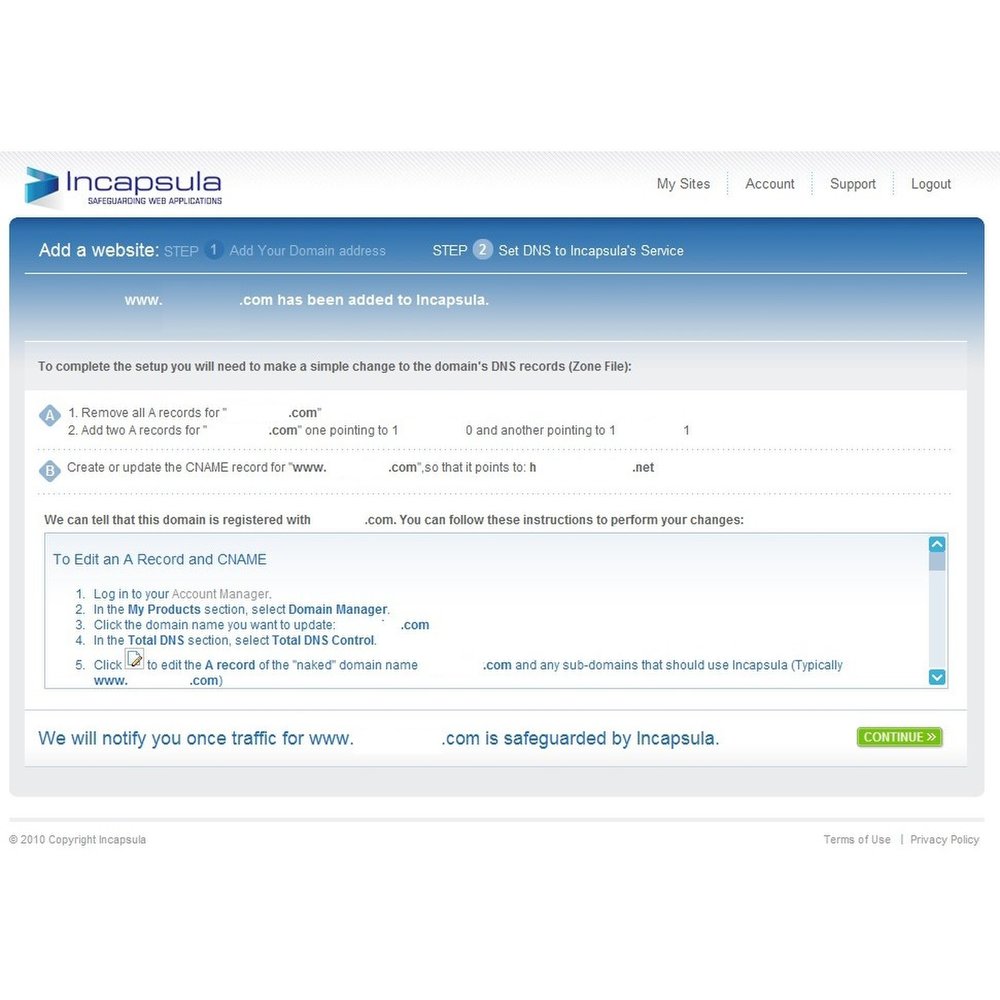 Here you can see the screen that gives you the information of the changes to change your DNS.
How do you know if you need a website security and performance service? Ask yourself these three questions: Do you have a website? Do you have sensitive content from your clients gathered from your site? Do you have multiple pages with information? If you answered yes to these questions then you can benefit from Imperva Incapsula.
There are plenty of reasons why you will find Incapsula useful in both website security and website performance. This particular service doesn't require you to install any software applications or hook up any hardware. Instead it utilizes the power of the cloud. For those of you who are worried about the nebulousness of working on a cloud-based platform, this is what makes it possible to have both security and performance. Complex security applications that you have to run on your own computer can make your site sluggish. Since this application runs on the cloud and doesn't use any of your system resources, your site will run smoothly for your visitors and you will still receive advanced protection from web threats.

This service makes it easy to control your security and performance. Imperva Incapsula gives you all the tools you need but doesn't take your website away from you. Instead it gives you power. From the management portion of the website you get real-time notifications when there is an issue with your site. From here you see all of your reports and the traffic statistics. We were really impressed with the data retention. You can keep your data for up to 90 days. No other website performance service offers this data retention option.
The first half of the service is security. Though you may not think your site could be the target of hackers, if you reach any kind of audience your site may not be as safe as you think it is. With Imperva Incapsula you get online website security that covers all of the bases. The first thing we like to see is whether or not it includes SQL injection protection. SQL injection is a method hackers use to enter their own malicious code in a website's programming. The hacker can then make changes to your website and collect your users' passwords and credit card numbers. Imperva Incapsula protects you from such attempts to infiltrate and commandeer your site.
Some of the other important features Incapsula includes that should be part of any good website security service are cross-site scripting security, comment spam protection and malicious bot blocking. Cross-site scripting is when hackers can use scripts to get access to your privileged information. It is incredibly important to have a website security service that protects sensitive information such as credit card or account numbers. If you have a section of your website that relies on customer comments you will want a service that provides comment spam protection. You've probably seen the unrelated bogus comments (usually containing links to suspicious sites) that show up on YouTube or in Tweets. Incapsula offers your site protection against comment spam. You may know something about the bots that prowl the web doing the work for search engines, but there are malicious bots as well. These bots harvest email addresses or imbed viruses and worms en masse. Not exactly what you want to be known for when people visit your website. With Imperva Incapsula, the bots are kept from your site so your customers don't have to worry.
This service offers some unique security features that aren't found on the services we looked at. Some of these include the Open Web Application Security Project (OWASP). This is an open-source project that utilizes people from around the world. In Incapsula they utilize the OWASP Top 10, which is a list that utilizes a variety of tools for security purposes. It keeps you up to date on the most recent and malicious attacks out there and has defenses against them. Something else that we found useful is their advanced security settings. These give you complete control over the security for your website. You don't need to feel like you are handing control of your website over to strangers; but you can get their expertise and apply it how and when you want.
The last security feature we should highlight from this website security and performance service is that it has support for SSL websites. SSL stands for Secure Socket Layer. It is a type of secure website that is denoted by "https" instead of the more commonly used "http." This is an important feature that is vital for giving you the utmost security.
Part of the problem with installing your own website security software is that you sometimes have to sacrifice performance. This is not true with Imperva Incapsula. Not only do you keep the performance you already had, but your performance is improved. You don't have to worry about slow page loading. There are a variety of ways they give you website performance, one of which includes a global CDN. A global content distribution network uses a variety of servers to spread out the work thereby decreasing the loadtime. It not only increases bandwidth but it also helps with data caching.
Caching, in this context, is the process of temporarily storing information so if it is requested again it doesn't take as long to load on the page. You may have noticed that when you go to a website that you've already visited it doesn't always take as long to load as it did the first time. This is because of caching. Compression works along the same line. It makes the files smaller so they don't take as much time to load, especially images.
The last part of performance-enhancing feature we want to cover is content minification. This is a handy feature that isn't included in a lot of website performance services. Minification will remove all unnecessary characters from your source code. Don't panic, this won't change how your website functions. When you eliminate the unnecessary characters there is less data to transfer, which translates into faster loading times.
For some of you help and support is an afterthought. You may already know exactly what you want. Others may find that they need a little more help understanding the different features as well as how to utilize them in the best manner. We liked the fact that they offer a community so you can communicate with other people who are also using Imperva Incapsula. This is a great way that you can keep track of the latest security issues that are roaming the web. This is also a good way to get tips about improving your website for maximizing performance. There are also videos that give an introduction to the various parts of the service. If you need to get in touch with anyone they provide an email address.

If you want an effective website security and performance service Imperva Incapsula is the best choice. It is one of the few services out there that improves not only security but performance as well. Not to mention that it is also cloud-based, which isn't available for all of the security products out there. Having all of the features on the cloud will give you top security without sacrificing performance. You can keep your clients and customers safe without them even realizing it.


Business.com Editorial Staff
The purpose of our community is to connect small business owners with experienced industry experts who can address their questions, offer direction, and share best practices. We are always looking for fresh perspectives to join our contributor program. If you're an expert working in your field – whether as an employee, entrepreneur, or consultant – we'd love to help you share your voice with our readers and the Business.com community. We work hard to only publish high-quality and relevant content to our small business audience. To help us ensure you are the right fit, we ask that you take the time to complete a short application: https://www.business.com/contributor/apply/ We can't wait to hear what you have to say!