InfoCheckUSA Review
Through InfoCheckUSA, you can run various background checks on potential new hires, including criminal records search, education verification, driving history records, employment and reference checks, drug test screenings, skills assessment testing and more. Although businesses in various industries can use InfoCheckUSA's services, it is especially useful for government organizations; hospitals, clinics, and healthcare-related businesses; charitable organizations, educational organizations that hire coaches and teachers; construction companies; and those who employ trade laborers.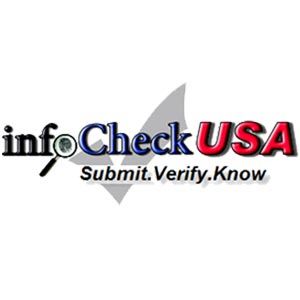 InfoCheckUSA
The Verdict
InfoCheckUSA offers several customizable screening options for businesses. It has some helpful bundled packages like a teacher or coach background check, a screening for volunteers and a background check you can perform on contractors.
View all our recommendations for background check services on our best picks page.
InfoCheckUSA Pricing and Services
InfoCheckUSA does not charge a setup fee or monthly fees, and you're not obligated with a contract, which makes this service a great option for small businesses and employers who need to run a limited quantity of background checks. InfoCheckUSA is very transparent; it provides a comprehensive list of its searches (and prices) on its website.
Although most of InfoCheckUSA's pricing is a la carte, it has several suggested bundled plans for specific industries and positions, such as coaching background checks, teacher background checks, volunteer screenings and more. To inquire about customized or bulk pricing, you can request a quote via their online form.
InfoCheckUSA strongly advertises the use of their super search option, but database searches may not always be accurate. InfoCheckUSA advises clients to users perform a county-level search in tandem with their criminal database check to provide comprehensive coverage and accuracy. If you only order a criminal database check, InfoCheckUSA states your account may be charged for a county check ($15.95 + court fees) if the report is returned with possible records.
The following searches are available for criminal history record checks:
National criminal super search (database) – $19.95
Nationwide criminal search (database) – $14.95
Statewide criminal search (database) – $9.95 ($12.95 for Colorado)
Florida Level 1 background checks – $34.95 (Additional county check and employment check fees may apply.)
USA county-level criminal search (7-year default) – $15.95 + court fees (plus a 75-cent-per-year surcharge beyond seven years)
CrimCHECK360™ criminal background report – $49.95 (Additional court access fees may apply.)
Canada criminal record search by province – $39.95 per province
Puerto Rico criminal search by county – $39.95 per county
Mexico criminal search by jurisdiction – $39.95 per jurisdiction (felonies only)
Nationwide sex offender search – $6.95
National homeland security search – $4.95
Federal 7-year criminal search – $19.95. (plus a 75-cent-per-year surcharge beyond seven years)
Social Security number identity background check and address history – $5.00
CrimWATCH re-screening – Call a representative for a quote
In addition to the above searches, InfoCheckUSA provides education verification, a search of driving violation records, employment and reference checks, healthcare screening, drug test screening, tenant background screening, volunteer background screening, and resume verification.
Pros of Using InfoCheckUSA
These are the three features we especially liked about this background check service:
Quick turnaround time – Most background checks are available within one to three days after you order them, and many are available sooner than that. International checks are available within 10 days. The quick turnaround of InfoCheckUSA's reports helps your business quickly make important hiring decisions.
Comprehensive screening list – The company provides more than just the standard list of background check services. It is extremely customizable and offers additional screening choices, like drug test screening, civil and financial records, employment and education verification, professional license and certification verification, healthcare screening, employment assessment tests, and driving history records. These extra features can be essential for some employers to prescreen potential employees.
Free applicant tracking system – InfoCheckUSA offers a free applicant tracking system. The EasyClick screening system automatically connects your job candidates' information to their background checks, which reduces redundant data entry and streamlines your hiring process.
Cons of Using InfoCheckUSA
There are a few issues, three to be specific, you should be aware of with this agency:
Limited website usability – InfoCheckUSA is very transparent in listing its services, prices and turnaround times, but its website can be a bit troublesome to navigate. Many of the agencies we evaluated post their bundled packages in one place on their website. InfoCheckUSA's packages are located in a few different places on its website. Some bundled plans are located at the bottom of the home page while other plans are situated under the Our Services tab. There are many comprehensive and useful services available, so if you have trouble finding a plan or you're not sure what screenings you should select, contact a customer service rep.
Lengthy application process – InfoCheckUSA only provides pre-employment screening services to legitimate businesses. As such, there is an extensive process in place to verify your business first before you can order any background check. Like many competing services, InfoCheckUSA requires you to create an account first complete with your business's details and credit card information. However, the agency requires an extra step before your account can be activated: You must email or fax a copy of your business or professional license to InfoCheckUSA. The info on your business license must match the info you provided for your account. It's not terribly inconvenient, but this added step does add an additional hurdle for businesses wanting to submit a quick background check.
Cost of services can add up – There are several services available on an a la carte basis, which is beneficial for businesses that need to conduct a variety of screenings; however, the costs of those services can add up, especially if you need to screen multiple people. InfoCheckUSA provides discount pricing, so this is something to consider and ask the company about.
Customer Service and Support
InfoCheckUSA offers several online resources for users to learn about their services and background checks in general. You can find sample reports, a list of features, FAQs, employer compliance requirements and client testimonials.
If you require further assistance with your InfoCheckUSA services or background checks, you can reach the agency by phonel, email, or you can submit a support ticket.
Image Credit: Ivan-balvan / Getty Images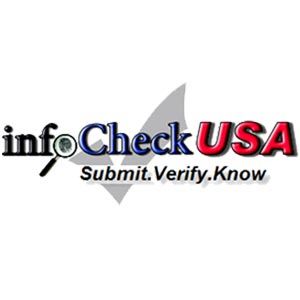 InfoCheckUSA
The Verdict
InfoCheckUSA offers several customizable screening options for businesses. It has some helpful bundled packages like a teacher or coach background check, a screening for volunteers and a background check you can perform on contractors.

Skye Schooley
business.com Staff
Skye Schooley is a staff writer at business.com and Business News Daily, where she has written more than 200 articles on B2B-focused topics including human resources operations, management leadership, and business technology. In addition to researching and analyzing products that help business owners launch and grow their business, Skye writes on topics aimed at building better professional culture, like protecting employee privacy, managing human capital, improving communication, and fostering workplace diversity and culture.