Infor EAM Review
By Business.com Editorial Staff
Last Modified: December 18, 2017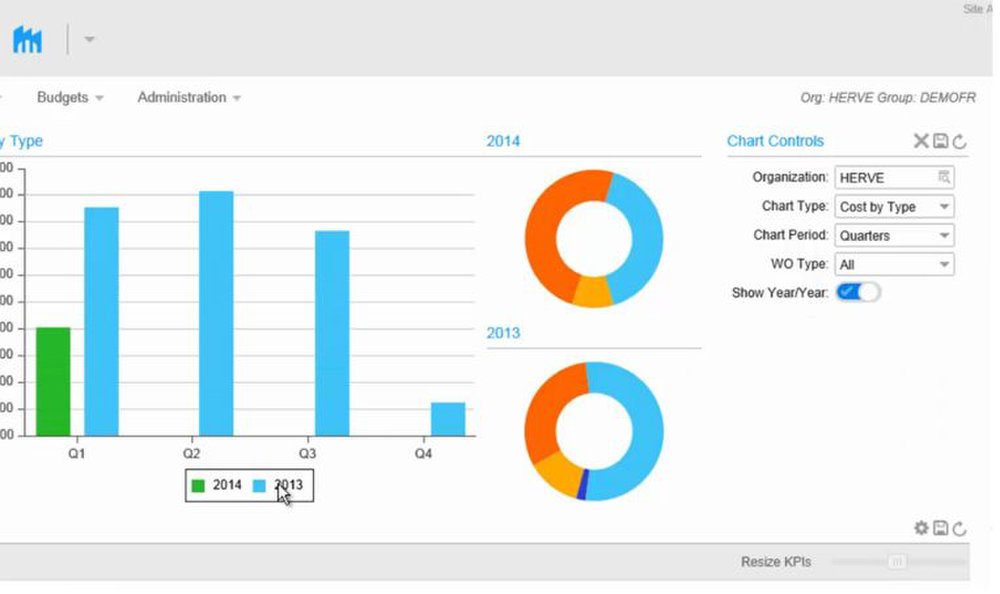 You can view a variety of reports based on information you add to Infor EAM.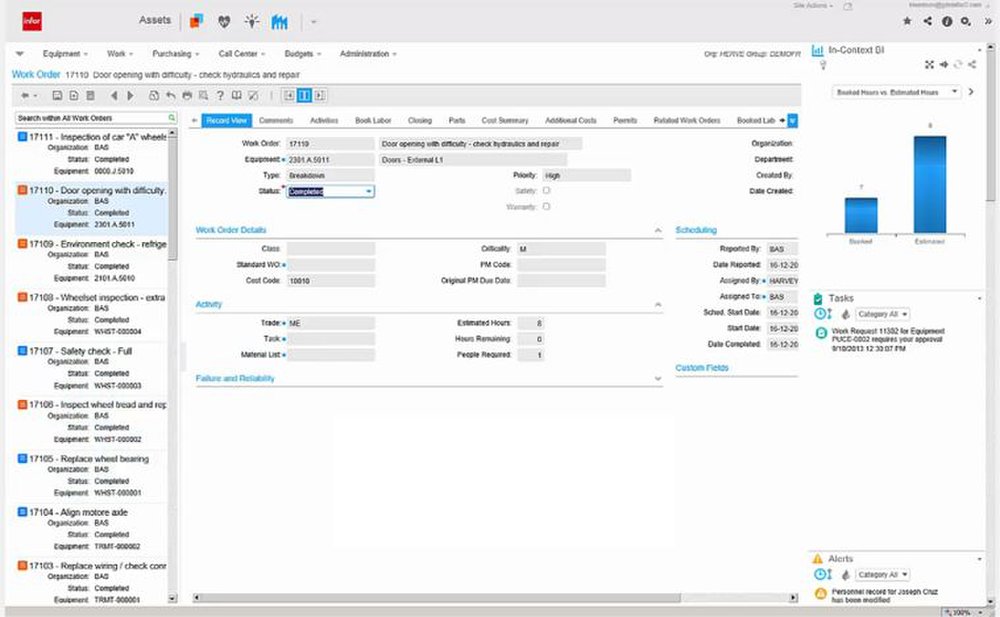 View work order details, including the asset issue, who reported it, when it's scheduled and its priority.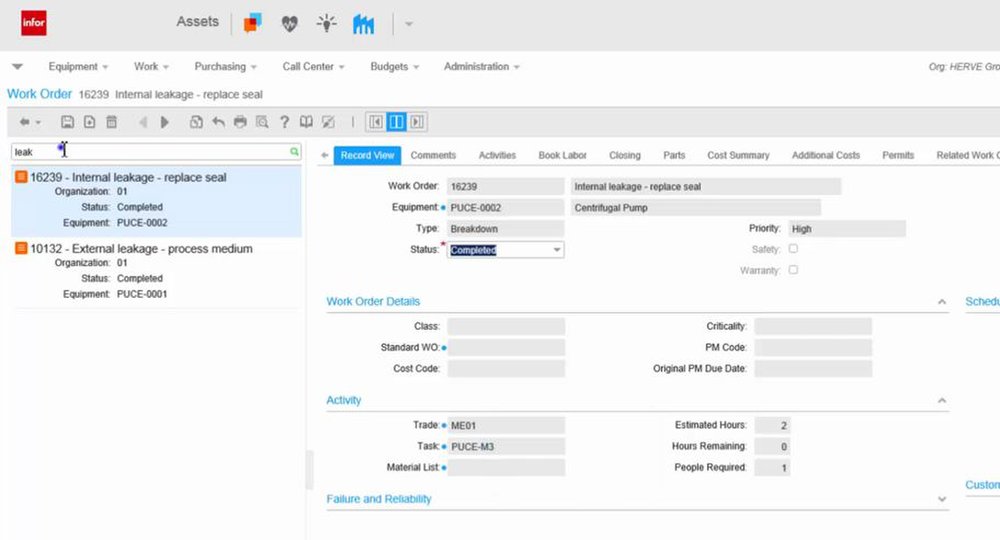 If you want to find specific known issues, you can search work orders with a specific keyword.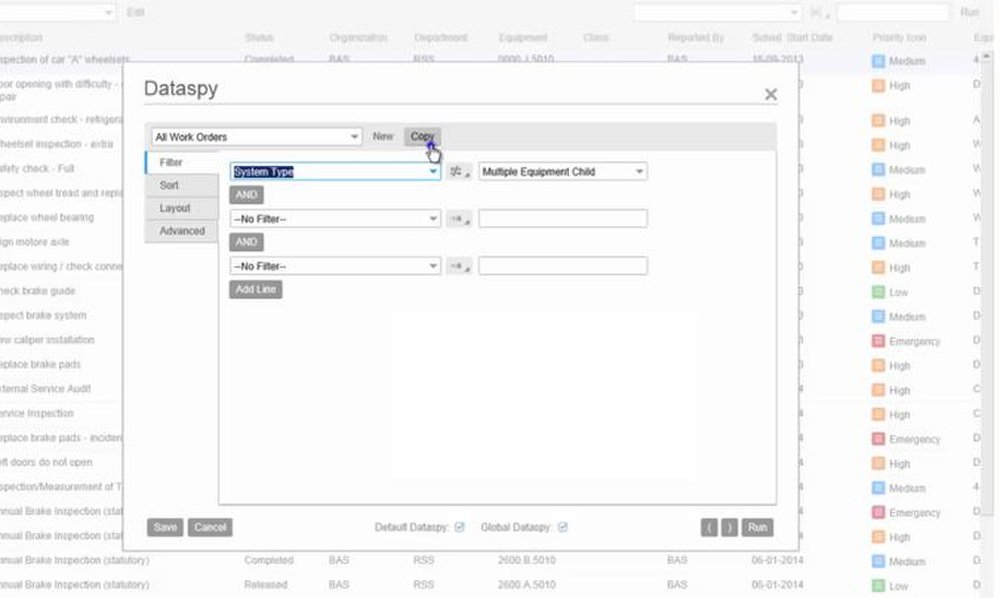 You can run an advanced search of work orders using predefined filters within Infor EAM.
Infor EAM is enterprise asset management software that helps you save resources in a variety of ways, including asset tracking, predictive maintenance and analytics. This CMMS can work for any industry, but you also have the option of choosing an edition that works best for your business. Specific industries that Infor EAM caters to include health care, manufacturing, hospitality, public sector, and oil and gas. Each edition focuses on different areas that are the most important to that particular industry.
You get the basics of maintenance management with this software, but you also get flexibility to tailor the system to your processes and needs, rather than having to adapt to it. So, if you run multiple publishing facilities, your needs of tracking assets, equipment and resources are going to be different than someone who runs health care operations.
Infor EAM lets you track and manage assets the way any CMMS does, and you can schedule work orders, which are automatically assigned to the proper workers. You can set the system up to notify you of work order status updates and know when tasks are complete.
You can run reports on work that needs to be done, work that has been done and when tasks were completed. This lets you analyze how efficient your team has been working to keep maintenance up to snuff. Infor EAM's scheduling function keeps your operation running smoothly so you can meet annual checks and compliance where necessary. A maintenance management software system like this can help you save time and money because it creates predictive maintenance schedules – as long as equipment is running, your business keeps going too.
Infor EAM also includes tools to help you with risk management and helps you create a strategy to use resources wisely. And you can track inventory, so you know when it's time to reorder or when it's time to retire certain products or parts.
With this CMMS, you're able to add warranty information to assets, which helps you save money, because you can get a manufacturer to repair or replace equipment, rather than wasting resources doing it yourself. Additionally, you can add information on any maintenance task done to each asset to prove your equipment remains under warranty.
Infor EAM has mobile capabilities as well so you can manage your operations from anywhere, as long as you have a mobile device with an internet connection and a login.
Not all industries need the same features, and Infor EAM gets this. The computerized maintenance management software is highly customizable so you can tailor it to work for your industry, with a focus on asset tracking, work orders, scheduling or reporting.
Ready to choose your Best Maintenance Management Software? Here's a breakdown of our complete coverage:
Business.com Editorial Staff
The purpose of our community is to connect small business owners with experienced industry experts who can address their questions, offer direction, and share best practices. We are always looking for fresh perspectives to join our contributor program. If you're an expert working in your field – whether as an employee, entrepreneur, or consultant – we'd love to help you share your voice with our readers and the Business.com community. We work hard to only publish high-quality and relevant content to our small business audience. To help us ensure you are the right fit, we ask that you take the time to complete a short application: https://www.business.com/contributor/apply/ We can't wait to hear what you have to say!