InMotion Hosting Review
By Matt D'Angelo
Last Modified: January 4, 2019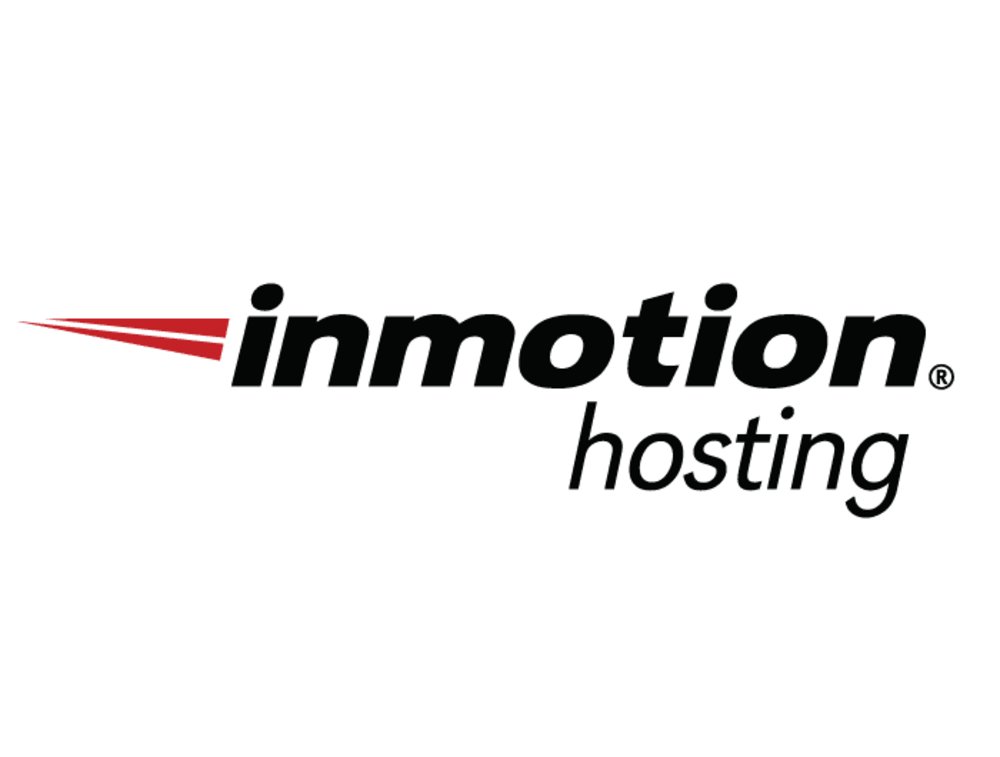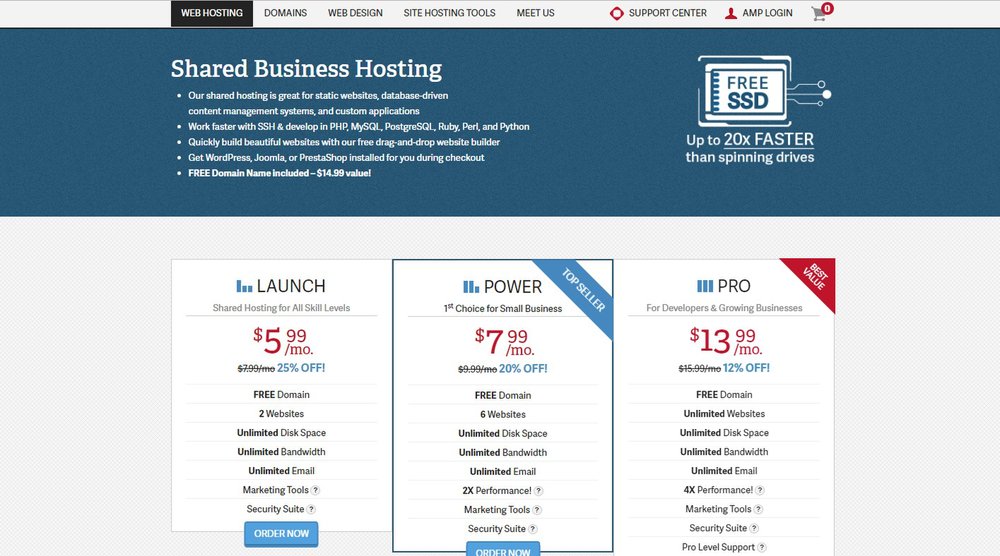 InMotion Hosting offers three shared hosting plans at an affordable cost. Following the introductory prices, plans are between $7.99 and $15.99 per month. The plans also come with a 90-day, money-back guarantee.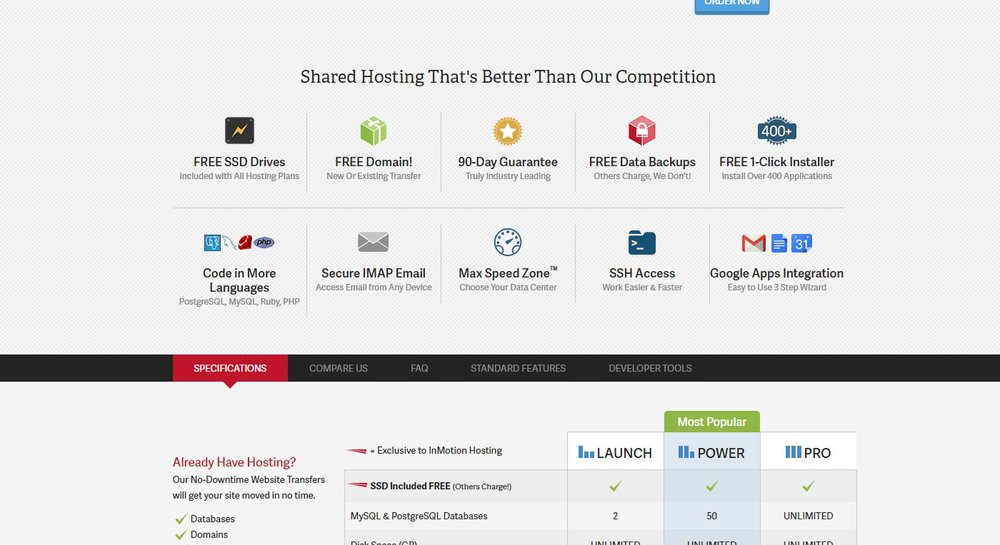 InMotion Hosting's shared plans include features like free data backups, Google Apps integration, free domain registration and free SSD drives.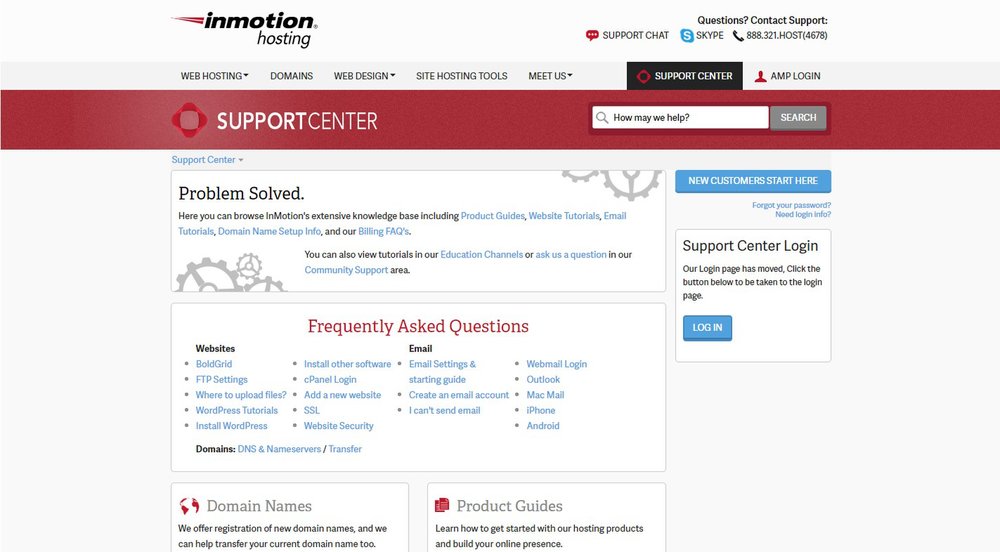 You can contact InMotion Hosting representatives through live chat, Skype, email and telephone. It also has a support center on its website with FAQs, product guides, community support and tutorials.
InMotion Hosting offers excellent services at competitively priced plans. It's been providing web hosting services for 15 years, and it offers shared hosting, virtual private server hosting, dedicated servers, WordPress Hosting, reseller hosting, and managed hosting. Each hosting service has multiple plans to choose from and several different options for business owners looking to scale their services.
View all our recommendations for web hosting services on our best picks page.

From larger businesses looking to host multiple sites to the new startup, InMotion Hosting has a product for all business types. It offers great service features, with a solid security, storage and plan option. It's accredited by the Better Business Bureau, earning an A+ score and an official accreditation with the company. Many companies we looked at weren't accredited or earned a significantly lower score. A BBB profile and accreditation ensures that InMotion is providing reliable and honest services.
InMotion Hosting, like many hosting companies, offers a 90-day, money-back guarantee. This means you can try InMotion's services, and if you're not satisfied, you can get a full refund. Some companies offer shorter money-back guarantee periods, usually only 30 days or so. InMotion's offering goes above and beyond that of competitors'.
The company offers a free domain name for the first year on some of its shared plans, which is also a standard industry offering. The free domain name is a nice perk. Many companies don't offer this kind of incentive, although most that do offer it only do so for the first year. InMotion is transparent, displaying all the relevant information on its plans and providing a quick view of its services. It doesn't try to hide information throughout its website and provides a good look at what each plan has to offer. Based on its transparency, pricing and overall service offering, InMotion earns our best pick for best web hosting company for small business in 2018.
Pricing
InMotion Hosting offers solid hosting services at competitive pricing. Like most hosting companies, it offers promotional pricing on its website. The hosting industry is competitive, and companies will oftentimes list promotional pricing to attract new customers.
For InMotion, there are three main shared hosting plans. There's ta Launch plan for $6.39 per month, the Power plan for $8.49 per month and the Pro plan for $14.71 per month. All these prices are listed at 20, 15 and 8 percent off, respectively.
The full pricing for the Launch plan is $7.99 per month while the Power and Pro plans cost $9.99 and $15.99. Often, companies will renew your contract at these higher prices. They consider the promotional pricing applicable to only the first year or month. For InMotion, this promotional pricing applies only if you sign up for a two-year contract. If you sign up for a one-year contract, you'll still receive a discount, though a marginal one. This is a standard offering among hosting companies – the longer you commit, the less you pay per month. However, if you're worried about paying higher pricing after your first contract, talk with InMotion sales representatives about your own specific plan and contract.
Despite its varying prices, the features in each plan are pretty consistent, with the Pro plan offering features like better speed, more subdomains and e-commerce capabilities. Otherwise, all three plans feature a lot of the same services. Business owners have access to "unlimited" disk space, email storage, SSL certifications and SPAM protection.
InMotion offers a few different term options for plan holders. For the Launch and Power plans, business owners can sign up for one and two-year contracts. The Pro plan features a six-month term option and a yearly offering as well. This is a good mix of terms. Many companies only offer either a monthly or yearly plan. By providing more options – especially in the case of six months with the Pro plan – customers have more flexibility with what plan and term they choose.
InMotion provides a free domain name for the first year with some of its plans. This applies to domain registration or transfer, so you'll be able to set up your domain name for free when you sign up for InMotion's services.
According to the company's terms of service agreement, you will have to pay a fee of $14.99 per year after the first year. This is standard with just about every other company we reviewed. InMotion also states in its terms of service that if you cancel your services and are "eligible for a refund" (i.e., if you cancel within the first 90 days as part of the company's money-back guarantee), you won't be refunded the cost of your free domain name. Instead, they will deduct $11.99 and a $5.00 administrative fee. This is also standard protocol with many other companies we reviewed.

In terms of canceling your services after the allotted 90 days, InMotion was one of the few companies that may charge an additional fee to do so. In section 2b of the terms of the service agreement, the company says the agreement can be terminated by either party with a 30-day written notice.
It then says the termination is subject to a minimum $50 fee payable by the customer for early cancellation. Most companies don't require an additional fee and then charge the customer for the rest of its agreed-upon services. It's not clear if InMotion will do this, but it's unlikely you'll receive a refund if you've already paid for your services upfront.
This is especially unlikely with a minimum cancellation fee as well. If you're looking for more clarity specific to your own contract and case, it's important to talk with InMotion's sales team before signing up.
Keep in mind that this pricing, fee and plan information is specific to InMotion's shared hosting offering. If you're looking into other offerings from InMotion – say dedicated servers or WordPress hosting – there will likely be different pricing and fees applied to your account.
As with any business service, it's a good idea to talk with the sales team before signing up. This way you can get a clear answer on the company's fees, sign-up process and other services.
Features
InMotion provides a good mix of features on all its plans. It offers solid security, storage and integrations features. The more advanced plans have different terms and pricing as well as some advanced e-commerce features. InMotion's features make it one of the best web hosting company for small businesses in 2018.
Storage and bandwidth: InMotion Hosting, like most web hosting companies, advertises its storage offering as "unlimited" on all its plans. In all cases with web hosting, unlimited rarely (if ever) means infinite. Instead, InMotion establishes a range based on your plan to operate within. If you go over this defined amount, you likely receive a warning from the company or have your service suspended until the issue is addressed. The exact protocol varies from company to company, and it's not clear how InMotion handles this. If you're interested in learning more, it's a good idea to talk to an InMotion sales representative about its services. InMotion provides the same offering for bandwidth, allowing for "unlimited' data transfer.
Security: InMotion provides a solid security offering. It offers SPAM protection, SSL certificates, DDoS protection and hack protection. The good news is this level of protection extends across all three plans. The company also offers free automatic backups. Many of the companies we reviewed tiered their security offerings so the most expensive plans had the highest level of security. InMotion doesn't do this, instead providing the same top-level security across all its plan in the "Security Suite." This offering was another reason why it earned our best pick as best for small business.
Cancellation policy: InMotion is one of the only companies we reviewed that may charge you a fee for cancellation. In the terms of service agreement, the company says it could elect to charge a minimum $50 fee should a customer decide to cancel its services early. You also likely won't receive a refund if you've paid for your services up front. You can read more about InMotion's cancellation policy in the company's user agreement.
Pre-installed apps: Businesses that partner with InMotion will have access to over 400 applications and other programs. That includes popular integrations, like WordPress, Prestashop, Drupal and Joomla. All the applications are one-click installs, so you won't have to worry about lengthy installations. You'll also have access to the latest version of cPanel to manage and control your website.
Types of Hosting Offered
In addition to shared hosting, InMotion also offers VPS hosting, dedicated servers, reseller hosting and WordPress hosting. It also provides managed hosting.
The dedicated servers and VPS hosting are significantly more expensive than the shared or WordPress hosting. Because of the individualized services, these offerings are usually much more expensive.
The VPS hosting and dedicated servers are both robust and cater to a medium-sized business model.
Reported Uptime
Almost every company we reviewed claimed to provide 99.9 percent uptime. This, in many cases, is wishful thinking. At the end of the day, your account will be on a server that's shared with several other customers. There are bound to be instances where you experience some form of downtime. What separates InMotion from other companies we reviewed, however, is it offers credits for when you experience downtime. The official policy is detailed in the company's terms of service agreement under "Business Hosting Pro Plan SLA."

While this may only apply to the Pro plan, it shows that the company is cognizant of potential downtime and will work with you. There are some conditions that apply, but the company will provide one month of credit on your account if you experience downtime that "is not within the 99.999 percent uptime" expectation. Again, this is only for Pro plans.
If you're interested in learning more about an SLA for the other plans, you should talk with InMotion sales agents before signing up. The company may not provide any credits for downtime on its lower plans. Many other companies also do this.
Reputation and Customer Service
InMotion Hosting has a great online reputation. It's been accredited by the Better Business Bureau since 2003. It earned an A+ rating with the company and has more positive than negative reviews on the website.
A lot of companies we reviewed had a lot of negative reviews on their Better Business Bureau profile. InMotion earned a 4.51 out of 5 stars with the company. There were only 50 total customer complaints, which is fairly low considering the business has been operating for 15 years.
We also interacted with InMotion sales representative via live chat. We posed as small business owners interested in learning more about the company's service offering. It was also a way for us to test InMotion's customer service skills.
In all instances, InMotion provided us with clear, succinct answers and went above and beyond what was required of them. They offered us a small discount after our discussion as well, which was a nice gesture. Overall, the customer service offering for InMotion is impressive compared to competitors.
Limitations
InMotion Hosting is one of the few companies we reviewed that charges a fee to cancel your services early.

Ready to choose your The Best Web and Cloud Hosting Services of 2019? Here's a breakdown of our complete coverage:

Matt D'Angelo
Matt D'Angelo is a Tech Staff Writer based in New York City. After graduating from James Madison University with a degree in Journalism, Matt gained experience as a copy editor and writer for newspapers and various online publications. Matt joined the staff in 2017 and covers technology for Business.com and Business News Daily.