Insightly Review
By Mona Bushnell
Last Modified: December 28, 2018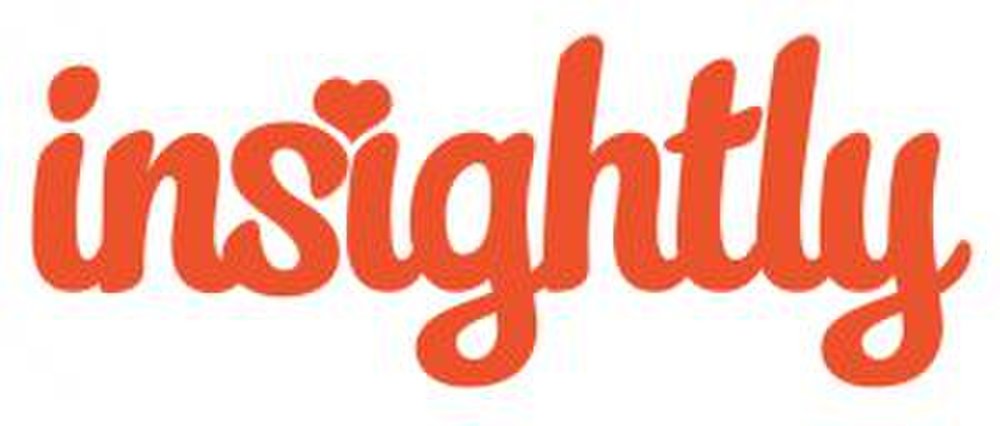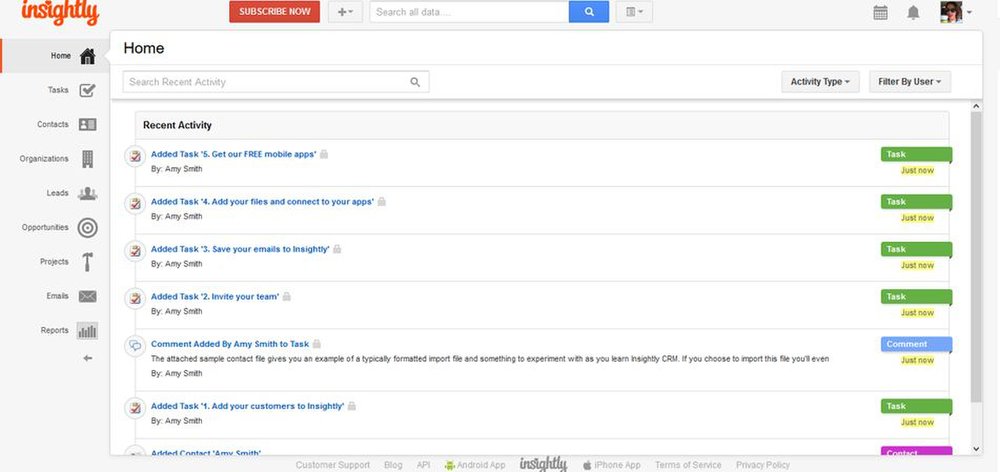 When you log into this CRM, you can see recent tasks that were added or completed by you or for you.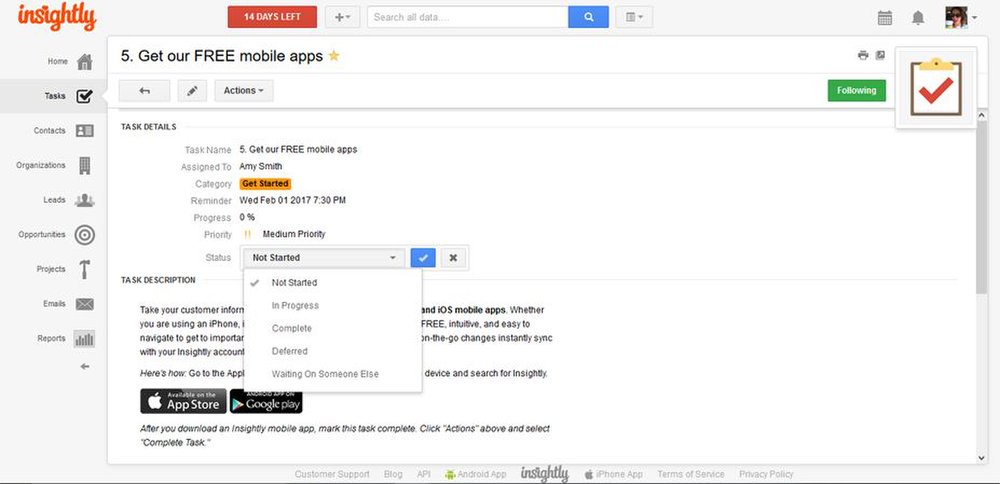 This CRM lets you change the status of a task so your colleagues or supervisors know where you are with a sale or project.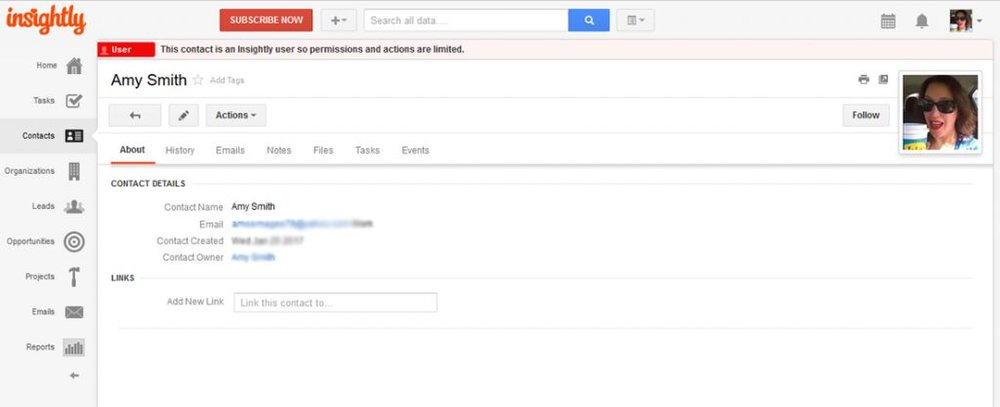 You can view more than simply contact information on a contact, such as activities, emails, notes, tasks and files associated with that contact.

Tasks are listed for easy access in this CRM, but you can also add them to your Google calendar for easy reminders wherever you are.

Although this CRM doesn't include invoicing or email campaign features in the program, you can integrate other programs that do allow you to carry out these functions.
Insightly offers users a friendly, minimalist design and multiple levels of CRM service to choose from. Implementing Insightly is relatively easy, even if you're unfamiliar with other CRM products. This software walks users through the entire setup process, step-by-step. On the downside, Insightly's prices have more than doubled in the last couple years, and compared to similarly-priced CRM solutions it doesn't measure up in the features department. If you want additional integrations, or any features that go beyond what a lightweight CRM does, you'll have to pay extra.
Pricing & Terms
Insightly offers a free version of their CRM for up to 2 users, which is nice for exploration but limited for long-term use, especially since the free version does not allow for integrations. The first paid level, called Plus, starts at $29 per user, per month (billed annually). Next is the Professional level for $49 per user, and at the top is the Enterprise version for $99 per user.

Insightly
Best CRM Software 2019
The Verdict
Insightly offers users basic task management out of the box. Its affordability, quick setup and all-around usability make it a good potential choice for small businesses with modest needs.
Compare Quotes ▶
Features
Insightly has lots of user-friendly features small business owners and self-employed entrepreneurs look for in a CRM. Not every feature is available at every subscription level, but these are few of the standouts:
Contact management. Insightly's contact management offers easy storage for basic contact information as well as a bird's eye view of each contact. In Insightly you can view information like background data and communication history. You can also add notes to certain contacts, link contacts to related contacts, and link contacts to specific projects or mailing lists.
Project management. The lightweight project management features in Insightly allow users to track email campaigns, receive project reports, set up automatic deadline reminders, and set and measure milestones.
Social media contact gathering. Insightly can automatically gather social media data for contacts and add that data to their profile, so you don't have to search for a contact's Facebook, Twitter, or Google + account.
Popular integrations: Insightly offers easy click through integrations with Gmail, Google Apps, Google Drive, Outlook, Office 365, and QuickBooks. Additional integrations are possible, but many require touching the API.
Drawbacks
Insightly's features are limited compared to other CRMs we reviewed, especially for marketing. There's no built-in calling abilities, case management or employee-tracking tools. This CRM relies heavily on third-party integrations to round out its functionality, but that comes at a price (both in money and in time), since many integrations require touching the API. Other similarly priced products also offer advanced reporting and live analytics dashboards at every paid subscription level, but Insightly only offers basic reporting. Customizations are possible, but they require technical elbow grease.
Customer support is lackluster for Insightly customers, too. Every paid subscription gets access to support, but it is by email only. Those who pay for enterprise-level subscriptions get access to a dedicated specialist, but even the pro-level subscribers only get priority email support. That said, this may not be problematic for companies with a built-in tech team to help with hiccups during the implementation process.
Editor's Note: Looking for a CRM solution? Click the Compare Quotes button below to have our sister site Buyer Zone connect you with vendors that can help.

Insightly
Best CRM Software 2019
The Verdict
Insightly offers users basic task management out of the box. Its affordability, quick setup and all-around usability make it a good potential choice for small businesses with modest needs.
Compare Quotes ▶
Ready to choose your Best CRM Software 2019? Here's a breakdown of our complete coverage:

Mona Bushnell
Mona Bushnell is a New York City-based Staff Writer for Business News Daily and Business.com. She has a B.A. in Writing, Literature, and Publishing from Emerson College and has previously worked as an IT Technician, a Copywriter, a Software Administrator, a Scheduling Manager and an Editorial Writer. Mona began freelance writing full-time in 2014 and joined the Business.com team in 2017.