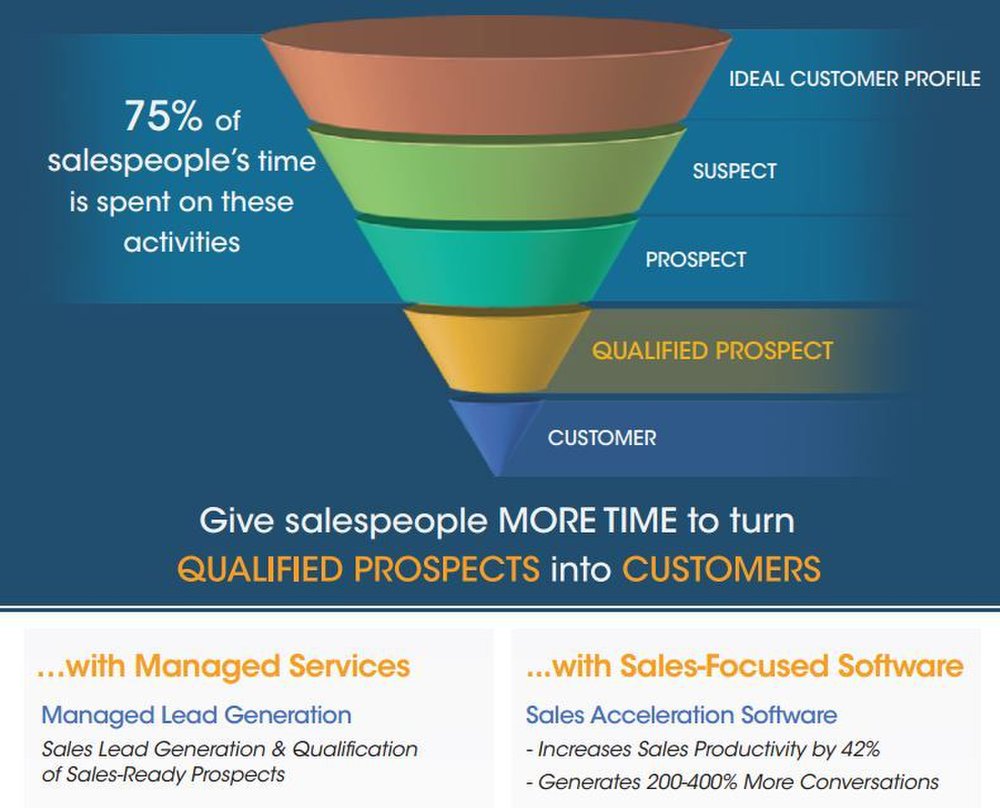 Intelliverse image: The sales agents at Intelliverse verify and score your leads so that your sales team can focus its efforts on qualified prospects.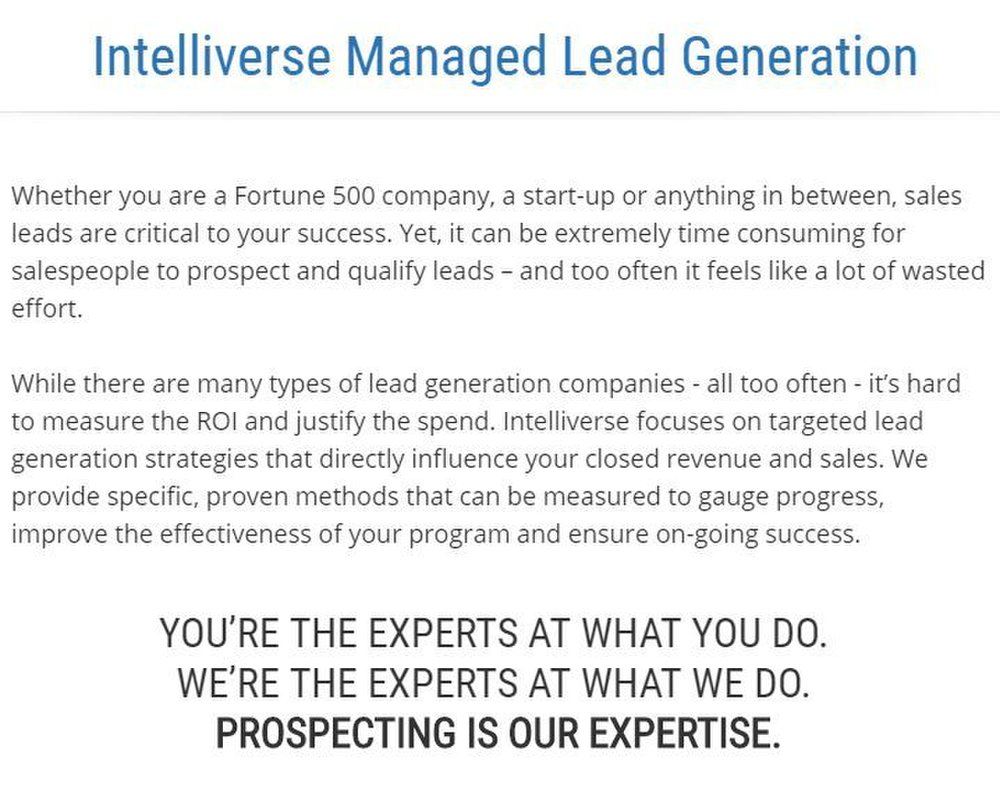 Intelliverse image: This company offers lead generation services for companies of all sizes, from start-ups to Fortune 500 companies.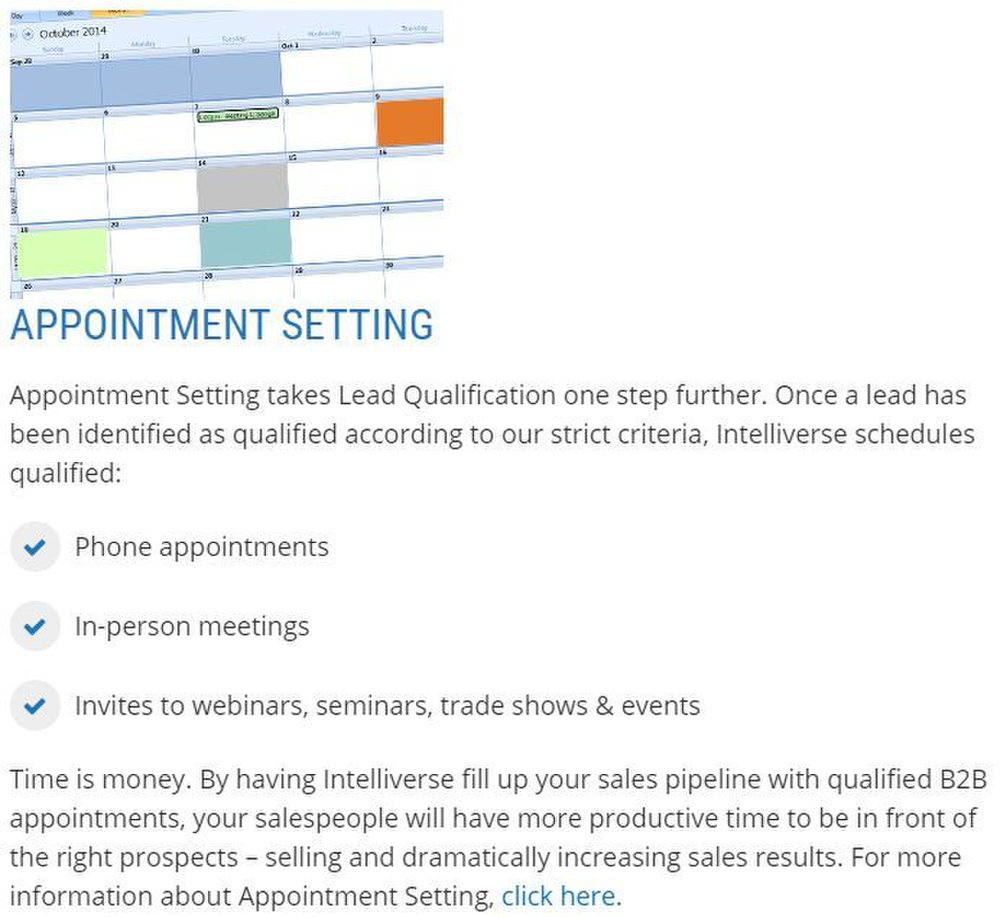 Intelliverse image: This company can set B2B appointments for your sales team.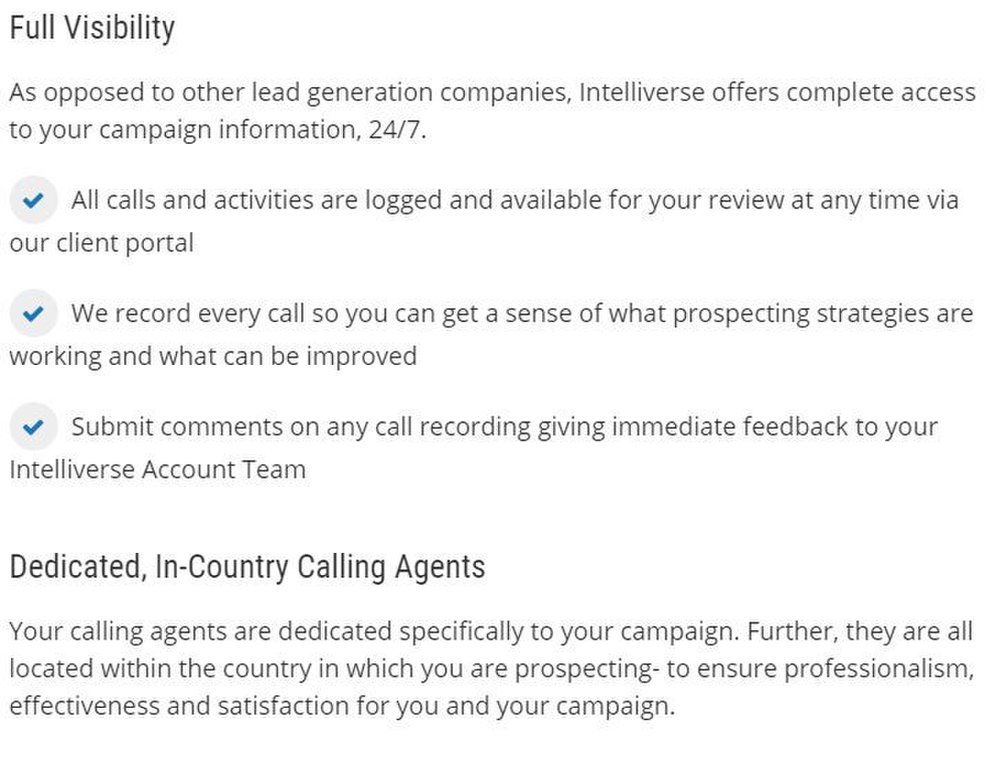 Intelliverse image: You can log in to the client portal at any time to review the activity on your campaign. You can also listen to calls and submit feedback about them.
Intelliverse is a sales lead generation service that caters to B2B companies. It provides traditional, phone-based lead generation services such as appointment setting and telemarketing. It can also manage your email marketing campaigns and event promotion. However, it does very little for your online presence as it doesn't offer SEO optimization, social media marketing, document creation or website design, which may be a drawback if you're looking for a lead gen service that can help your business increase its online presence.
This B2B lead generation service focuses on actual conversations by telephone, which means that it doesn't offer any online marketing services that would help you improve your SEO, social media presence, website design or other promotional materials. Rather, Intelliverse uses more traditional methods of generating sales leads. It specializes in telemarking campaigns and has a large force of U.S.-based telephone salespeople. It trains its agents to speak as though they work for you directly so that they can represent you on the phone in a positive way. It can also schedule appointments for your team members for activities such as phone calls, meetings, tradeshows and other events.

Intelliverse verifies and scores sales leads, can segment them into different categories, and follows up with them through automated emails or by phone. It's among the best sales lead generation services for its reporting tasks. It assigns you a personal account manager that meets with you weekly to review your campaign, and you can log in to the Intelliverse Client Portal at any time to track calls and their outcomes. The web portal operates in real time, so you can keep up to date on the status of your campaign. You can even retrieve recordings of Intelliverse's employees working with your clients. All of the information Intelliverse gathers for you integrates with popular customer relationship management platforms like Salesforce.com and Microsoft Dynamics, so you never lose track of a potential customer.
The company posts explanations of the services it offers on its website so that you can determine whether Intelliverse might be a good fit for your business before you contact it for a consultation. You can reach the company by phone, email and live chat.
Intelliverse is a traditional lead generation service that focuses on telemarking campaigns and appointment setting to find and follow up with sales leads for your B2B business. It lacks the online support we look for in a sales lead generation service, such as SEO optimization, website design, social media marketing and content creation, but it offers good tracking and reporting features.


Business.com Editorial Staff
The purpose of our community is to connect small business owners with experienced industry experts who can address their questions, offer direction, and share best practices. We are always looking for fresh perspectives to join our contributor program. If you're an expert working in your field – whether as an employee, entrepreneur, or consultant – we'd love to help you share your voice with our readers and the Business.com community. We work hard to only publish high-quality and relevant content to our small business audience. To help us ensure you are the right fit, we ask that you take the time to complete a short application: https://www.business.com/contributor/apply/ We can't wait to hear what you have to say!