iSolved Time Review
By Chad Brooks
Last Modified: November 15, 2018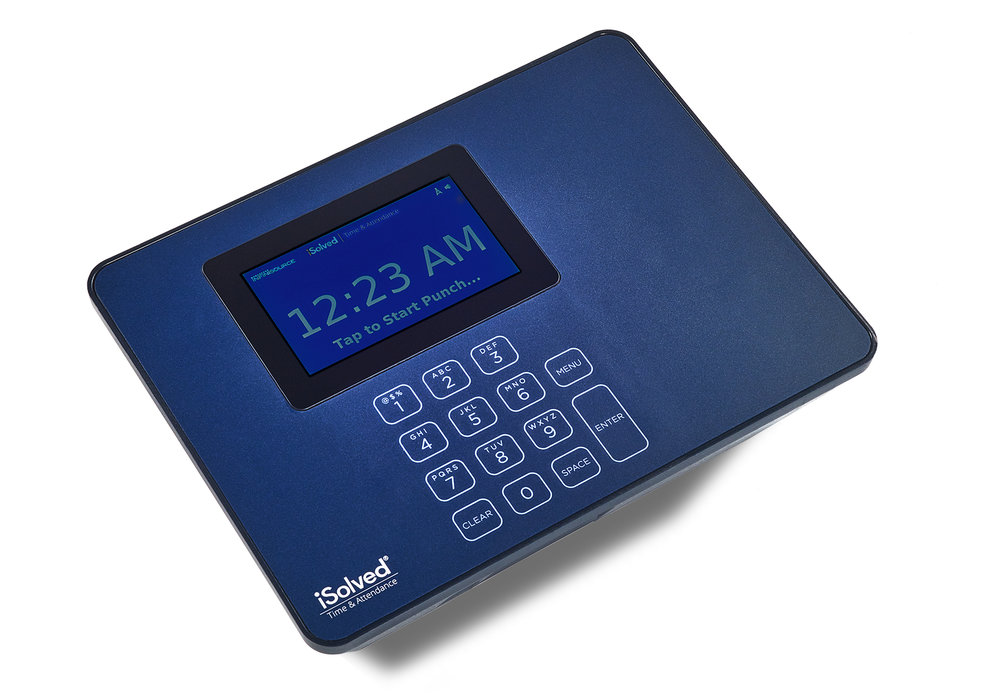 iSolved Time's timeclocks can be configured for traditional swipe card, proximity reader, key code entry or biometric access with a finger-scan.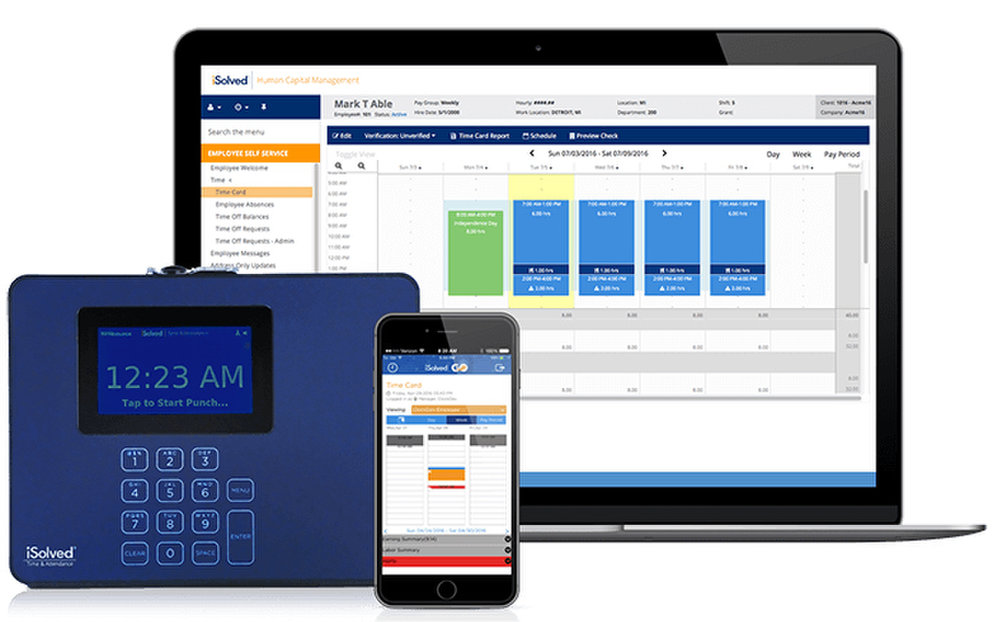 iSolved Time allows employees to manage their time via timeclocks, internet-connected computers and mobile devices.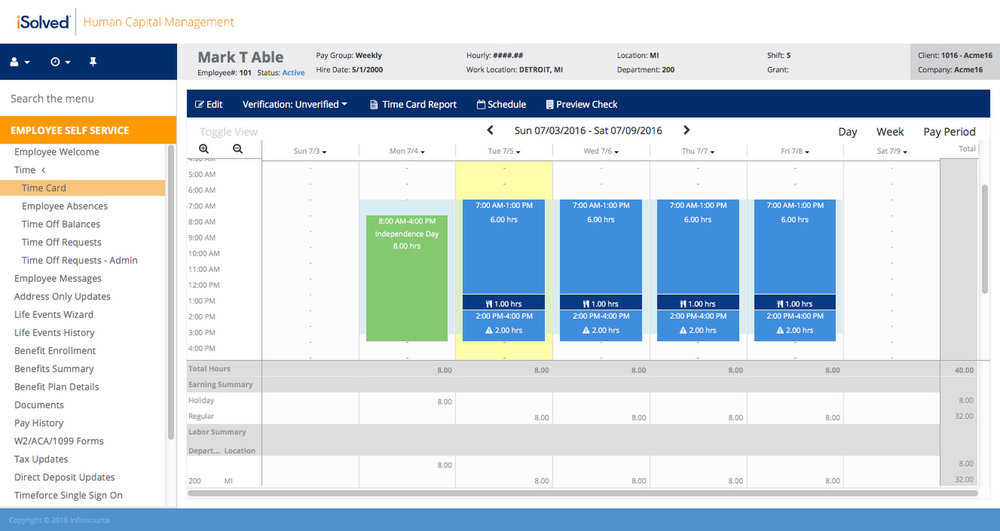 iSolved Time's digital timecards provide an easy-to-understand snapshot at the hours employees work each day.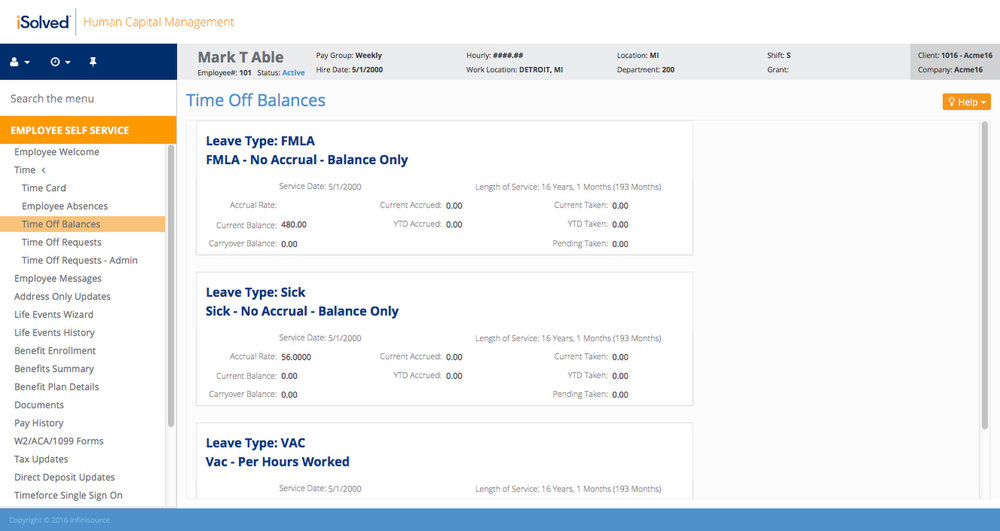 iSolved Time tracks vacation and sick-time accruals and allows employees to request time off and managers to approve or deny those requests.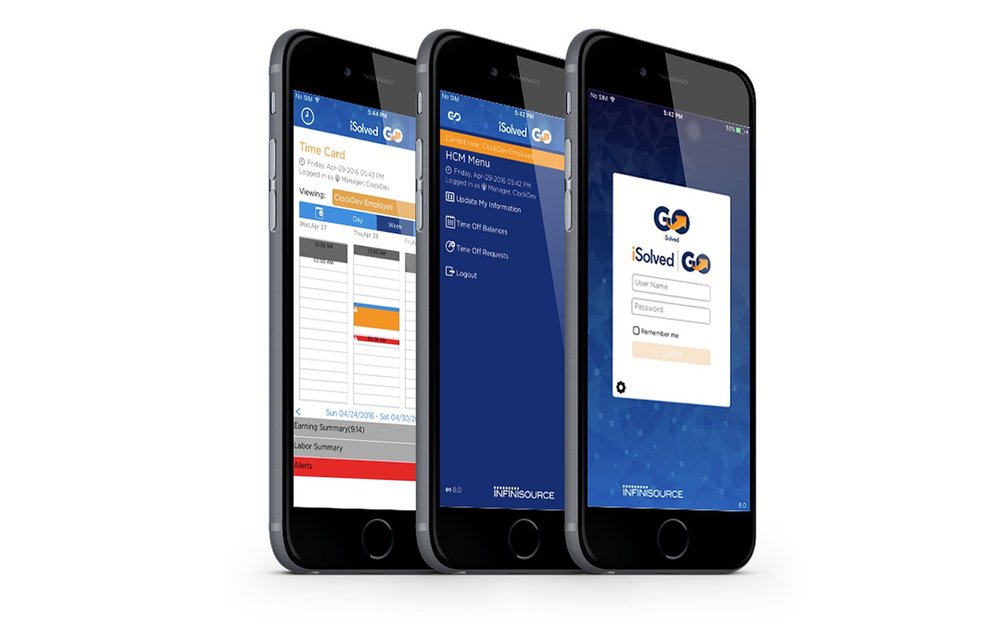 From iSolved's mobile app, employees can clock in and out, view their time cards, check their accrual balances, request time off, and update tax and personal information.

This software is a complete time and attendance system.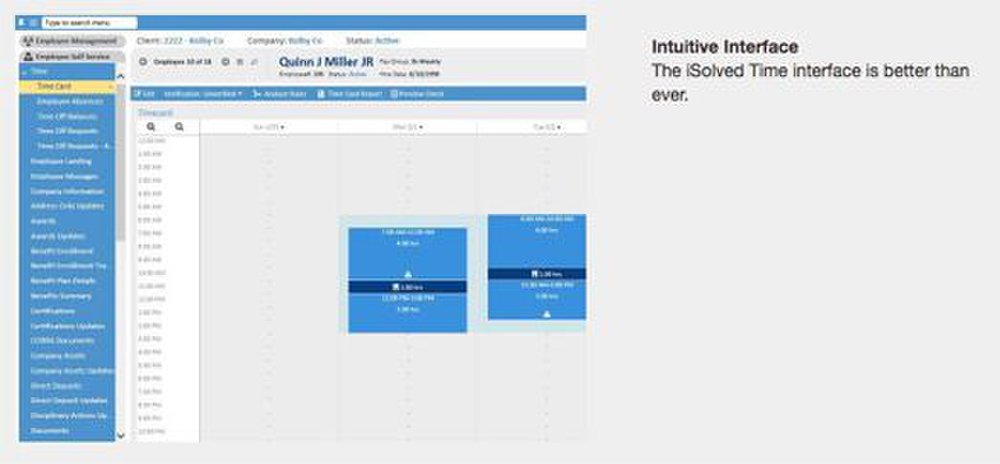 You can adjust the interface to allow you to see the most important information for your company.
iSolved Time is a cloud-hosted time and attendance system that you can access from any computer or mobile device. This powerful system is our top choice for the best time and attendance system for growing businesses because it's easy to use and includes most of the employee tracking controls you need to make your workforce run smoothly. This includes tools to manage all paid time off and scheduling for your employees. As your company grows, you can easily add on iSolved's other services, which include payroll and human resources systems, as well as employee benefits.
View all our recommendation for time and attendance systems on our best picks page.

Pricing and Terms
iSolved Time charges a monthly fee based on the number of employees you have. For the service, we were quoted prices of $4 per employee, per month. This included all the time and attendance tools, plus scheduling and paid time off management. Per employee costs may vary depending on which tools and services you want included in your system. It is important to note, however that there is an $80 monthly minimum. So, based on the $4 per employee prices we were quoted, if your company has fewer than 20 staff members you will still have to pay the $80 per month. In addition to the monthly costs, there are also one-time implementation and training fees. For 20 employees, we were quoted prices of about $700. This covers the cost of setting up the system and training managers and employees on how to use it.
iSolved Time also requires customers to sign an contract. The prices we were quoted were based on an annual subscription.
Features
iSolved Time is a sophisticated time and attendance solution that offers businesses with a wide range of ways to track their employees' time.
Multiple time tracking methods. iSolved Time provides a number of ways for staff members to manage their time. Employees can clock in and out using traditional timeclocks, web browsers and mobile apps.
Timeclock options. When it comes to timeclocks, iSolved offers a wide selection. Among the options businesses have to choose from are touch screen, USB, Ethernet and plug and play timeclocks. The timeclocks can be configured for traditional swipe card, proximity reader, key code entry or biometric access with a finger-scan. Besides using the clocks to punch in and out, the iSolved Timeclocks let workers transfer jobs and departments. The clocks also include buttons for breaks and meals.
Time tracking rules for hourly and salaried workers. iSolved can track hours for both hourly and salaried employees. Rules can be defined for an employee's base pay type whether that be hourly, exempt salaried, non-exempt salaried etc. The system is rules driven, so where the base pay starts, additional rules and exceptions can be added. Minimum and maximum hours can be defined to guarantee a salaried employee's hours do not exceed a certain amount. In addition, iSolved Time can track the excess number of hours a non-exempt salaried employee may work to make sure they are compensated above their typical salaried amount.
Mobile app with geofencing technology. iSolved offers a mobile app that is available on iOS and Android devices. From the app, employees can clock in and out, view their timecards, check their accrual balances, request time off, and update tax and personal information. The mobile app also stores punches if the mobile device isn't receiving service. Those in charge can use the app to conduct punches for groups of employees. In addition, the mobile app utilizes geolocation technology to record where remote employees are clocking in and out from and geofencing to limit the areas employees can punch from.
IP restrictions. The mobile app's geofencing capabilities aren't the only way employers can restrict where employees clock in and out from. The system also allows for IP restrictions. This limits the computers from which staff members can punch in and out from.
PTO management. The system offers complete paid time off management capabilities. It tracks vacation and sick-time accruals and allows employees to request time off and managers to approve or deny those requests.
Schedule building. The iSolved Time scheduling module allows employers to build schedules for individual or multiple employees. Using the tools, employers can configure their own attendance rules, such as whether employees are allowed to come in early or leave late. You can also create as many shifts as you like. Schedules are created using click and drag tools, which makes the process very simple. Based on the schedule, you can set up alerts to notify you when employees arrive early or late, are under or over hours, leave early or late, have an unscheduled absence and work when they aren't scheduled. You can view schedules by day, week, two week, month or six week time frames.
Employee self-service. iSolved Time's employee self-service allows workers to handle many time-related tasks on their own, without having to receive assistance from a manager or human resources team member. In the employee portal, employees can clock in and out, view their accrual balances and request time off or sick days. In addition, they can review their timecards and access their tax information. The employee portal can be logged into from any web browser. This gives employees access to the software both in and outside of their workplace.
Administrator portal: In the administrator portal, you can view an audit trail, which is an uneditable document showing all additions and changes that have been made to an employees' timesheets. This file is important for organizations that need to comply with certain labor laws.
Access controls: With the access controls, you choose how much access each employee has to the features in this time tracking system and what information they are allowed to view and edit.
If you need assistance with this software, you can contact customer support via phone, email or, for quick questions, live chat.
iSolved's parent company, Infinisource, is an accredited member of the Better Business Bureau with an A+ rating. As of April 2018, there had only been eight complaints filed against the company in the past three years. It is important to note that most of those complaints were in regard to the employee benefits services iSolved offers, and not its time and attendance system.
Added Services
iSolved offers several other services that businesses may need as they grow. This includes a payroll system, human resources system and employee benefits. All the added services are controlled via the same platform as iSolved Time. This allows employers and staff member the ability to manage and access these services from one central location.
Payroll: The cloud-based system is a full payroll service. It handles all payroll processing and payroll tax responsibilities. The service lets you to pay employees by direct deposit and pay cards and can handle pay check garnishments. Employees can access the payroll software to see their pay stubs and year-end tax information.
Human Resources: The HR portion of the platform is designed to provide insight into your workforce and help drive performance. This add-on service allows employers to manage their company training, disciplinary offenses, awards, employee job history, certifications and employee salary and benefit history.
Benefits: The benefits enrollment service provides employers with an organized simplified way of managing employee benefits. The system connects with all benefit providers. The system allows employees to review all of their benefit selections at any time.
Other services iSolved offers growing businesses include those for onboarding and applicant tracking, learning management, expense management, compliance, premium reporting, engagement, managed benefits, and data integrations and audits.
iSolved allows organizations to customize a system that fits their needs. This can be especially helpful to growing businesses because it allows them to start off with a more basic system of just time and attendance and then added on additional services as their business gets larger and has more complex needs.
Drawbacks
The biggest downside to iSolved Time is the monthly minimum. Based on the $4 per employee, per month fee, you likely will need to have at least 20 employee to meet the minimum charge. However, if you have fewer employees you can still use the system; you will just have to pay the $80 monthly minimum.
Another downside is that some of the features, such as scheduling, are an extra fee. There is also a set up and implementation charge. Not all the services we considered charged these fees.

Editor's Note: Looking for a time and attendance system? Click the Compare Quotes button below to have our sister site Buyer Zone connect you with vendors that can help.

Ready to choose your The Best Time and Attendance Services and Software 2019? Here's a breakdown of our complete coverage:

Chad Brooks
Chad Brooks is a Chicago-based writer and editor with nearly 20 years in media. A 1998 journalism graduate of Indiana University, Chad began his career with Business News Daily in 2011 as a freelance writer. In 2014, he joined the staff full time as a senior writer. Before Business News Daily, Chad spent nearly a decade as a staff reporter for the Daily Herald in suburban Chicago, covering a wide array of topics including local and state government, crime, the legal system and education. Chad has also worked on the other side of the media industry, promoting small businesses throughout the United States for two years in a public relations role. His first book, How to Start a Home-Based App Development Business, was published in 2014. He lives with his wife and daughter in the Chicago suburbs.