John Deere Review
At 10,560 pounds, the John Deere 50G Compact Excavator is rather heavy for a mini excavator. However, it justifies its weight with a spacious operator station, big tools and a powerful engine.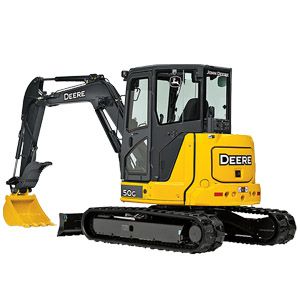 Beneath the hulking mass of this John Deere mini excavator is a 1.6-liter, four-cylinder Yanmar diesel engine that meets the U.S. EPA Final Tier 4 and EU Stage IV standards for heavy-duty machine engines. The engine delivers 36 horsepower and 92 pound-feet of torque and revs up to 2,400 rpm. Even though it is bigger than most compact excavator engines, this Yanmar engine is quite efficient, thanks to its exhaust gas recirculation technology and auto-shutdown feature.
It may be bigger and heavier than the average compact excavator, but the John Deere 50G is also faster. Its top speed is 4.2 mph, and its minimum speed of 2.6 mph is faster than the maximum speed of most small excavators. Just as important is the tail swing of the 50G. It comes in zero tail swing and reduced tail swing designs. These reduce damage to the rear end of the housing and make the excavator maneuverable in tight spaces.
While this mini excavator sports rubber tracks, they have steel cores to make them resistant to cracking. Rubber tracks are gentler on paved surfaces and are especially useful given the weight of the John Deere 50G. However, steel tracks are more durable for rough terrains. If you prefer those, John Deere also makes the 50G with steel tracks and even steel tracks padded with rubber.
This compact excavator comes with a fully enclosed cab-styled operator housing. The cab is spacious and has wide entryways. In addition, it has a flat, skid-resistant floor mat, a cup holder, a 12-volt port for charging cell phones, a climate-control system and a display that shows jobsite hours, changes in engine and hydraulic oil levels.
Inside the cab of the John Deere 50G, the mechanical and hydraulic controls are also quickly accessible. The compact excavator has short-throw, pilot-control levers, swing boom and foldable travel pedals, low-speed lock switch and a backhoe-to-excavator selector valve placed within reach. This John Deere mini excavator uses a proprietary wedge-style coupler that permits quick swapping buckets and other attachments. However, it only works with John Deere's Worksite Pro attachments.
Overall, the John Deere 50G is a powerful, multifunctional mini excavator that rivals full-sized excavators. Its zero and reduced tail swing options, fully enclosed cab, and rubber and steel track options make it ideal for all construction sites. However, it is too big, heavy and expensive for a compact excavator.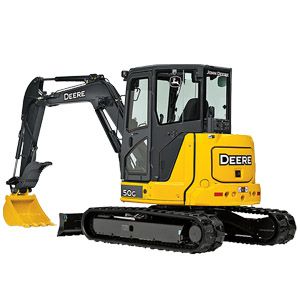 business.com editorial staff
business.com Member
The purpose of our community is to connect small business owners with experienced industry experts who can address their questions, offer direction, and share best practices.