Jukebox Print Review
By Business.com Editorial Staff
Last Modified: January 7, 2019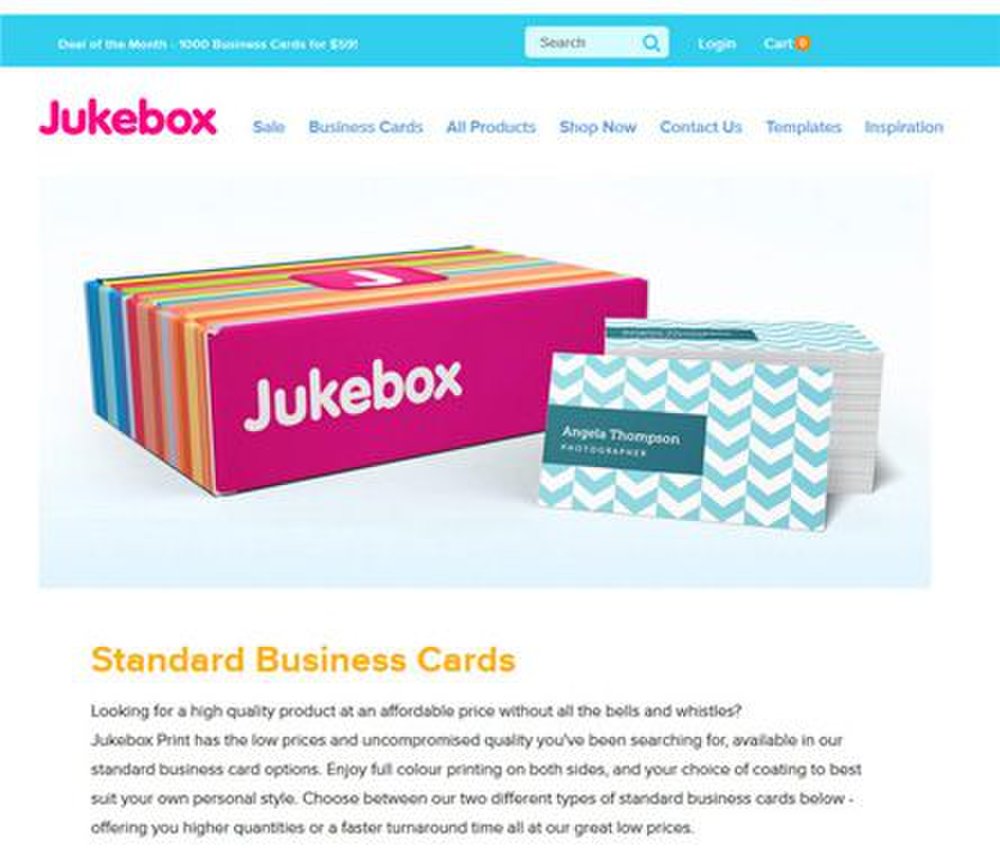 Jukebox Print image: If you need business cards quickly, this card printer offers a range of same-day business cards you can select from.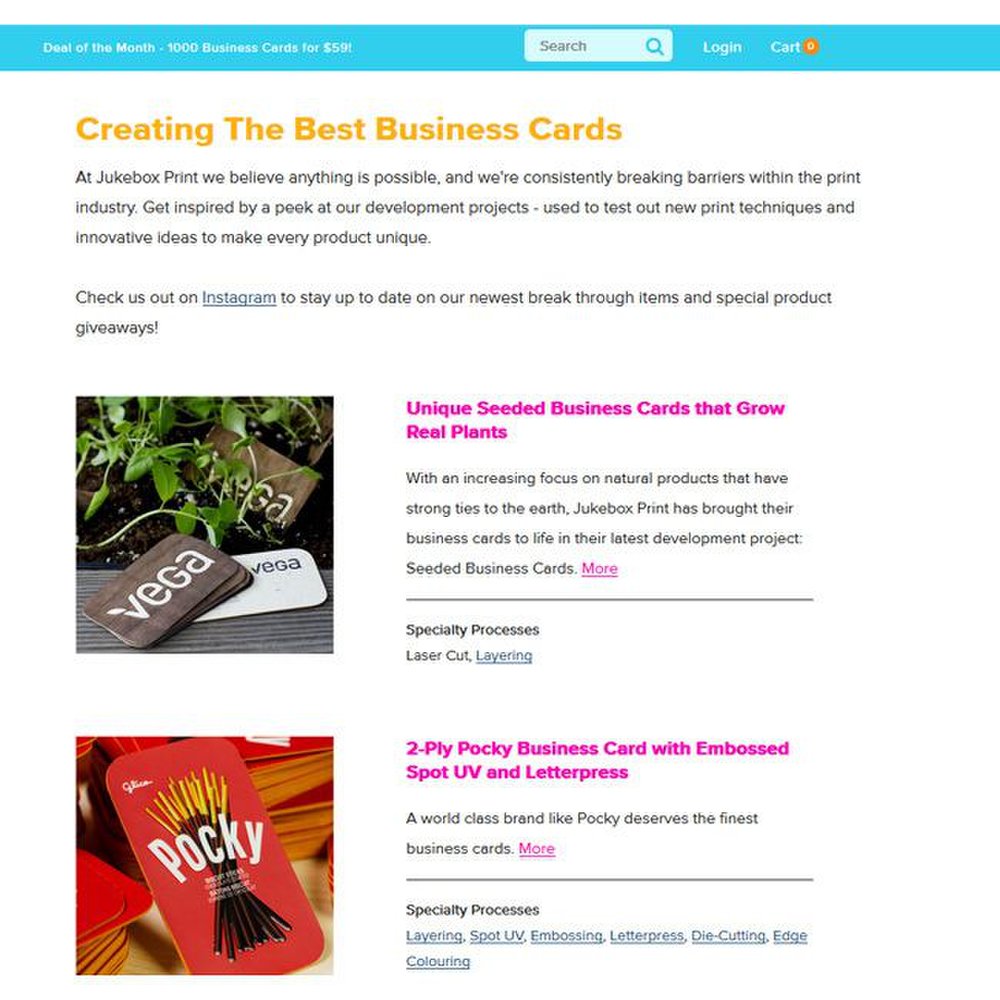 Jukebox Print image: This service offers unique card types, like business cards made from recycled material, that reflect your business's focus on the environment.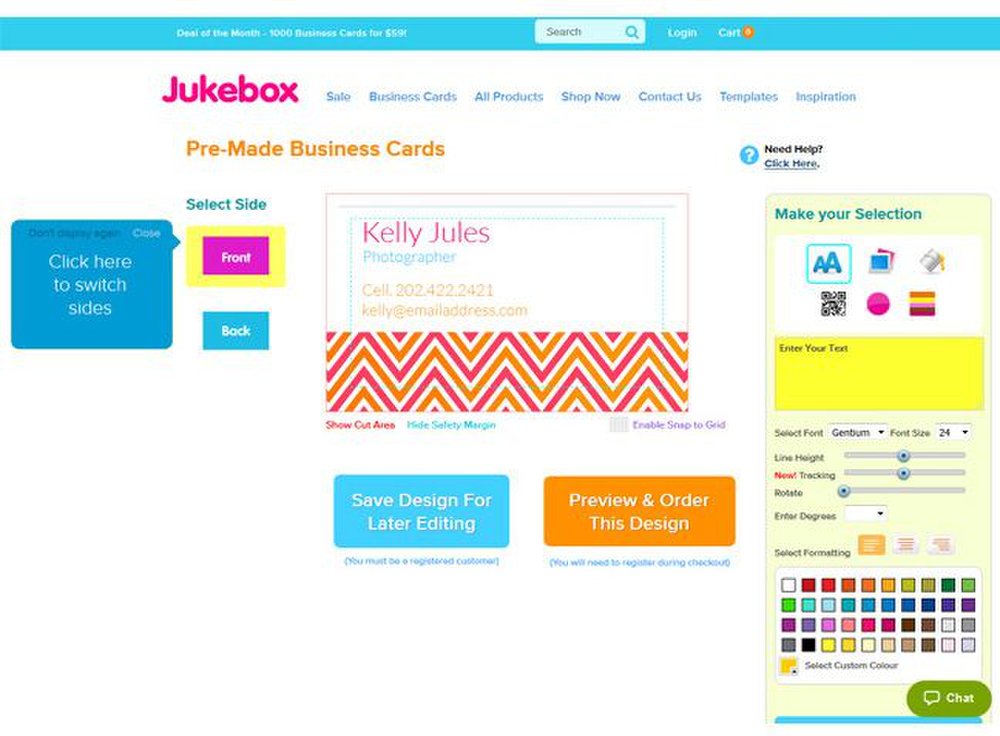 Jukebox Print image: The service has an online design tool you can use to edit pre-designed templates.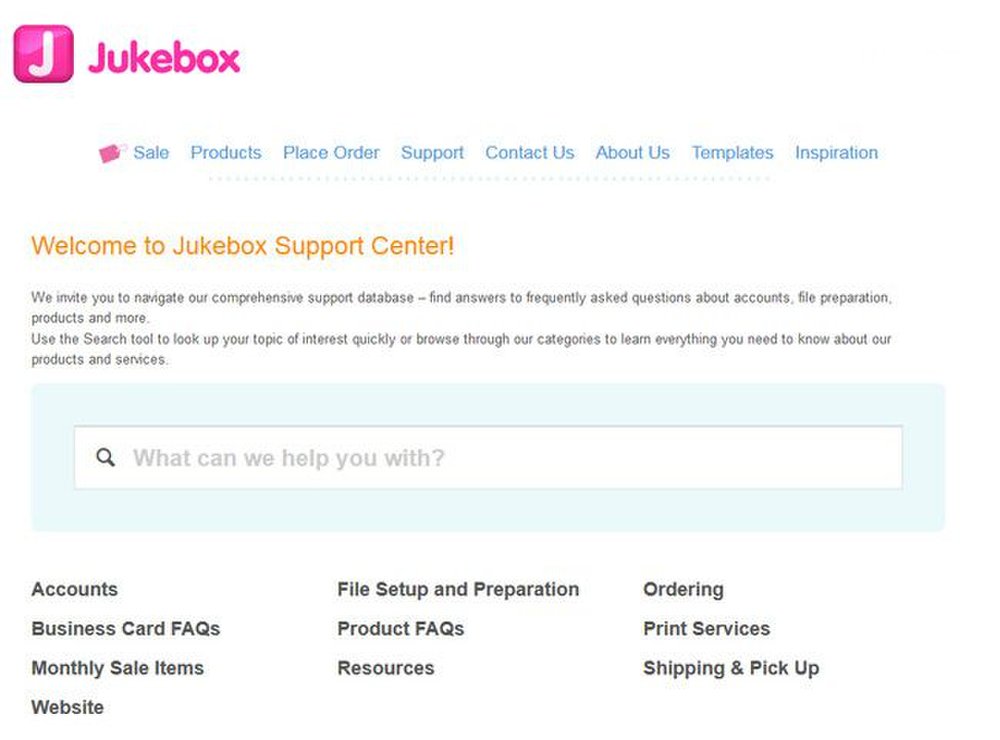 Jukebox Print image: This service has a comprehensive knowledgebase that addresses common questions and concerns about designing and ordering business cards from this service.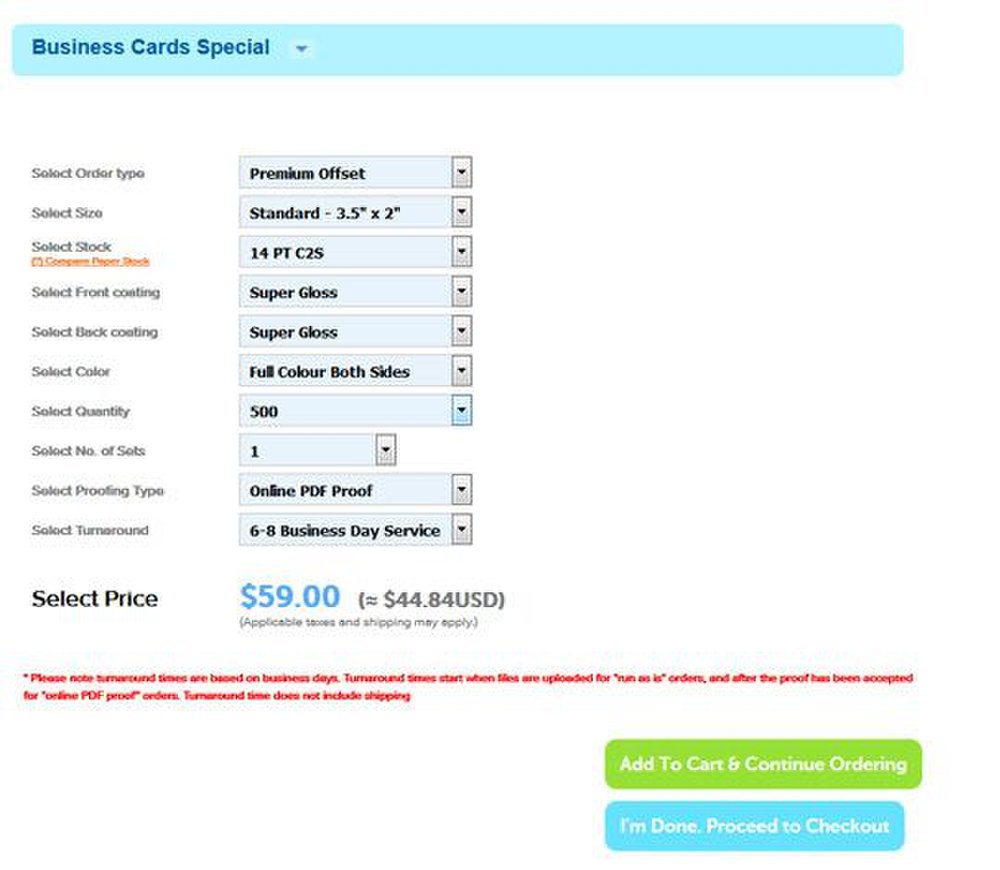 Jukebox Print image: You can customize your business cards by cardstock, coating and color.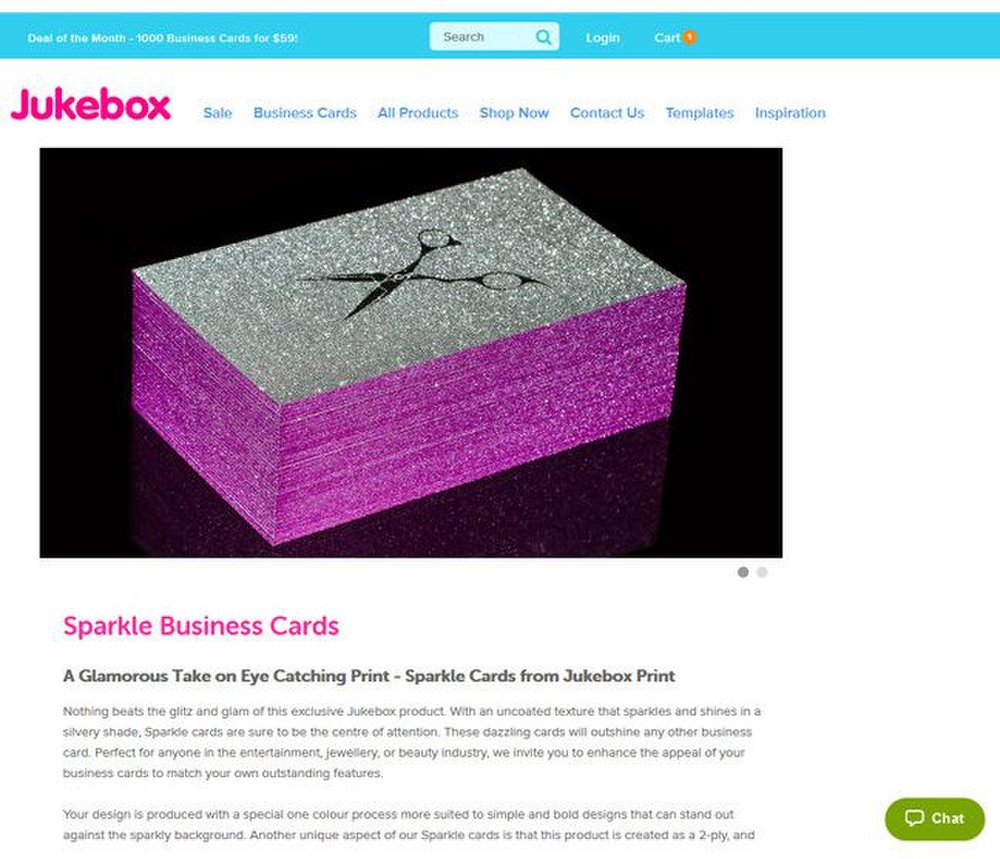 Jukebox Print image: This service offers a large selection of card types and finishes, including business cards covered in sparkles.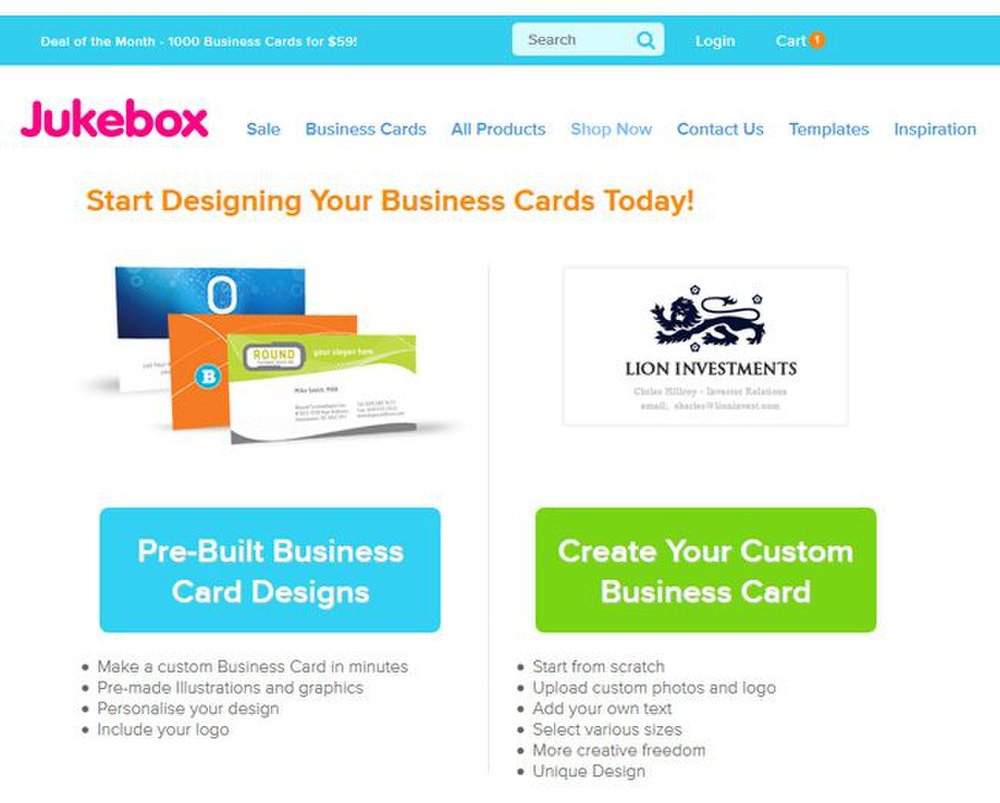 Jukebox Print image: You can either upload a card with an existing design, use a pre-designed business card or design one using the service's design tool.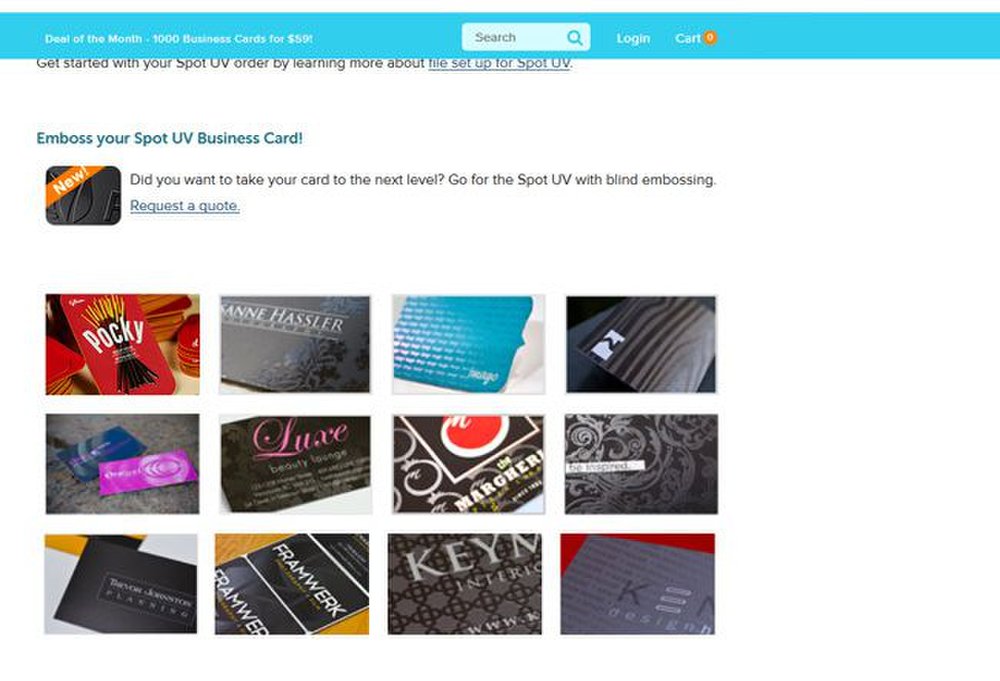 Jukebox Print image: This business card printing service offers spot UV finishing to help you emphasize certain parts of your card.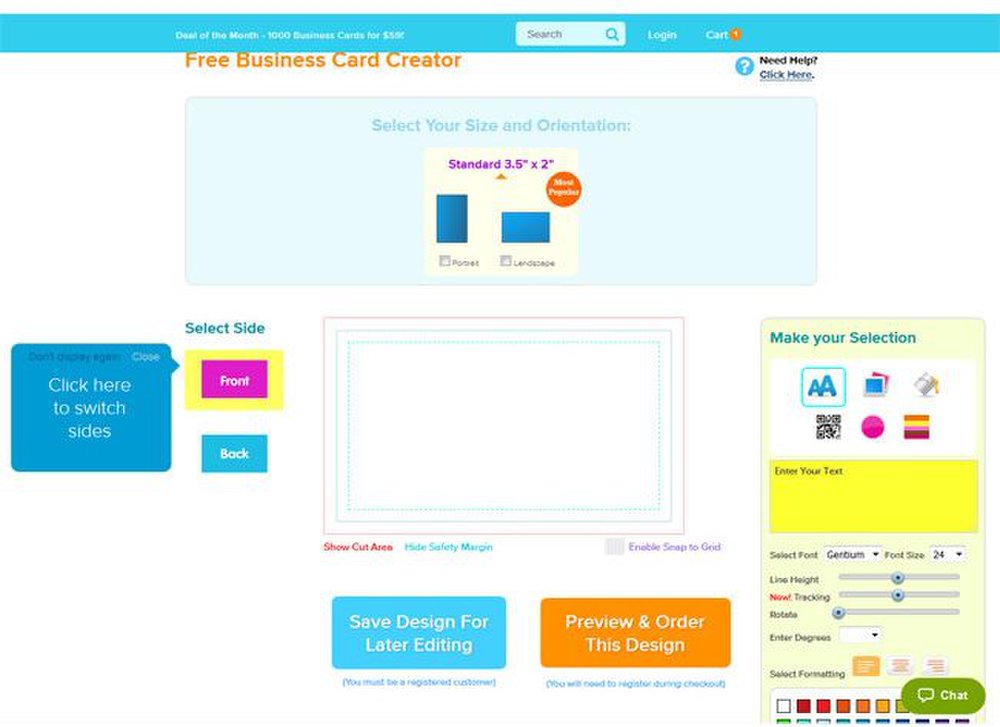 Jukebox Print image: When designing a business card, you can add a QR code to it to promote your business's online presence.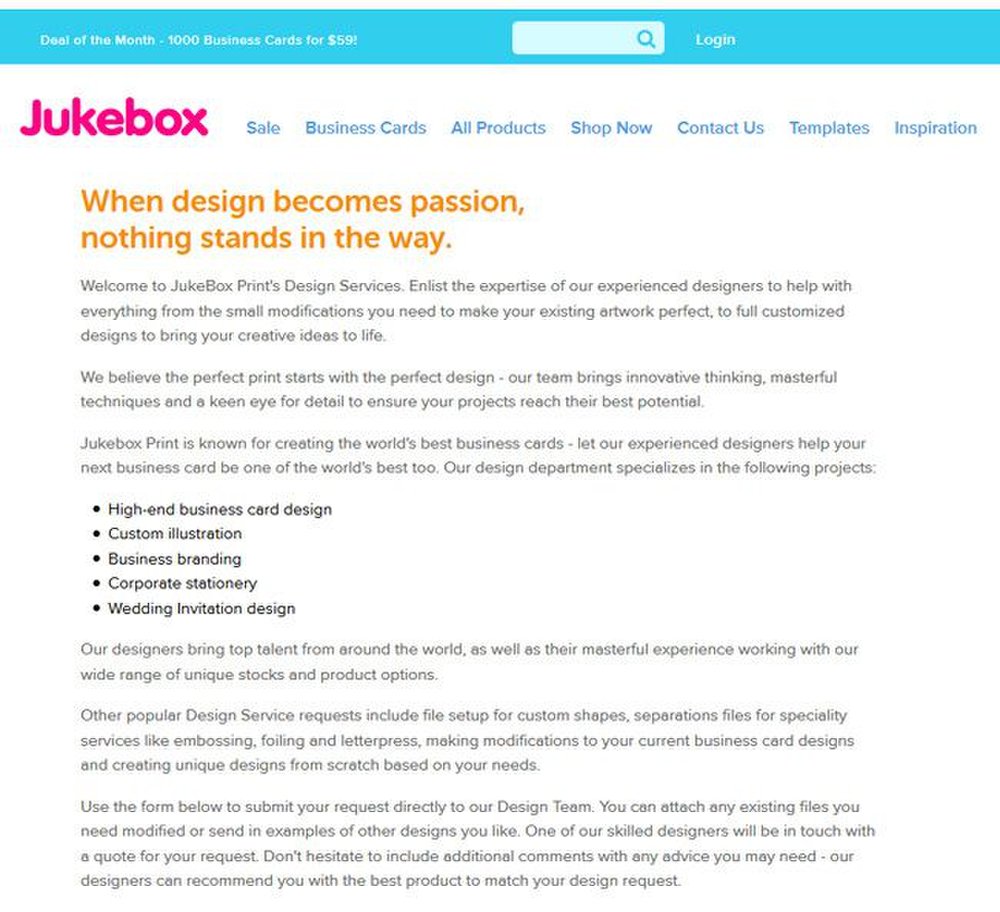 Jukebox Print image: For a small fee, you can hire designers to create your business cards for you.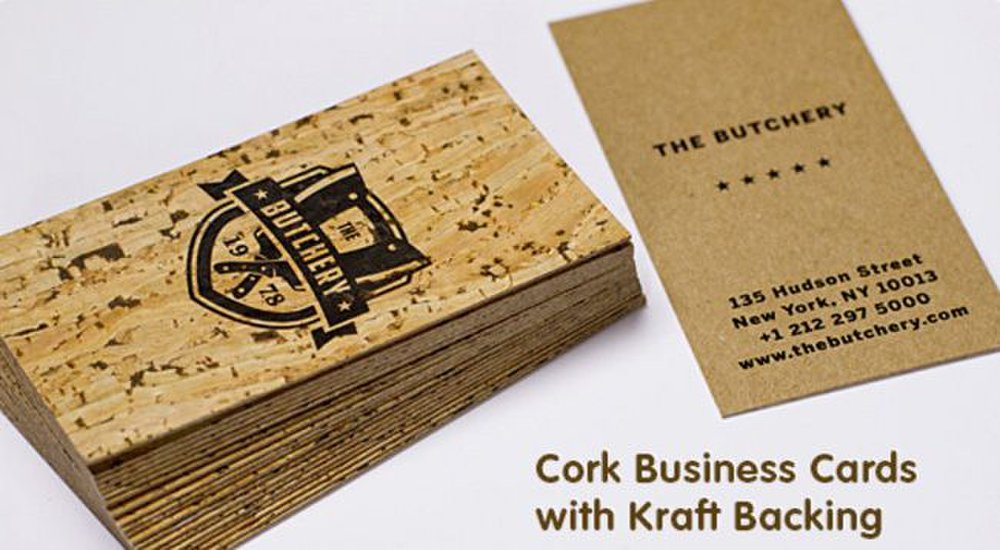 Jukebox Print image: This service has several different paper types you can use, including these business cards that are printed onto cork.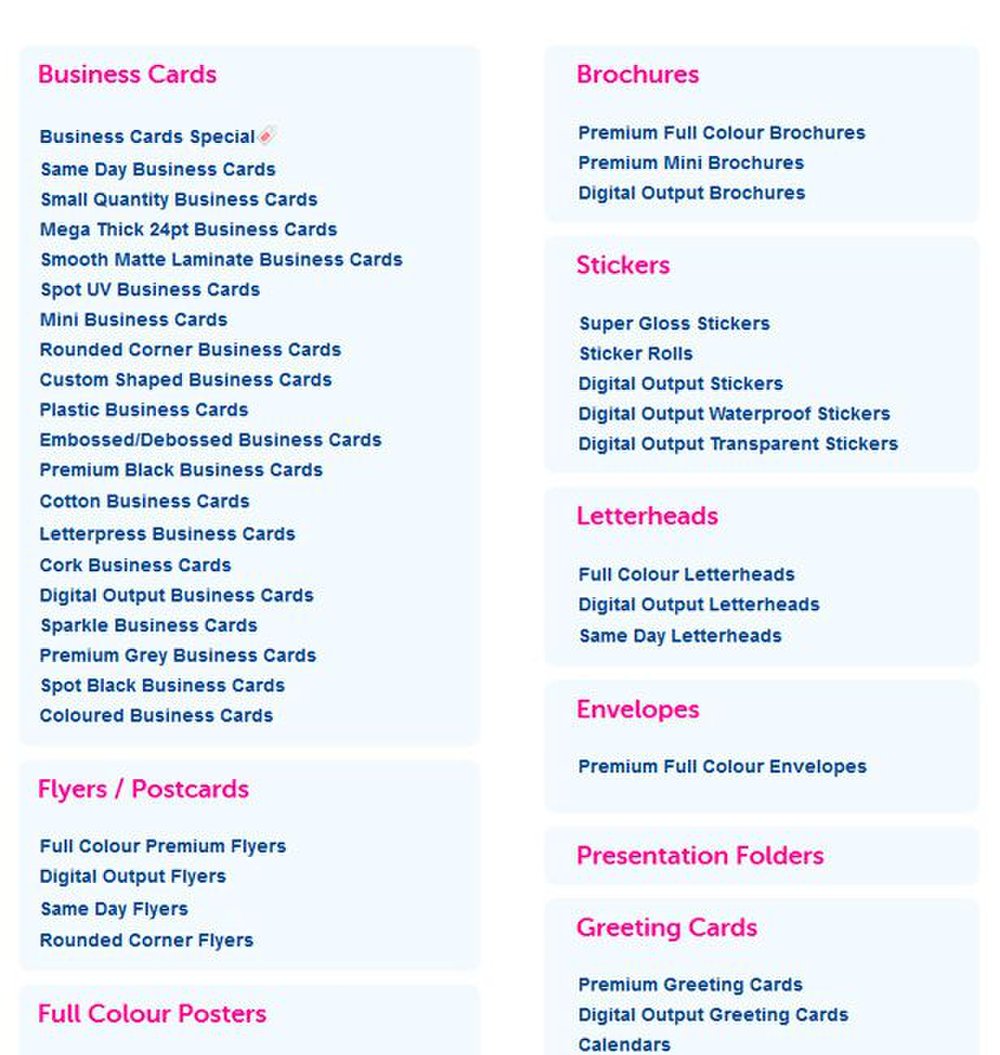 Jukebox Print image: In addition to business cards, this service prints flyers, postcards, posters, brochures, stickers and other marketing materials to help promote your business.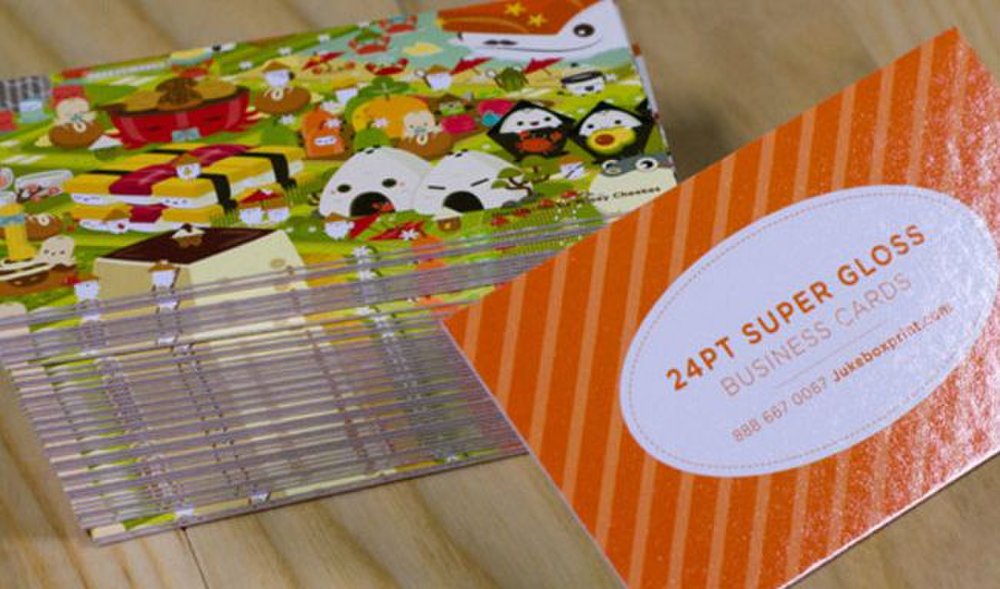 Jukebox Print image: This service's super glossy cards really make your business cards shine.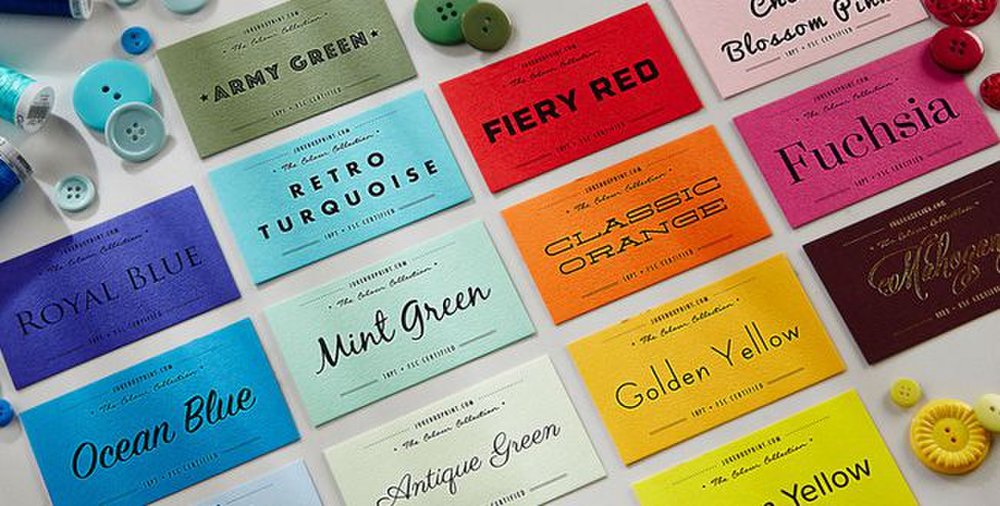 Jukebox Print image: We found this service offered some of the best quality cards with their rich colors, crisp images and thick cardstock.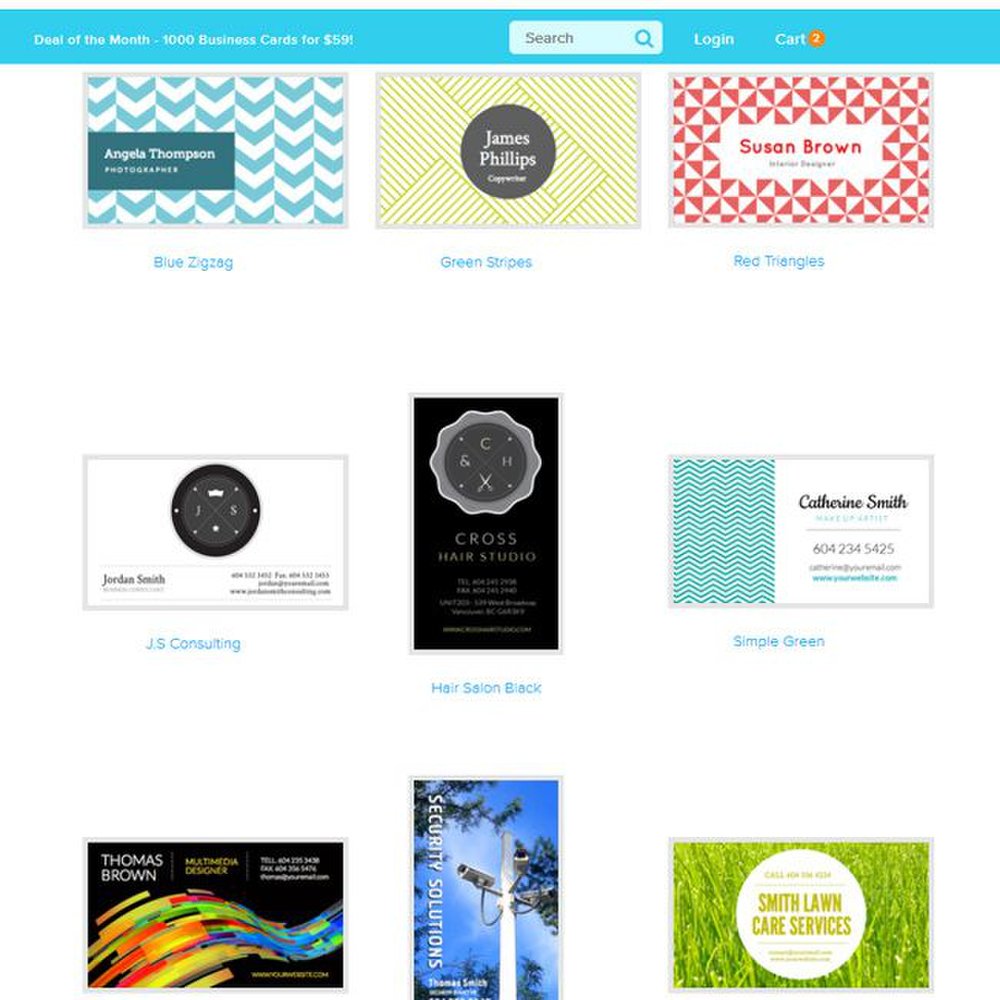 Jukebox Print image: This service has a large selection of pre-designed business cards.
Jukebox Print is different from other online business card printing services with card types ranging from traditional cardstock to cotton, wood or even bamboo. Between the large selection of cards and features, Jukebox Print is one of the best online business card printing service we reviewed. It earns the Business.com Silver Award.
Jukebox Print's turnaround is six to eight days, which is a little longer than the other printing services on our lineup. Next-day delivery is available if you pay for rush service. Jukebox also has same day service available if you live close to one its two physical locations in Canada: Vancouver and Toronto. If you do, your business cards could be ready within eight business hours.

This business card printing company has both offset and digital printing available and is capable of printing in full color, double-sided and with bleeding edges. While most printing services have these features, Jukebox has superior quality compared to other business card printers.
We found that Jukebox Print's business card service offehigh-qualityity cards. Regardless of the paper type, shape and coating, this service provides quality cards. We found that Jukebox's cards offered sharper images and vivid colors compared to cards from other printers. While it may take this company longer to process your order, you are guaranteed high quality and unique business cards to help your company stand apart from the competition.
Both the service's website and its online design tools are easy to navigate so you can find the right pattern, paper type and design to add to your cards. This online business card creator lets you adjust the text size and color whether you're using a template or building your own custom business cards from scratch.
You can choose sizes that are standard for a variety of places, including U.S., U.K. and Hong Kong. Using the online design tool, you can generate and insert your personal QR code. Jukebox Print has all the latest social media logos, such as Twitter and Facebook, so you can include them on your card and alert your customers of additional ways to connect to you and your services.
Jukebox Print has a large selection of pre-made templates you can modify. The business card template styles are in a variety of industries, such as landscaping, beauty services and wildlife photography. If you don't see a template that you like, Jukebox Print lets you submit suggestions for future designs. You can upload your own business card design, but only after you have pre-paid for your business cards. The online platform supports PDF, PSD, TIFF, JPG, EPS and AI file types.
This business card printing company keeps you informed of your order from the moment you place it. The service sends confirmation emails and shipping information so you know exactly where your order is at and when you can expect to receive it. While it took Jukebox longer than other services on our lineup to process our order, its customer service was helpful and responsive to our requests.
Jukebox Print has several paper and finishing options to choose from. Cardstock, linen, cotton and magnets are all options. Each of these comes in a variety of colors and textures.
You can have your business cards made into different shapes, not just circles and rounded corners, but hearts and cupcakes too. Not all services have this option, and those that do don't compare in quality or selection. Finishes include gloss, foil and pearl coated. Several of these finishes are available in custom colors, giving you even more options to make your cards stand out.
In addition to business cards, Jukebox Print can have your logo, color scheme or business designs printed on other important items, including flyers, brochures, postcards and envelopes – all useful items to businesses. Jukebox can create custom items, such as loyalty cards and promotional calendars, all with the same quality as its business cards. Jukebox also offers address labels and customer banners and signs.
Jukebox Print offers high-quality business cards as well as a variety of other products. The selection of paper, finishes and card shapes surpass others we reviewed, and the overall quality is great. Between the quality of the product and the good customer service, Jukebox Print serves as a good option for printing business cards.


Business.com Editorial Staff
The purpose of our community is to connect small business owners with experienced industry experts who can address their questions, offer direction, and share best practices. We are always looking for fresh perspectives to join our contributor program. If you're an expert working in your field – whether as an employee, entrepreneur, or consultant – we'd love to help you share your voice with our readers and the Business.com community. We work hard to only publish high-quality and relevant content to our small business audience. To help us ensure you are the right fit, we ask that you take the time to complete a short application: https://www.business.com/contributor/apply/ We can't wait to hear what you have to say!