Kobelco Review
The Kobelco SK35SR-5 mini excavator is a zero tail swing compact excavator with a powerful Yanmar engine. This mini excavator comes in canopy and cab models.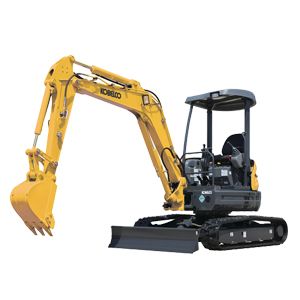 The Kobelco SK35SR-5 weighs 7,890 pounds with a canopy and 8,200 pounds with a cab. It is 15.5 feet long, 8.4 feet high, and has a 10-gallon fuel tank and a 10-gallon hydraulic system. Compared to the typical mini excavator, the Kobelco SK35SR-5 is heavy, but it is powerful too. This compact excavator carries a three-cylinder, four-cycle, direct injection, water-cooled diesel engine that delivers 28.4 horsepower at a maximum rev of 2,400 rpm. The power generated is enough to drive this Kobelco excavator to a top speed of 2.8 mph, although you can also roll it along at a top speed of 1.6 mph with the push of a button.
With its zero tail swing design, the Kobelco SK35SR-5's tail does not overhang the tracks. Therefore, it can swivel around in tight spaces without the operator worrying about damaging the excavator. Just as importantly, the boom is situated a little off-center. This boom offset design allows you to dig parallel to the tracks without moving the undercarriage. However, the Kobelco SK35SR-5 lacks an adjustable undercarriage. With no way to expand or retract its tracks, maneuvering the mini excavator through narrow openings may be difficult, even though it can work in such tight spaces.
The combination of the zero tail swing and boom offset functions makes it possible to dig next to walls and use this excavator in tight spaces. To keep the width of the operator's housing from overshooting the tracks, the housing has to be tall. However, a tall, narrow housing coupled with a long and tall boom can affect stability. With no counterweights loaded into its tail, you have to be careful not to swivel the excavator's housing or its boom too quickly.
While this mini excavator comes with rubber tracks, it also comes with optional rubber-padded steel tracks. Unlike steel tracks, rubber tracks are not rough on pavements and landscaped job sites. However, steel tracks are more durable, especially when running on rough terrains. Therefore, a rubber-padded steel track is a compromise that combines the best of both worlds.
Whether you choose the cab or canopy model, the Kobelco SK35SR-5 has a wide door opening and ample room for sitting in and operating the excavator. Inside the operator's housing, you will find amenities such as a can holder, a retractable seat belt, an interior light, a coat hook and an optional armrest. However, the excavator lacks a heater, air conditioning and a radio.
Overall, the Kobelco SK35SR-5 is a powerful and an efficient mini excavator with a zero tail swing and boom offset design. However, it is heavy for a compact excavator, lacks an adjustable undercarriage and needs counterweights to improve its stability.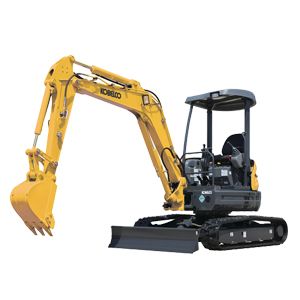 business.com editorial staff
business.com Member
The purpose of our community is to connect small business owners with experienced industry experts who can address their questions, offer direction, and share best practices.