Konica Minolta Bizhub i-Series Review
Konica Minolta, established in 1936, is based in Tokyo, Japan, with offices in 49 countries. The company creates and supplies machines, solutions, services, and systems for office, healthcare, and industrial use. The company's multifunction printers lead with high-quality color, printing and finishing options. Its products are built to satisfy the needs of businesses of all sizes. The company claims each model is reliable and secure.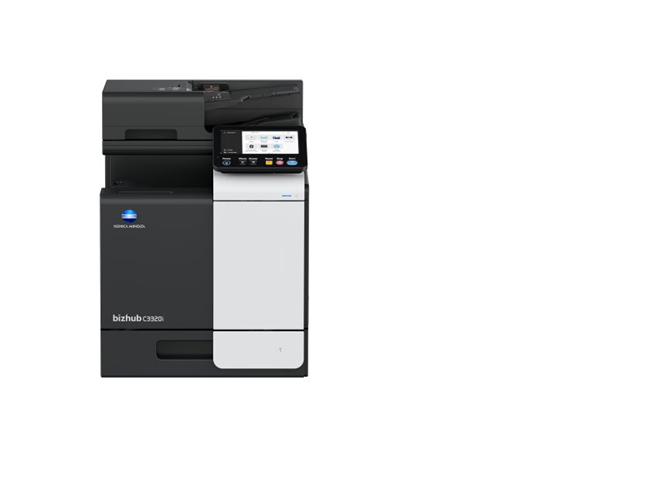 Konica Minolta Bizhub i-Series
The Verdict
Konica Minolta's Bizhub i-Series is built for simplicity, security and general smarts. Its Dispatcher software increases productivity and performance quality in printing, copying or scanning.
Konica Minolta released the new Bizhub i-Series in June 2019, with the hopes of recreating the way technology is seen and used within an office. The i-Series models are multifunction printers (MFPs) that use laser technology and are built to improve productivity, efficiency and security in printing.
To view all of our recommendations for copiers, visit our best picks page.
Pricing
The Bizhub i-Series consists of A4 color MFPs – the C4050i and C3350i – and A3 MFPs – the C360i, C300i and C250i. The A4s are priced around $1,049, and the A3s are priced around $15,907, being built for midsize and large businesses.
Konica Minolta has its own toner – the Simitri HD polymerized toner – that the i-Series and many of its other Bizhub models use. For the A4 models, you should expect to pay around $165 for each colored toner cartridge, which yields around 9,000 pages, and $72 for each black toner cartridge, which yields around 13,000 pages. For the A3 models, you should expect to pay around $221 for each colored toner cartridge (around 28,000 pages) and $94 per black toner cartridge (also around 28,000 pages). These are merely estimates, but this gives you an idea of what you may have to pay for supplies with a Bizhub printer. [Need more details on the differences between buying and leasing a copier? Check out this article on our sister site Business News Daily.]
Bizhub i-Series Features
Konica Minolta has produced its own toner technology that guarantees high-quality prints with every use. Its resin-based toner particles are smaller than those of other toners, but they are more uniform in size and shape, which creates greater image quality.
Additionally, the toner uses biomass as one of its ingredients, which makes it an environmentally friendly component to the i-Series. It also uses a lower fuming temperature and reduces the energy consumed by the printer. The toner does not contain oil, which increases the variety of documents that you can print to include labels, envelopes, glossy papers and heavyweight papers.
Konica Minolta's Dispatcher software is one of the newest components in its line of MFPs. The i-Series is equipped with the Dispatcher Suite, Dispatcher Paragon and Dispatcher Phoenix. The Dispatcher Suite is a print management and workflow automation solution that extends the capabilities of the printers. Paragon helps you increase productivity and flexibility and reduce costs with its sophisticated print management capabilities. Phoenix allows you to control document processing and connect to cloud services such as SharePoint, Dropbox, OnBase, Laserfiche, Box, Google Drive and Microsoft OneDrive.
One of the most notable features of the i-Series is the 10.1-inch touchscreen panel that you can use like you would a smartphone or tablet. You can customize apps through the Konica Minolta Marketplace to fit your office's work style and needs. The panel has LED status indicators and voice control. This improves its accessibility for your staff, giving those with visual impairments the opportunity to use the machine.
The i-Series' central processing unit (CPU) is about four times faster than in previous models. Each model is also built to operate at a lower volume than other MFPs due to the improved cooling fan and the automatic document feeder.
The models in the i-Series easily connect with Konica Minolta's Workplace Hub to ensure all information technology is kept in the same location. You will have to purchase the Workplace Hub separately, but it keeps all your IT in one place so you can focus more on your business and enjoying the work you're doing than on tech issues. The Hub integrates user and admin dashboards and organizes IT tasks to free up business time and resources. It works to prevent attacks, restore the system if there is an attack, and protect all your business's data. You can edit and share files securely from wherever you are, and Workplace Go allows you to track all your IT information on the go without worrying about what's going on at the office.
Bizhub i-Series Models
The A4s have a print and copy speed of 42 pages per minute (ppm) and scan at a rate of 90 ppm, with a dual-scanning option available. They come standard with a 1,600-sheet maximum capacity and a 5GB maximum memory. The large memory availability is perfect for businesses that print in color frequently and wish to increase their productivity. The printer will be able to process images quickly and complete the jobs within a shorter timeframe than a printer with 1GB of memory or less. The A4s also contain 256GB solid-state drives (SSDs), which will increase productivity with a fast processing memory. Small and midsize businesses will appreciate the Bizhub C4050i and C3350i for their compact size and high-speed output.
The A3s have a print and copy speed of 36 ppm, and they scan at a rate of 20 ppm, also with the option of dual scanning. Since these models are larger, they have a maximum capacity of 3,300 sheets and contain 8GB of memory, as well as a 256GB SSD. The Bizhub C360i, C300i and C250i are perfect for larger businesses that need a faster CPU, large-capacity trays, high-speed printing and reliable functionality.
Businesses that make booklets and brochures will want to consider the finishing options available for the Bizhub C360i, C300i and C250i. You can choose an internal or floor-standing 50-sheet staple finisher or an 80-page booklet maker. There is also the option of tri-folding or post-insertion for your printer. These finishing options will lend a professional look and feel to your work.
System Security
The i-Series comes with the best security features you can find for a printer. All the printers are compliant with the General Data Protection Regulation (GDPR) and ISO 15408 certified (HCD-PP). Konica Minolta also offers optional security services for around $250 to $500. These include Bizhub SECURE, SECURE Platinum, SECURE Notifier App and Bitdefender Antivirus. Bizhub SECURE protects the data inside the memory of the printer. SECURE Platinum secures the network settings, while SECURE Notifier App makes sure the correct settings are in place and untouched. Bitdefender Antivirus defends the printers from viruses by scanning all sent and received data. Another option to add security is a card reader, which limits printer access to those with an authenticated ID or user card.
Konica Minolta's vCare Solution is a software system that allows faster exchanges of information between the MFP and the vCare Server. It features automated meter readings, service alerts, supply warnings, parts-life alerts and firmware reports. This software ensures that your printer is always performing at its best and provides a smooth printing experience for users.
Limitations
The C360i, C300i and C250i can be costly for small businesses and may be equipped with more features than you need. They're also very heavy and take up quite a bit of space, which is not ideal for a home business or small office.
On the other hand, the C4050i and C3350i may be too small and run too slowly for a large business. They only have a 1,600-sheet maximum capacity, which limits the printing productivity of faster-paced businesses. The C360i, C300i and C250i, with their 3,300-sheet maximum, are better fits for this type of workplace.
Editor's note: Looking for the right copier for your business? Fill out the below questionnaire to have our vendor partners contact you about your needs.
Image Credit: Getty Images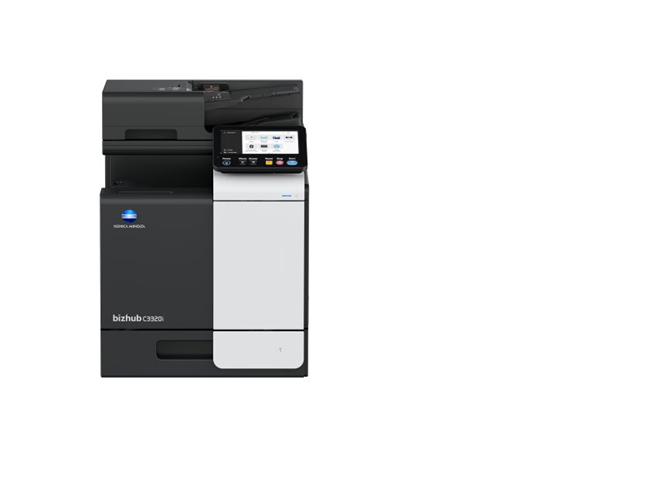 Konica Minolta Bizhub i-Series
The Verdict
Konica Minolta's Bizhub i-Series is built for simplicity, security and general smarts. Its Dispatcher software increases productivity and performance quality in printing, copying or scanning.

Kayla Harrison
business.com Contributing Writer
Kayla Harrison is a current Writing Arts graduate student at Rowan University and editor at The Urban Howl. She began freelancing during her junior year of college and fell in love with it. You can learn more on her blog, insearchofthewritedirection.weebly.com.