Kubota Review
The Kubota Ultra-Compact Excavator K008-3 weighs 2,200 pounds and is only 9 feet long. This ultra-compact excavator is lightweight, nimble and powerful enough for small construction sites.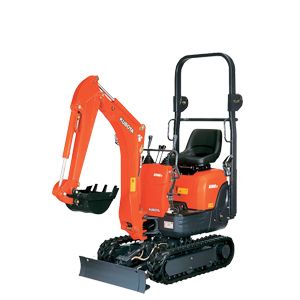 With a height of 7 feet 4 inches and a width of 2 feet 10 inches, the Kubota K008-3 has a small footprint. You can also adjust its track width from 2 feet 10 inches to 2 feet 4 inches. This adjustment allows the mini excavator to pass through doorways, gates and narrow corridors at construction sites.
You can also change the width of the excavator's blade to make it as narrow as the track and usable in tight spaces. A conveniently placed two-way lever lets you quickly switch between adjusting the blade or track width. The excavator has a pair of rubber tracks that contribute to its light weight and usability on pavements and landscaped job sites. However, rubber tracks are not as sturdy for working on rough surfaces as steel tracks.
This Kubota mini excavator packs a three-cylinder 44 cc diesel engine that generates 10.1 horsepower. It is not the most powerful engine you can find in a compact excavator but, considering the size of the K008-3, the output is high. Furthermore, the engine complies with the US EPA's 2008 Tier IV emissions regulations. It also has low noise and vibration levels and is quickly accessible for inspection and maintenance. The excavator also sports a quick-access hatch for the radiator, battery, fuel filter, coolant and air cleaner.
The Kubota K008-3 has two travel speeds: 1.2 mph and 2.5 mph. The mini excavator has a pedal for each speed with the high-speed pedal being the larger. There is also a pedal for operating the boom swing. Even though it is an ultra-compact excavator, the Kubota K008-3 has a spacious operator's area with a long floorboard and a padded, contoured operator's seat. There is not cab or canopy option, though.
The operator's area in the Kubota K008-3 is backed by a foldable frame but has no cover. Therefore, you will be exposed to the elements while operating this Kubota mini excavator. Not only is there no shade or protection from the rain or snow, but the excavator also lacks a heater and an air conditioning unit. In fact, its instrument panel is only limited to a coolant temperature gauge, and even that is only a warning light.
Overall, the Kubota Ultra-Compact Excavator K008-3 is a nimble, high-performance mini excavator with an adjustable undercarriage, capable of two-speed travel. However, its size and rubber track limits its usefulness on large job sites and rough terrains. Also, its operator house is barely comfortable, and its instrument panel is sparse.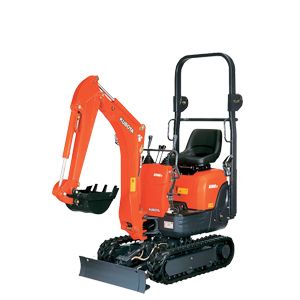 business.com editorial staff
business.com Member
The purpose of our community is to connect small business owners with experienced industry experts who can address their questions, offer direction, and share best practices.