Lenovo ThinkCentre Review
Everything about the Lenovo ThinkCentre M900 is fast, reliable and capable of expanding with your business. It comes with a military-grade chassis, which makes it one of the most durable business computers on the market. It also features excellent support to ensure that your business is up and running quickly if components break down. It has the high-end Intel i7 quad-core processor, 8GB of memory, a dedicated graphics card and 1TB of storage. The many upgradable options and expansion features allow you to conform it to fit your business' needs.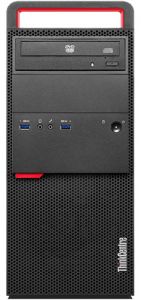 Lenovo ThinkCentre
The Verdict
The Lenovo ThinkCentre M900 is one of the best business computers. It combines a high-end processor with 8GB of memory, 1TB of storage and excellent support.
For our review, we emphasized performance, which starts with the processor. To evaluate performance, we started by looking at the PassMark score of the CPU. Then we assessed the installed RAM and storage. Finally, we evaluated the connectivity and expansion potential of the chassis. The best business desktop computers provide excellent performance with the ability to expand to meet your business' needs.
With the Intel Core i7-6700, you get a quad-core processor that has eight threads of execution, which is almost like having eight cores. This provides exceptional computing power that allows you to multitask without slowing down your computer, which is illustrated in the high PassMark score of 11,000.
Out of the 10 computers we reviewed, this is the best processor. Since we determined that a 6,000 PassMark score was the minimum passable score, you can see that this business desktop computer clearly has the processing power needed to handle running multiple business apps at a time.
In addition to the excellent CPU, the M900 is one of the few business PCs in our review with a dedicated graphics card. It comes with the Nvidia GeForce GT 720, which has 1GB of memory. Having a dedicated graphics card means that the i7-6700 processor doesn't process graphics until the card is maxed out. This allows it to more freely process other data. In other words, when you combine this graphics card with a quad-core processor, the performance is among the best you'll find at this price range. You can run a video-editing program and do your taxes at the same time without a hitch.
The Lenovo ThinkCentre M900 comes with 8GB of memory, which is the standard amount of memory for business desktop computers at the $1,000 range. With this much memory, you won't have any trouble running most business programs like Excel, PowerPoint and Word or data-intensive programs like video-editing software. However, if 8GB isn't enough memory for your business, you can upgrade the RAM to as high as 32GB.
The hard drive has 1TB of storage, which is also standard at this price point. This is most storage of any of the hard drives you can upgrade to, but you can add a second 1-TB hard drive. For most business computers, 1TB of storage is enough for several years, unless you have a lot of music and videos.
You can upgrade the hard drive to a 256-GB solid-state drive, which can add a lot of value to an office PC's performance, because the data is accessed much faster and is less susceptible to drive failures as there are no moving parts.
The ThinkCentre M900 has only eight USB ports, which is the least number of ports for a business computer. Each port is a USB 3.0, which are also compatible with USB 2.0 devices. The best business computers have at least 12 USB ports. You want to have at least two or three ports more than what you know you'll need. For comparison, the best you can get on a business desktop computer is up to 14 USB ports. However, you can add more USB 2.0 ports for a fee.
The M900 also lacks a media card reader, which reads memory sticks and memory cards commonly used in phones, cameras and other handheld digital devices. You can add a media card reader prior to purchase, but it costs extra.
Lenovo has one of the best support systems for business computers, with one caveat – the M900 only comes with a one-year warranty. However, Lenovo's warranty covers parts, labor and on-site service. You can also customize your service and extend your warranty up to five years. These are vital support features for a business computer, because you can't afford for your computer to break down.
The company offers additional support like asset recovery, online data backup and remote diagnosis. These services help you ensure your business' vital information is always safe and accessible.
The ThinkCentre comes with a 250-watt power supply unit, which is enough to handle the installed components but lacks the overhead for expansion. For comparison, the best business computer in our review has a power supply unit of 460 watts with similar specifications. Without sufficient overhead, you'll have to upgrade the power supply unit before installing any more components.
There are four expansion slots on the motherboard, with two internal drive bays and two external drive bays. These allow you to add more hard drives to increase storage or other devices needed for your business, like audio or video cards. But as mentioned, you need to upgrade the power supply unit if you add any components.
With an Intel i7-6700 quad-core processor, 8GB of memory and 1TB of storage, the Lenovo ThinkCentre M900 business computer is a high-performance machine with one of the best support systems available. The connectivity is subpar, and the expansion potential is hindered by a weak power supply unit, but these issues can be remedied with simple upgrades. It's clearly among the best business computers on the market.
Image Credit: Getty Images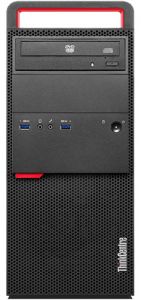 Lenovo ThinkCentre
The Verdict
The Lenovo ThinkCentre M900 is one of the best business computers. It combines a high-end processor with 8GB of memory, 1TB of storage and excellent support.

business.com editorial staff
business.com Member
The purpose of our community is to connect small business owners with experienced industry experts who can address their questions, offer direction, and share best practices.