Lenovo ThinkPad T Review
Lenovo's black, boxy work laptops have long been staples of the business laptop world, and the ThinkPad T460s is the latest in this long line of workhorse office laptops. With good general performance and a ready-to-work design, it's a smart laptop for small businesses.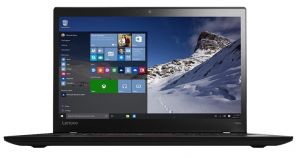 Lenovo ThinkPad T
The Verdict
The Lenovo ThinkPad T460s is a straightforward business laptop that meets basic performance needs while still being well built and highly reliable.
The model we looked has an Intel Core i5-6300U processor, a 2.5GHz dual-core CPU that should be perfectly adequate for all your day-to-day work. Paired with 8GB of RAM, the processor boasts good midrange performance, with a Geekbench 3 score of 6,796 points, and it completed the Laptop Mag Spreadsheet Test in four minutes and 10 seconds. Both are respectable results that gave the laptop a B rating for overall performance. If you want something with a little more oomph, you can also configure the laptop with a more powerful Intel Core i7-6600U processor and up to 16GB of memory.
With Intel's HD Graphics 520, the laptop has excellent basic graphics performance, scoring 68,448 points in Ice Storm Unlimited but only a middling 839 points in the more demanding Fire Strike test. Overall, it gets an A-plus for graphics, but it's best suited to standard office work rather than heavy rendering.
The ThinkPad T460s comes with Windows 10 Pro as the standard operating system but can also be purchased with Windows 10 Home or Windows 7 Professional.
The laptop lasted just over seven hours in our battery life tests, which isn't quite enough to carry you through a full day at the office, but it should definitely keep you working through back-to-back meetings and probably a working lunch. Weighing just 3 pounds, it's also on the lighter end of the business laptop spectrum and should be light enough to carry daily without feeling like you're lugging around a bag full of bricks. A lot of that weight, or lack thereof, is due to the construction, with a magnesium chassis and carbon fiber lid. But while it's fairly lightweight, it's not necessarily slim, measuring 0.74 x 13.03 x 8.93 inches, so there's no doubt you'll notice its presence in your laptop bag.
The laptop's 256GB solid-state drive (SSD) meets the standard for business-class laptops, but if you want more storage space you can upgrade to as much as 1TB. The 14-inch ThinkPad is outfitted with a 1920 x 1080 resolution display, with higher resolution (2560 x 1440) and touchscreen options available for a bump in price.
On the left side of the laptop you'll find a single USB 3.0 port, along with a headset audio jack and full-size SD card slot. On the right are two additional USB 3.0 ports (for a total of three), along with both HDMI and mini DisplayPort for video output. A SmartCard slot is available at configuration but does not come standard. A SIM card slot lets you use the laptop with 3G or 4G mobile broadband, while normal networking is handled via Gigabit Ethernet and 802.11ac Wi-Fi.
On the bottom of the laptop chassis is an integrated docking connection for Lenovo's ThinkPad Ultra Dock, which not only offers simple connection to devices at your desk, but also expands the laptop's port selection to include DVI and VGA outputs and a total of six USB ports (three USB 3.0 and three USB 2.0).
Lenovo covers the ThinkPad T460s with a one-year warranty, with extended warranties available for purchase. Included in the warranty coverage is free carry-in repair through authorized repair depots, free phone support and remote access for quick fixes. In Laptop Mag's tech support testing, Lenovo ranked fifth out of 10 major brands.
The Lenovo ThinkPad T460s is a middle-of-the-road professional laptop, with a solid feature set and good day-to-day performance. It's a good work notebook for small businesses and home offices, provided you don't need the high-end performance or all of the features of top-rated competitors.
Image Credit: Getty Images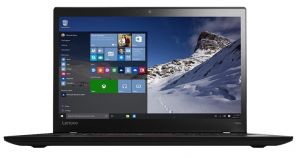 Lenovo ThinkPad T
The Verdict
The Lenovo ThinkPad T460s is a straightforward business laptop that meets basic performance needs while still being well built and highly reliable.

business.com editorial staff
business.com Member
The purpose of our community is to connect small business owners with experienced industry experts who can address their questions, offer direction, and share best practices.