Lenovo ThinkPad X1 Carbon Review
The Lenovo ThinkPad X1 Carbon (4th Gen) is the latest version of Lenovo's flagship business ultrabook, a professional laptop built for portability and on-the-go productivity. In addition to its slim stylings, the ThinkPad X1 Carbon boasts impressive performance and long battery life, letting you stay productive anywhere you need to be.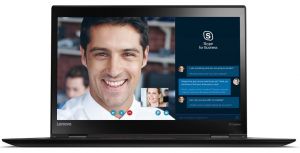 Lenovo ThinkPad X1 Carbon
The Verdict
The Lenovo ThinkPad X1 Carbon (4th Gen) is a capable business laptop with a premium ultrabook design that melds portability with rock-solid performance.
The slim laptop is outfitted with three USB 3.0 ports, an HDMI output, a mini DisplayPort, a slot for microSD cards and a slim connector to use with Lenovo's Onelink dock. It also has WiGig connectivity, making it compatible with a number of wireless docking solutions on the market. A fingerprint reader allows for simple, secure logins. For networking, the laptop uses 802.11ac Wi-Fi, with optional mobile broadband for connectivity on the go. It has no Ethernet port.
The system we evaluated was equipped with an Intel Core i5-6300U, 2.4GHz processor. It's a capable processor in its own right, scoring 6,828 points in Geekbench 3 and completing the Laptop Mag Spreadsheet Test in four minutes 14 seconds. For those who need more computing muscle, it can be configured with up to an Intel Core i7-6600U, Intel's current top-of-the line mobile processor. Our system came with 8GB of RAM and can be outfitted with up to 32GB at purchase.
The laptop relies on integrated graphics processing, which should be more than capable enough for most business use. Its basic graphics performance is very good, scoring 67,488 in 3DMark Ice Storm Unlimited, and it did fairly well in the more intensive 3DMark Fire Strike, with 876 points, for an overall A-plus rating.
The defining characteristics of Lenovo's Carbon line have always been slim, lightweight designs and carbon-fiber construction. The current model measures a svelte 0.65 x 13.11 x 9.02 inches and weighs just 2.6 pounds, the lightest of any business notebook in our review. That's so light you may slip it into a bag and then forget it's there, and with more than nine hours of battery life, you may not need to take a charger to get you through a full workday.
The laptop boasts a full-size backlit keyboard, along with a dual-pointer setup that includes both a clickable touchpad and Lenovo's iconic red trackpoint in the center of the keyboard. There are three additional mouse buttons for use with the trackpoint – right and left click with a dedicated scroll button in the center – but the touchpad itself has no separate buttons, just clickable corners and gesture support.
Lenovo covers the ThinkPad X1 Carbon with a standard one-year warranty. Included in that warranty are free phone support and remote access to let distant support personnel fix things on your system directly. In Laptop Mag's independent evaluation of tech support services, Lenovo ranked fifth out of 10 major brands, earning praise for its large database of online manuals and helpful live chat through the Lenovo website, as well as a callback service that lets you skip the long hold times to have phone support call you at a convenient time. Other extras cost some money, but if you're willing to pay a bit more you can extend the warranty period, get on-site support and even add accidental damage protection for the laptop.
Our review unit came with a 256GB solid-state drive, with options available for up to 512GB of solid-state storage. Some of these drives are OPAL-compliant, compatible with full disk encryption.
The 14-inch display comes standard with full HD (1920 x 1080) resolution and can be upgraded to 2560 x 1440 should you want something better than 1080p. In our testing, the display was slightly dim (243 nits) but highly accurate in color reproduction, with a DeltaE rating of 1.2. Unlike past iterations of the ThinkPad X1 Carbon, the fourth generation model has no touchscreen option.
The Lenovo ThinkPad X1 Carbon (4th Gen) slims down the office laptop with a premium ultrabook design, but that thin profile and lightweight come with some potent performance and great battery life. If you're working on the road or just need to pick and go without losing a step, the Lenovo ThinkPad X1 Carbon is one of the best business notebooks on the market.
Image Credit: Getty Images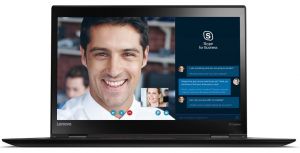 Lenovo ThinkPad X1 Carbon
The Verdict
The Lenovo ThinkPad X1 Carbon (4th Gen) is a capable business laptop with a premium ultrabook design that melds portability with rock-solid performance.

business.com editorial staff
business.com Member
The purpose of our community is to connect small business owners with experienced industry experts who can address their questions, offer direction, and share best practices.