Less Annoying CRM Review

As the name implies, Less Annoying CRM is a product that aims to provide an alternative to large and complicated CRM systems. The result is a lightweight user-friendly CRM with just one affordable subscription level ($15 per user, per month), but somewhat limited functionality. This contact relationship management software allows users unlimited contacts, the ability to collaborate with teams, lead and pipeline management, and some project management. Even the tiniest business with no internal tech support can get this system up and running in a matter of hours, but it lacks many integrations larger systems offer, and isn't intended for big businesses.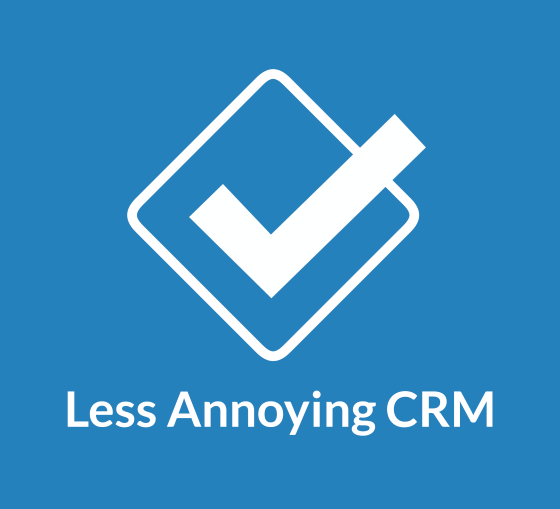 Less Annoying CRM
The Verdict
While unsuitable for many large businesses with robust needs, Less Annoying CRM is an excellent low-cost, lightweight option for independent contractors and small businesses.
View all of our recommendations for CRM software on our best picks page.
A Simple, Low-Cost Business Tool
The CRM industry is dominated by large companies with extensive solutions that seem to meet the needs of any business owner. The sleek and clean interfaces are often drag and drop and require a significant amount of time to learn how to use. This can be ideal for larger businesses, and even some mid-size companies, but for small businesses looking to get up and running quickly on a new CRM platform, the effort can outweigh the benefits.
Less Annoying CRM fills an important gap in CRM solutions. Instead of creating a massive solution with all the features of an endlessly capable modern CRM system, Less Annoying CRM focuses on being, well, less annoying. It's a small business tool that's actually geared toward small businesses – owners will benefit from getting everything up and running in just a few hours, regardless of past CRM experience. This non-nonsense approach makes Less Annoying CRM a refreshing, simple company in a field of sparkling behemoths. Its pricing structure mirrors its approach to service: The company only offers one tier of services. Small businesses can also benefit from a 30-day free trial to see if it's the right solution for them.
Less Annoying CRM is ideal for contact management because of its seamless integrations with Excel and its simplicity once you've imported your data into the software. You can move contacts directly from Excel into this software quickly and easily. As a true product for small business and little-to-no learning curve, Less Annoying CRM is our best pick for basic contact management in 2019.
Pricing and Terms
Of all the CRM solutions we reviewed, Less Annoying CRM has the simplest terms and pricing structure. Once users complete their 30-day free trial, the SaaS is $15 per user, per month. There are no contracts, and additional users can be added at will. Less Annoying CRM's pricing structure pushes its reputation as a simple, effective CRM tool. Most companies in this industry have several tiered plans while others offer free services and then charge when you use certain functionalities. With one subscription plan, Less Annoying CRM is combatting the industry trend to be everything to everyone (and thus nothing to no one). As a service, Less Annoying CRM is great, and its pricing model is simple and no-nonsense.
Features
Less Annoying CRM has lots to offer small business users. Here are a few key features:
Out-of-the-box functionality. Less Annoying CRM provides users with excellent training materials that are easy to follow, even if you've never used a CRM before. Plus, this solution was built to get to work right out of the box, so the setup time is minimal, and there's no extensive onboarding process. In fact, you can import contacts directly from an Excel spreadsheet and hit the ground running.
Popular integrations.  While integrations are somewhat limited, Less Annoying CRM offers a no-coding integration with MailChimp, which is valuable for SMBs wanting to automate their email marketing campaigns. The API is also accessible for users who want to incorporate web forms into their systems, and step-by-step instructions make the process simple for anyone who is relatively tech savvy.
Easy access to information. Some CRM solutions force prospective users to offer up their contact information and submit a request just to view a demo, but Less Annoying CRM allows anyone to view screenshots, demos and tutorials.
Customer Service
Less Annoying CRM offers some of the best customer service of any company we reviewed in this industry. Many companies we reviewed route you through live chat features and call waiting bureaus before you interact with someone to get the answers you need. Less Annoying CRM is one of the few companies we reviewed where we were immediately able to speak with someone and ask questions. The representatives we worked with answered all our questions and helped us better understand the services.
One of Less Annoying CRM's greatest features is its simplicity. The way the company approaches customer service mirrors this mission – offering help and good service is just a simple fact; there are no hoops this company needs to jump through.
In the software, which is intuitive and easy to use, there are training videos embedded for quick and easy reference. Less Annoying CRM also has a good online reputation. It's one of the only companies we reviewed in this industry that scored an A+ with the Better Business Bureau, although the rating agency has yet to accredit the business. The company has no customer reviews on the website, but it doesn't have any complaints either.
Limitations
Less Annoying CRM is a relative newcomer to the customer relationship management scene, and as such, it lacks some of the comprehensive features other (higher priced) solutions provide. Reporting and analytics are extremely limited. Forecasting tools are virtually nonexistent compared to the competition; there are also some lead management limitations. Additionally, you can incorporate click-to-call services, but Less Annoying CRM does not have call center dialing capabilities built in. At present, it's unclear if that's on the horizon.
Part of Less Annoying CRM's draw is that it's a very manual, simple system. Part of that draw means it lacks some aesthetic features that higher-priced CRM systems offer. For example, if you're looking for a system with a drag-and-drop pipeline, Less Annoying CRM doesn't offer this feature. It's still, however, a manual, easy-to-use platform.
Mona Bushnell contributed to the researching, reporting and writing of this article.
Editor's note: Looking for the right CRM for your business? Fill out the below questionnaire to have our vendor partners contact you about your needs.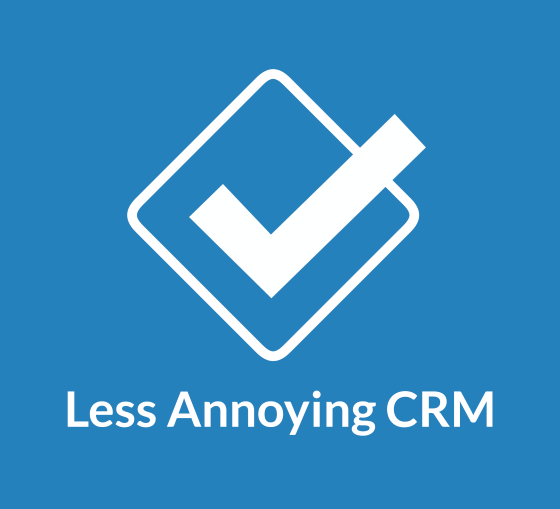 Less Annoying CRM
The Verdict
While unsuitable for many large businesses with robust needs, Less Annoying CRM is an excellent low-cost, lightweight option for independent contractors and small businesses.

Simone Johnson
business.com Staff
Simone Johnson is a business.com and Business News Daily writer who has covered a range of financial topics for small businesses, including on how to obtain critical startup funding and best practices for processing payroll. Simone has researched and analyzed many products designed to help small businesses properly manage their finances, including accounting software and small business loans. In addition to her financial writing for business.com and Business News Daily, Simone has written previously on personal finance topics for HerMoney Media.