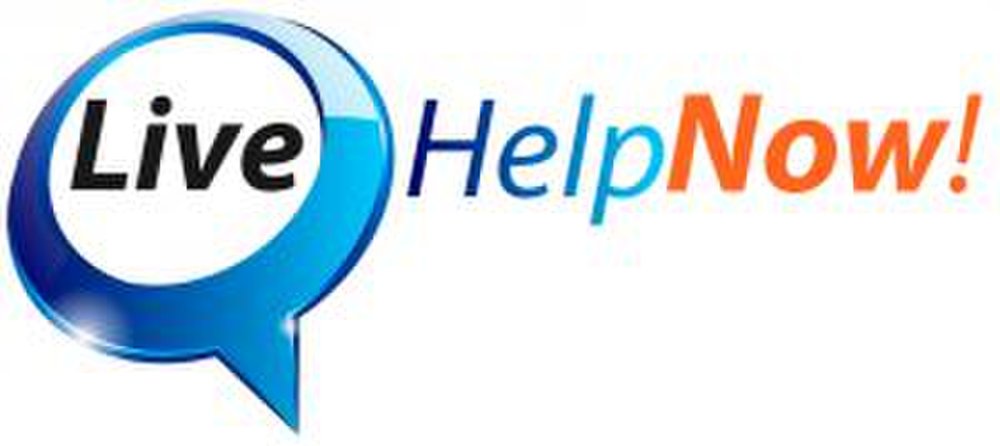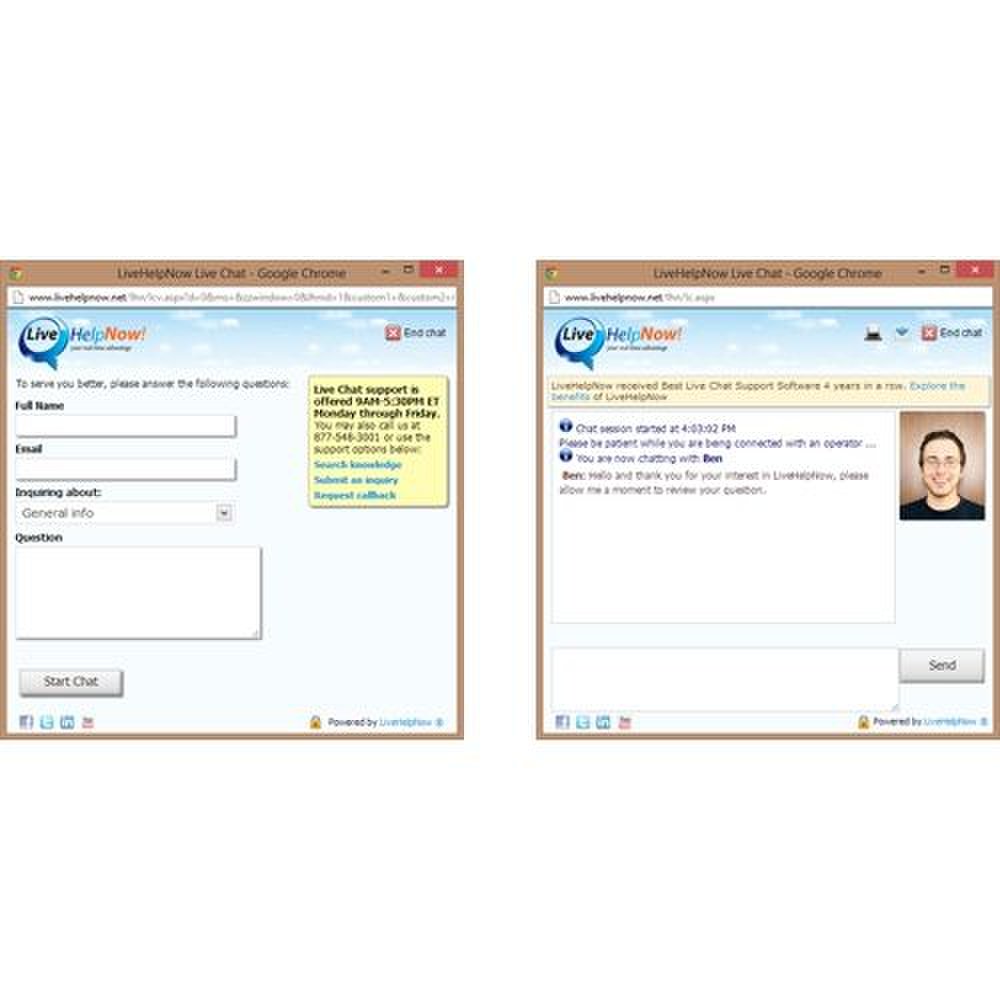 LiveHelpNow image: The chat windows in this application are fully customizable.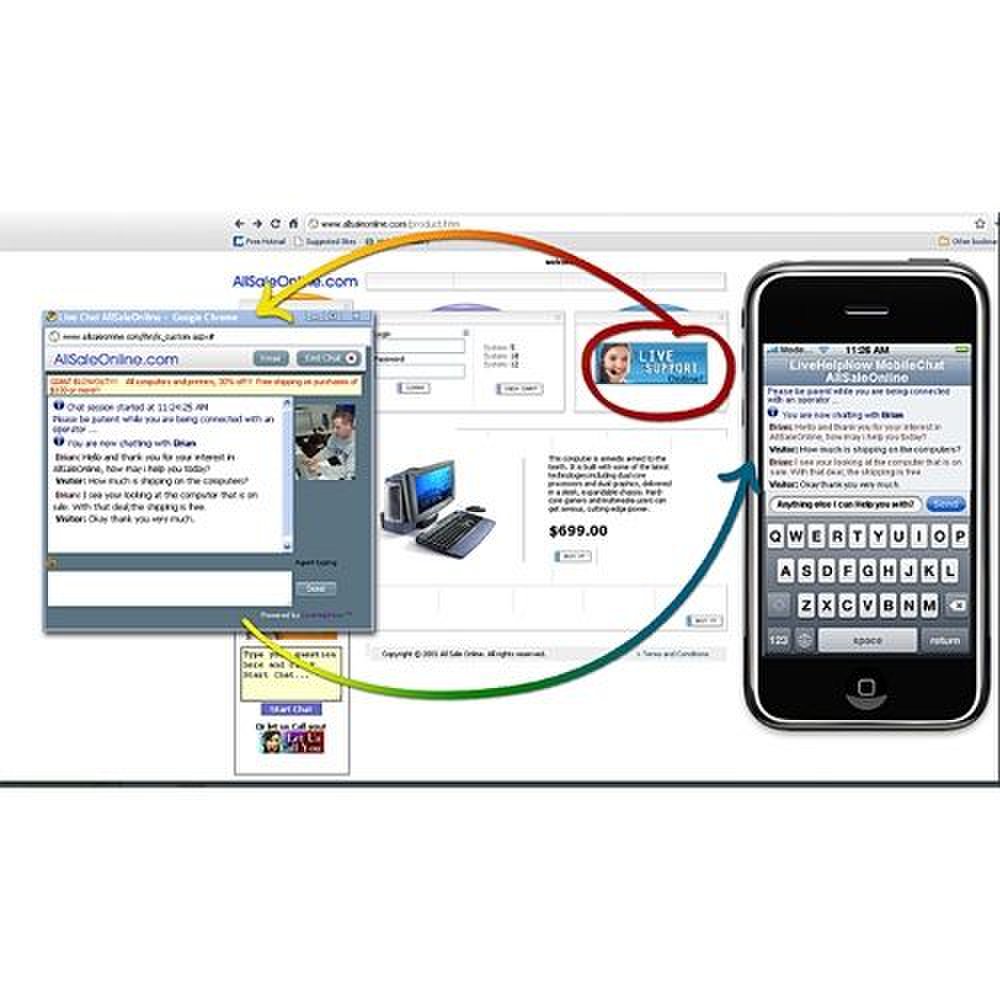 LiveHelpNow image: This chat software keeps you connected to your customers whether you are at your desk or using the mobile chat application.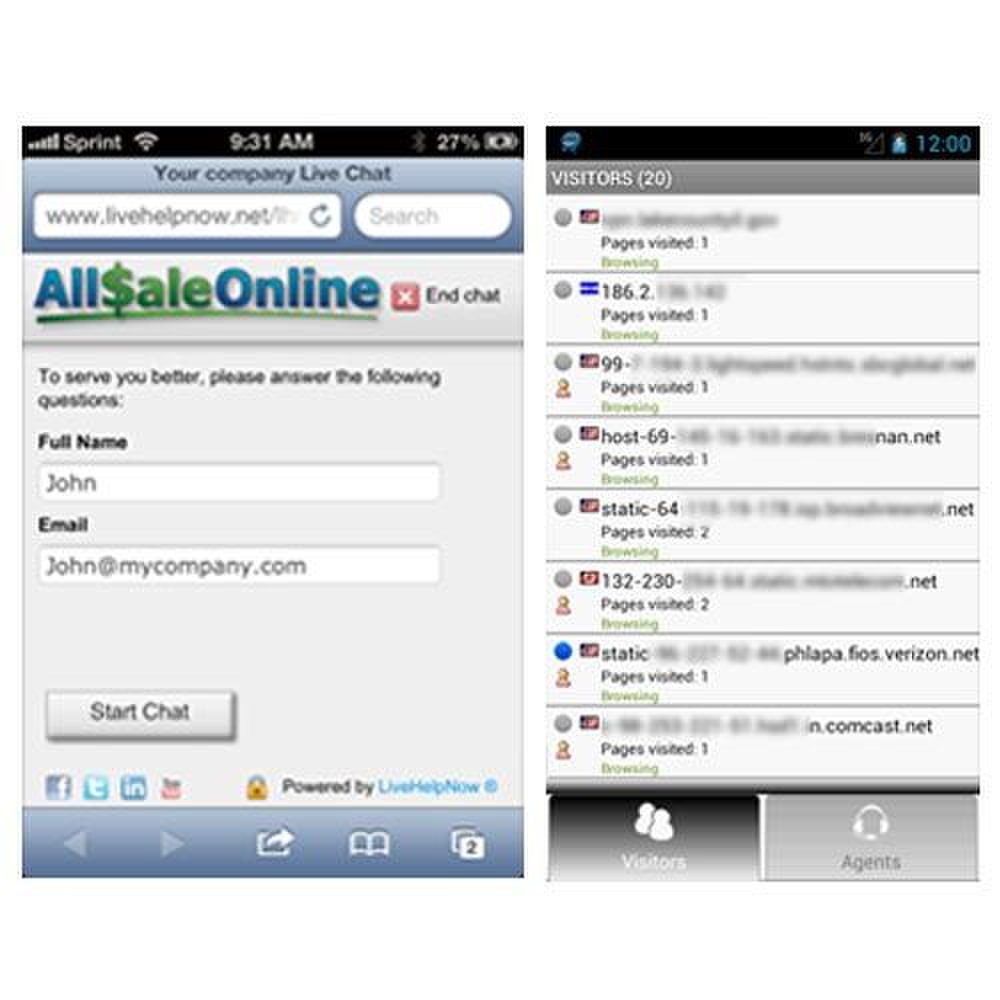 LiveHelpNow image: The application is enabled for Android and Apple mobile devices.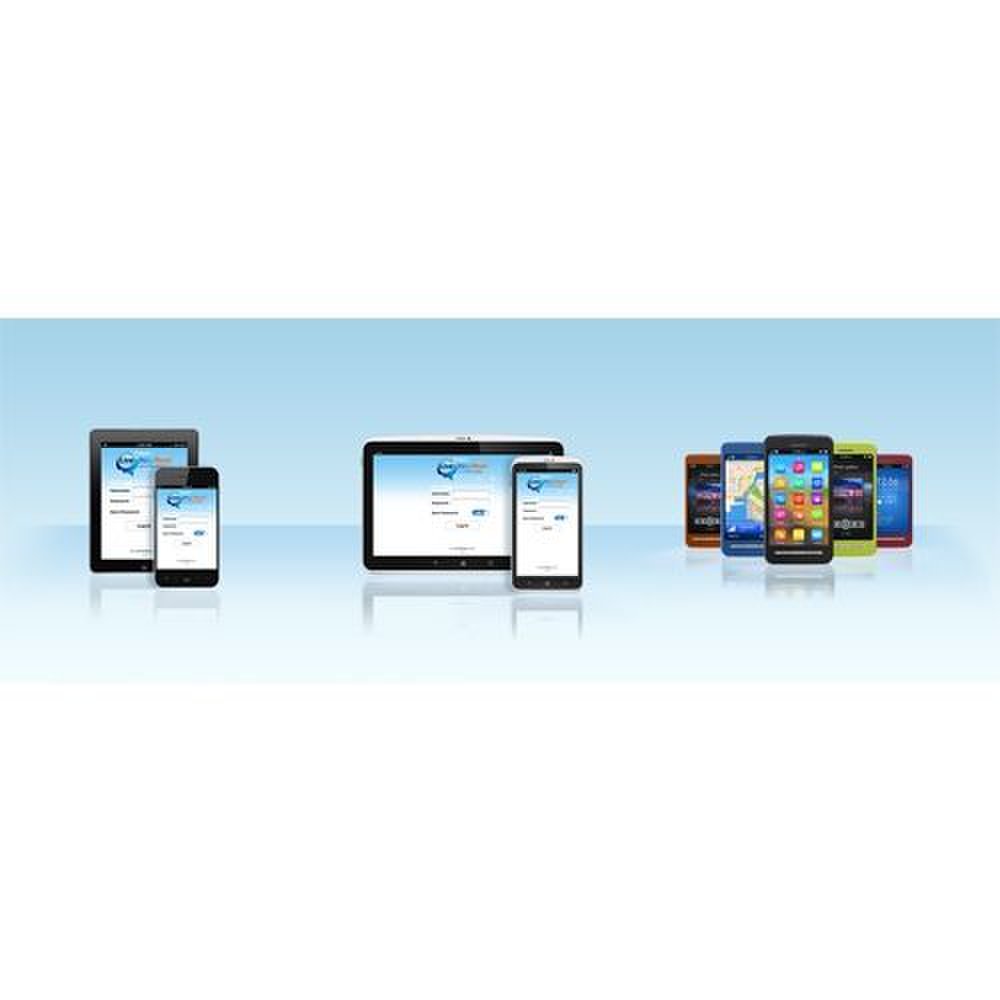 LiveHelpNow image: The chat windows automatically resize for any device.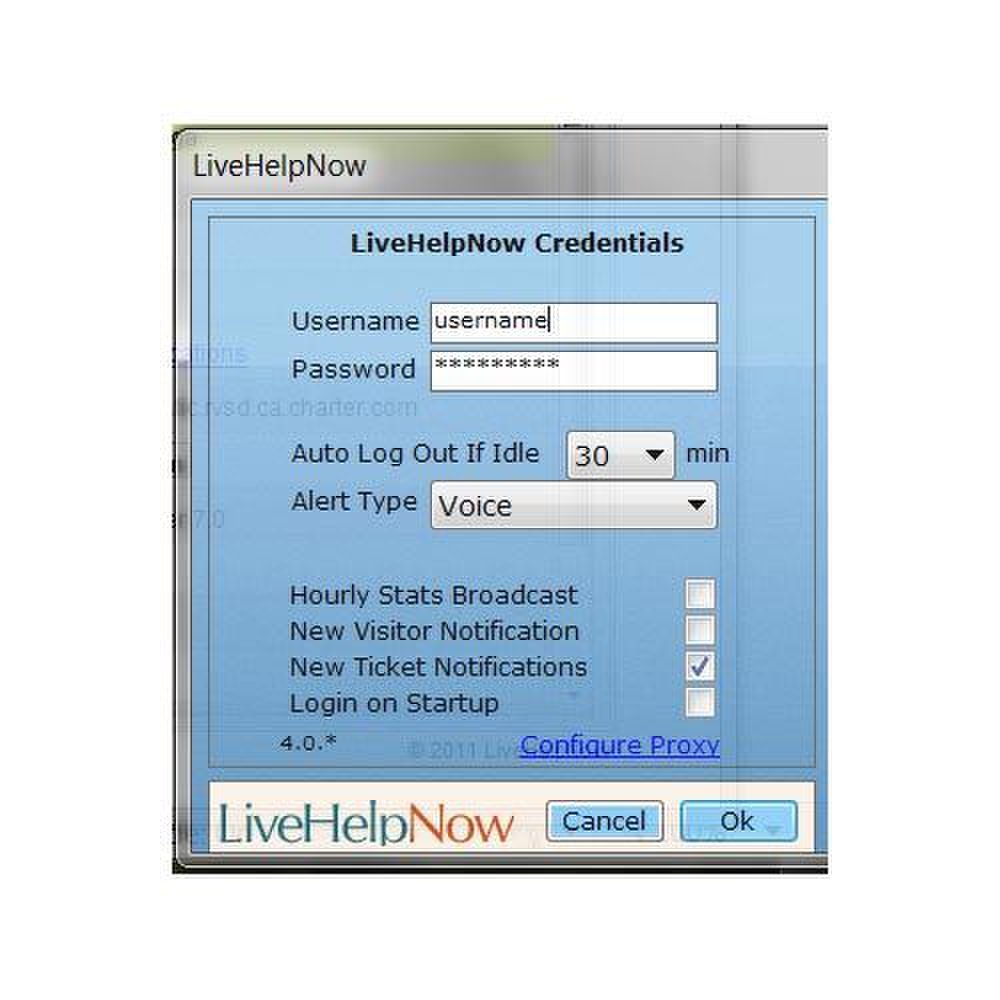 LiveHelpNow image: The operator's login window allows representatives to indicate what they will be working on.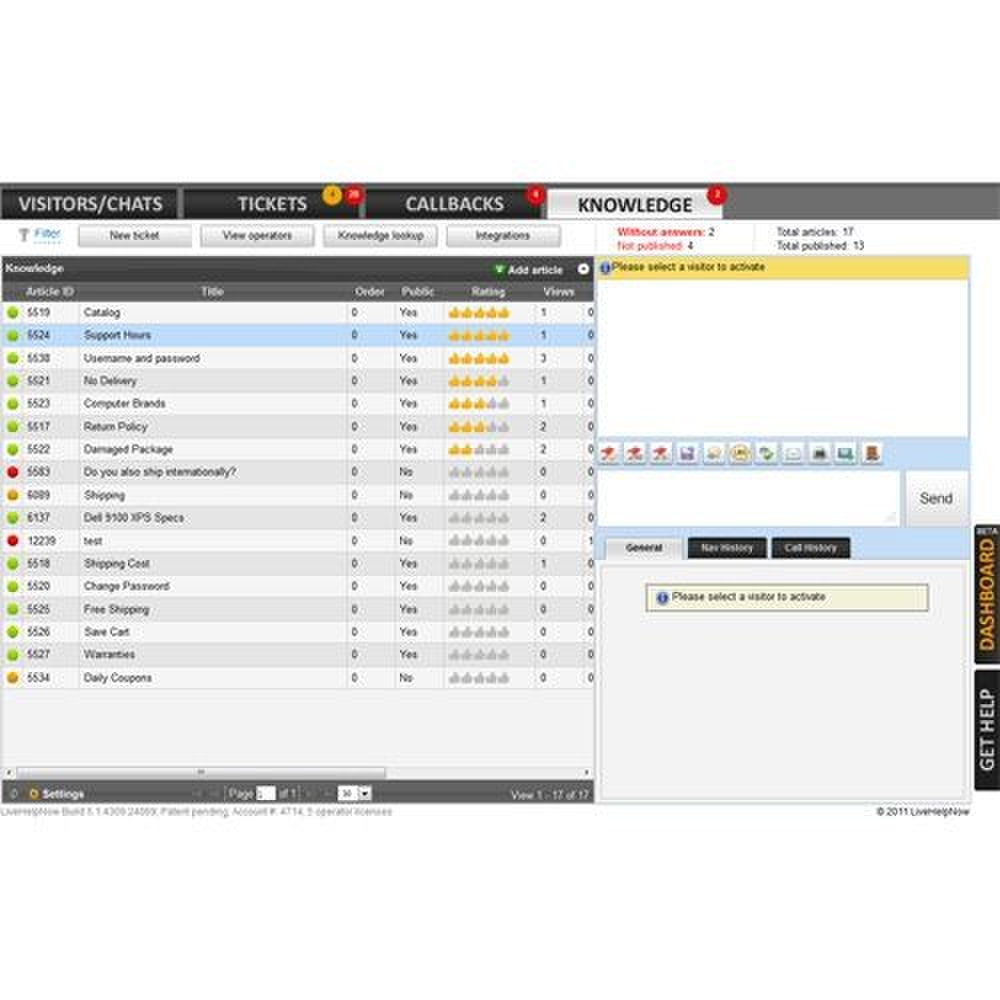 LiveHelpNow image: The operator dashboard is well organized and easy to use.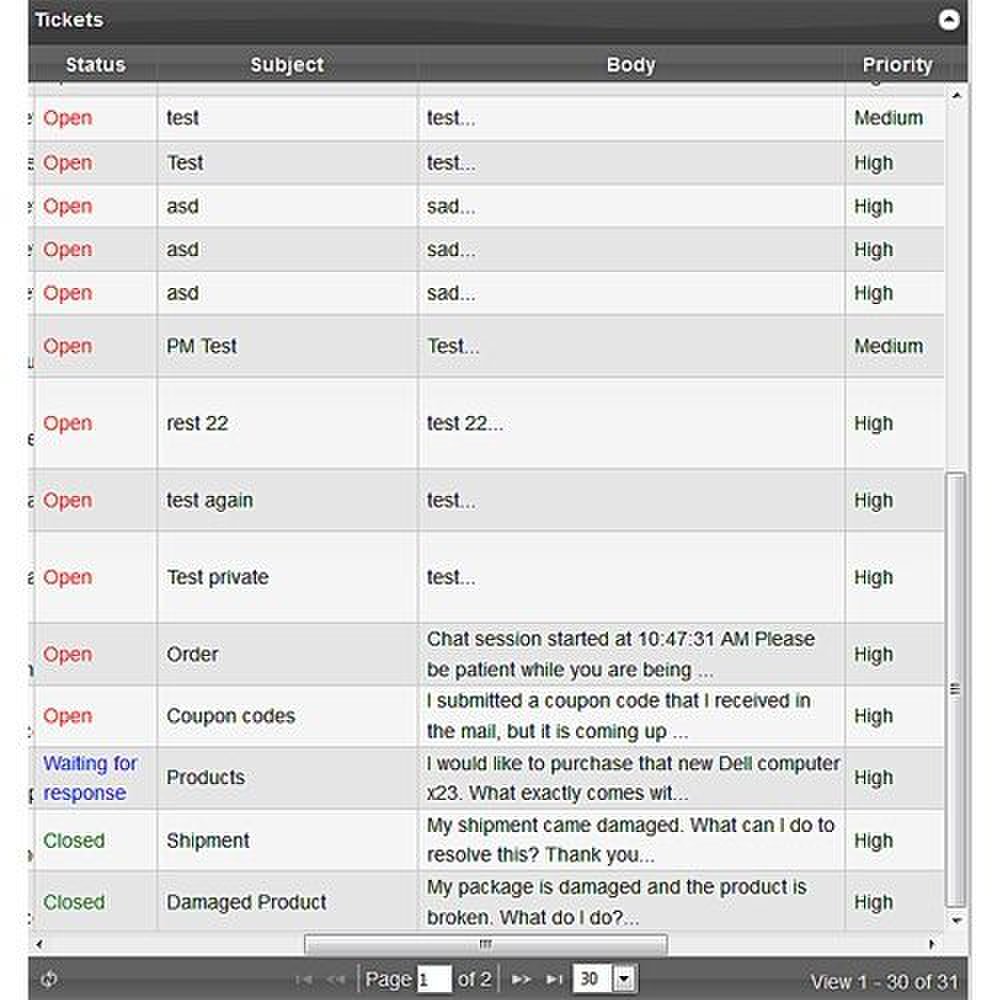 LiveHelpNow image: Administrators and other operators are able to view the status, subject, body and priority of any chat in real time.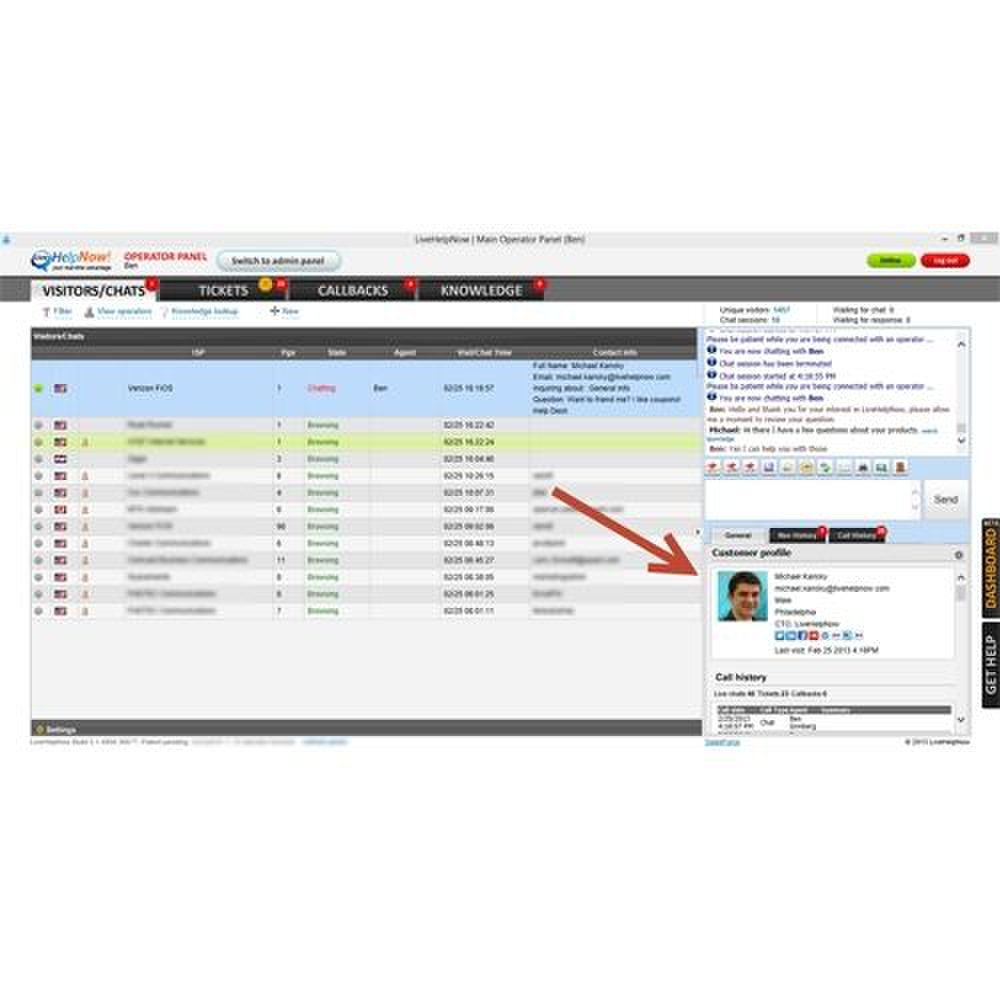 LiveHelpNow image: The arrow points to the Social Insights button. When an operator clicks this button, all of the customer's public information is displayed.
LiveHelpNow image: On the operator's dashboard, canned messages are available to speed up the chat process.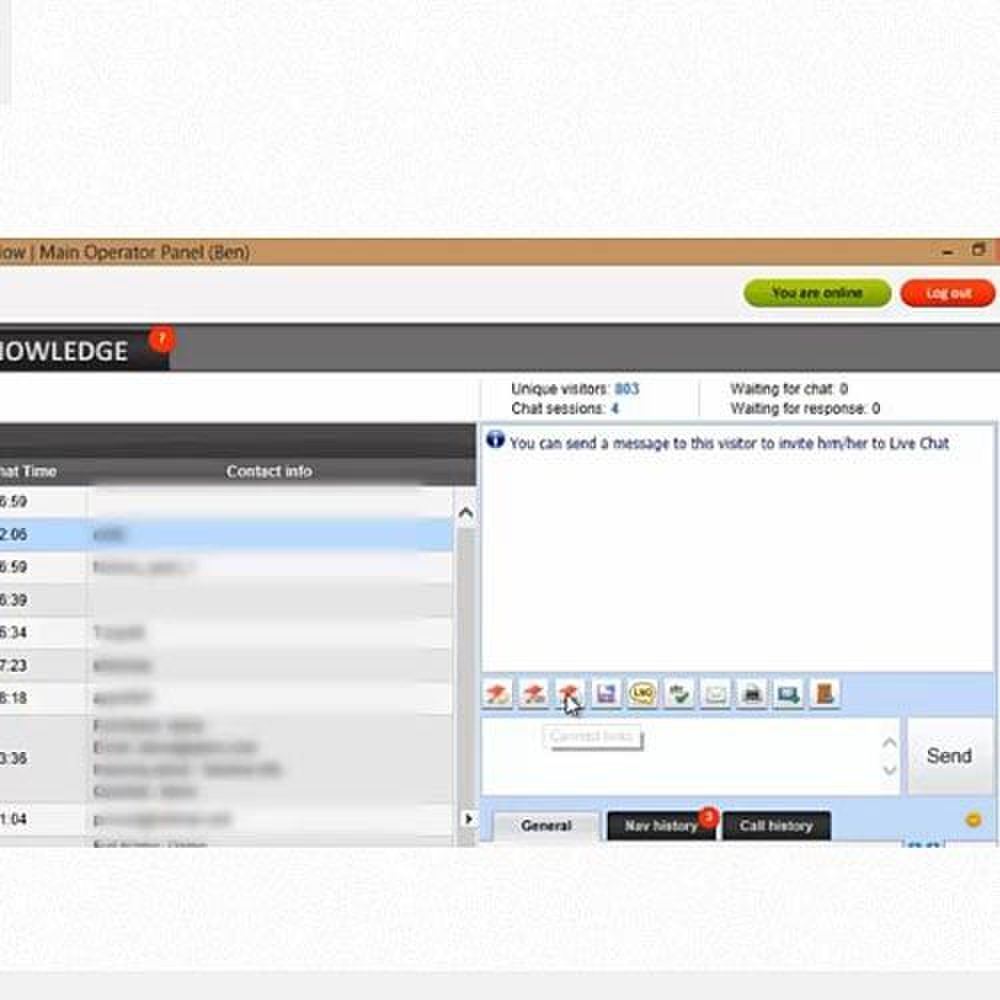 LiveHelpNow image: Operators can invite visitors to chat with a simple button click.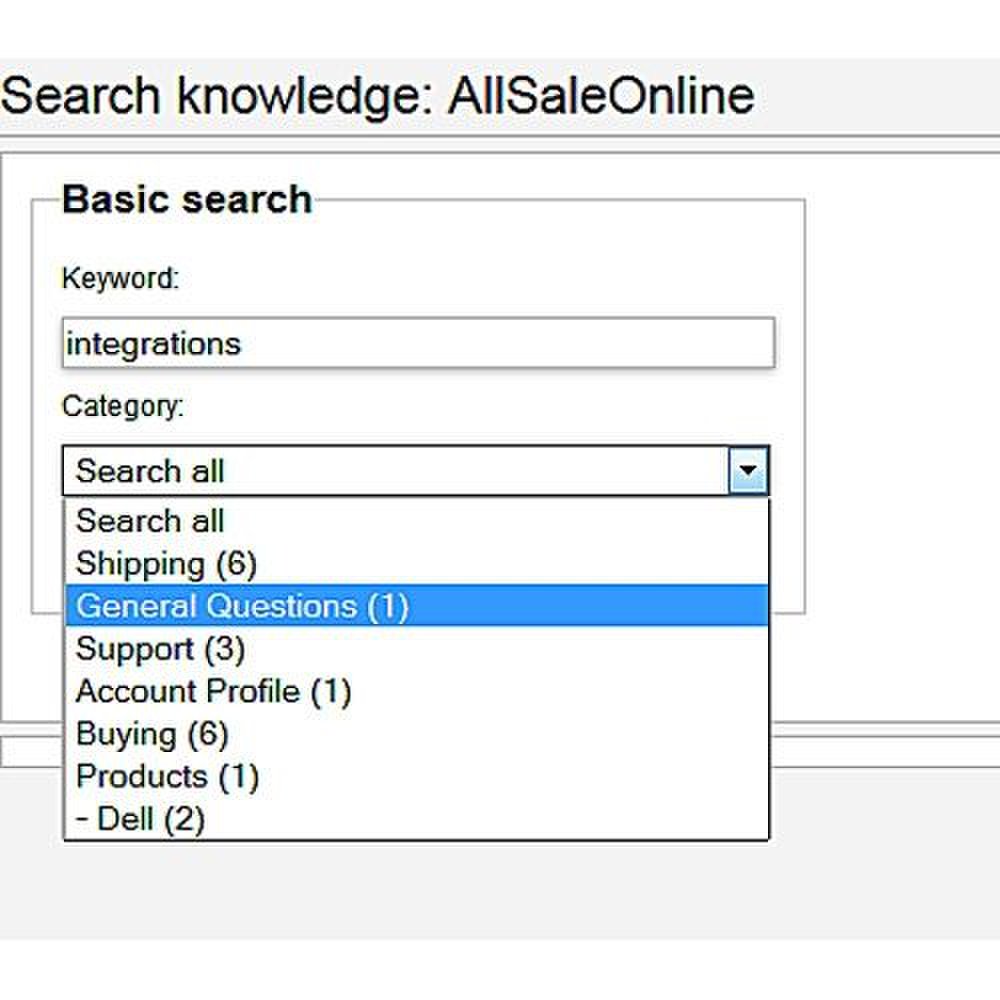 LiveHelpNow image: Chat operators can access the knowledgebase you set up to give them answers to customer questions.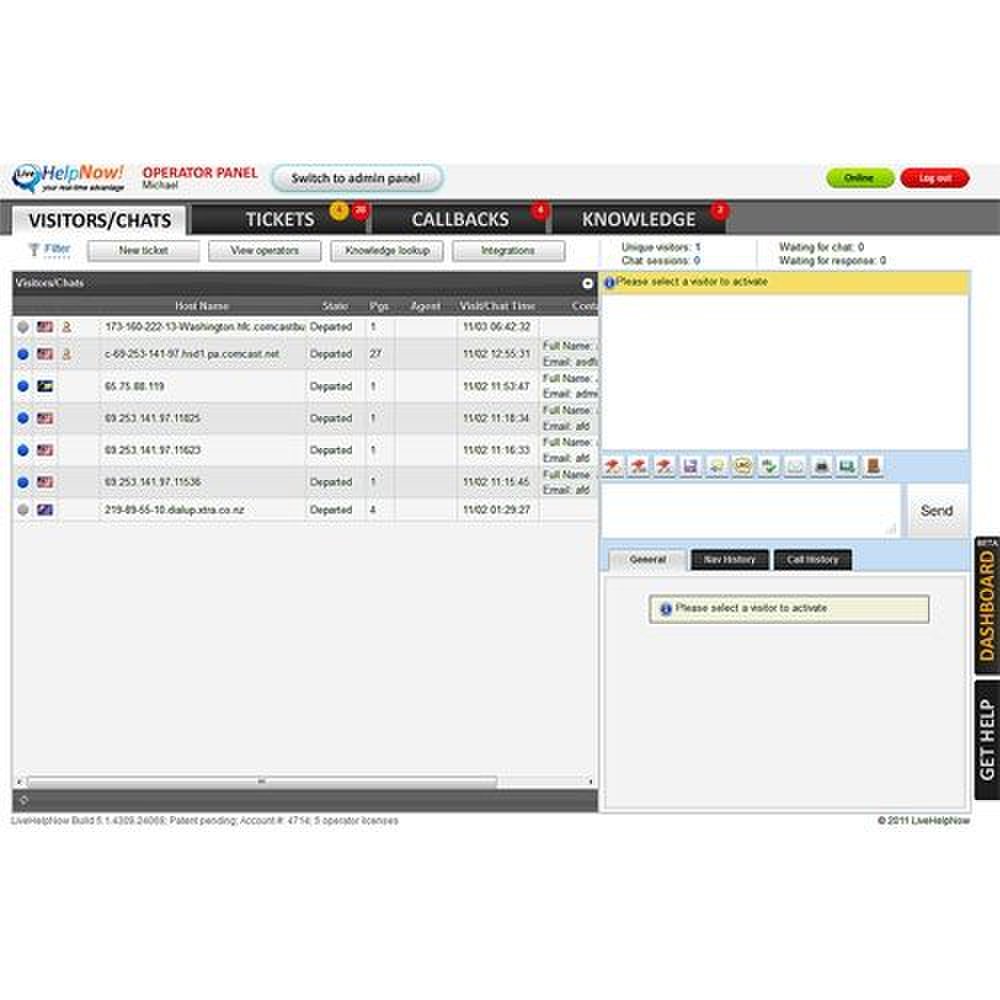 LiveHelpNow image: Operators can rate the knowledgebase articles you provide.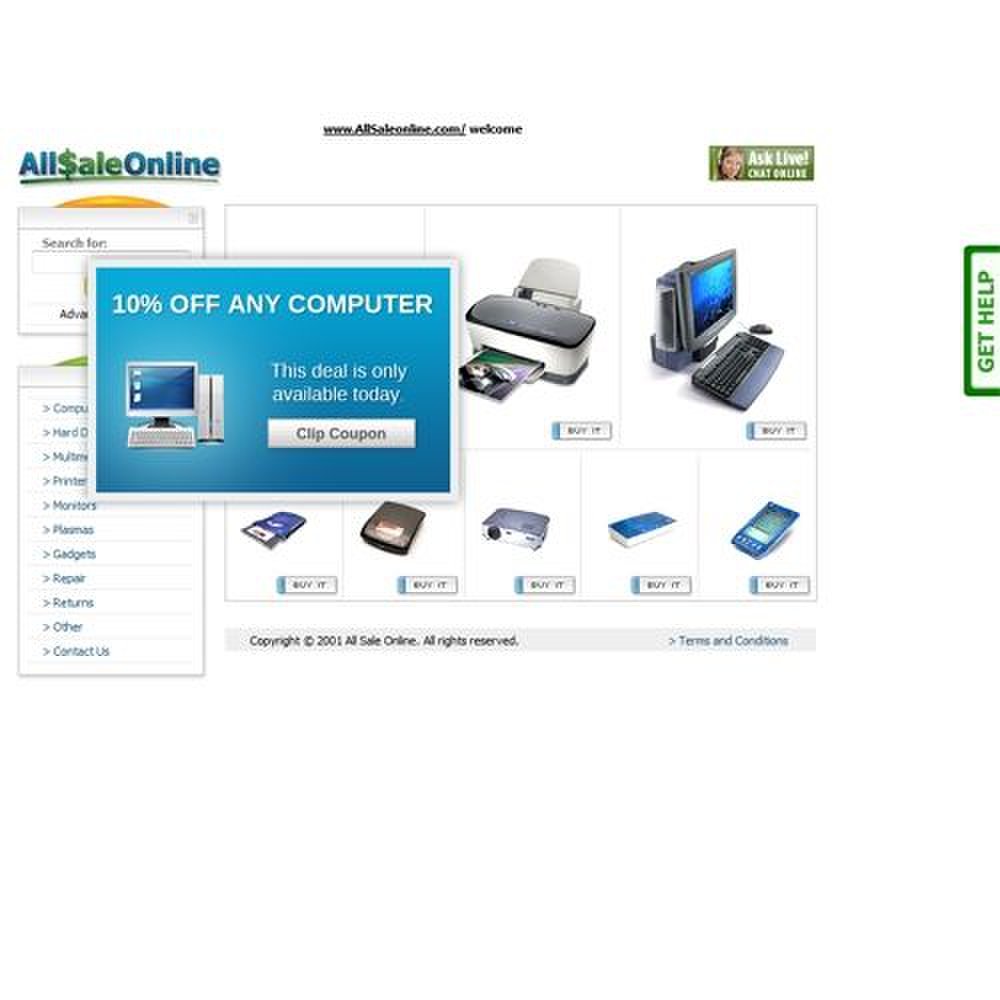 LiveHelpNow image: Operators can convert a high-profile customer into a sale by offering them a coupon.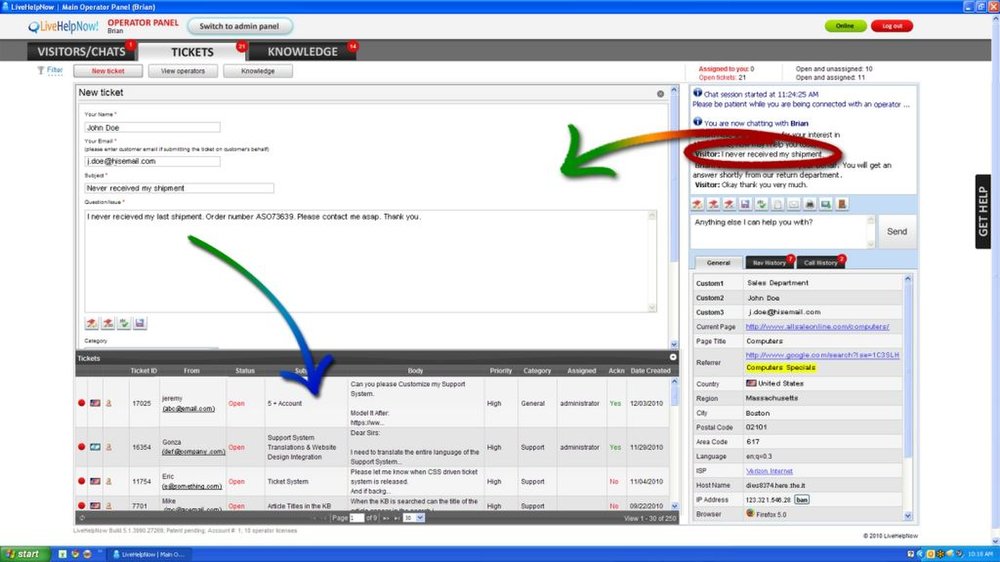 LiveHelpNow image: After chatting with your customer, you can easily send a follow-up email to them.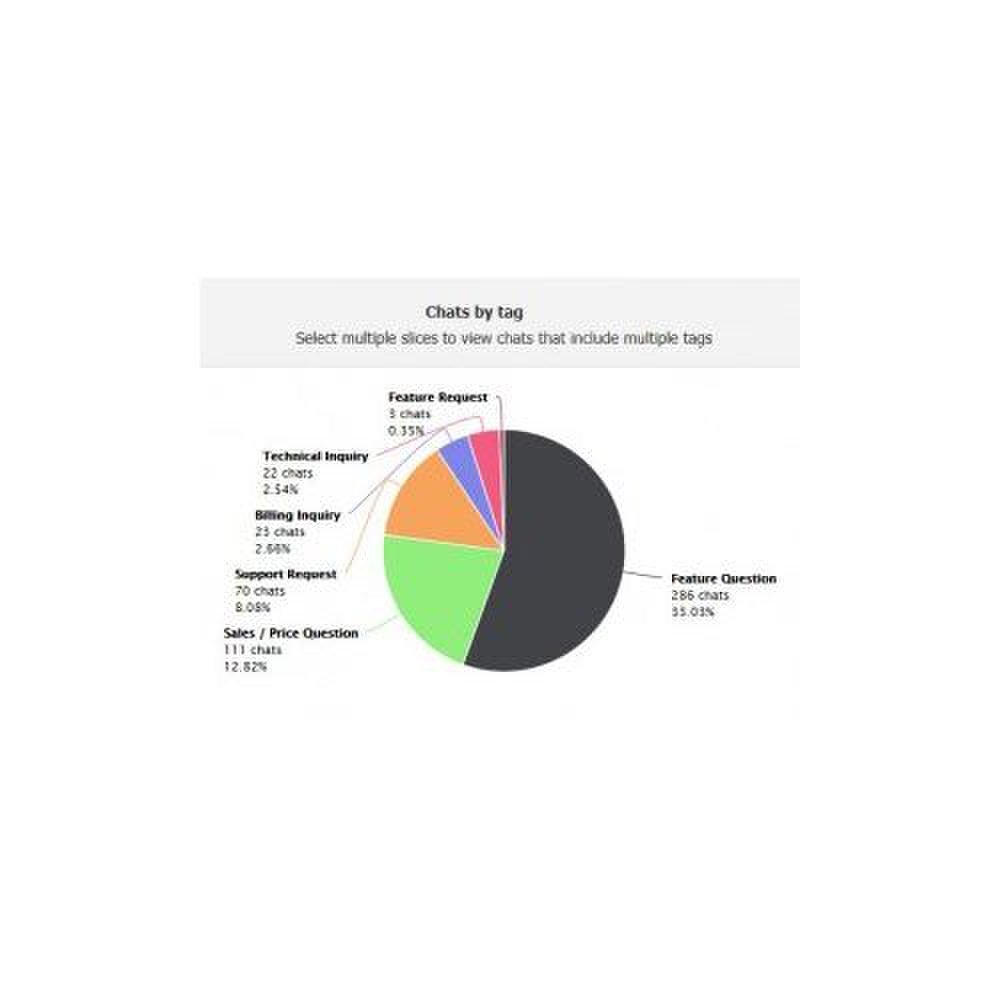 LiveHelpNow image: Administrators have access to live chat offerings and detailed analytical reports about your site.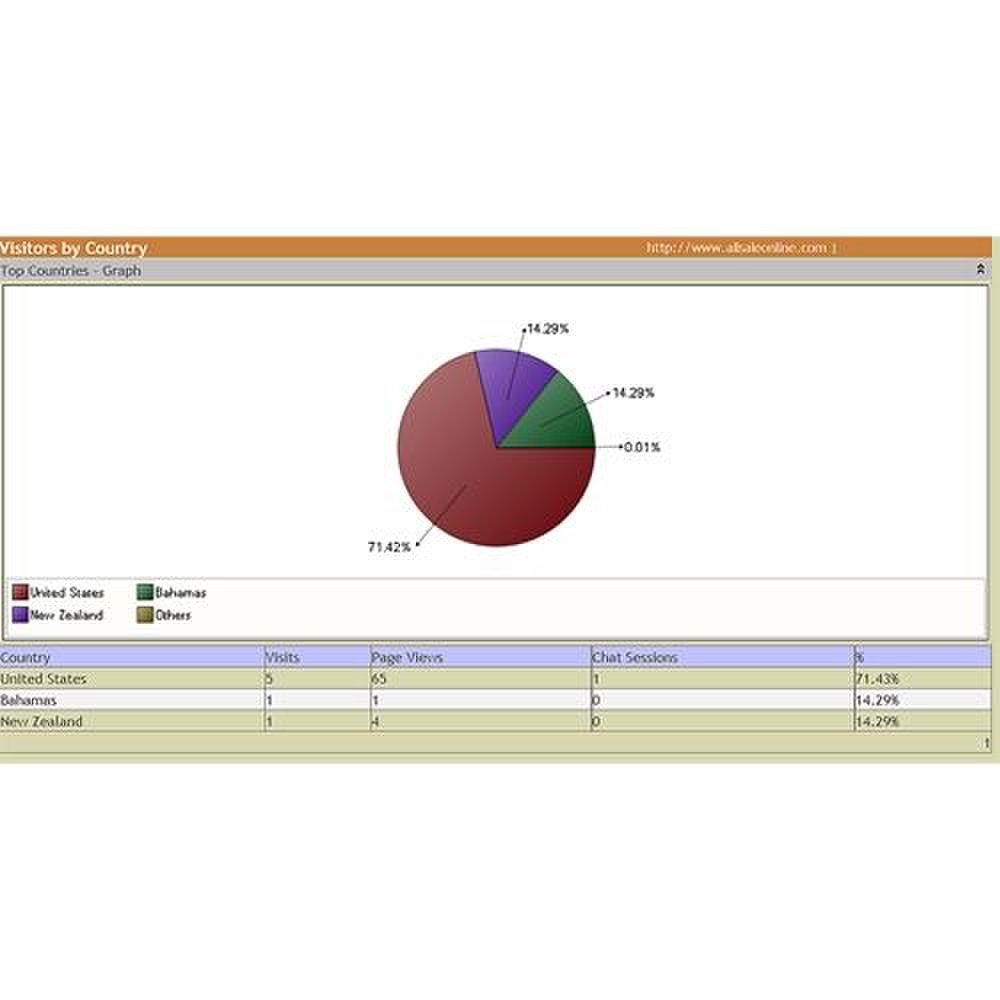 LiveHelpNow image: You can track your visitors by location.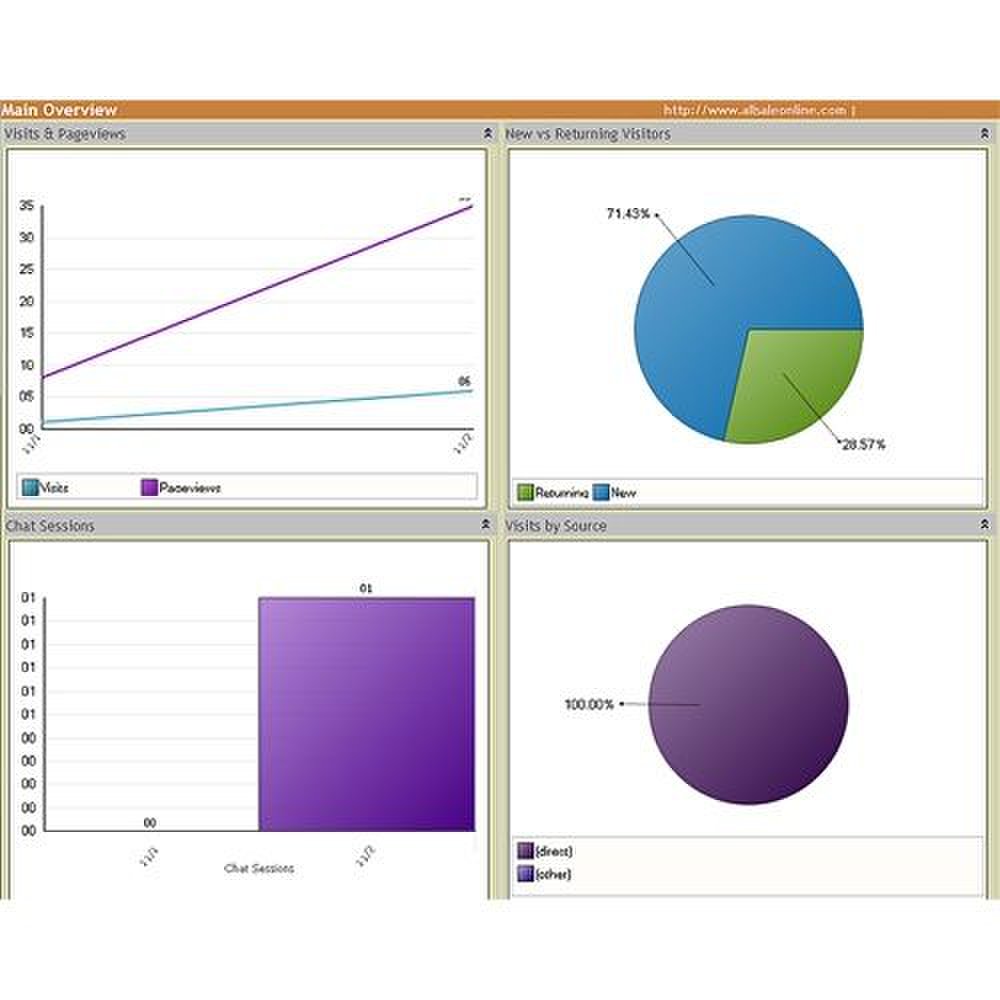 LiveHelpNow image: You can view reports in a wide variety of formats.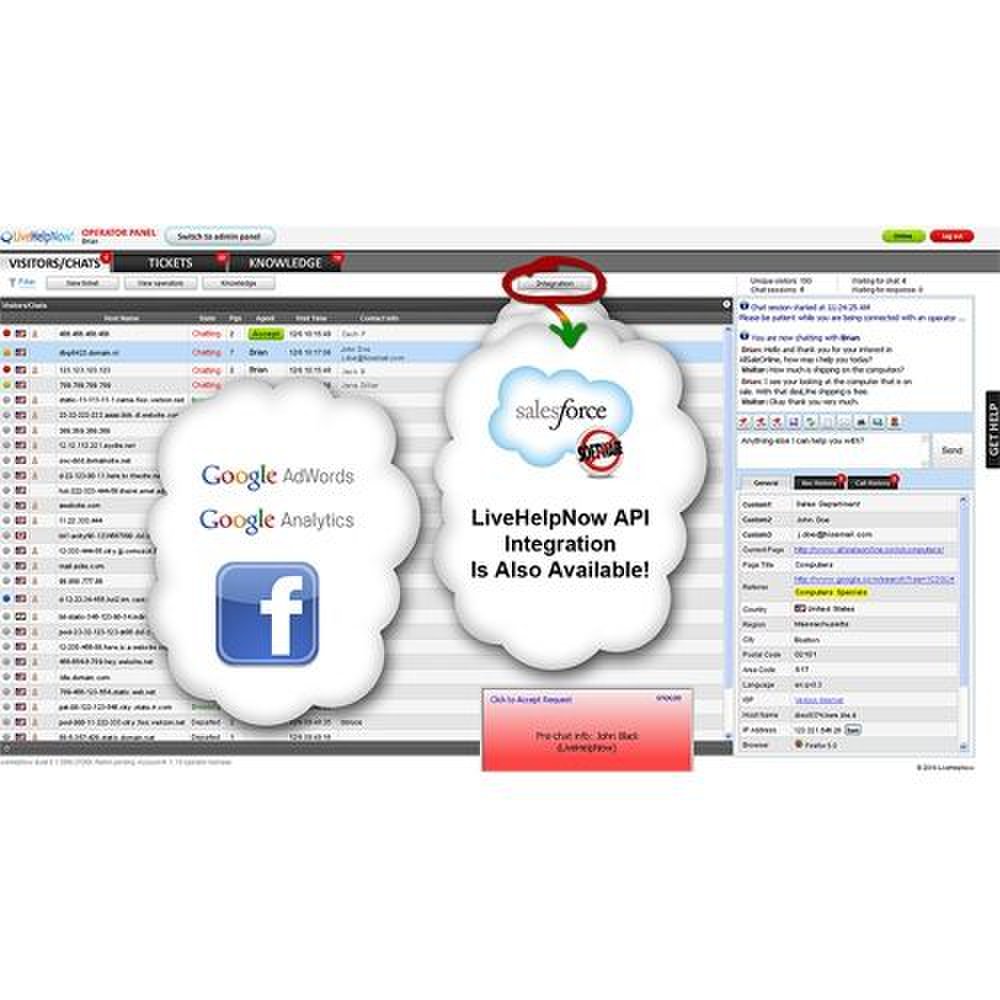 LiveHelpNow image: This live chat support application has the ability to integrate with Salesforce, Google AdWords, Google Analytics and Facebook.
Web chat software substantially improves the support experience for both business owners and the customers they serve. LiveHelpNows' robust application gives your agents tools to chat with several customers at once in a prompt and personal way without the customer frustration of long hold times or the wait for a return email. Because LiveHelpNow allows you to customize every part of the process, you can enhance and coordinate your brand while providing customers with a more targeted and personalized experience. Your agents can also use LiveHelpNow to track customer activity on your website, extend proactive chat invitations and grow your business. Because of superior options for customers and companies, LiveHelpNow wins for best live chat software.
LiveHelpNow can integrate with many programs to turn your live chat data into valuable business tools. These programs include:

LiveHelpNow
The Best Chat Software of 2019
The Verdict
LiveHelpNow has the tools your company needs to give your support department a faster, more personalized and more profitable approach to customer service.
Visit Site ▶
Google Analytics – Shows you detailed information about your visitors, including the browsers they use and the keyword and pay-per-click advertisements that brought them to your site.
Google AdWords – LiveHelpNow is one of only a few live chat applications that integrate with Google AdWords. You can use it in conjunction with Google Analytics to make sense of your site's traffic and marketing dollars. If you are currently pursuing a pay-per-click campaign, for example, the two together enable you to track your success and make tweaks to improve your ROI.
Salesforce, NetSuite, Zendesk, SugarCRM – These Customer Relationship Management (CRM) applications allows you to access past chat logs, communications with other departments, management notes, tasks and other information. CRM applications help you to understand your customers' entire relationship with your company.
Social Insights – In the operator's chat window, your agents can see a host of information about each customer, including public profiles on social networks. If your customers use Facebook or Twitter, your operators can simply click on the View Profile link to get a better understanding of each individual using your site.
LiveHelpNow allows a password-protected administrator account to update management and chat services from any remote location. This is particularly useful if customer service is in a different building than your management or design teams. And, as customers become less dependent on desktop computers, LiveHelpNow allows them to connect to your services through the growing number of mobile devices, such as tablets and smartphones.
Other important aspects of LiveHelpNow's environment include the ability to leave a message if a customer clicks on the chat icon when operators are unavailable. When this happens, LiveHelpNow connects your customer to an email server and prompts them to leave a message. Yet another of LiveHelpNow's best features is open access to the Application Programming Interface (API). You need this tool to allow you to access, customize and integrate your data, and this is an expensive add-on in some of the other applications we reviewed. You can do many things using LiveHelpNow's open API including integrating other applications and offering high-value visitors special services and coupons.
LiveHelpNow offers a long list of features to improve your customer reach. One of them is real-time language translation. Using an integrated Google Translate, your agents can communicate with customers all over the world. Customers type in their preferred language and the application translates instantly into your implementation language.
To ensure customers receive the best service in other ways, LiveHelpNow also has a routing system that filters guests according to needs such as sales, billing or technical support. The live chat support software automatically routes the customer to the correct department, based on which page they are browsing when the invitation to chat appears.
Another of our favorite features enables administrators, managers and chat agents to join any chat by accessing the Whisper function. This feature proves extremely helpful when training a new agent or when an experienced operator has a question. The whisperer chats to the agent in the customer chat window, but customers do not see these internal chats.
The LiveHelpNow service provides many monitoring functions that can track navigation history, search-engine and keyword analysis, customer location, and more, all in real time. From the administrator's panel, you can click on a button to see all this information and be able to better analyze who your customers are, what they need and what they are interested in. LiveHelpNow can also help you pass on customer information such as age, gender, location, browser and chat history to other agents. Tracking your customers' footprints is crucial to establishing good workflow and providing better customer service. What page did they land on? What products are they looking at? Are they in the help and support section searching for answers? With LiveHelpNow web chat software, your agents can have and use this information.

LiveHelpNow
The Best Chat Software of 2019
The Verdict
LiveHelpNow has the tools your company needs to give your support department a faster, more personalized and more profitable approach to customer service.
Visit Site ▶
LiveHelpNow provides access to traditional tools such as FAQs, a technical support phone number and an email address. You are even able to schedule a live demo to see exactly how each feature and tool works. You also have access to live chat support, though it is only available during business hours rather than 24/7 as other live chat services. Because support is often a matter of quality rather than simply offering the service, we tested each of LiveHelpNow's support options. In all cases, company representatives provided prompt, detailed and comprehensive responses.
LiveHelpNow is reliable, feature-loaded software that both your agents and customers will appreciate. With remote administration, mobile phone chat, campaign capability and customer tracking, your customer support service will be unmatched. The variety of customer-friendly features, coupled with revenue-generating business options and robust help and support, make LiveHelpNow the best live chat support software available.

LiveHelpNow
The Best Chat Software of 2019
The Verdict
LiveHelpNow has the tools your company needs to give your support department a faster, more personalized and more profitable approach to customer service.
Visit Site ▶
Ready to choose your The Best Chat Software of 2019? Here's a breakdown of our complete coverage:

Business.com Editorial Staff
The purpose of our community is to connect small business owners with experienced industry experts who can address their questions, offer direction, and share best practices. We are always looking for fresh perspectives to join our contributor program. If you're an expert working in your field – whether as an employee, entrepreneur, or consultant – we'd love to help you share your voice with our readers and the Business.com community. We work hard to only publish high-quality and relevant content to our small business audience. To help us ensure you are the right fit, we ask that you take the time to complete a short application: https://www.business.com/contributor/apply/ We can't wait to hear what you have to say!