Mimaki JFX200-2531 Review
If you're looking to print massive items, the Mimaki JFX200-2531 tops the list of wide-format printers on the market. This versatile printer is huge and excels at creating large prints. It's double the size of the popular JFX200-2513 model and includes two vacuum pumps that work independently of one another, which allows one to work while the other gears up.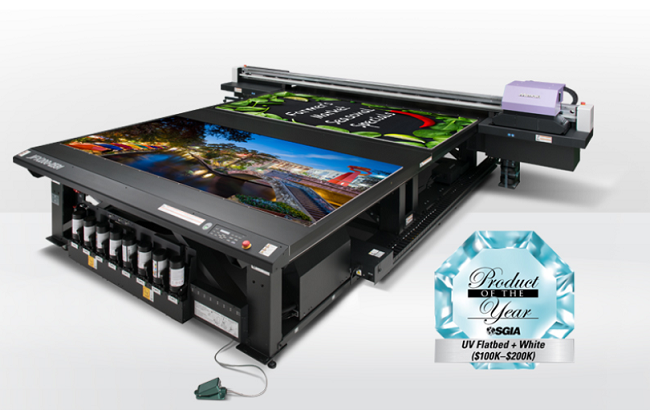 Mimaki JFX200-2531
The Verdict
The Mimaki JFX200-2531 is our best pick for large businesses due to its versatility and size.
Rather than spooling its media from rolls, the JFX200 can print on large sheets of just about anything flat, which makes it a valuable option for large businesses. The Mimaki JFX200-2531 is our best pick as a wide-format printer for enterprises.
To view all our recommendations for wide-format printers, visit our best picks page.
Pricing
The exact price depends on where you buy the printer, but the Mimaki JFX200-2531 is one of the most expensive printers available because it can put an image onto plywood, glass, wood or stone as well as paper. We found that the printer can cost anywhere from $80,000 to $115,000 depending on the dealer. You may be able to find a used printer on the market for cheaper. The JFX200 can produce prints up to 98.4 x 122 inches in size, another factor that explains why the price is so high. It's a large machine with an understandably large price tag.
Mimaki offers financing options and doesn't force a customer to pay the full cost upfront. There are payment plans for 2-5 years in duration, which makes the cost more reasonable for midsize businesses. Large businesses expecting to use the printer consistently probably won't be overwhelmed by the hefty price tag. This printer isn't one that should be on the radar of small businesses.
Product Specs
The JFX200-2531 doesn't look like your standard long and narrow wide-format printer, because it is built around a huge table that can accommodate up to 4 x 8-foot sheets of media. This makes the printer just as appropriate for creating bus shelter ads as photos printed on glass for an art show. It can also use 8 x 10-foot boards if you're looking for even larger prints.
This is a huge machine that takes up roughly 14 x 14 feet, stands 49.2 inches tall and weighs in at nearly 2,200 pounds. It would be a good idea to dedicate a room to it and have a small group on hand to install it. Again, the installation makes sense for larger businesses but removes small and some midsize businesses from the target market. This is one of the largest wide-format printers that we encountered in our research.
The JFX200 has a pair of staggered printheads that spray variable-sized droplets and uses six different ink types to produce eight different colors. The printer's wave-form control technology means the drops will be as close to perfect circles as possible. Its overall resolution of 1,200 x 1,200 dpi translates into 1.4 million dots per square inch.
In addition to primer inks for specialty uses, Mimaki has two ink families for the JFX200: its LUS 150 (for flexible media) and LH 100 (for rigid materials) inks. Both have the expected cyan, magenta, yellow and black, as well as white formulas for undercoating and accents and a clear coat for giving the print a glossy appearance. The LUS 150 family adds light versions of cyan and magenta for smoother gradients and better color matching. Both have low volatile organic solvents as carriers and are Green Guard certified.
One of the most versatile printers around, the JFX200 can print directly on stock up to 2 inches thick. Its printheads automatically sense an obstruction and rise to accommodate just about any thick material. It works with a wider variety of materials, including plywood, stone, aluminum, plastics, glass and foamboard. (Yes, it can also print on paper.)
Large businesses can feel confident that the Mimaki JFX200-2531 can cover all their large-format printing needs. The versatility to print on almost any material is extremely valuable and helps explain the printer's price. This machine can do it all.
Features
Because it doesn't use rolls of media, the Mimaki JFX200-2531's setup is more manual. You need to place the sheet onto the table precisely. Luckily, the surface has a vacuum backing that securely holds the media down, preventing wrinkles, warping and creases. It also has layout pins for alignment and holding the corners in place. Given its size, cost and setup challenges, this printer makes sense for larger companies and likely won't be on the radar of small businesses.
Instead of the paper moving under the printheads, the JFX200's printheads are on a gantry that rides above the sheet and moves down its length. After the printhead passes a section and has laid down its ink, the JFX200's ultraviolet lights blast the ink, transforming it into a dry solid that adheres to the surface.
Rather than traditional UV lamps, the printer uses LEDs to save power and keep the machinery running cool; they're rated to last for 5,000 hours of use. The lamps are also designed to reduce energy consumption, which many businesses may appreciate, as being eco-friendly is a common goal of businesses in 2019. The prints emerge cool, dry to the touch and able to stand up to weathering. This makes them a good choice for many applications, from a coffee shop's opening banner and outdoor advertising to packaging prototypes and point-of-purchase marketing materials.
Instead of a touchscreen, the JFX200 has a simple alphanumeric display and 15 buttons to control the process. This means that it will take some time to get used to its way of printing. The JFX200 also lacks a wired networking connection and relies on a USB 2.0 port instead, so you'll need a dedicated workstation for the printer.
The JFX200 is relatively slow, printing up to 269 square feet per hour in draft mode, according to Mimaki. It drops to a crawl of 36.4 square foot per hour in its best-quality mode, or 10 minutes to produce a top-quality D-size print (24 x 36 inches).
The printer includes drivers (Windows only), RasterLink6 for prepping images (Windows and Macs), and Profile Master 3 for color matching and calibration (Windows only).
The maintenance requirements for the JFX200 start with daily cleaning of the wipers. You need to check the waste ink tank weekly and empty it before it gets full. The printer's filter, pads and wipers need regular inspection and periodic changes.
Customer Service
With three years of warranty coverage, you may not need to get an extended warranty for the Mimaki JFX200. However, other than software downloads, there isn't much in the way of self-service support. The company has phone support to help you with troubleshooting and setup.
The three-year warranty is one of the longest policies in the industry. The warranty is particularly important for this printer, as most wide-format printers don't cost $100,000. A three-year warranty is a good safety net should anything happen to the monstrous machine.
Additional reporting by Brian Nadel.
Image Credit: wir0man / Getty Images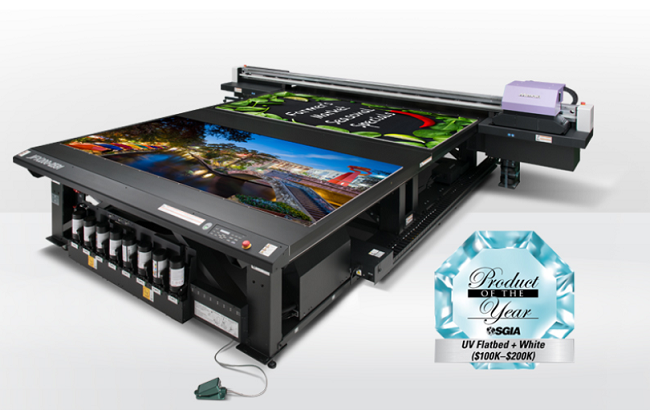 Mimaki JFX200-2531
The Verdict
The Mimaki JFX200-2531 is our best pick for large businesses due to its versatility and size.

Bennett Conlin
business.com Member
Bennett is a B2B editorial assistant based in New York City. He graduated from James Madison University in 2018 with a degree in business management. During his time in Harrisonburg he worked extensively with The Breeze, JMU's student-run newspaper. Bennett also worked at the Shenandoah Valley SBDC, where he helped small businesses with a variety of needs ranging from social media marketing to business plan writing.