MINDBODY Review
By Business.com Editorial Staff
Last Modified: October 23, 2018

MINDBODY image: The administrator can customize the appointments they offer, including price information and limiting the length of an appointment.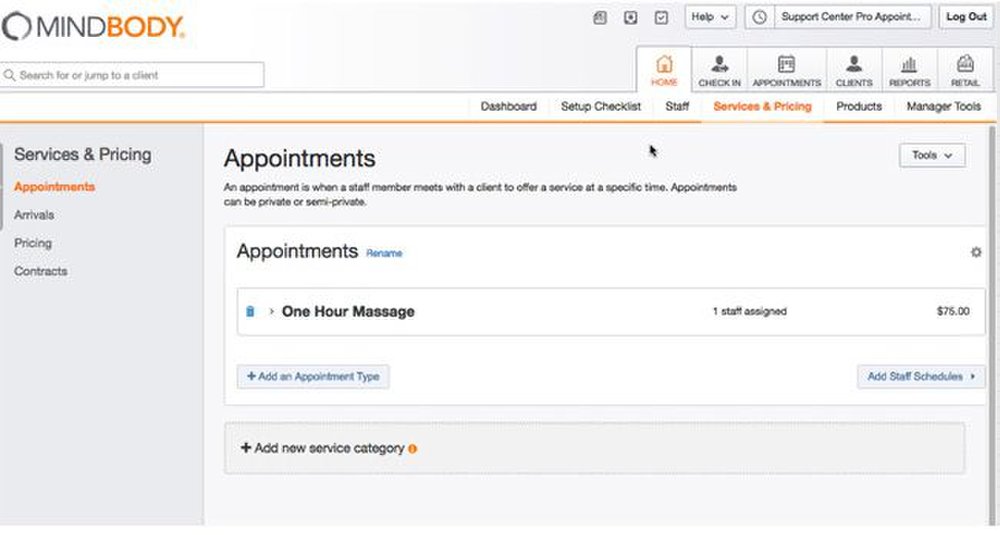 MINDBODY image: The dashboard was easy to navigate with the frequently used tools all located at the top of the interface.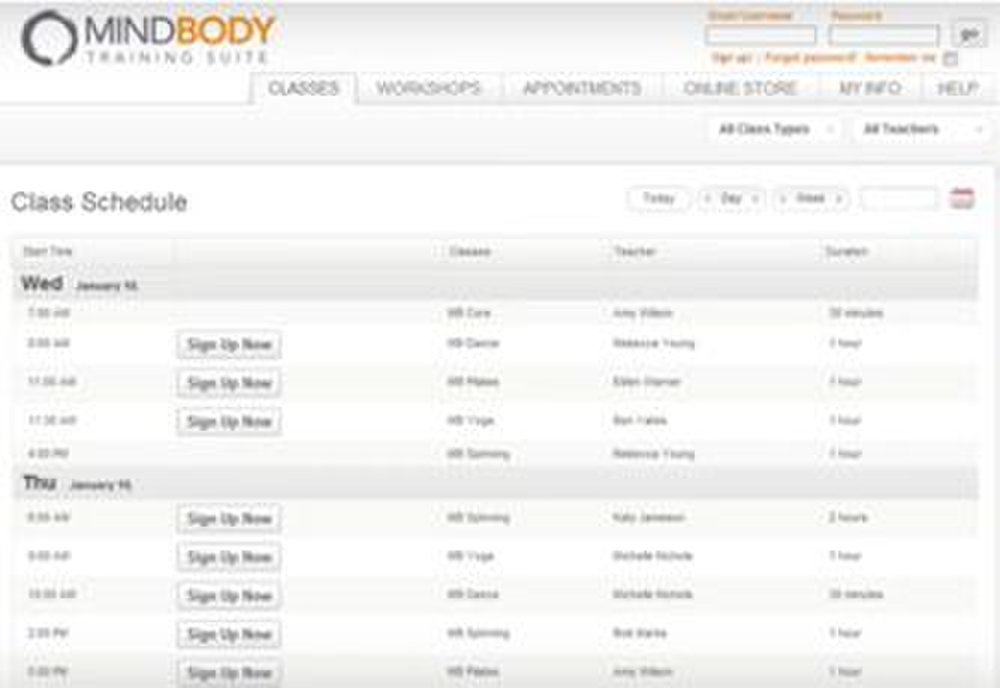 MINDBODY image: Similar to other scheduling software, this program allows you to create classes for a fixed number of people to join.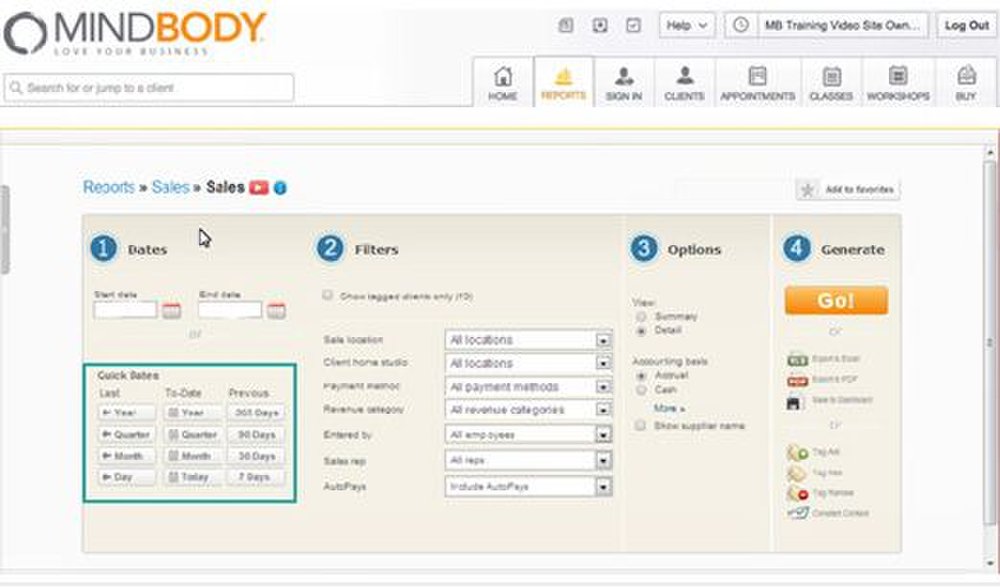 MINDBODY image: You can customize the information you want included in your reports.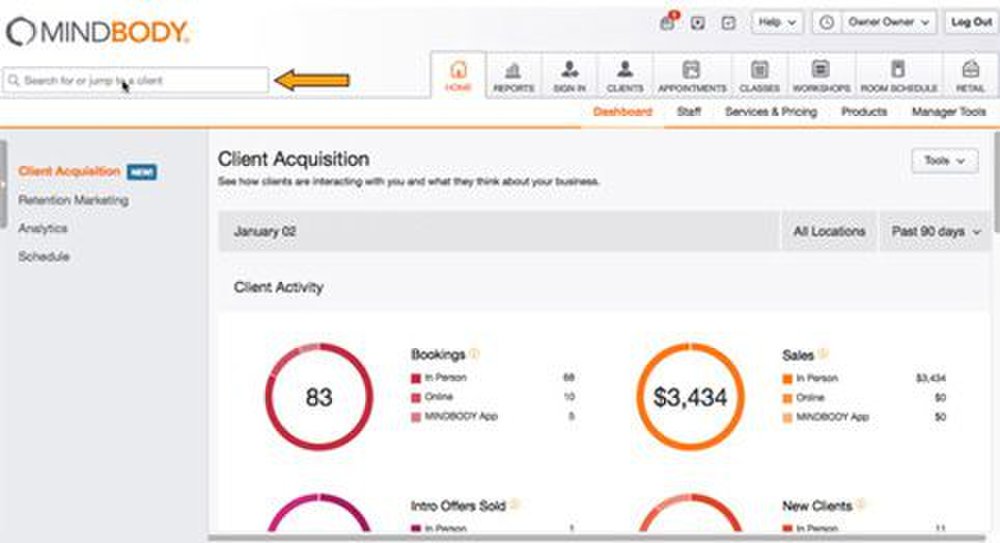 MINDBODY image: This program provides charts and data that give you a better idea of how your clients are interacting with the company and their feedback.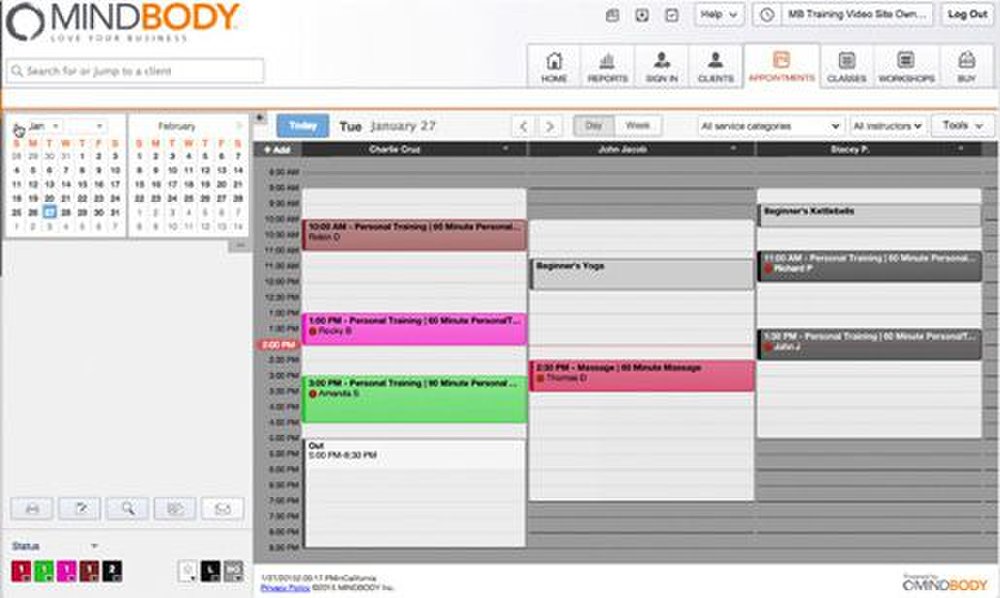 MINDBODY image: You can color code your calendar so employees know when their appointments are at a glance.
While MINDBODY can be used for any type of business, this online appointment calendar has tools and functions especially designed for companies that offer personalized services, such as personal trainers, fitness facilities and health spas. While you can have all your personnel use the program, this scheduling software costs more than comparable scheduling software programs.
This service earned a score of 75 percent in our client scheduling experience tests, which is one of the lower scores on our lineup. For this evaluation, we replicated scheduling an appointment as a client. We had trouble setting up recurring appointments. Further, scheduling an appointment requires many steps. This may be too much for some clients, especially since each customer is required to create a user account and log in before they can access the appointment calendar.

Most of the client tools we looked for when evaluating scheduling software are included with MINDBODY, with the exception of automatic time zone conversion. Clients can cancel appointments through the online portal and schedule recurring visits. This program supports a wait list and automatically notifies clients when a desired time has become available. MINDBODY lets your staff schedule multiple clients during a single time, which is helpful for group sessions or classes.
Clients can schedule their appointments online, but your employees can use the system to accommodate walk-in clients or schedule other appointments or meetings. One of the best features of MINDBODY is the group calendar. You can assign each staff member a color that helps you easily see at a glance when he or she is booked.
On the administrative side, MINDBODY garnered average scores. The interface earned an 80 percent for ease of use for administrators and 75 percent for its ability to embed itself on your website. We were able to embed this software on our website, but we experienced some issues with the link to the scheduling website.
Appointment times are displayed on the online scheduler in your time zone. It doesn't convert times for clients located in different time zones. MINDBODY lets you provide intake forms online for clients to fill out and submit at the time they book their appointments. Unlike other applications we reviewed, this scheduler lets you create a shopping cart and sell gift certificates or other items online.
MINDBODY can integrate with other business solutions for better scheduling and promotions, including Microsoft Outlook, Google Calendar and your social media accounts. However, it does not integrate with CRM or accounting solutions.
MINDBODY is an online scheduling tool with functions and options that work well for personal service-type businesses. This program lets you set up wait lists, book multiple clients at a single time and schedule recurring visits. MINDBODY includes several important client-scheduling tools as part of your monthly fees, only missing intake forms and the ability to merge with other useful business solutions, like accounting programs.

Ready to choose your The Best Employee Scheduling Software of 2019? Here's a breakdown of our complete coverage:

Business.com Editorial Staff
The purpose of our community is to connect small business owners with experienced industry experts who can address their questions, offer direction, and share best practices. We are always looking for fresh perspectives to join our contributor program. If you're an expert working in your field – whether as an employee, entrepreneur, or consultant – we'd love to help you share your voice with our readers and the Business.com community. We work hard to only publish high-quality and relevant content to our small business audience. To help us ensure you are the right fit, we ask that you take the time to complete a short application: https://www.business.com/contributor/apply/ We can't wait to hear what you have to say!