Sharp MX-4071 Review
The Sharp MX-4071 is part of Sharp's Color Advanced Series. It features a large touchscreen display, an array of finishing options and the multifunction printer (MFP) Voice feature, a hands-free voice interaction through Amazon's Alexa that follows simple verbal commands. Users ask Alexa to complete an action using the MFP, and it will be completed. You can also change the quantity or color of a print job, along with a range of finishing options, without ever having to push a button. This feature allows Sharp's MFPs to become accessible to those in the workplace with visual impairments or other restrictions that may otherwise prevent them from using the printer's touchscreen.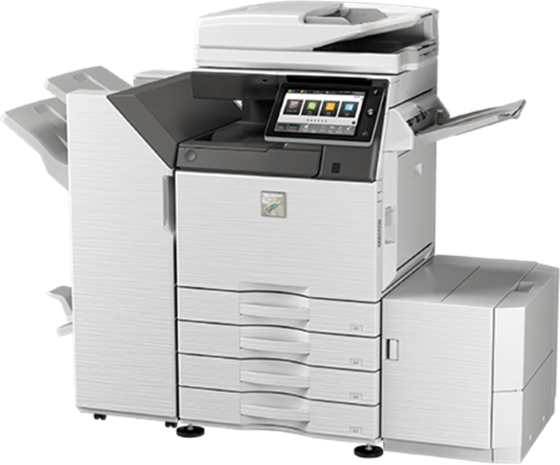 Sharp MX-4071
The Verdict
The Sharp MX-4071 offers the most accessible features for a multifunction printer. Using Amazon's Alexa, you can copy or scan documents hands-free.
To view all of our recommendations for copiers, visit our best picks page.
Pricing
The MX-4071 is designed to be a customizable MFP; therefore, you'll need to contact Sharp to be put in touch with one of its authorized agents who will then provide you with a quote.
The cost of this copier ranges from $12,925 for the base unit up to $22,825 if you want large capacity paper trays, additional finishing options (saddle stitch, hole punching, etc.), etc.
Because the MX-4071 is a laser printer, it requires toner cartridges to operate. These cartridges can be purchased from outside retailers. Prices range from $75 to $185 per cartridge. The estimated yield for each black cartridge is 40,000 pages, while color cartridges yield approximately 24,000 pages.
Sharp MX-4071 Features
The MX-4071 measures 24 x 26 x 33 inches (width x depth x height) and weighs 191 pounds. Smaller businesses will appreciate it's size – the unit does not take up a lot of space. It comes with an all-in-one cartridge that is designed to reduce supply costs and can maximize uninterrupted printing. The copier comes with 5GB of memory, and the hard drive disk holds up to 500GB of information – which is enough storage for any small business.
The base unit of the MX-4071 holds 650 sheets; however, for more money, you can add high-capacity trays that hold up to 6,300 sheets. It can print up to 40 pages per minute with a print resolution of 1200 x 1200 dpi. The scanning and copying resolution is 600 x 600 dpi.
Its duty cycle, or the number of pages that can be printed each month, is 175,000 pages per month. Sharp's Color Consistency System allows for long-lasting, high-quality output. Though this model only comes programmed to print, copy and scan, for an additional fee, you can add fax capabilities as well.
Accessibility
The MX-4071 is not only notable for its small size and high-quality printing but its accessibility. Users can print and scan through cloud-based services such as Google Cloud Print, Google Drive, Box, OneDrive for Business, SharePoint Online, Dropbox, Office 365 and Gmail. There is a customizable, tiltable, 10.1-inch color LCD touchscreen with an easy user interface mode.
In Easy Mode, users can find the most commonly used functions, like duplexing and paper size selection. There is also a pull-out keyboard to help more advanced users easily navigate through the various options and settings.
The MX-4071 includes an application portal that administrators can use to add new applications or update them. One of the best things about the Sharp copier is the MFP Voice feature, which connects users to the machine through natural language, hands-free voice interaction with Amazon's Alexa. The MFP Voice feature allows those who are unable to see or cannot use the MFP due to other restrictions to quickly and easily scan, print or copy.
Security
Sharp has included multiple security features to protect a company's infrastructure and data.
One such feature is firmware attack prevention and self-recovery, which identifies malicious activity and will restore the firmware to its most recent, secure state. A new feature, whitelisting, will deny any access attempt if the source data is not on the white list. Additional features include IP/MAC address filtering, protocol filtering, port control, user authentication, TLS encryption and Kerberos support.
Other security features available to business owners and admins are authority groups, which help businesses manage access to data and control costs by restricting copying, printing or scanning.
Single sign-on, integrated ID card authentication, centralized admin password management, and end-of-lease features are also available with this model. The end-of-lease feature erases all your business's data and any personal information when you return your printer. These features ensure your information remains confidential. [Need more details on the differences between buying and leasing a copier? Check out this article on our sister site Business News Daily.]
Sharp Customer Support and Service
Sharp offers U.S.-based service and support. They help users with any level of IT experience and can answer any questions you may have. You can reach representatives by phone and email.
The MX-4071 comes with a three-year limited warranty that can be extended up to one or two years after the initial warranty period ends.
Limitations
For businesses that print large quantities of documents but wish to save money, the MX-4071 may not be the best fit. It has a standard paper capacity of 650 sheets, which is fairly low to begin with. There are optional trays you can purchase to increase the paper capacity, but the cost of those optional trays could cause you to exceed what you might be willing to spend on a copier. The MX-4071 is costly for most small businesses, though there are options to lease the machine.
Small businesses that operate in a compact office space or home-based businesses may find this model to be too large and heavy. The unit weighs 191 pounds, so it does require multiple people if you need to move the copier.
Editor's note: Looking for the right copier for your business? Fill out the below questionnaire to have our vendor partners contact you about your needs.
Image Credit: Getty Images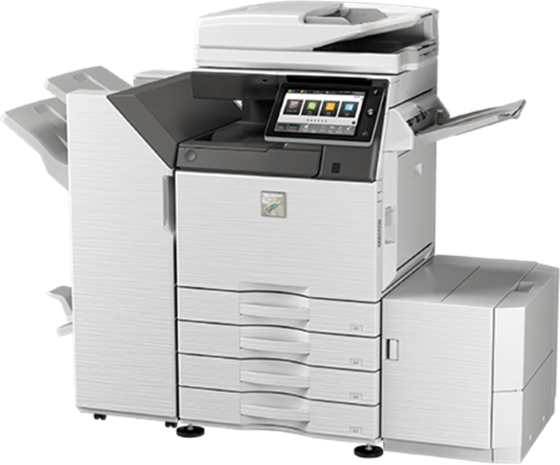 Sharp MX-4071
The Verdict
The Sharp MX-4071 offers the most accessible features for a multifunction printer. Using Amazon's Alexa, you can copy or scan documents hands-free.

Kayla Harrison
business.com Contributing Writer
Kayla Harrison is a current Writing Arts graduate student at Rowan University and editor at The Urban Howl. She began freelancing during her junior year of college and fell in love with it. You can learn more on her blog, insearchofthewritedirection.weebly.com.