National Data Group Review
By Business.com Editorial Staff
Last Modified: January 24, 2019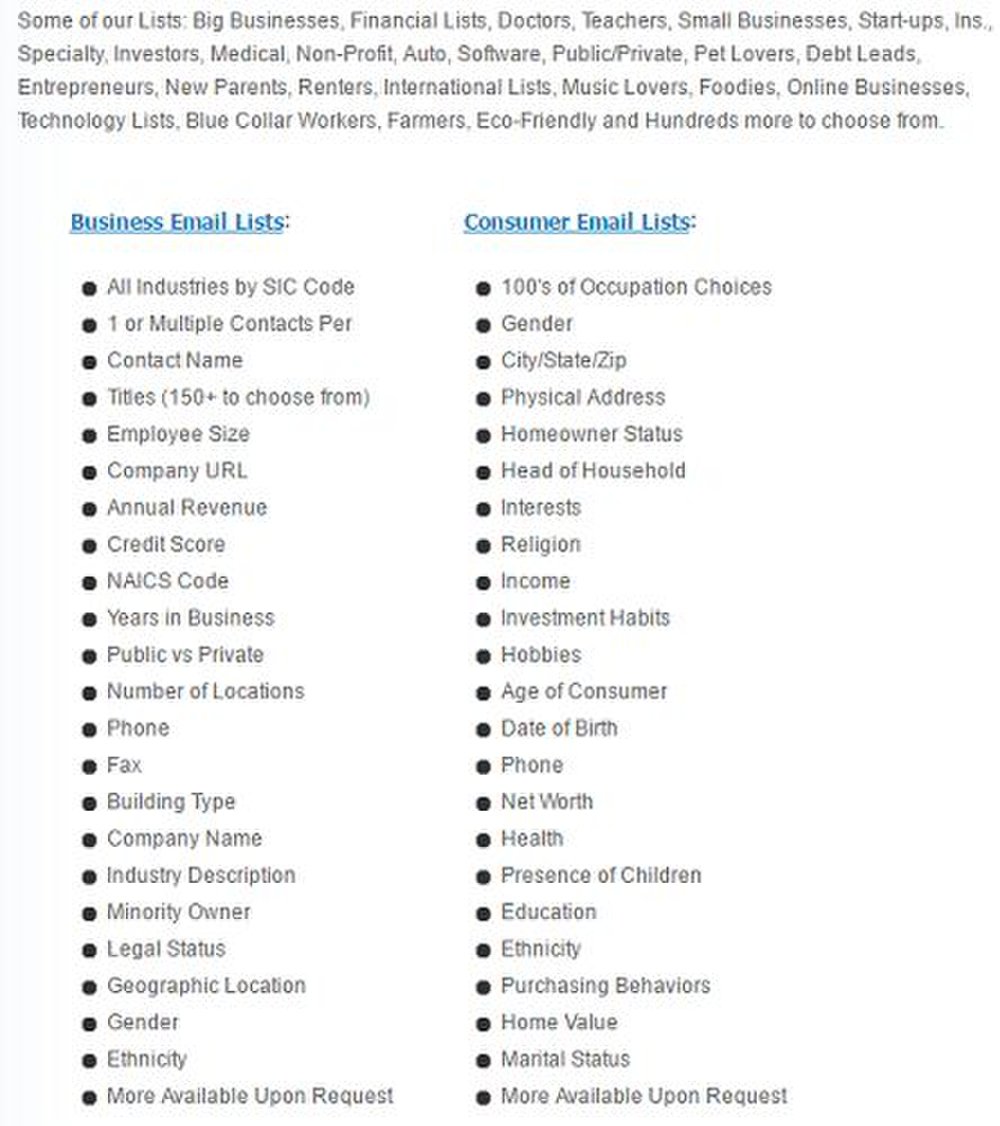 National Data Group image: You get dozens of different criteria to craft a list for mail or email.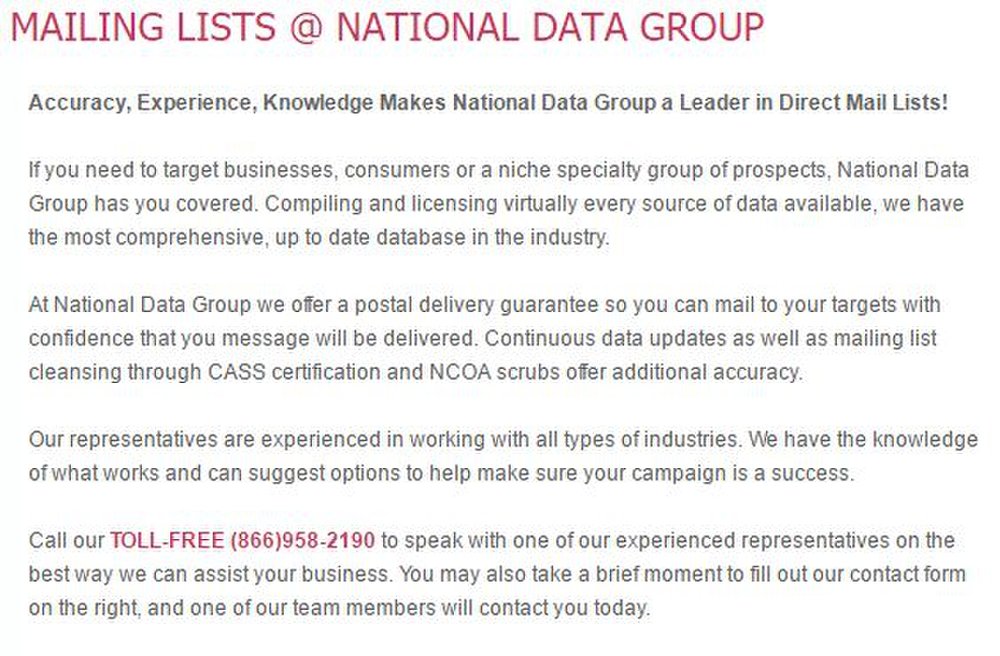 National Data Group image: This list broker service has a deliverability guarantee for both its postal and email lists, and it refunds bad leads that result in over 20% bounces.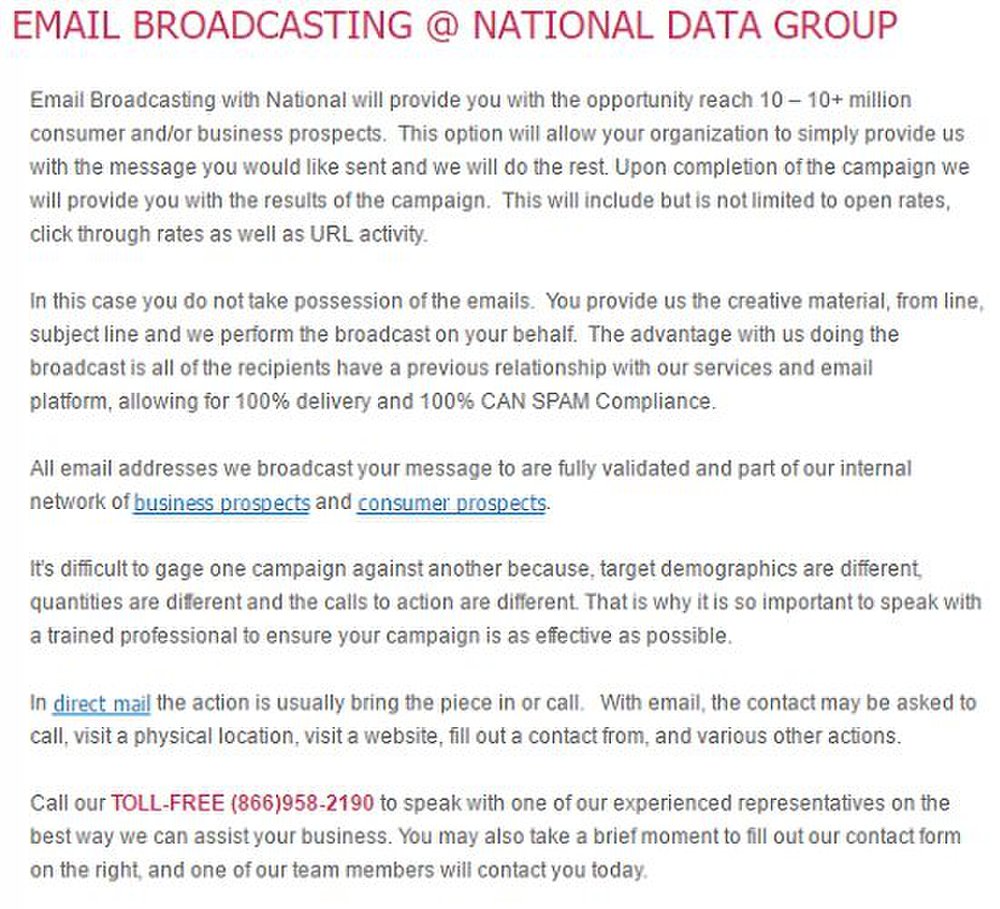 National Data Group image: For email direct marketing, the service broadcasts your email message for you using a one-time list.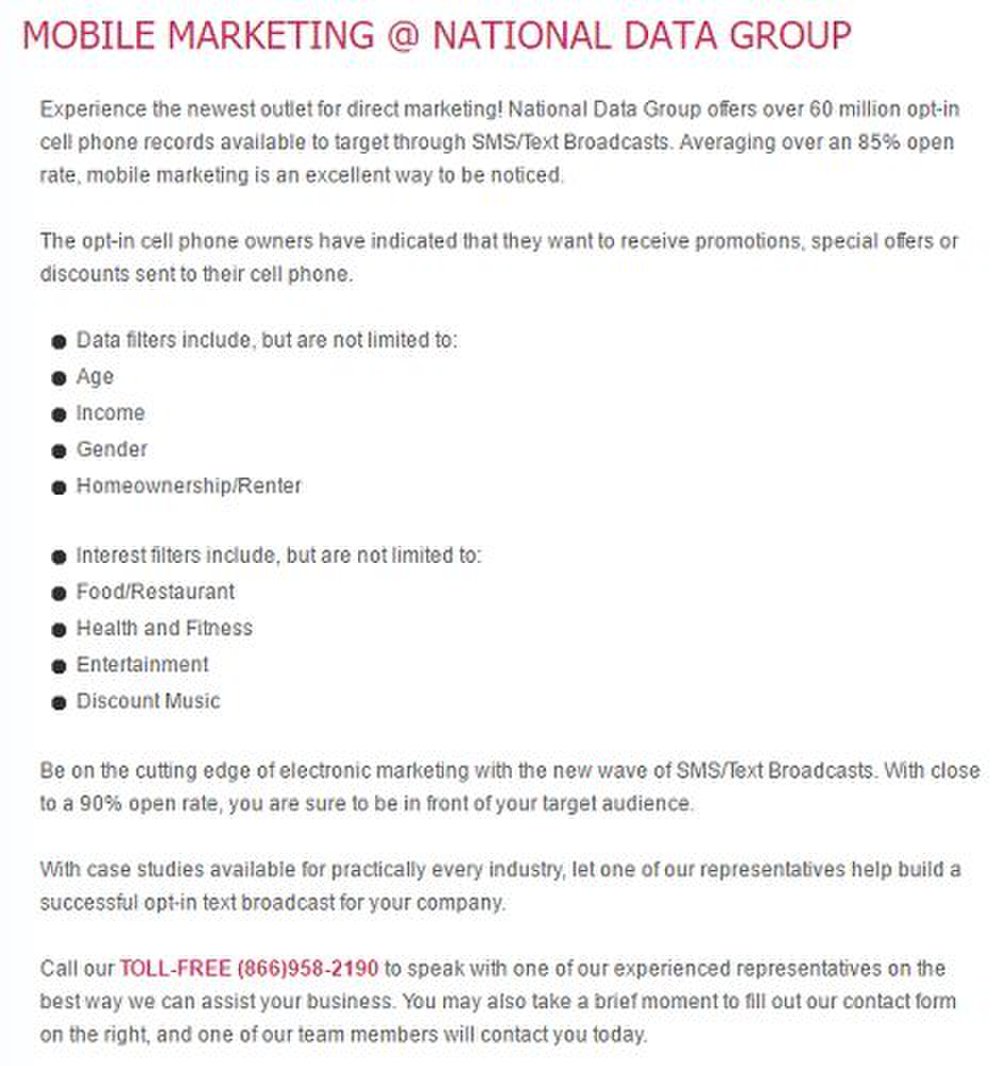 National Data Group image: A special service allows you to direct marketing through consumers' mobile phones with text message broadcasts.
National Data Group is a list broker service that provides consumer and business mailing lists. It also specializes in opt-in email addresses and mobile marketing campaigns. This company offers an array of list options and targeted direct marketing services.
National Data Group offers a wide range of criteria to help you craft a direct mailing list for consumers. However, we found that its business list criteria are not as extensive as other broker companies. Their database includes opt-in consumer lists with basic criteria including geographic location, demographics and consumer interests.

Some of the targeted lists feature doctors, teachers, small business owners, startups, investors, pet lovers and hundreds of other potential contacts you may want to include in your campaign. It updates its lists every 90 days, though some lists are updated sooner. National Data Group checks its lists against the National Change of Address file to ensure your mailer gets to the right place.
There is a 5,000 minimum record purchase. National Data Groups offers a deliverability guarantee of 80 percent, meaning it guarantees 80 percent of its list is accurate, or it will refund you for mailers or emails that are bounced back due to incorrect information.
The company can also assist you in the next steps of your direct mail campaign by designing your postcards or mailers and then mailing them for you. They also do email broadcasts, where all you need to do is provide them with the creative materials for an email as well as your offer or call to action. National Data Group will send you a preview of your message and then, upon approval, email your message to hundreds of potential customers.
One of National Data Group's most unique features is mobile marketing broadcasts. The company can provide you with a list of cell phone records and send out a mass text message. The phone numbers are opt-in, meaning the owners have indicated they want to receive promotions via text message.
Our interactions with National Data Group were mostly helpful, though their response to our inquiry was delayed. Its website doesn't feature any direct marketing guides or articles. Further, there's no live chat. You can only reach the company by phone or email. There are dedicated representatives to help you assemble your lists and design your direct marketing campaign.
National Data Group is a list broker service that offers multiple specialized list options that back up their list quality with a money-back guarantee for undeliverable leads. Along with list services, this company helps you further your campaign with mailer designs, email broadcasting and SMS/text message marketing, all with the assistance of a dedicated list expert.


Business.com Editorial Staff
The purpose of our community is to connect small business owners with experienced industry experts who can address their questions, offer direction, and share best practices. We are always looking for fresh perspectives to join our contributor program. If you're an expert working in your field – whether as an employee, entrepreneur, or consultant – we'd love to help you share your voice with our readers and the Business.com community. We work hard to only publish high-quality and relevant content to our small business audience. To help us ensure you are the right fit, we ask that you take the time to complete a short application: https://www.business.com/contributor/apply/ We can't wait to hear what you have to say!