Net-Translators Review
By Business.com Editorial Staff
Last Modified: May 20, 2019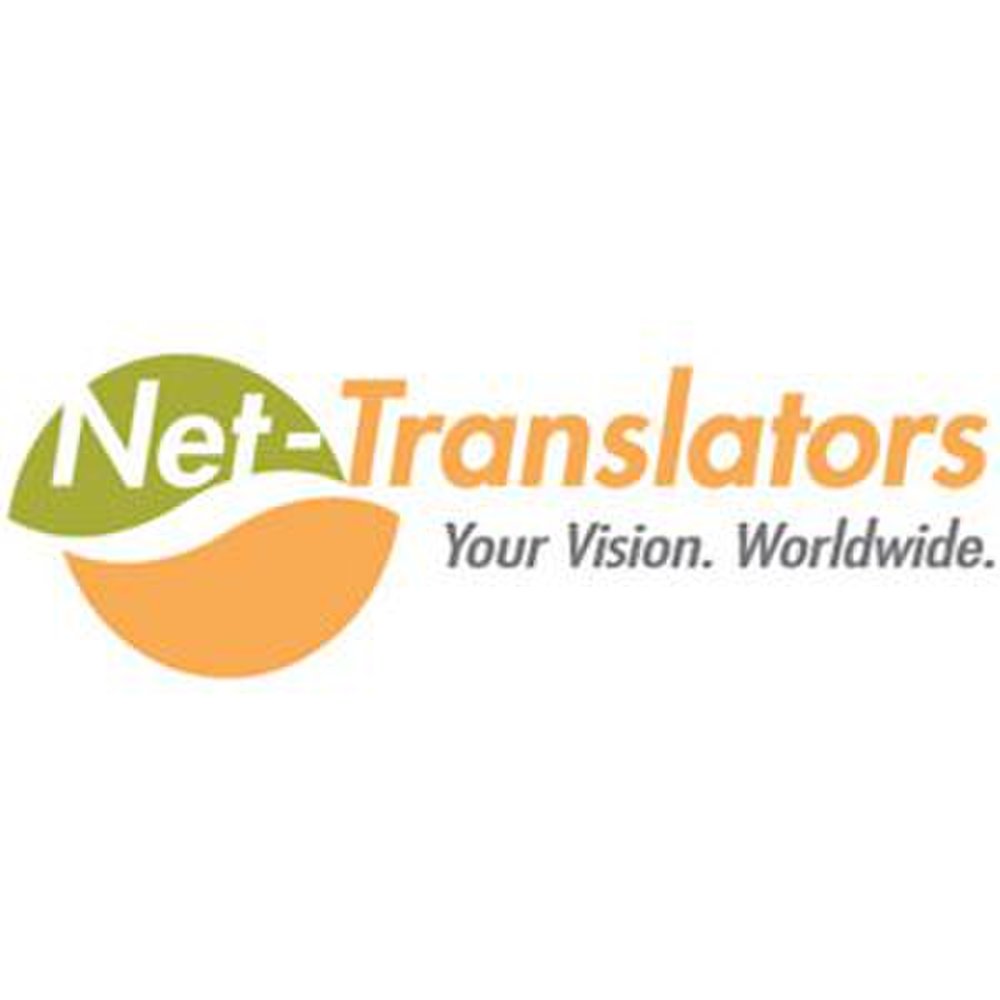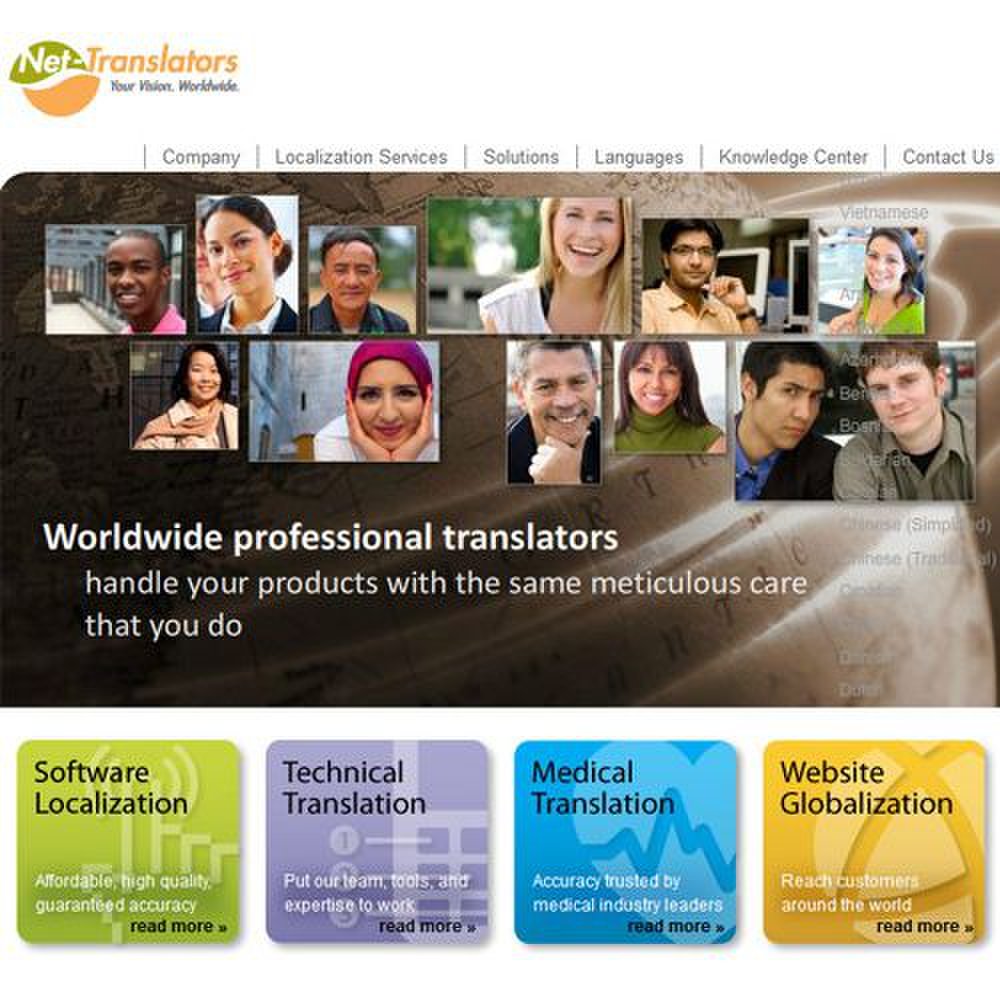 Net-Translators image: The homepage shows some of the translation specialties.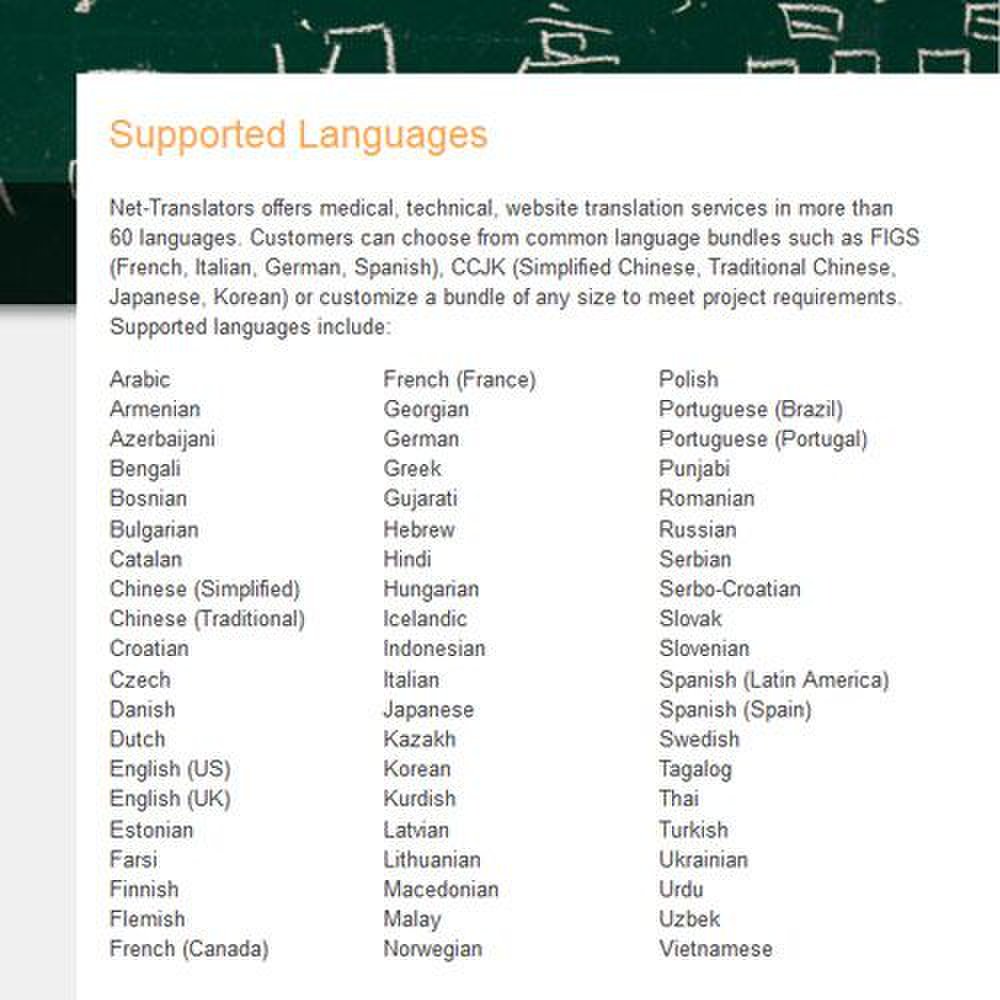 Net-Translators image: Over 60 languages are supported.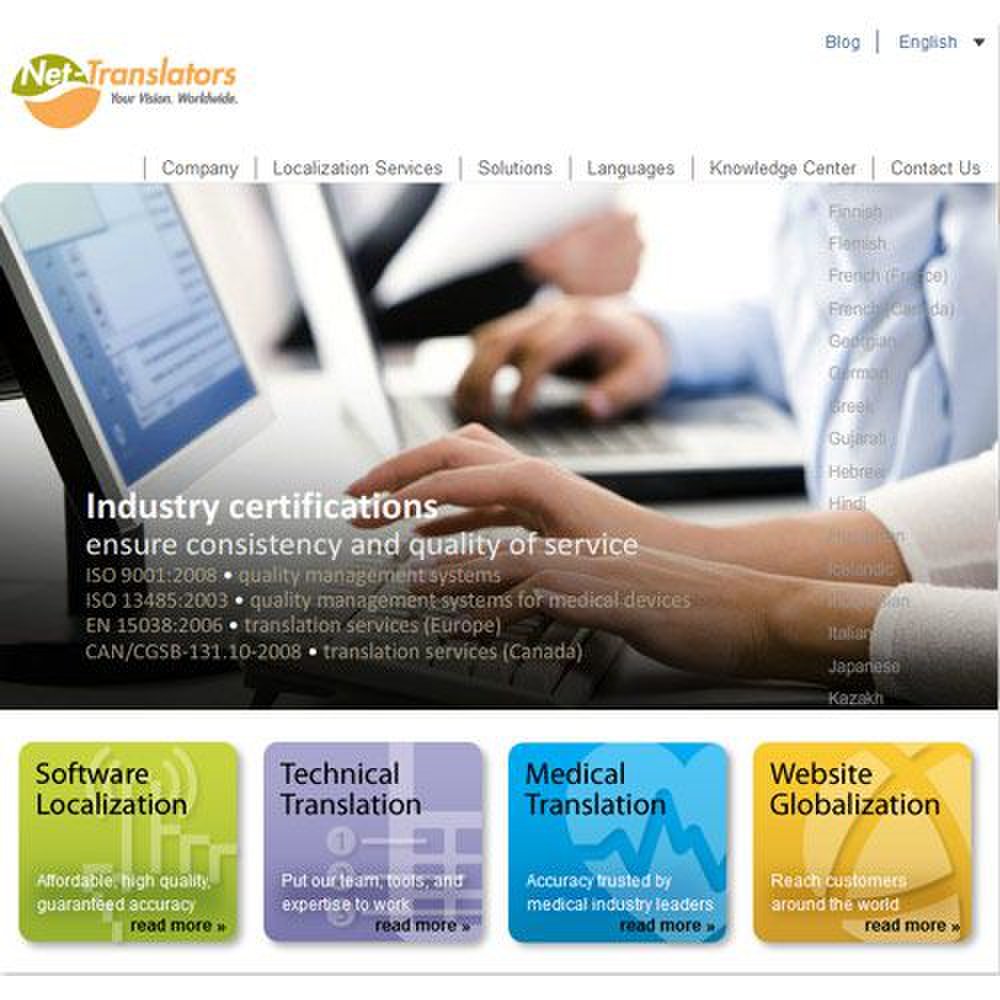 Net-Translators image: This company possesses many different industry certifications.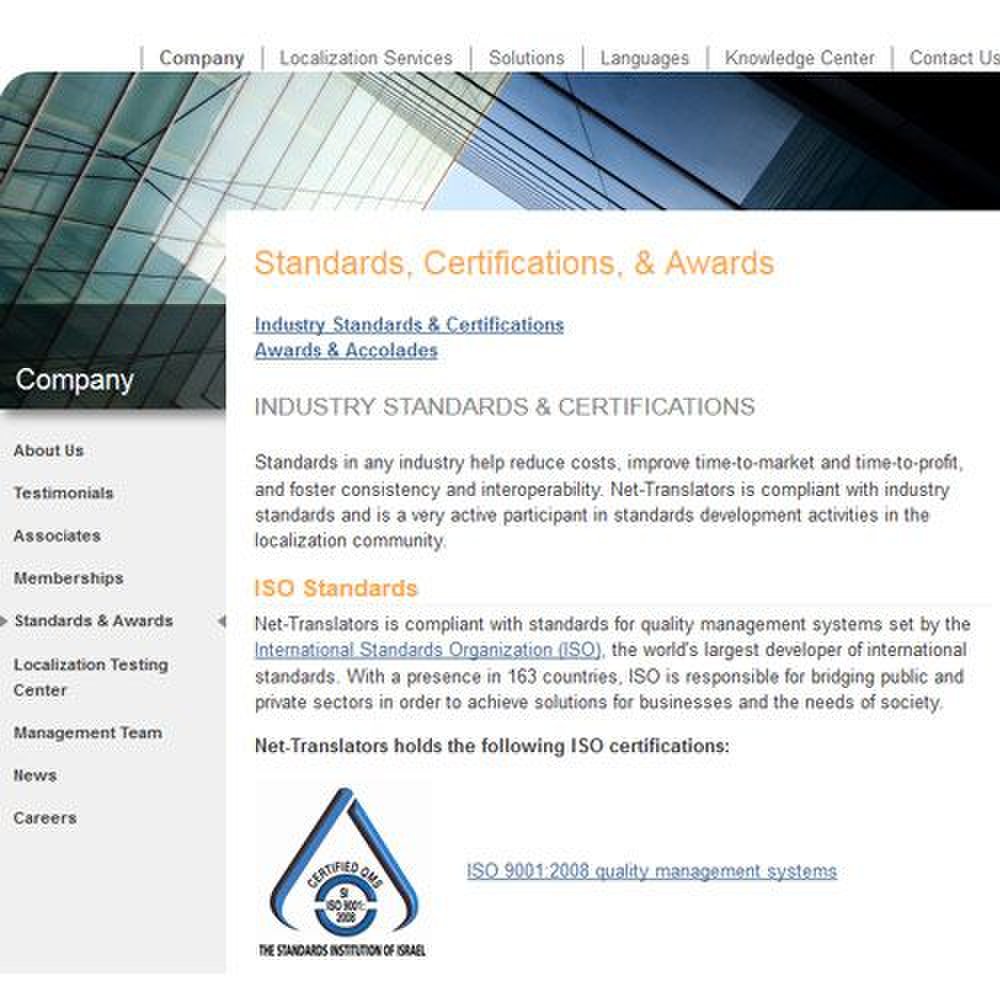 Net-Translators image: Certifications include compliance to ISO Standards.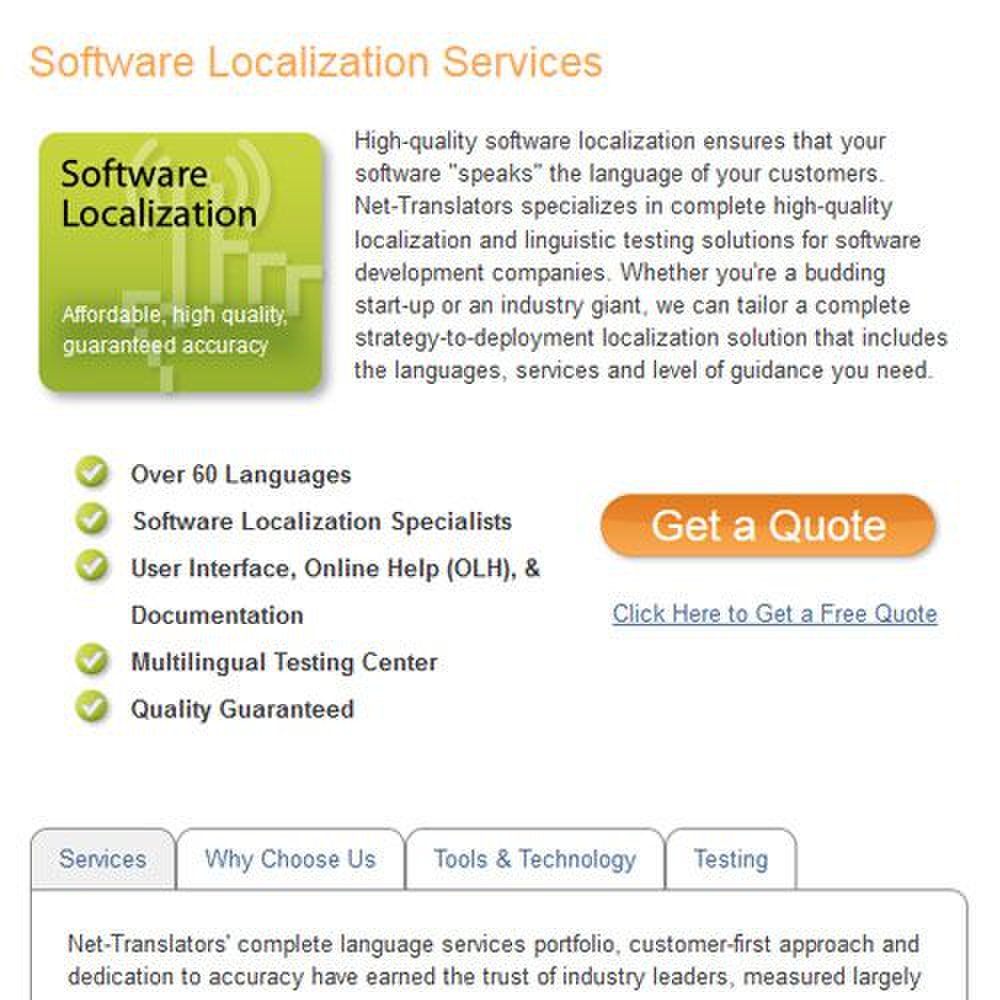 Net-Translators image: Software localization is a strong specialty.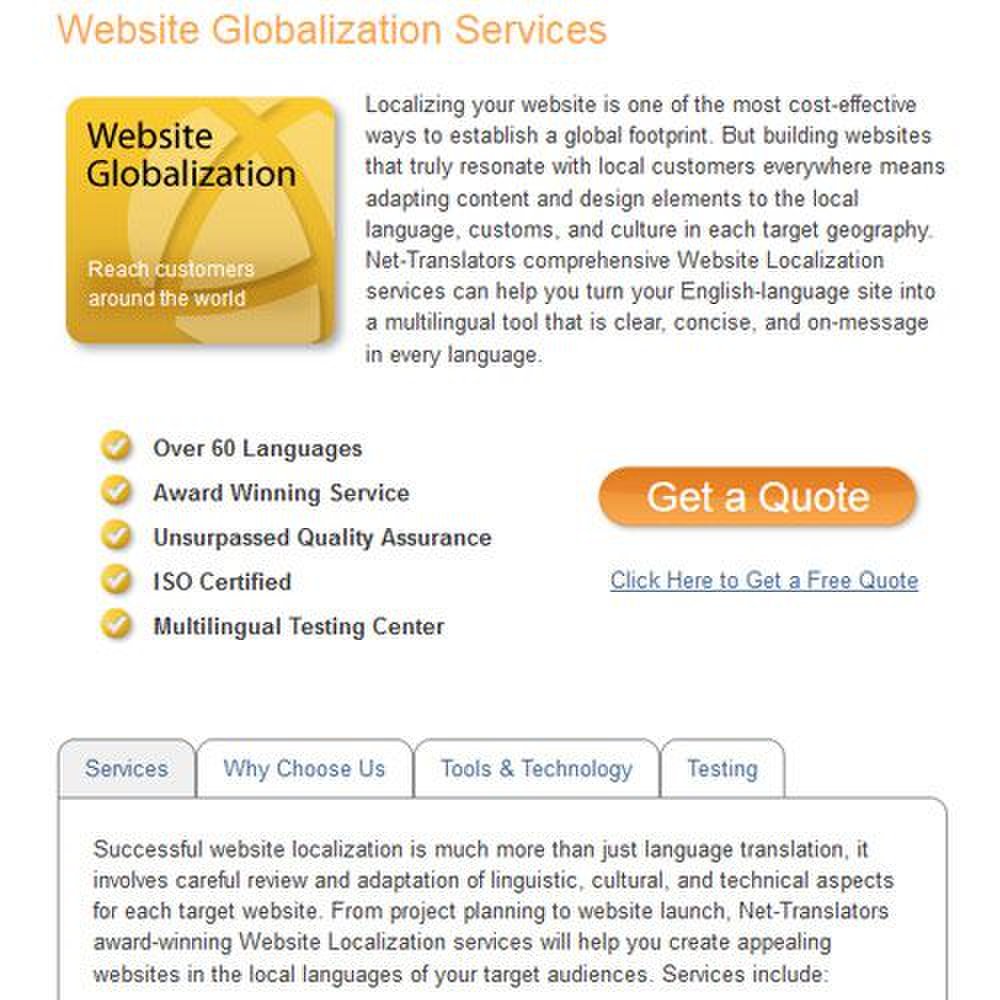 Net-Translators image: Website translation and globalization makes sites more meaningful to customers in the area served.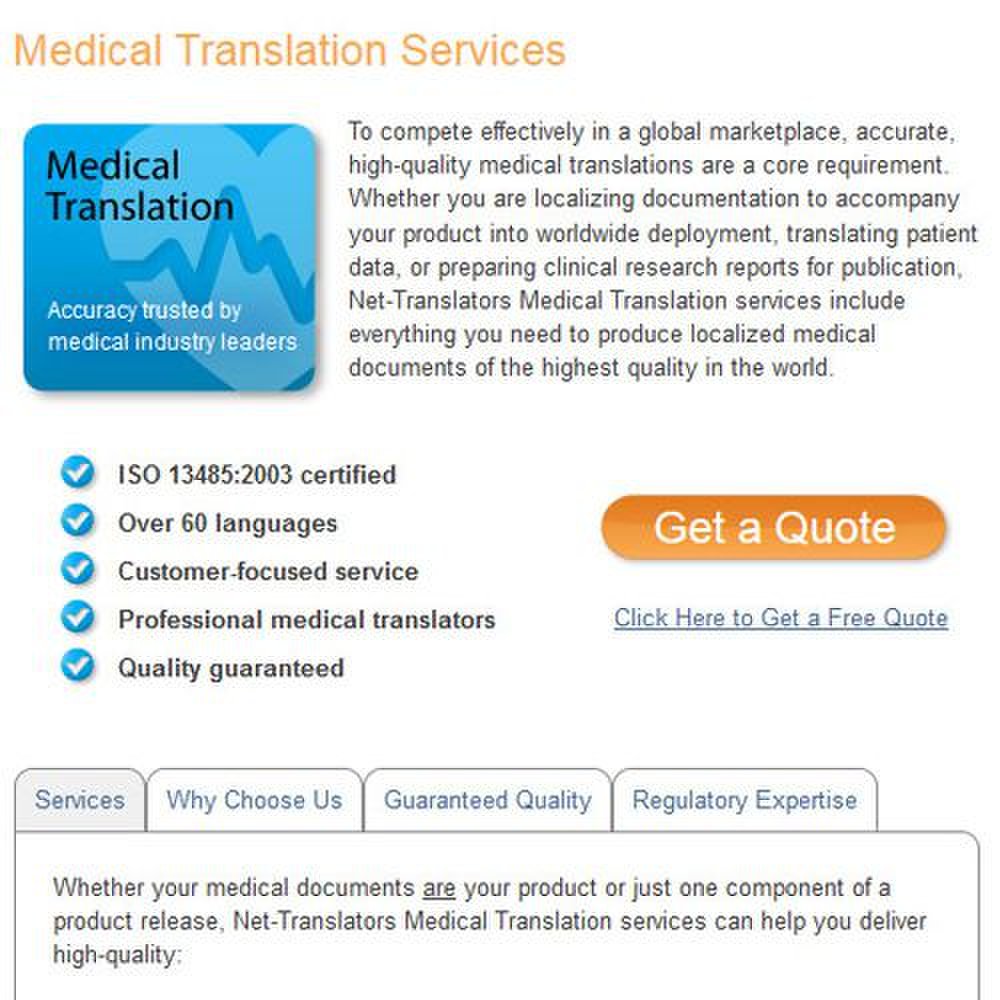 Net-Translators image: The agency also offers Medical translation.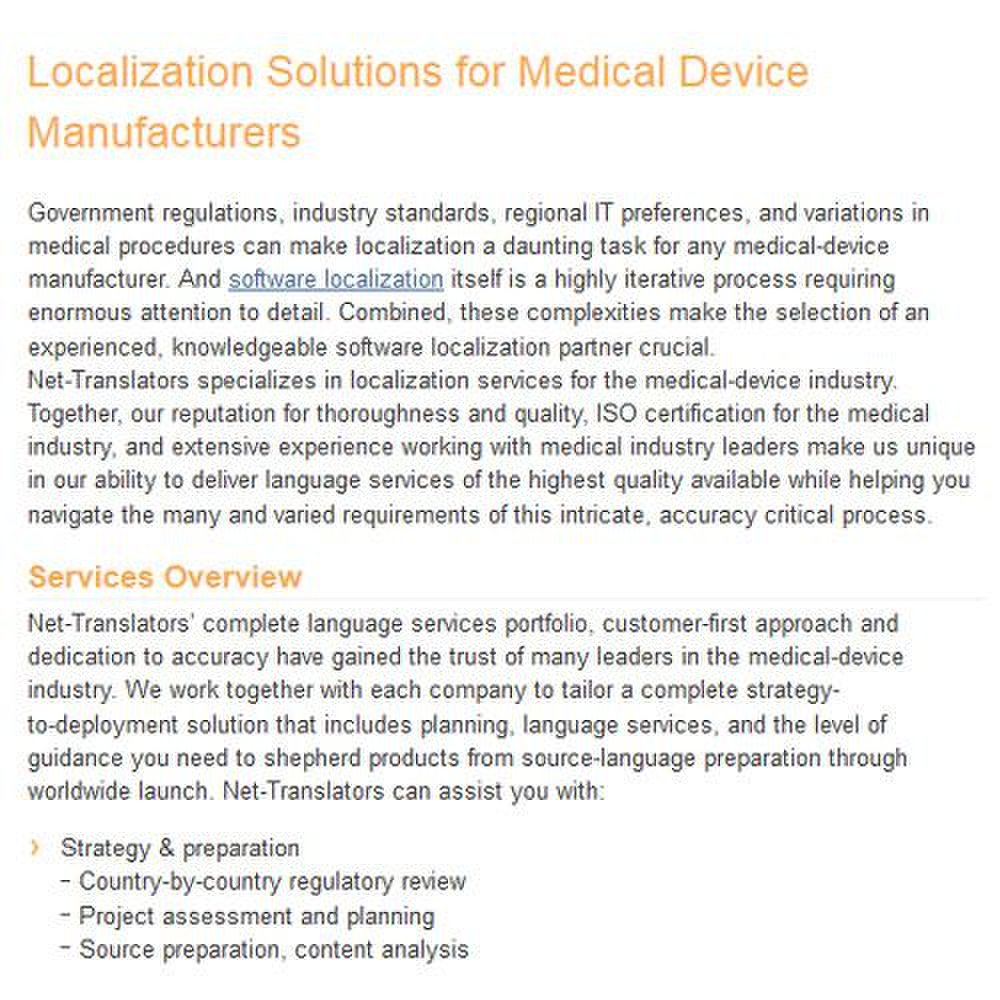 Net-Translators image: Medical device documentation is another translation specialty.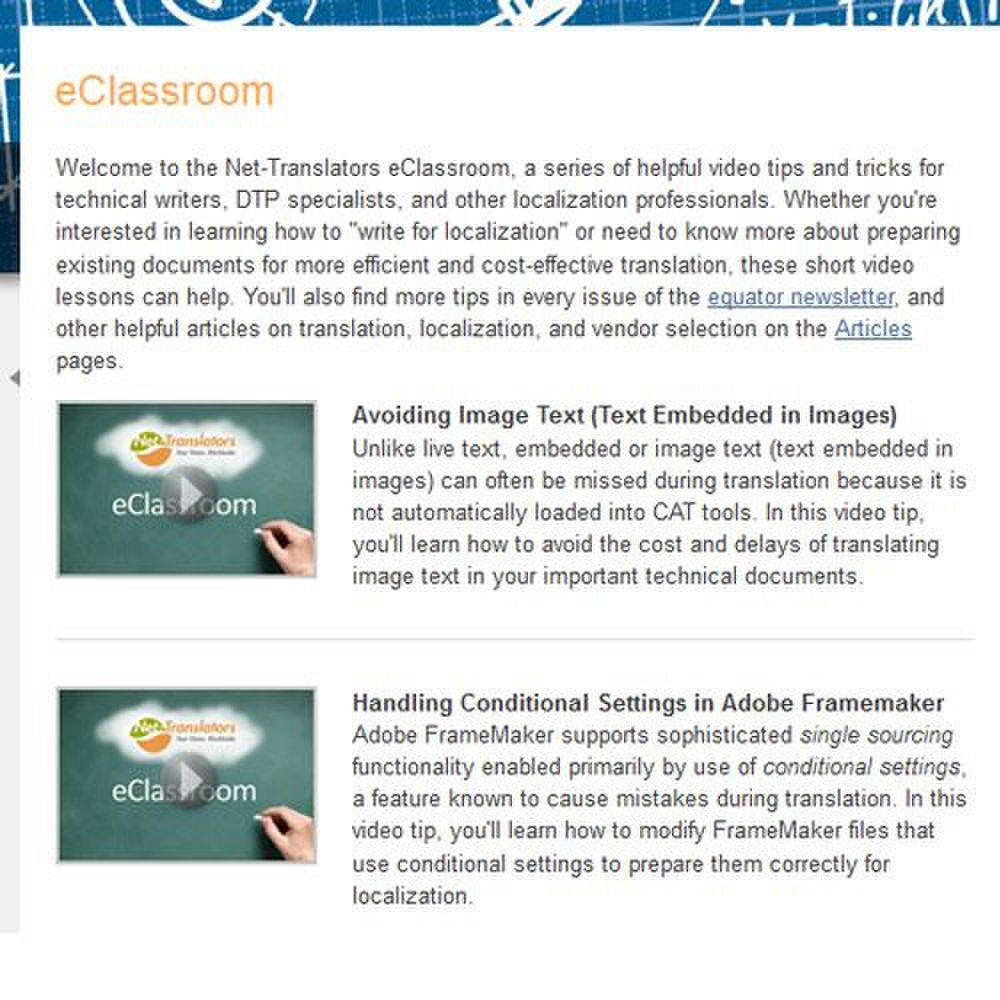 Net-Translators image: The Knowledge Center includes an eClassroom.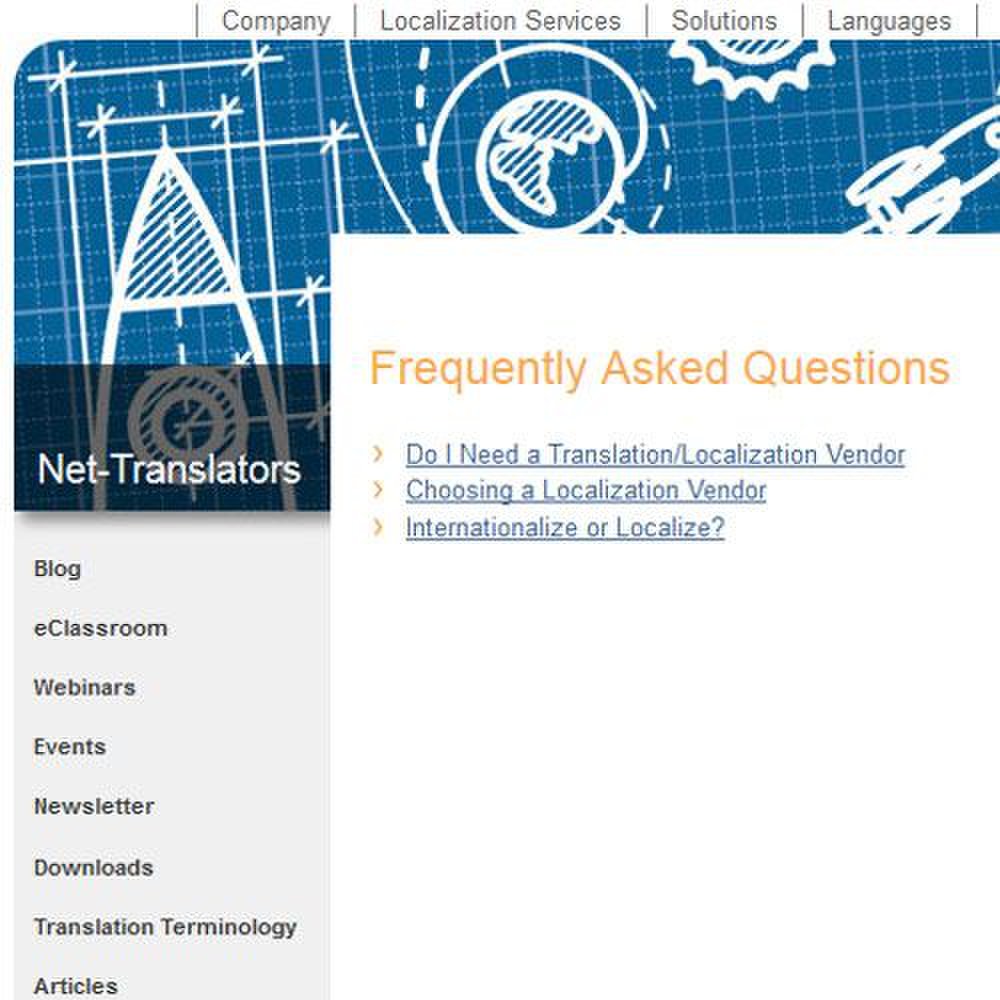 Net-Translators image: A blog, FAQs, a newsletter and translation terminology are all offered.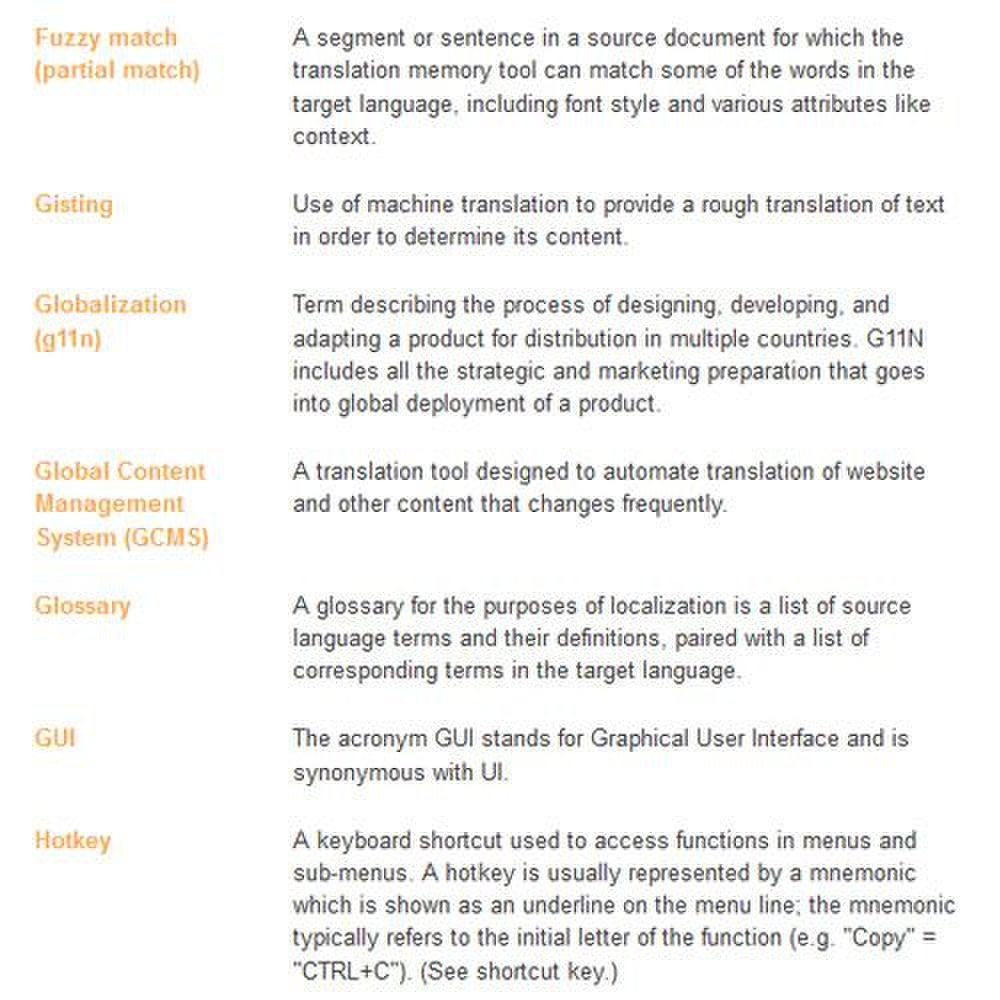 Net-Translators image: The translation terminology is a kind of glossary.
Net-Translators is a full-service translation agency that offers a breadth of solutions, ranging from conventional language translation to localization solutions and international search engine optimization (SEO). The business translation service specializes in high-tech translation and the localization of technology products, such as software and medical devices.
In our tests of Net-Translators translation services, the company delivered exceptional service and 100 percent accuracy. Prices were a little high and quotes were a little slow, but Net-Translator offered value for our time and money. It was the only company that pointed out a grammatical error in our original Spanish document and offered to fix it, even before translating the document into English.

Net-Translators provides complete translation and localization services in more than 60 languages, which is on the low end compared to the other translation agencies we reviewed. The service specializes in high-tech projects, including software localization, which comprises adapting software and all related documentation to the linguistic, cultural and technical requirements of a foreign target market.
Medical translation is another field of expertise for Net-Translators. Countries around the world all need language-appropriate documentation for medical devices, clinical trials and pharmaceuticals. Net-translators has the necessary resources to accurately translate these along with medical device manuals, research reports, patent documentation and more.
Like all of the translation services on our lineup, Net-Translators can provide certified translations of official documents, such as birth, marriage or divorce certificates. The translation company also works in a number of specific industries, including financial, legal (including patents), marketing, healthcare, technical and biotechnology.
Net-Translators uses translation memory technology. Translation memory is a linguistic database or application that captures translation sentences or snippets to assist human translators. The goal is to increase the efficiency and speed of translations and to help lower the overall cost of a translation. This agency also employs an in-house lab where projects undergo extensive linguistic, cosmetic and functional testing. Localization testing is crucial, as it allows you to identify and correct any technical or contextual problems before your product is officially deployed in the new target market.
Net-Translators maintains a number of industry certifications and quality assurance procedures. The translation service is compliant with the quality management standards of the International Standards Organization (ISO), maintaining an ISO 9001 certification. Net-Translators is certified under EN-15038, a European quality standard specifically for translation service providers. In addition, it holds medically specialized ISO 13485 certification. The company is also compliant with the standards of the Localization Industry Standards Association (LISA).
As a customer, you receive personalized support from a multilingual project manager whose area of expertise is relevant to your type of translation project. You can contact your project manager as well as track the progress of your translations through the online customer portal on the Net-Translators website.
Net-Translators provides efficient and effective translation services that are both technically accurate and culturally on target. This expertise is backed by the most stringent accreditation and certification on our lineup.

Ready to choose your The Translation Software and Services for 2019? Here's a breakdown of our complete coverage:

Business.com Editorial Staff
The purpose of our community is to connect small business owners with experienced industry experts who can address their questions, offer direction, and share best practices. We are always looking for fresh perspectives to join our contributor program. If you're an expert working in your field – whether as an employee, entrepreneur, or consultant – we'd love to help you share your voice with our readers and the Business.com community. We work hard to only publish high-quality and relevant content to our small business audience. To help us ensure you are the right fit, we ask that you take the time to complete a short application: https://www.business.com/contributor/apply/ We can't wait to hear what you have to say!