New England Document Systems Review
By Business.com Editorial Staff
Last Modified: December 11, 2018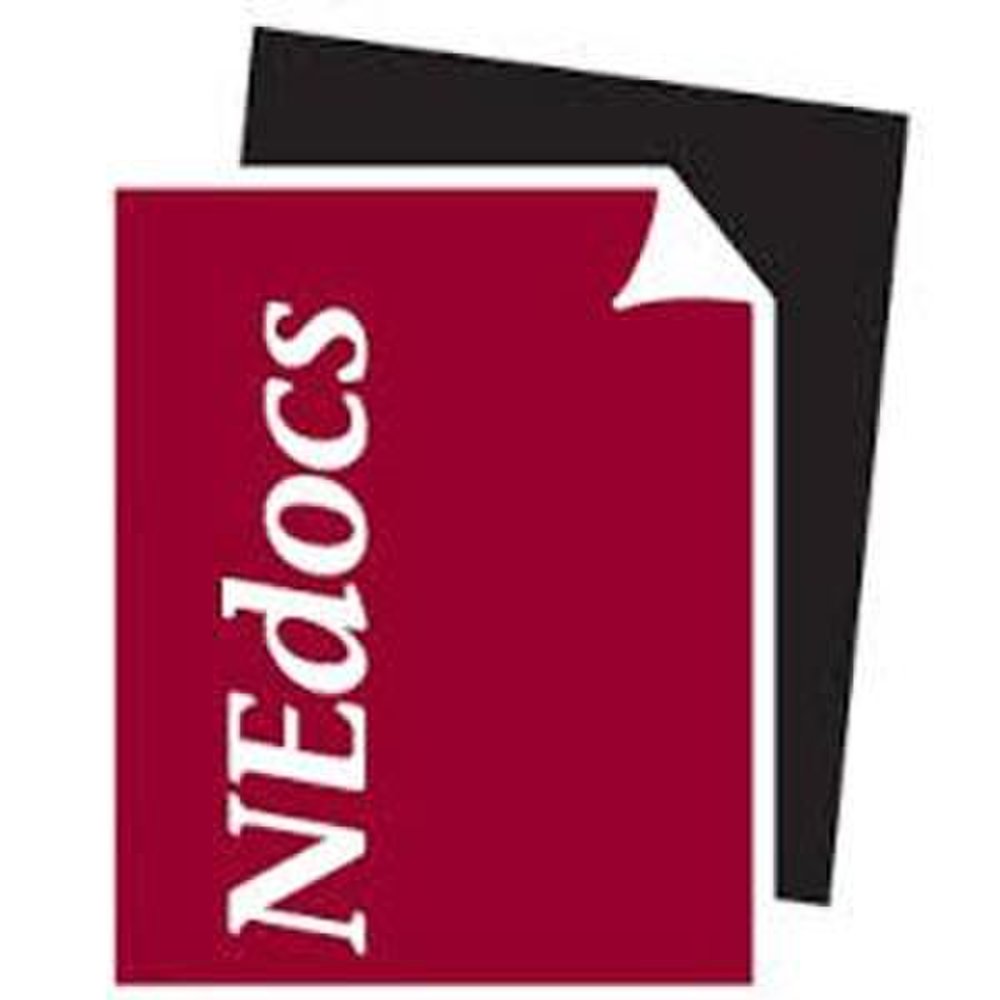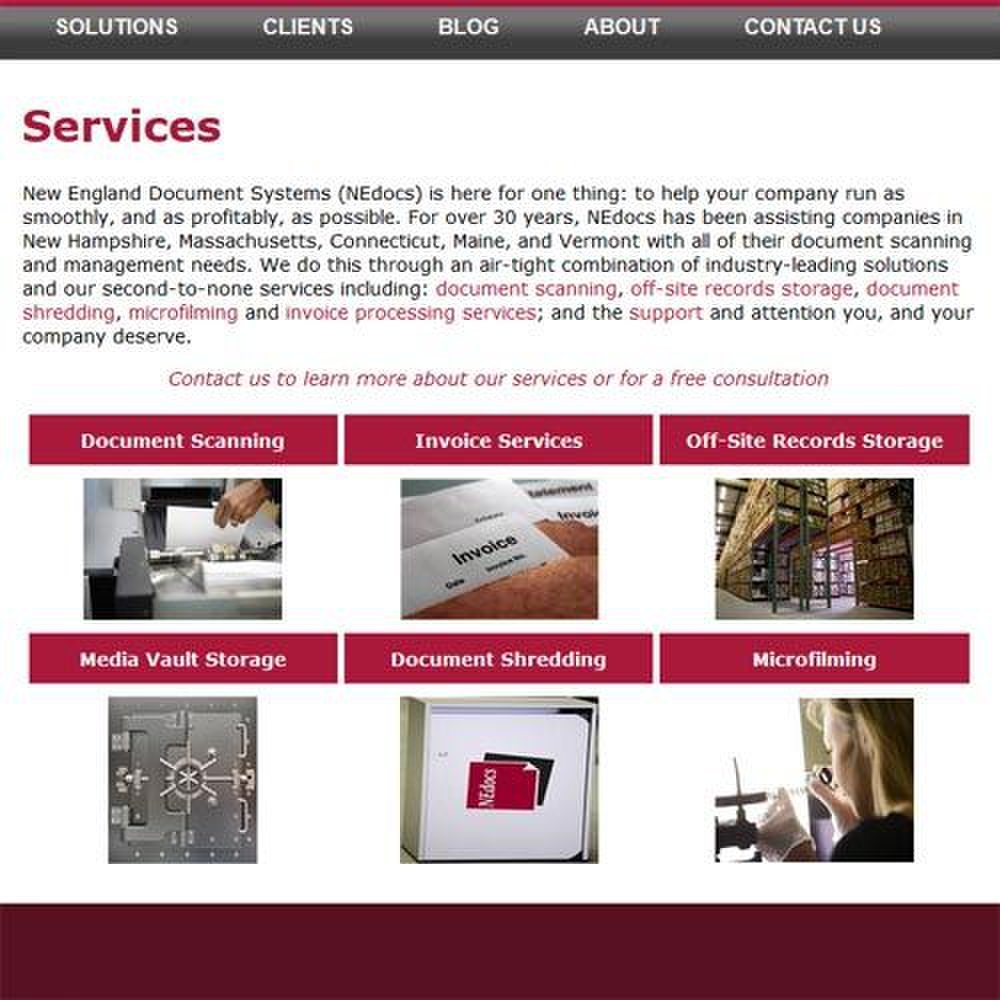 New England Document Systems image: This company offers document scanning and many other services.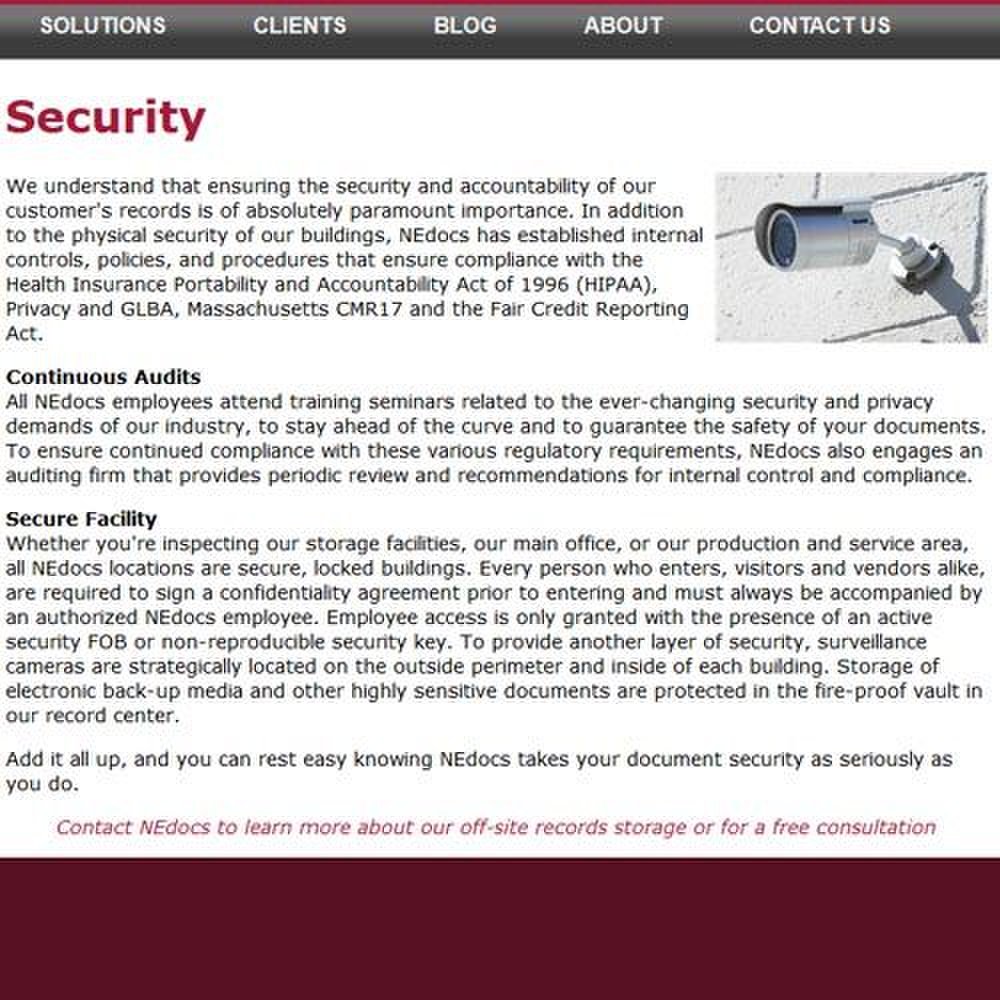 New England Document Systems image: Secure, locked and monitored buildings house the company's facilities.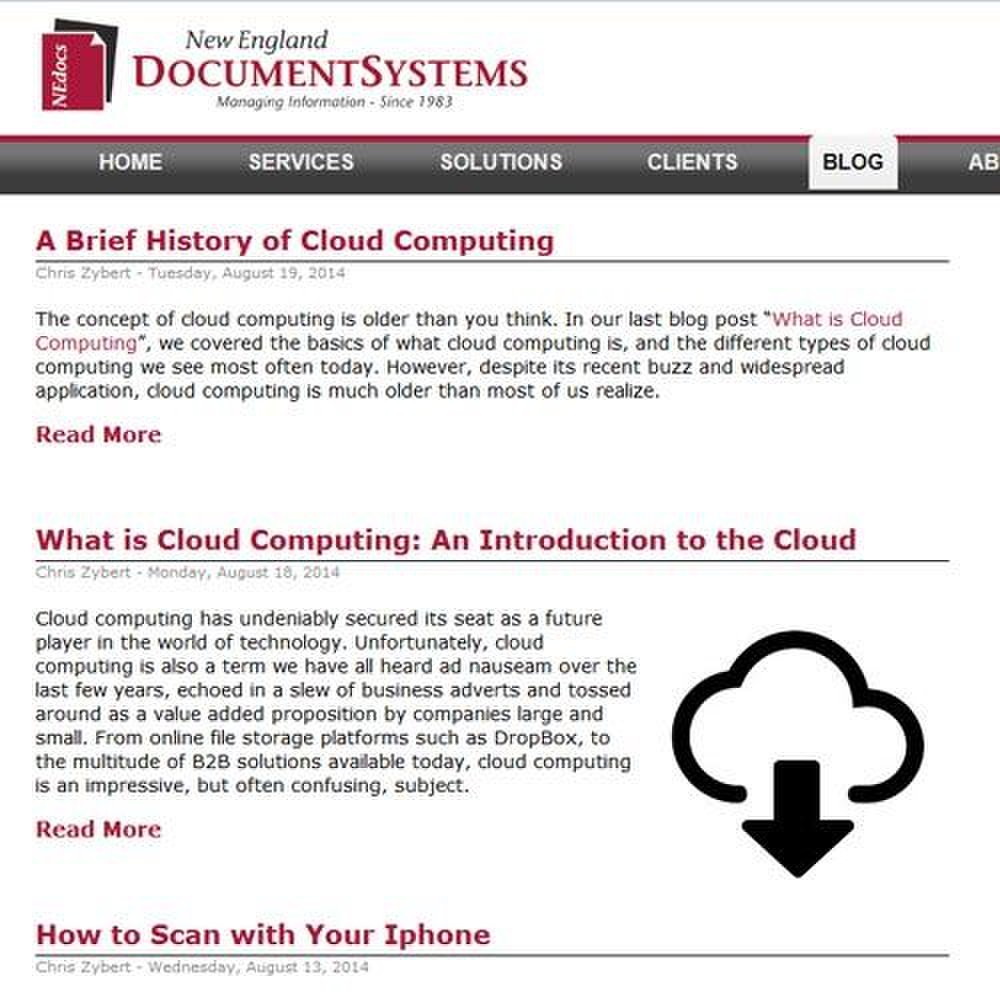 New England Document Systems image: Part of the support offering is a blog with frequently posted articles.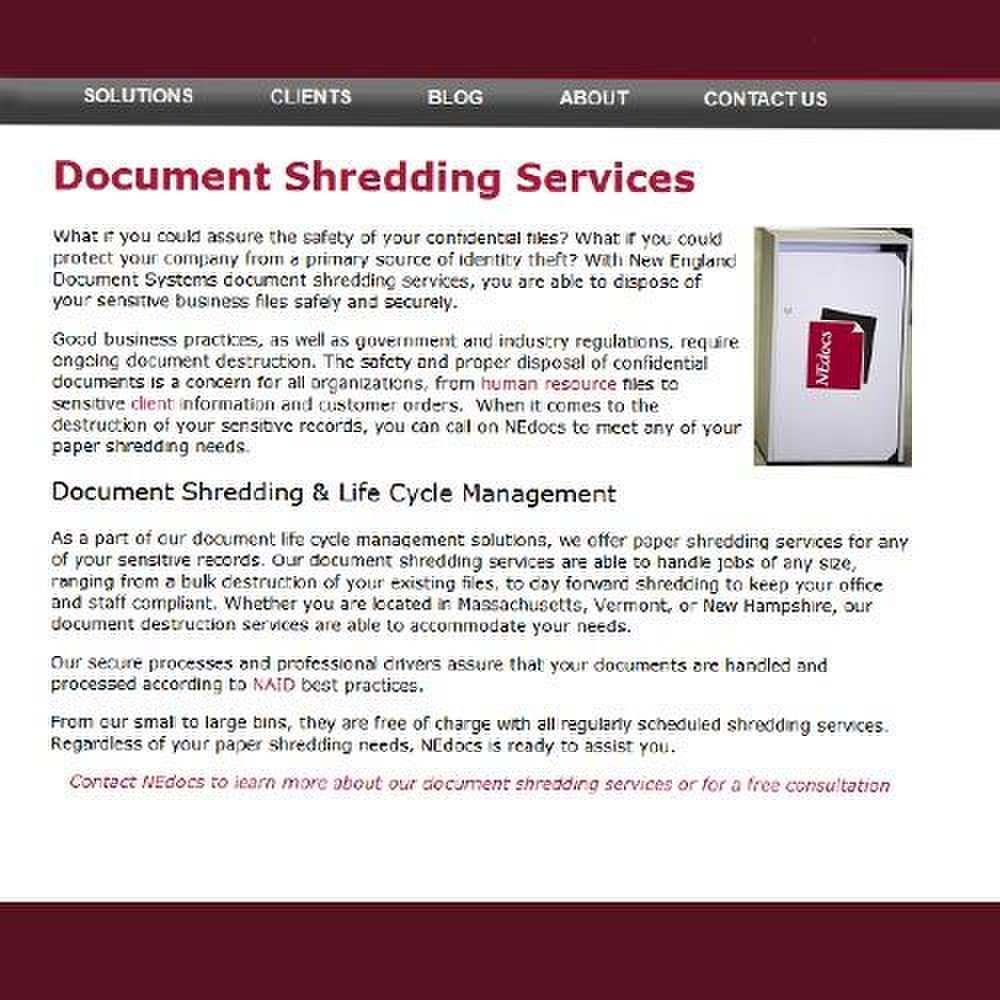 New England Document Systems image: The company's shredding services are included in your basic scanning bid.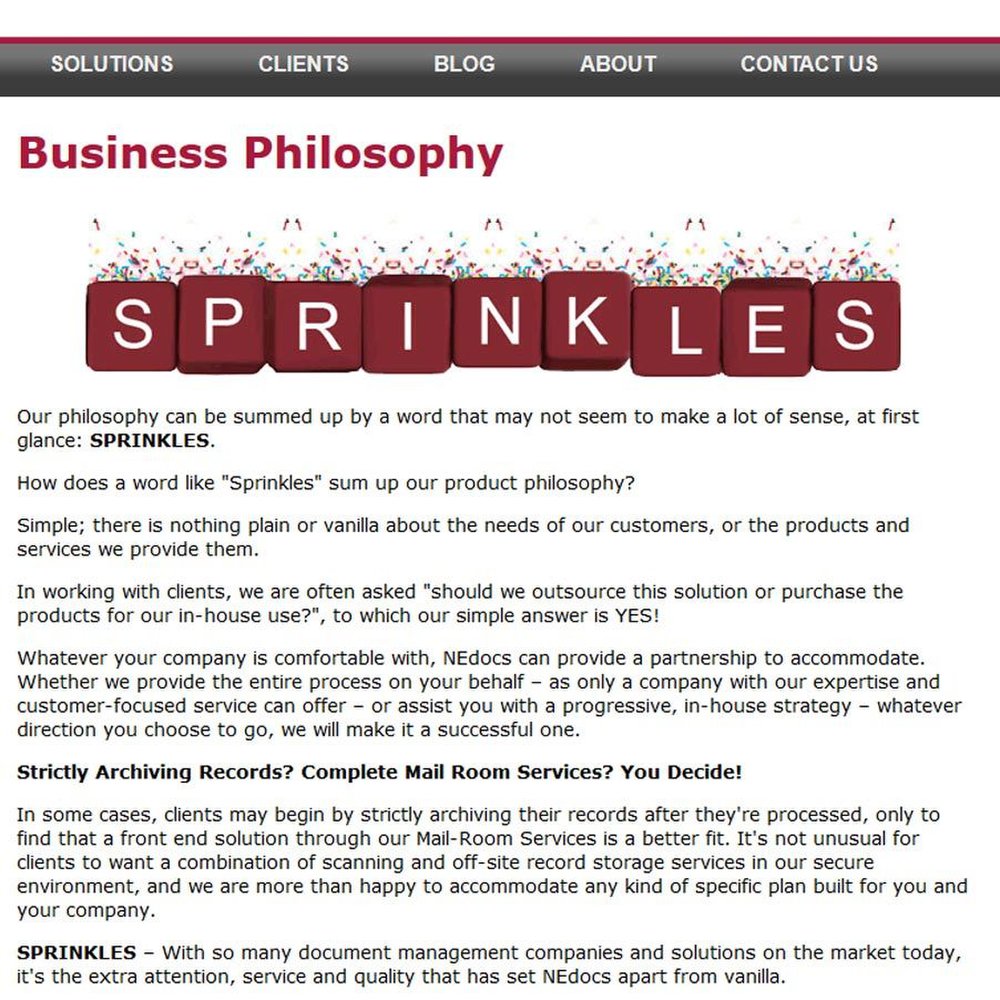 New England Document Systems image: A custom strategy for each customer is part of the company's business philosophy.
New England Document Systems, or NEdocs, is a regional, national and international company that offers a wide array of professional document scanning services. Many of these services are available nationwide, although a few, like secure truck transit, are confined to the New England area.
NEdocs can scan your text or handwritten documents and make them searchable. The company can scan your documents at your work site if regulations do not allow you to let them leave your facility. NEdocs also provides a long list of other document imaging features, such as secure truck transit and shipping, thorough document preparation, indexing for easy document retrieval, electronic document management system integration, cloud data storage and backup, ongoing digital mail room scanning, customer site scanning, long-term storage of paper files and secure document destruction.

NEdocs takes the security of your documents seriously. The company has used HIPAA and other regulatory laws to guide it in implementing strong security practices and policies. All employees are background checked and receive extensive and ongoing training on the ever-changing laws regarding the protection of your information. All NEdocs buildings are monitored 24 hours a day, inside and out, by camera surveillance. Employee and visitor access is tightly controlled, and each person who enters a NEdocs facility is subject to a legally binding non-disclosure process.
New England Document Systems has a website that provides loads of information. It has an informative and up-to-date blog, a FAQs page for frequently asked questions, a section devoted to case studies and testimonials, and a page about the company's business philosophy. For existing customers, phone and email technical support is available during business hours and is answered in a prompt and knowledgeable fashion. Live chat would be a good addition to this support offering, but it is not currently available.
The long list of industries served by NEdocs includes small to mid-size firms, along with a few Fortune 500 companies, in 14 of the 15 representative industries we chose to use to assess each service providers' breadth of expertise. While some of the company's services are focused in New England and surrounding states, others are global in reach. If you are located outside of the New England area, check with a company representative to see if the services you need are offered in your locality.
NEdocs provides an especially secure and full-featured document scanning process. It has expert knowledge on best practices in most industry segments and offers various paths for companies who want to take document scanning services beyond archival scanning and go paperless.

Ready to choose your The Best Document Scanning Services of 2019? Here's a breakdown of our complete coverage:

Business.com Editorial Staff
The purpose of our community is to connect small business owners with experienced industry experts who can address their questions, offer direction, and share best practices. We are always looking for fresh perspectives to join our contributor program. If you're an expert working in your field – whether as an employee, entrepreneur, or consultant – we'd love to help you share your voice with our readers and the Business.com community. We work hard to only publish high-quality and relevant content to our small business audience. To help us ensure you are the right fit, we ask that you take the time to complete a short application: https://www.business.com/contributor/apply/ We can't wait to hear what you have to say!