New Holland Review
The New Holland Compact Excavator E18B is a minimal tail swing mini excavator available in canopy and cab models. It weighs 3,924 pounds with a fully enclosed cab and stands 92.5 inches tall and is 142.5 inches long.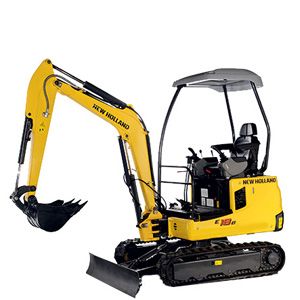 Powering the New Holland E18B is a three-cylinder, four-stroke, direct injection, diesel Mitsubishi engine that puts out 15 horsepower and has a rated top speed of 2,100 rpm. There is also a 40 Ah battery onboard as well as a 15-liter hydraulic system that packs three pumps. The excavator's swing uses an axial piston hydraulic motor that delivers a swing speed of 9 rpm and swings the boom up to 80 degrees to the left and 45 degrees to the right.
In its standard configuration, the New Holland E18B uses rubber tracks. Rubber tracks are gentler on pavements and landscaped job sites than steel tracks. This mini excavator has a maximum ground pressure of 4.5 pounds per square inch, a relatively light footprint for a compact excavator. However, rubber tracks are not as durable as steel tracks on rough terrains. When rolling on rubber tracks, the E18B hits a top speed of 2.2 mph. There is a lever-mounted selector for limiting its travel speed to 1.2 mph.
The New Holland E18B is definitely not the fastest small excavator available, but it is plenty nimble for narrow spaces. Although it does not have a zero tail swing, the overhanging section of its operator housing is small enough to make the mini excavator maneuverable in all but the tightest spaces. To improve stability and flexibility, this excavator also has a variable width undercarriage. When fully extended, the distance between its tracks is 52.4 inches. However, you can quickly sacrifice stability for compactness to squeeze the New Holland E18B through narrow openings by retracting its undercarriage to 39 inches.
Inside the operator area, there are pilot joystick controls, hand and foot-operated travel controls and an instrument panel. While the model with a cab has a heater and is ventilated via windows, the canopy version lacks all in-cabin amenities. Both models of the New Holland mini excavator do not have in-cabin air conditioning, a coat rack, a work light, a radio or an adjustable seat belt. Furthermore, rather than an instrument panel, the E18B has external hydraulic and fuel-sight gauges.
Unlike most mini excavators in its class, the New Holland E18B packs a Mitsubishi engine in place of a Yanmar. However, it is a decent engine matched to a three-pump hydraulic system. On the other hand, the E18B is not a fast or especially nimble compact excavator; it has rubber tracks and its operator area has very few amenities to make it comfortable for prolonged stays.
Image Credit: Getty Images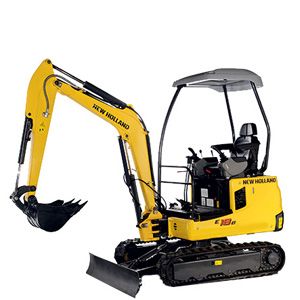 business.com editorial staff
business.com Member
The purpose of our community is to connect small business owners with experienced industry experts who can address their questions, offer direction, and share best practices.