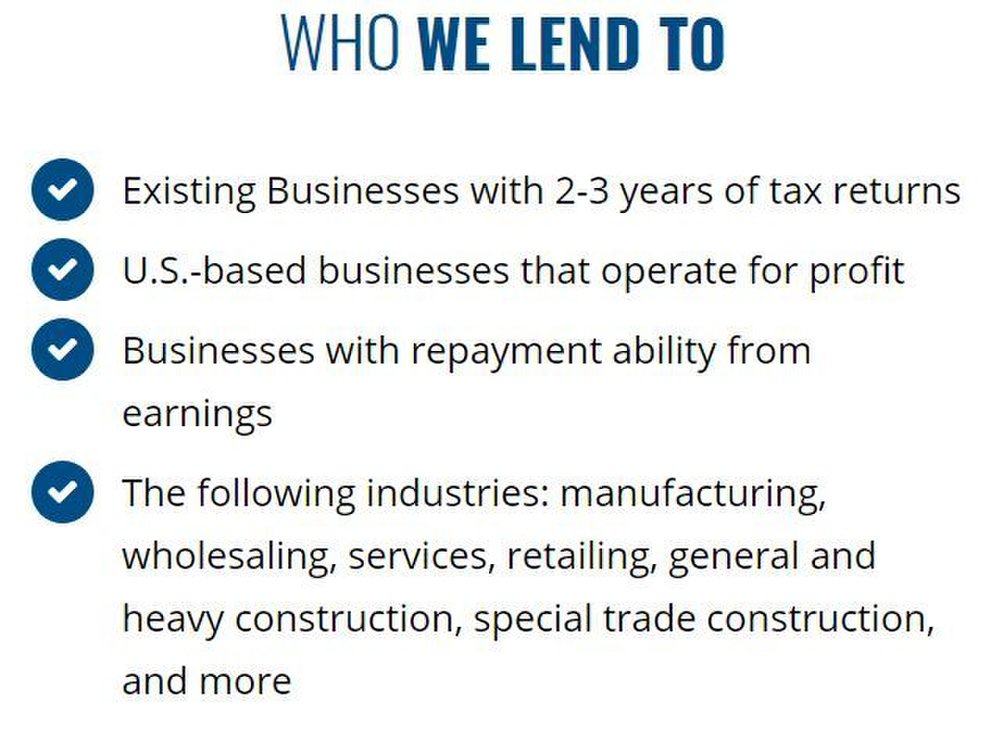 Newtek's website has a short list of requirements to qualify for a small business loan.

You can view a list of approved uses for loan proceeds on Newtek's website.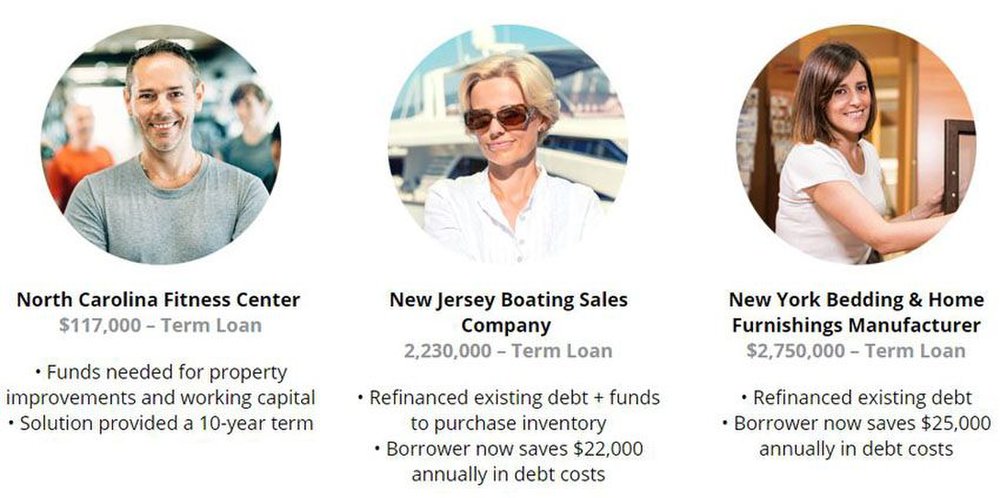 The website features examples of small businesses funded by Newtek loans.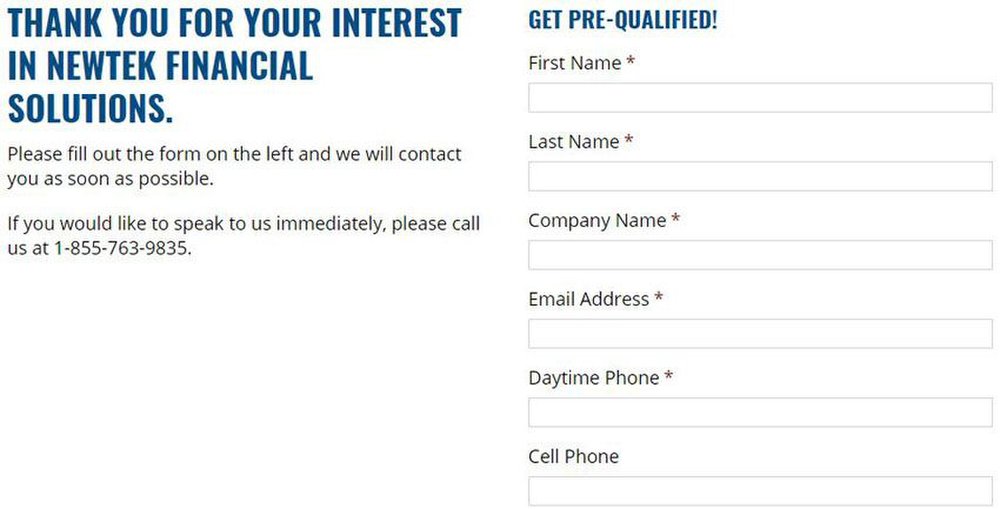 You can fill out a basic form on the company's website to have a loan officer contact you about prequalifying for business funding from Newtek.
Newtek provides various small business loans, including term loans, lines of credit and commercial real estate loans. It's easy to get a quick idea of the type of loans and terms, as a lot of the info is listed directly on the company's website. This transparency is ideal for small business owners who don't have time to call multiple alternative lenders and consider the different loan opportunities. However, there isn't a lot of concrete information on the company's requirements to get a loan, and we couldn't find a lot of information about Newtek as a company online. It doesn't have Better Business Bureau accreditation, nor does it have reviews on other customer review sites.
To view all our recommendations for small business financing, visit our best picks page.

Newtek provides a loan specialist who works with you through each step of the loan process to ensure you get the right type of funding. Business owners get funded fast with Newtek – sometimes in as little as 24 hours. Newtek's loans are ideal for a variety of use cases, including purchasing inventory or equipment. The company can lend to all the major industries, and it has some relaxed qualifications, judging repayment ability based on your earnings rather than your credit score.
Pricing and Terms
Newtek breaks its loans down into three types: term loans, revolving lines of credit and commercial real estate. This is consistent with a lot of the other companies we reviewed in this category. The only type it lacks is equipment financing, but term loans can serve the same function.
Term Loans
Businesses can take out term loans ranging from $10,000 to $10 million. These include terms ranging from seven to 25 years. These are much longer terms than we saw with other lenders, as some companies provide financing terms as short as six months. There's little to no prepayment penalty should you decide to pay your loan off upfront.
Revolving Lines of Credit
A revolving line of credit is offered to a business owner for an indefinite amount of time. It can be drawn on, paid off and drawn on again. Businesses can take out lines up to $1.5 million, but they must be secured with some form of collateral. Newtek secures its lines of credit with accounts receivable, inventory or healthcare receivables. If you're interested in a line of credit, Newtek specialists can help you determine the best form of collateral for your business. What you put up as collateral could affect how large a line you can take out. Several lenders provide lines of credit on accounts receivable, which can be viewed as a type of invoice financing. Newtek can provide advances up to 80 percent on your outstanding invoices.
Commercial Real Estate
This type of loan is for small business owners looking to finance property. Newtek provides loans ranging from $125,000 to $10 million for purchasing or refinancing real estate. Terms reach up to 25 years and up to 90 percent loan-to-value.
Individual rates vary based on your business's financial situation, as do the fees. But the rest of Newtek's loan products are on par with other alternative lenders. It's a good option for small businesses looking for quick, reliable financing.
Features
Because Newtek is an alternative lender, businesses can prequalify and apply for a loan online. You can also get a quick quote from a loan specialist to decide if you want to continue with the loan process. While this isn't necessarily unique to alternative lenders, it's a nice perk for small business owners looking to get a quick idea of what a loan with Newtek would look like.
Loan Process
Businesses can apply for a loan over the phone, by email or online. This flexibility is ideal for business owners looking to apply for financing without going to a bank. The first step is filling out your contact information on the site or getting in touch with a Newtek loan agent. You'll then get prequalified and have a better idea of what type of funding and rate you'll be able to receive. After completing this process, you'll have to fill out an application.
Terms
Terms depend on your business's financial situation, but Newtek provides longer-term loans than many of its competitors. Term loans range from seven to 25 years, and the commercial real estate loans can reach 25 years.
Qualifications
This is an area where Newtek doesn't provide a lot of concrete information. For term loans, it says it works with businesses that can provide two to three years of tax returns. This gives Newtek an idea of how long you've been established and your basic revenue information. The company only pairs with U.S.-based businesses that have "repayment ability from earnings." Other alternative lenders usually state monthly or yearly revenue benchmarks for funding on their websites. To find out if you qualify for Newtek, you'll have to talk directly with an agent or even submit an individual loan application.

Collateral
Depending on what kind of loan you sign up for, you'll likely have to put up some type of collateral. For lines of credit, you have to secure the loan with either accounts receivable or inventory. Newtek isn't as clear for term loans, but it likely requires some form of collateral. Alternative lenders usually advertise unsecure loan offerings to attract customers.
Time Until Deposit
The approval process can take as little as 48 hours, and you can receive the money shortly after that.
Special Documentation
Newtek says you have to provide two to three years in tax returns to get a term loan. You may need to provide additional documentation, depending on your business's financial history. Newtek says it prioritizes earnings over credit in its review process, but the company may still conduct a credit check. If you're worried about this, it's important to ask your loan specialist upfront. Besides the tax returns, it's good to have basic financial documents like monthly bank statements at the ready.
When to Use This Type of Loan
Newtek loans can be used for a variety of purposes. Whether you're taking out a term loan to purchase new inventory or getting a line of credit to manage cash flow, Newtek can help you get the funding that's right for your business. Other uses include expanding your business, acquiring another business, increasing working capital, opening new locations, investing in advertising campaigns, renovating your business or refinancing existing debt.
Reputation and Customer Reviews
We couldn't find a lot of customer reviews for Newtek online. The Better Business Bureau has a page for the company, but it says it recently settled a dispute with Newtek that left it unaccredited by the organization. Just about every other lender we reviewed had a BBB page with some rank on it (even if it was an F). We couldn't find any reviews on Google or Facebook, and other review websites like Trustpilot and Fundera also lacked customer reviews for it. This makes it hard to research what issues other customers have had and to verify that you'd be working with a reliable service.
Limitations
In addition to the overall lack of reviews, we found that Newtek doesn't provide a lot of short-term lending options. Many companies provide a wide variety of loan terms, but Newtek's shortest term is seven years. This isn't ideal for small business owners looking for access to quick capital that they can get off their books in a year or less.

Ready to choose your The Best Business Loan and Financing Options of 2019? Here's a breakdown of our complete coverage:

Matt D'Angelo
Matt D'Angelo is a Tech Staff Writer based in New York City. After graduating from James Madison University with a degree in Journalism, Matt gained experience as a copy editor and writer for newspapers and various online publications. Matt joined the staff in 2017 and covers technology for Business.com and Business News Daily.