nsProtect Safe Review
By Business.com Editorial Staff
Last Modified: November 5, 2018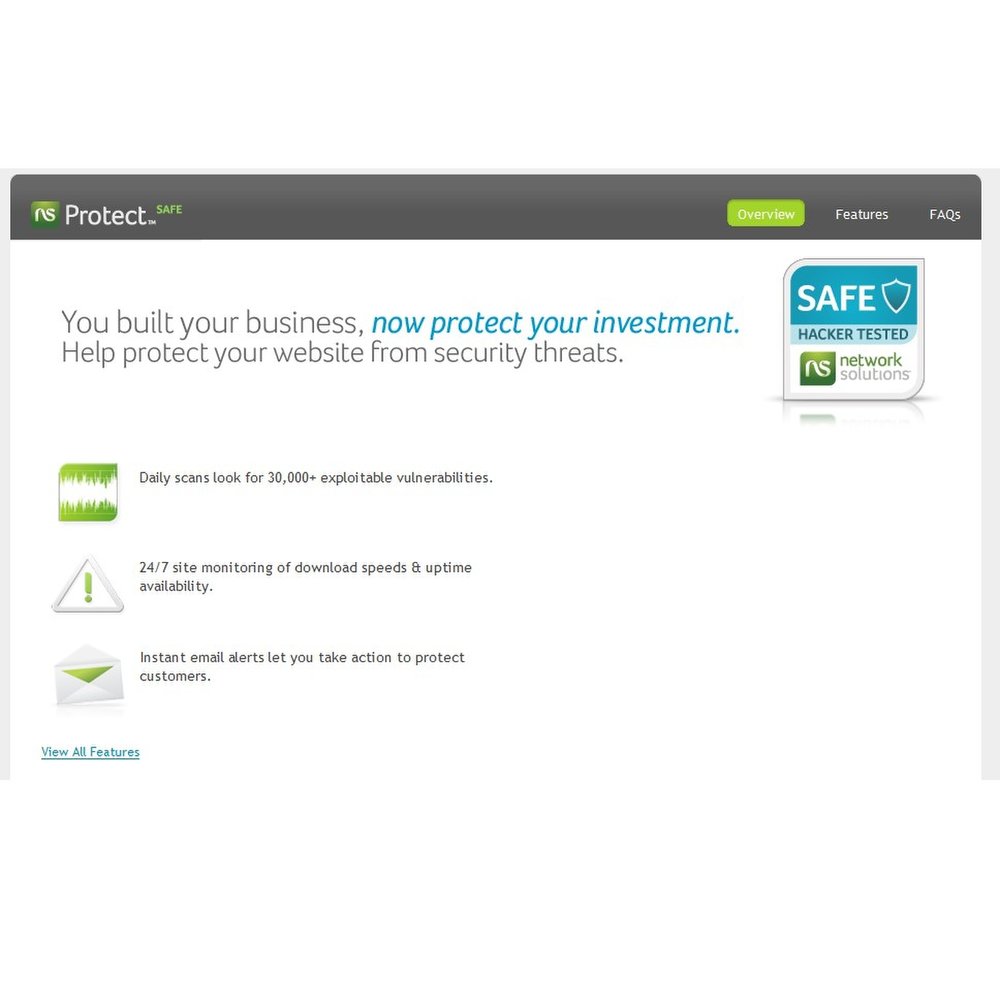 This image shows the website security and performance service nsProtect Safe. Here you can see the overview of what the service does.
This image shows the website security and performance service nsProtect Safe. Here you can see the FAQs regarding the service.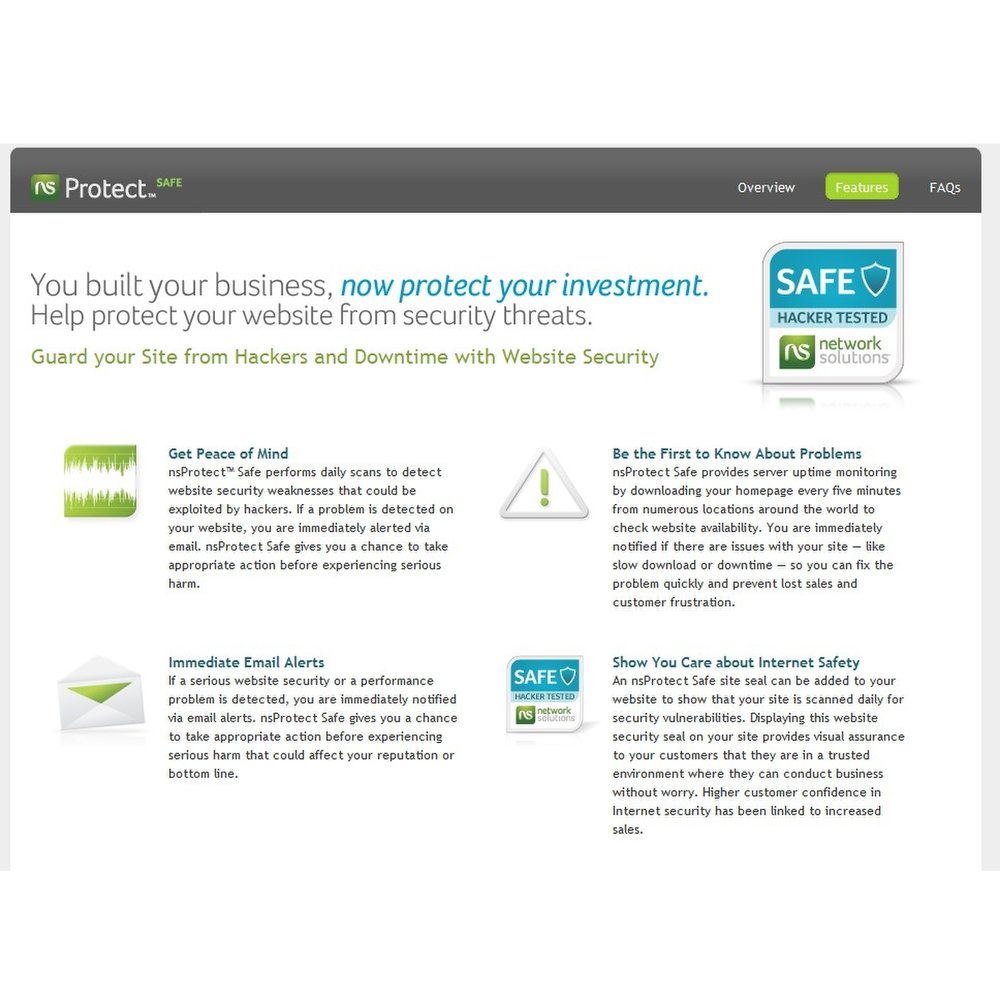 This image shows the website security and performance service nsProtect Safe. Here you can see a breakdown of the security tools.
The website security and performance service nsProtect Safe follows more along the lines of a notification service, rather than actually dealing with any problems. They send you a notification if there is a security issue, and you are left to figure out how to remove it. For some users that will work just fine. Just remember that if there is a security risk on your website, you will have to find another service to help you get rid of it if you can't do it yourself.
Once again this particular website performance service doesn't offer much in the way of tools, but there are monitoring tools. You can keep track of the performance of your website, and once again you get alerts, but nsProtect Safe doesn't provide the necessary tools to increase the performance. We would have liked to at least see a few tools like caching and compression. Knowing your site is running slowly can help you but there is only so much you can do on your own without the help of a security service.

Do you deal with sensitive customer information? Have you thought about the security measures you need to make sure no one else can gain access to this information? With nsProtect Safe you will have a variety of security tools, though not as many as other services. First off, nsProtect Safe runs a daily scan checking to see if you have any weaknesses. If there are any you get an email that lets you know where the weakness is.
While we thought they did a good job of notifying you when there is a problem they don't offer any support in actually resolving the problem. Their main function is to alert you to the problem. We would have liked to have something that actively stops the attacks from happening in the first place. They do give advice on how to fix the problems but once again, you have to provide all of the tools yourself.
As we mentioned earlier, nsProtect Safe does really well on monitoring. This website security and performance service uses email notices to keep you up-to-date on what is happening on your website. They also have vulnerability reports that keep track of the stability of your website and hosting provider. Within these reports you can keep track of the load time, monitor the critical status and analyze your site's performance.
Network Solutions offers a variety of help and support options. They provide an email address as well as a phone number so you can get in touch with someone when you find that you need help. We were also impressed that there is a community that provides information on what is currently happening. Instead of finding out about the most recent virus after your site has been infected, the community can alert you before there is a problem.
If you already have the tools to deal with security issues and increase performance, then this website security and performance service may offer what you need in the way of notifications. Knowing there is a problem is the first part of securing your site, and nsProtect Safe will keep you up-to-date on all of your problems. If you need a service that can actually act as a protection you will want to look elsewhere.


Business.com Editorial Staff
The purpose of our community is to connect small business owners with experienced industry experts who can address their questions, offer direction, and share best practices. We are always looking for fresh perspectives to join our contributor program. If you're an expert working in your field – whether as an employee, entrepreneur, or consultant – we'd love to help you share your voice with our readers and the Business.com community. We work hard to only publish high-quality and relevant content to our small business audience. To help us ensure you are the right fit, we ask that you take the time to complete a short application: https://www.business.com/contributor/apply/ We can't wait to hear what you have to say!