OneDrive for Business - Cloud Storage and Online Backup Services Review
By Business.com Editorial Staff
Last Modified: May 20, 2019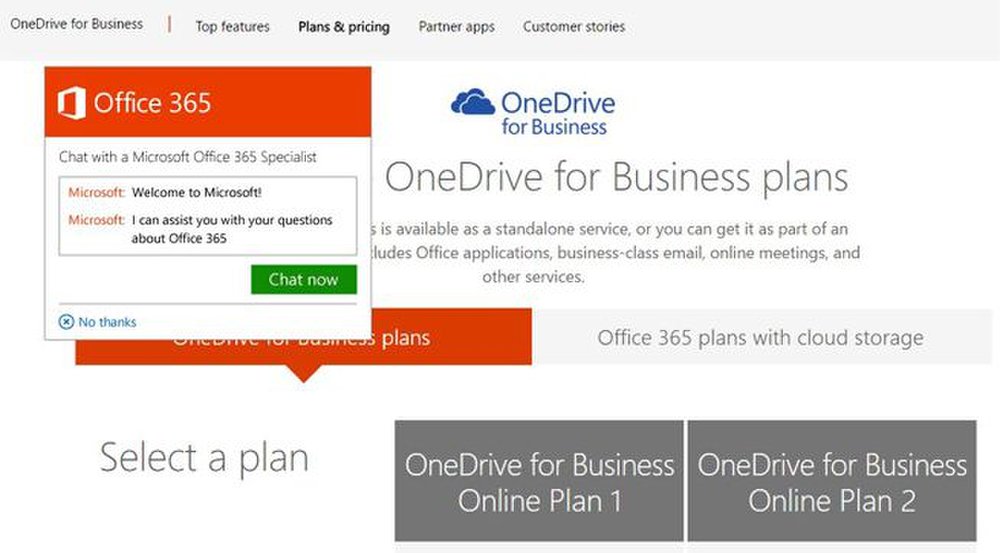 OneDrive for Business image: There is live chat support to answer your questions.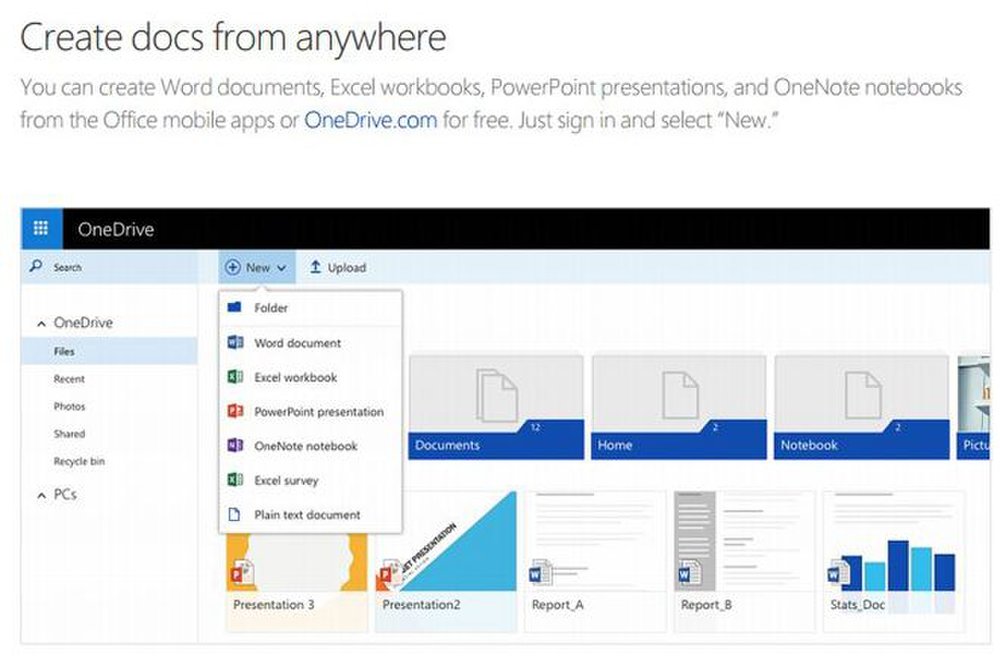 OneDrive for Business image: With OneDrive, you can create documents on the cloud as well as back up documents from your computer.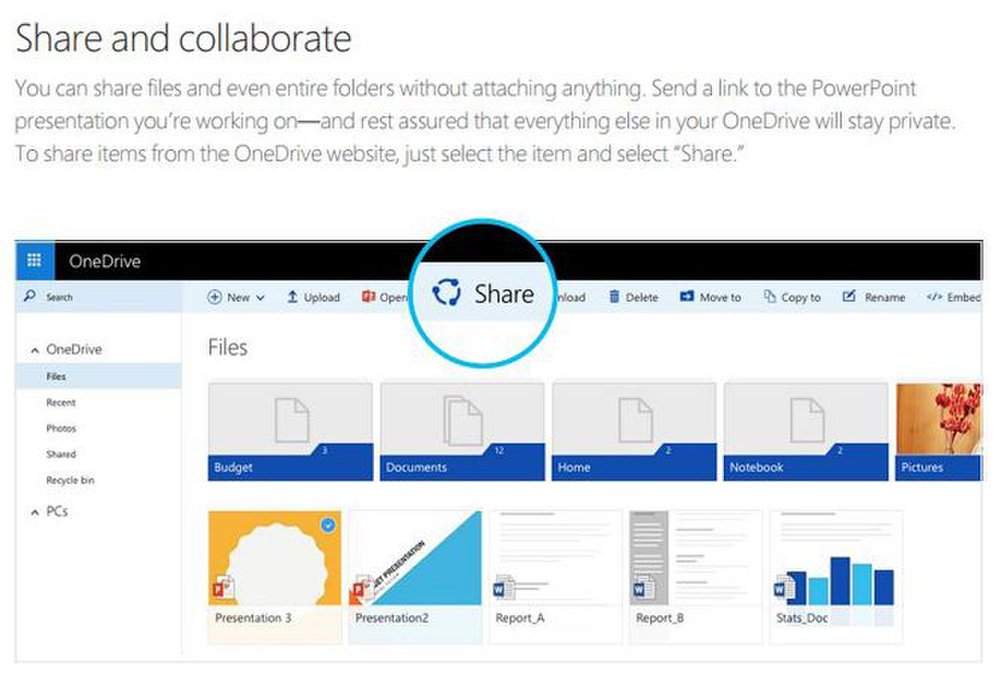 OneDrive for Business image: You can share documents as well.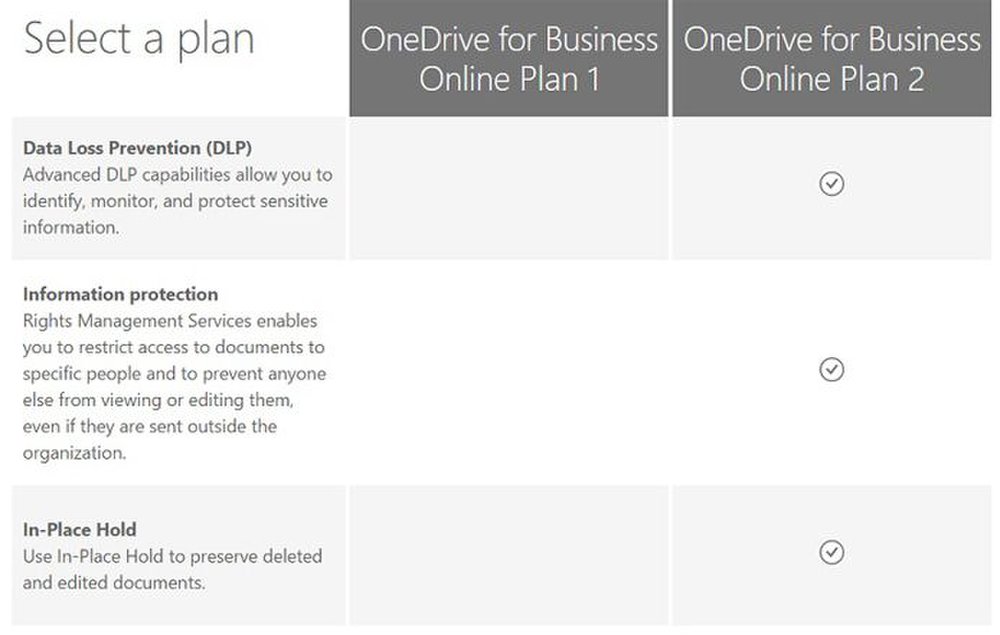 OneDrive for Business image: There are a few differences between the two business plans.
If your business is already using Microsoft Office suite, then Microsoft OneDrive can provide business online backup services in real time as you are using the programs. You can purchase one of two plans for up to 5TB of cloud storage per user.
Unlike most online business backup solutions in our buying guide, OneDrive works only with Microsoft products. If you have other programs or information you need to back up, it's not the best choice. However, if you want a backup solution that includes sharing, editing-on-the cloud and hot syncing, OneDrive fits the bill for an economical price.

You can store files up to 10GB in size, and sync over all your devices, including PCs, Macs, tablets or smartphones. In addition, you can work on documents on the cloud or offline on your own computer. For those files on your computer, you can choose to back them up or not, saving your space for the really important data.
OneDrive's collaboration features allow you to share files with coworkers or collaborate on projects. The editing features are not as complete through OneDrive, but if needed, you can download the file, edit and upload to share.
There are multiple security features, particularly with the higher plan. Both plans provide a 99.9 percent uptime guarantee, 24/7 IT-level web and phone support. OneDrive for Business meets global and industry-specific compliance standards like ISO 27001, HIPAA, and more, making it a good choice for a multitude of industries. It uses TLS 1.2 encryption, which is a step above the SSL standard.
You can encrypt emails and set up a data loss protection policy (DLP) in the security and compliance center, which lets you monitor and protect sensitive information. DLP policies can designate where to protect content, conditions for rule enforcement (such as checking for social security numbers) and actions to take, such as blocking access to the document.
There's a learning center for users and online resources for IT admin and developers. The support section contains how-to articles with illustrations.
OneDrive is not a comprehensive online backup system, but for small businesses wanting a secure place to store standard Microsoft Office files (such as Excel sheets or Word documents), it provides storage, collaboration and syncing services compliant with multiple industry standards.

Ready to choose your The Best Cloud Storage and Online Backup Services of 2019? Here's a breakdown of our complete coverage:

Business.com Editorial Staff
The purpose of our community is to connect small business owners with experienced industry experts who can address their questions, offer direction, and share best practices. We are always looking for fresh perspectives to join our contributor program. If you're an expert working in your field – whether as an employee, entrepreneur, or consultant – we'd love to help you share your voice with our readers and the Business.com community. We work hard to only publish high-quality and relevant content to our small business audience. To help us ensure you are the right fit, we ask that you take the time to complete a short application: https://www.business.com/contributor/apply/ We can't wait to hear what you have to say!