OneUp Review
By Lori Fairbanks
Last Modified: October 27, 2018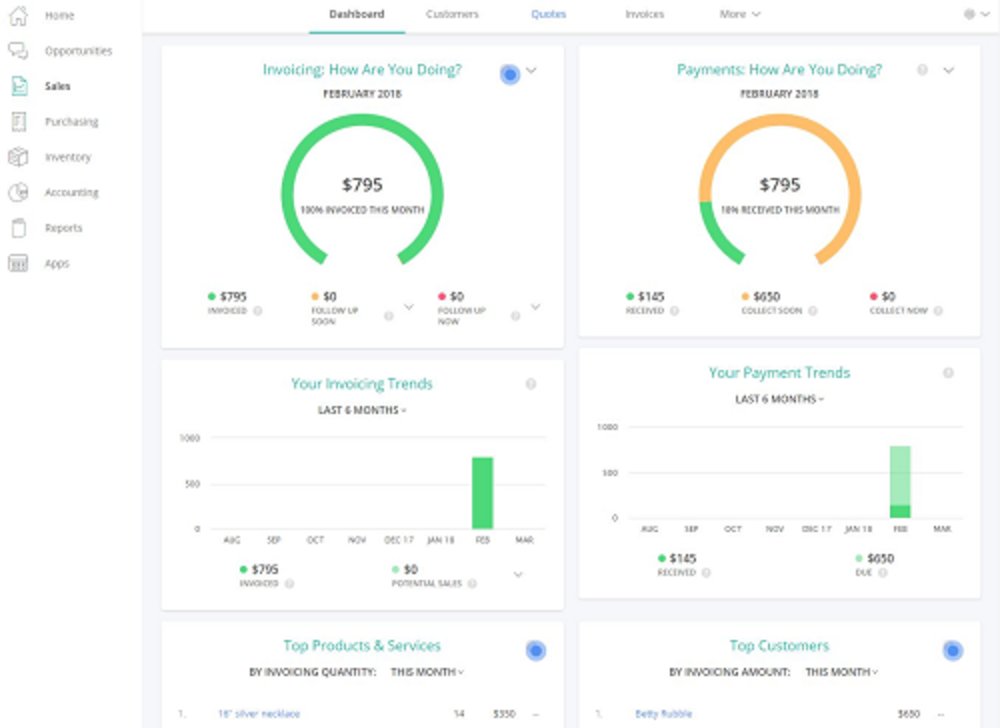 The Sales dashboard shows you an overview of your receivables. It also lists your top customers and products or services.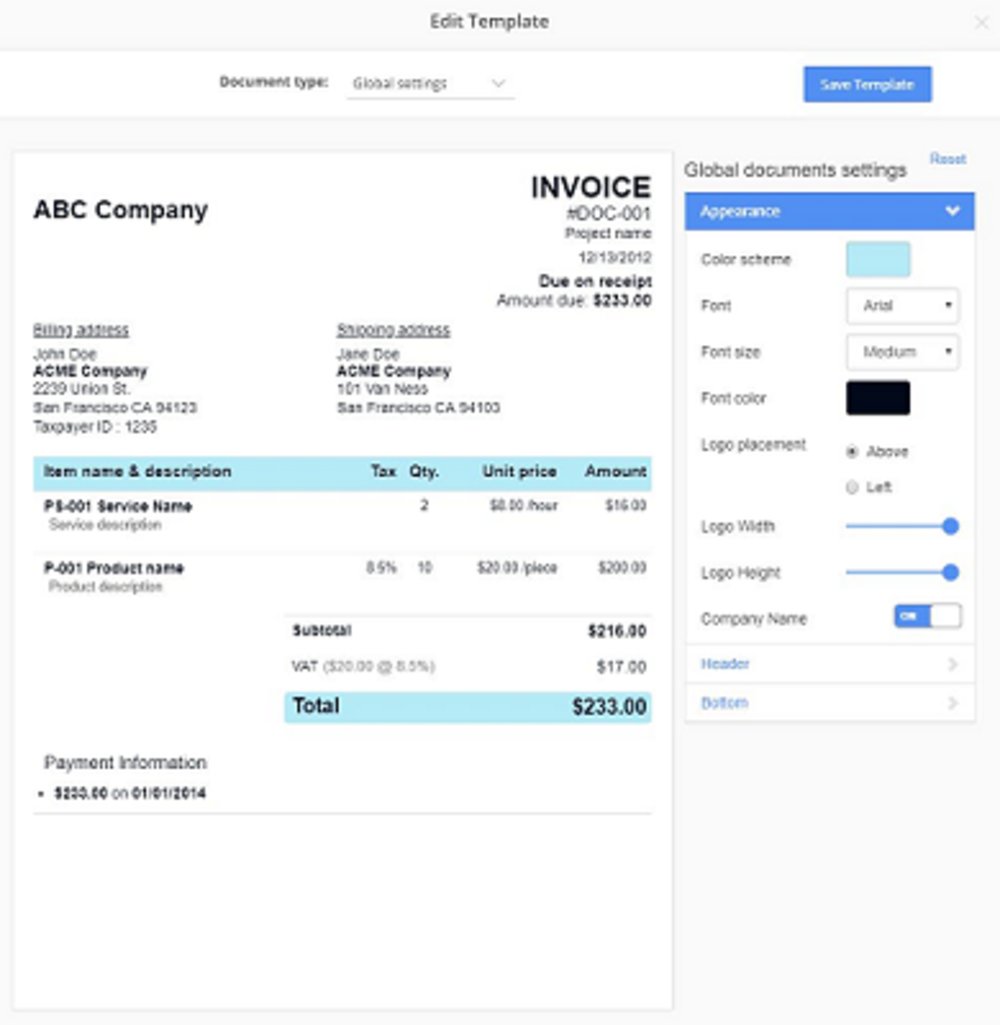 You can adjust the look of your documents by choosing colors, font and size, and logo size and placement. You can also toggle header fields and add footer text.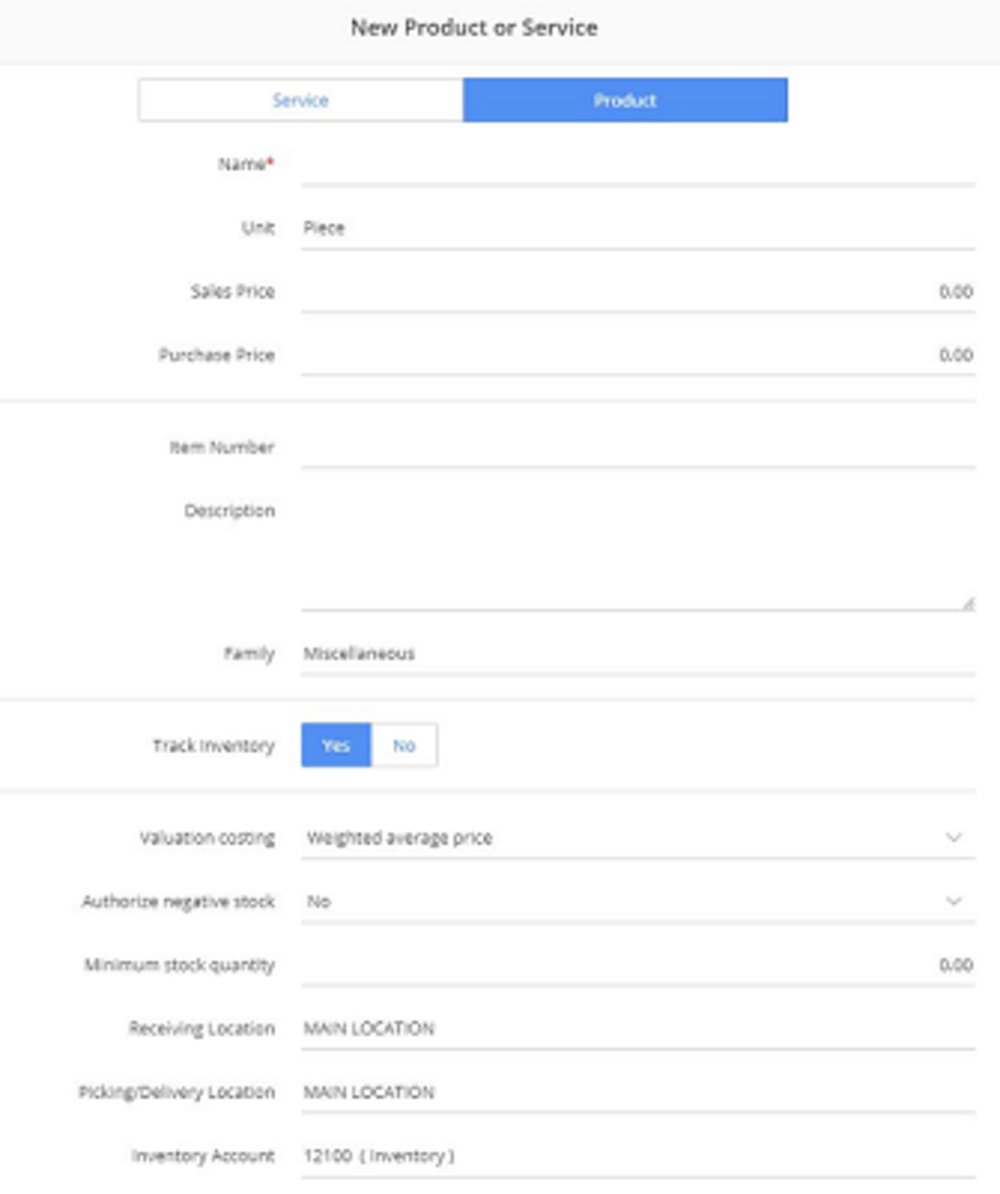 You can add products and services to this accounting software. When adding products, you can turn on tracking and set a minimum stock quantity, which triggers automatic reordering.

You can set up this accounting system to automatically reorder inventory items.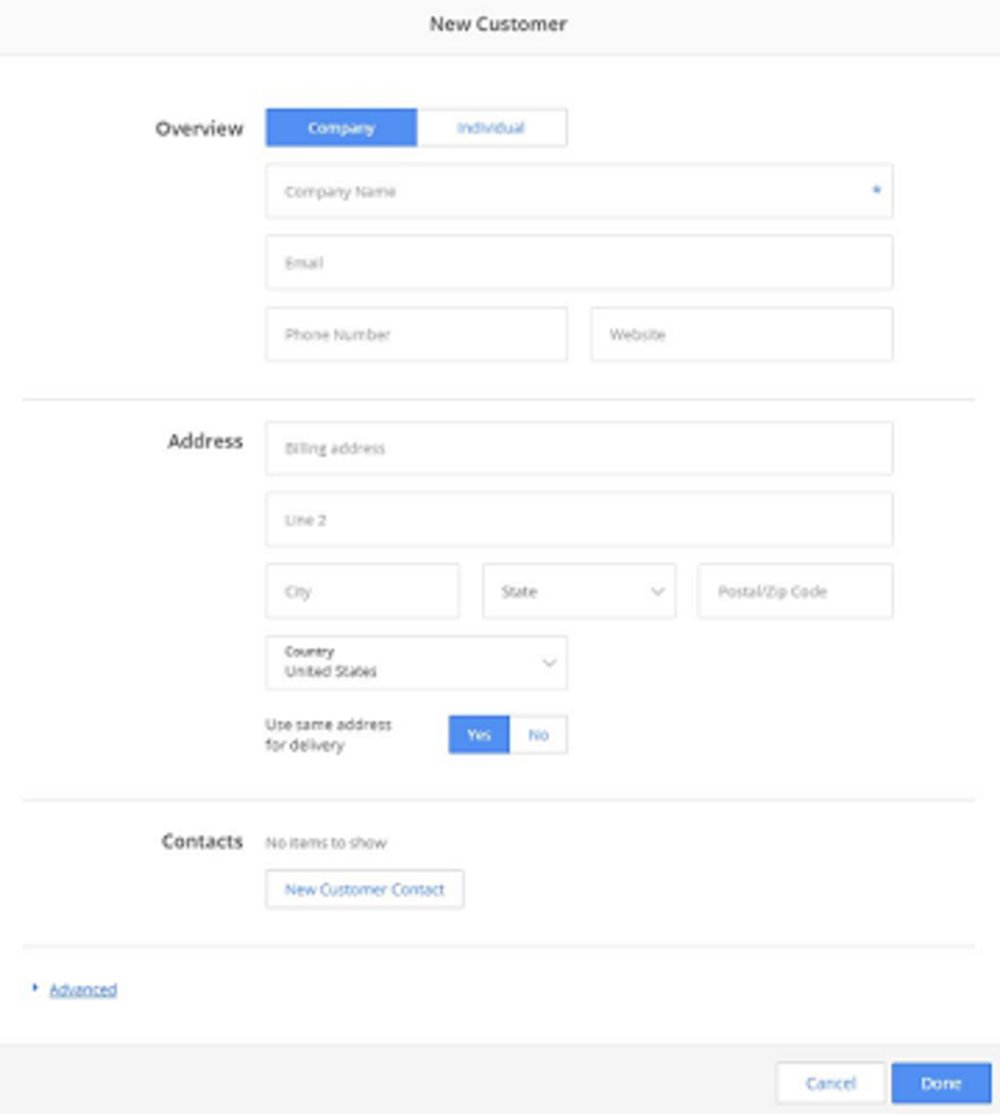 When adding customers to the system, you can indicate whether they're a company or individual. Using the advanced option, you can set payment terms and the price family and add notes.
OneUp is online accounting software for small businesses that's especially suited for businesses with sales teams and inventory. With it, you can create and send quotes or sales orders, convert them to invoices, track bills, and manage inventory in real time. It uses AI technology to speed up bank reconciliation and includes CRM tools so your sales team can use the software to follow up on leads.

Pricing
OneUp has several pricing tiers based on the number of users, and all plans include all features, which makes it easy to choose the right plan for your business.
The Self plan costs $9 per month, supports one user and doesn't include customer support.
The Pro plan costs $19 per month and supports two users.
The Plus plan costs $29 per month and supports three users.
The Team plan costs $69 per month and supports seven users.
The Unlimited plan costs $160 per month and, as the name suggests, supports an unlimited number of users.
Ease of Use
When you set up your account with OneUp, it asks you a series of questions about your business to determine which modules to include on your dashboard, such as invoicing, expenses, projects, purchasing and product tracking. It prompts you to upload your logo, set your sales tax and invite your accountant to the program. The software is easy to navigate, with a menu bar and home dashboard that direct you to various tasks. You can also navigate the program using the search bar at the top of the home screen.
Timesaving Features
OneUp provides multiple automations that reduce the time it takes to complete many accounting tasks:
With one click, you can convert quotes to sales orders or invoices.
When entering inventory items on sales orders and invoices, you can see the available quantity for each item. You can select multiple items to add to your invoice at once and then adjust quantities as needed. If you enter inventory above the available quantity, the system alerts you, though you can choose to override the warning if needed.
It tracks inventory in real time and has an automatic inventory ordering feature that identifies which products need to be reordered and suggests quantities. After you approve, deny or adjust the suggestions, it creates a purchase order with one click.
OneUp makes reconciling your accounts easier using its smart bank-matching algorithm that suggests matches between your bank transactions and those you've entered into the software. In Atherton Research's testing of accounting automation, it received an impressive accuracy score of 95 percent.
Other Features
It connects to your business bank and credit card accounts as well as the Square Register POS system.
You can manage vendors, create purchase orders, and convert them to receiving notes and bills.
It can generate reports for profit and loss, aged receivables and payables, customer statements, balance sheet, trial balance, and general ledger.
One of the unique features of this software is an Opportunities dashboard that your sales team can use to follow up with leads, record call notes, track deal progress and create quotes. From the Sales dashboard, you can see graphs of your invoiced sales and received payments, and lists of your top customers and products or services.
A full-featured mobile app is available for Android users. It allows you to send invoices, reorder inventory and reconcile transactions on the go. Although there isn't an iOS version, you can fully access the software from any computer or mobile device using a web browser.
It tracks your fixed assets.
Additional Considerations
Invoice customization is more limited than with most accounting software, as there aren't multiple templates to choose from. Instead, you toggle which fields you want to include and adjust the look by choosing the font, font size and colors. You can choose between two logo placement options and customize footer text. You can edit individual documents or set your preferences as a global setting that applies to all documents.
The company's website has a thorough knowledgebase that includes getting-started guides and FAQs. It also has a blog with articles written for small business owners.
For customer support, you can contact the company via live chat or email.
Drawbacks
You can't set up invoices to recur automatically, but as a workaround, you can duplicate and edit existing invoices. You also can't set up the system to automatically send payment reminders to customers, but you can set it up to alert you or your team when a customer's bill is past due so you can reach out to that customer directly.
You can record time spent completing tasks for customer projects and bill the time on customer invoices, but the software doesn't include a stopwatch or time-tracking feature, so you have to track time spent on tasks manually or use a separate application. You can track expenses but can't bill them; you have to invoice them manually.
It doesn't print checks.
It doesn't have an iOS version of its app.
Its integrations are limited to Google Apps, the Square Register POS and PayStand for credit card processing. There's no payroll integration.
It has fewer reporting options than many of its competitors.
It doesn't offer phone support, and one-on-one support isn't available for the Self plan.
OneUp is a great choice for small businesses with sales teams and inventory management needs. You can use it for invoicing, purchase orders, inventory tracking and reports. It connects to your bank account and speeds up reconciliation with an auto-matching feature. However, it lacks recurring invoices, automatic payment reminders and payroll integration.
Editor's Note: Looking for accounting software for your business? Click the Compare Quotes button below to have our sister site Buyer Zone connect you with vendors that can help.

Ready to choose your Best Accounting Software and Invoice Generators? Here's a breakdown of our complete coverage:

Lori Fairbanks
Lori Fairbanks has years of experience writing and editing for both print and online publications. After graduating from Brigham Young University with a Bachelor of Arts in English, she worked as an editor for Creating Keepsakes magazine and then as a freelance writer and editor for a variety of companies, including marketing firms and a medical university. She now writes for Business.com and Business News Daily.