Onstream Meetings Review
Onstream Meetings is the best web conference software service in the industry, with flexible plans to serve small businesses or Fortune 100 companies and excellent features for presenting information or collaborating on projects. It lacks a couple of extras, like automatically integrating with Outlook, but offers reports, impromptu meetings and mobile apps.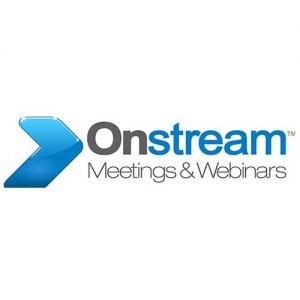 Onstream Meetings
The Verdict
Onstream Meetings offers the best web conferencing tools with an easy-to-use format that's well suited for small and medium businesses.
Onstream has higher-tiered plans that allow hundreds of people to attend a meeting. The web conferencing service we reviewed, however, only allows up to 25. You can record meetings and post them to a unique URL so that others can view them later as well. Breakout rooms make it easy to conduct small group meetings within a larger seminar.
Onstream's ability to host impromptu meetings is a big advantage when you have to call an emergency session and your team is scattered. Further, members can join a meeting using any device. Onstream has mobile apps for iOS and Android systems so that participants can log in from wherever they happen to be. You can even host meetings from a mobile device.
Onstream Meetings offers a unique URL for each one of your online meetings to ensure that the people you have invited are the only ones who can access your web conferences. In addition, all files and chat messages that you exchange during the meeting are encrypted with 128-bit AES encryption.
You can specify which users have access to graphs and charts in your presentation. This is useful when you have specific information just for managers or one part of the team. It's also useful should you need to run a web conference from your personal computer. Your desktop will be visible several times during the meeting, and this tool makes sure that people don't see items that you do not want to share with others, such as email notifications and personal IMs.
The webinar software offers a comprehensive knowledgebase and support by telephone, email and live chat. It also offers some simple video tutorials. The user guides are illustrated and easy to follow.
When you are in the middle of a web meeting, the last thing you want to deal with are technical issues. One of the best support features this video conferencing service offers is remote IT support and operator assisted meetings. If you have a problem during a conference, you can have one of Onstream Meetings' support team members log in and help you to get your web meeting running again.
It's easy to set up meetings. Onstream's program walks you through scheduling the meeting and inviting people. If you wish, you can download a CSV file with the names and emails of participants, customize an invitation, and set reminders. It does not automatically integrate with Outlook, like some other web conferencing services do; instead, you can program it to integrate with Outlook or other email programs using the online meeting software's open API.
The preparation mode is very easy to use and allows you to do a practice run with a single participant or Onstream's support team. Afterward, the support team gives you feedback and tips to improve. This is especially useful if you have an important presentation or are new to video conferencing.
A successful web meeting relies on attendees seeing information easily. Onstream's virtual meeting interface has three standard modes to assist in this: conference mode focuses on the video aspects, presentation mode on the information you share, and discussion mode on chat and collaboration. You can also customize the layout of the screen, changing the size and location of the different windows in order to give the most important features center stage.
File transfer is easy, as is inviting additional participants on the fly. You can transfer control if someone else needs to take charge of part of the meeting, and the polling feature makes it easy to call a vote. As moderator, you can see how each participant voted.
After the meeting, you receive an in-depth report about who was part of the meeting and how long they attended. You can send absentees – or anyone from the group – a follow-up message and include the URL if you recorded it.
Users can reach the virtual meeting via a URL on any device or call in using a toll-free number. Downloads are not needed, which is a great convenience, particularly for attendees who may not be company employees but rather customers or outside contractors.
Participants can use webcams, annotate shared files and images, and engage in private chat. However, you control the features. For example, if a participant's webcam becomes distracting at any point, you have the option to close their video window at your discretion.
There may be a chance that a participant needs to step out of a conference for a few minutes, so this web conferencing software allows your associates to leave your meeting and return later.
With OnStream there is no need have an additional conference calling service. In addition to having meeting participants connect via their computers, OnStream allows participants the option to call in to every meeting. This allows you to turn any online meeting into a conference call. It also opens up your meeting to those who won't be in front of their computer or tablet when the conference is scheduled for. When scheduling a meeting, participants are provided with a link to connect online, as well as phone number to connect via a telephone. Once in the meeting, those on the phone can participate just as someone who is connected with their computer can.
Some web conferencing services include social media integration, which allows you and participants to look each other up in social media directly from the conference. Onstream does not provide this ability, although you can program it through the open API. While this might be useful in gaining customer insight during a sales presentation, it's not vital for inter office meetings.
Onstream Meetings is a flexible web conferencing software able to handle a handful of coworkers collaborating on a simple project or a large audience. It offers chat, webcam and file-sharing features for PC and mobile devices, has good security, and offers control sharing and after-action reports. While it does not directly integrate with Outlook, it's nonetheless easy to invite individuals or groups of people, and you can program it to work with Outlook using the open API. With a good IT team to provide remote support any time of the day, Onstream is the best webinar software for small, medium and large businesses.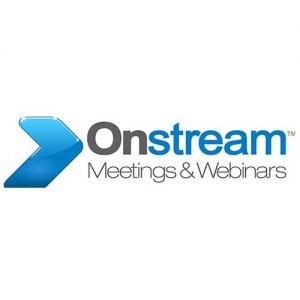 Onstream Meetings
The Verdict
Onstream Meetings offers the best web conferencing tools with an easy-to-use format that's well suited for small and medium businesses.

business.com editorial staff
business.com Member
The purpose of our community is to connect small business owners with experienced industry experts who can address their questions, offer direction, and share best practices.