Onstream Webinars Review
By Business.com Editorial Staff
Last Modified: January 10, 2019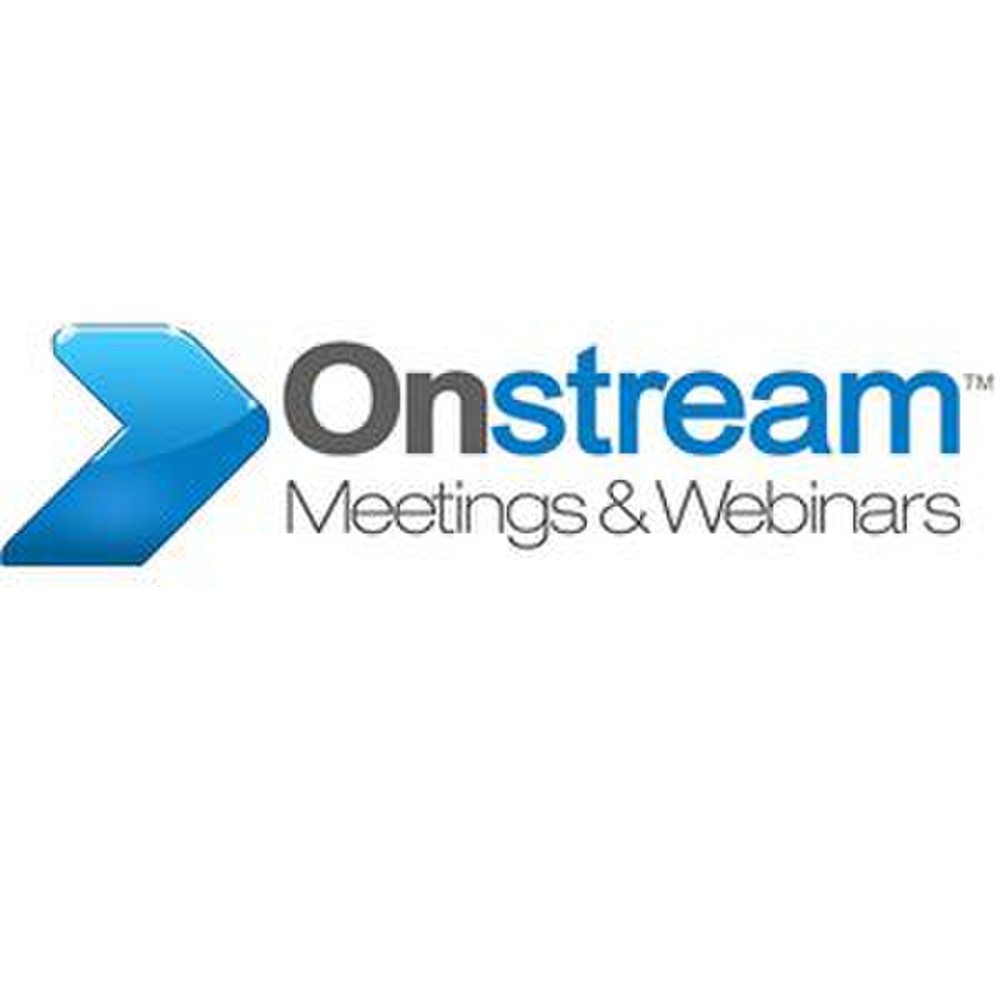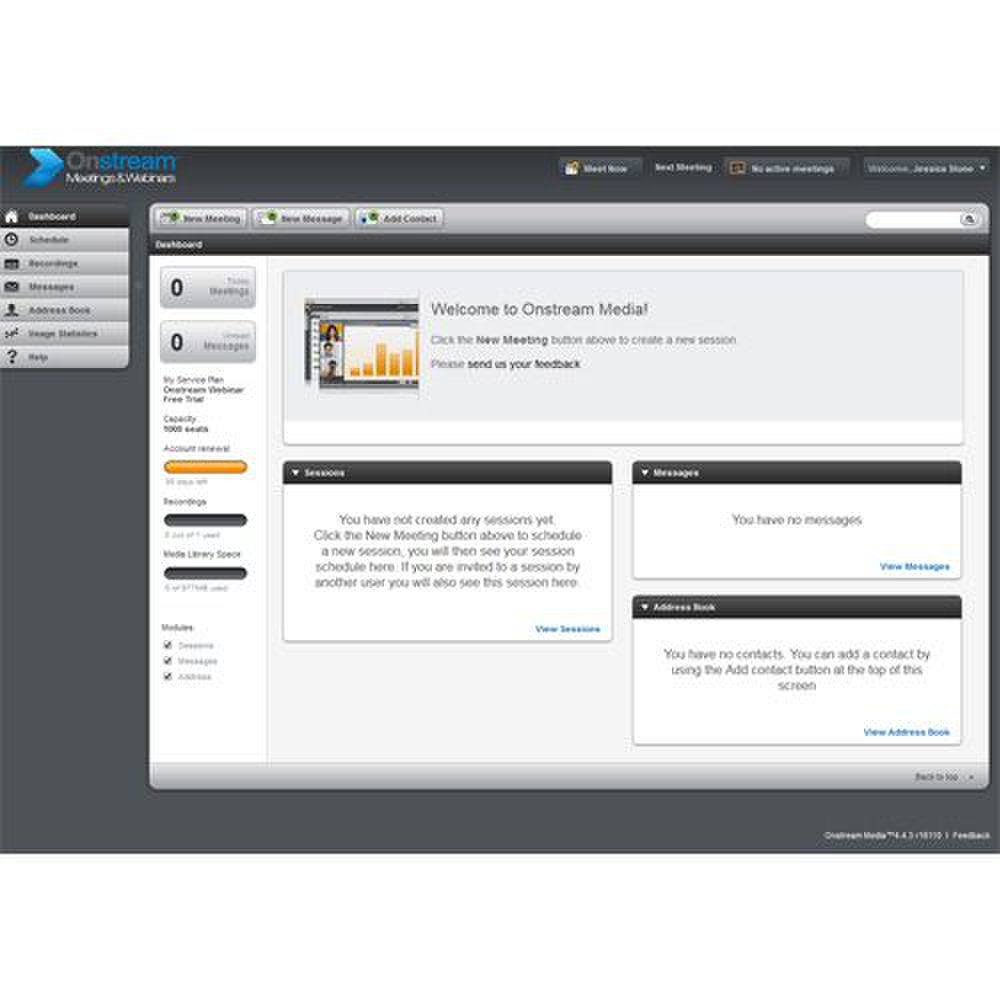 Onstream Webinars image: The program's dashboard displays the scheduled meetings you have set up alongside many other important tools.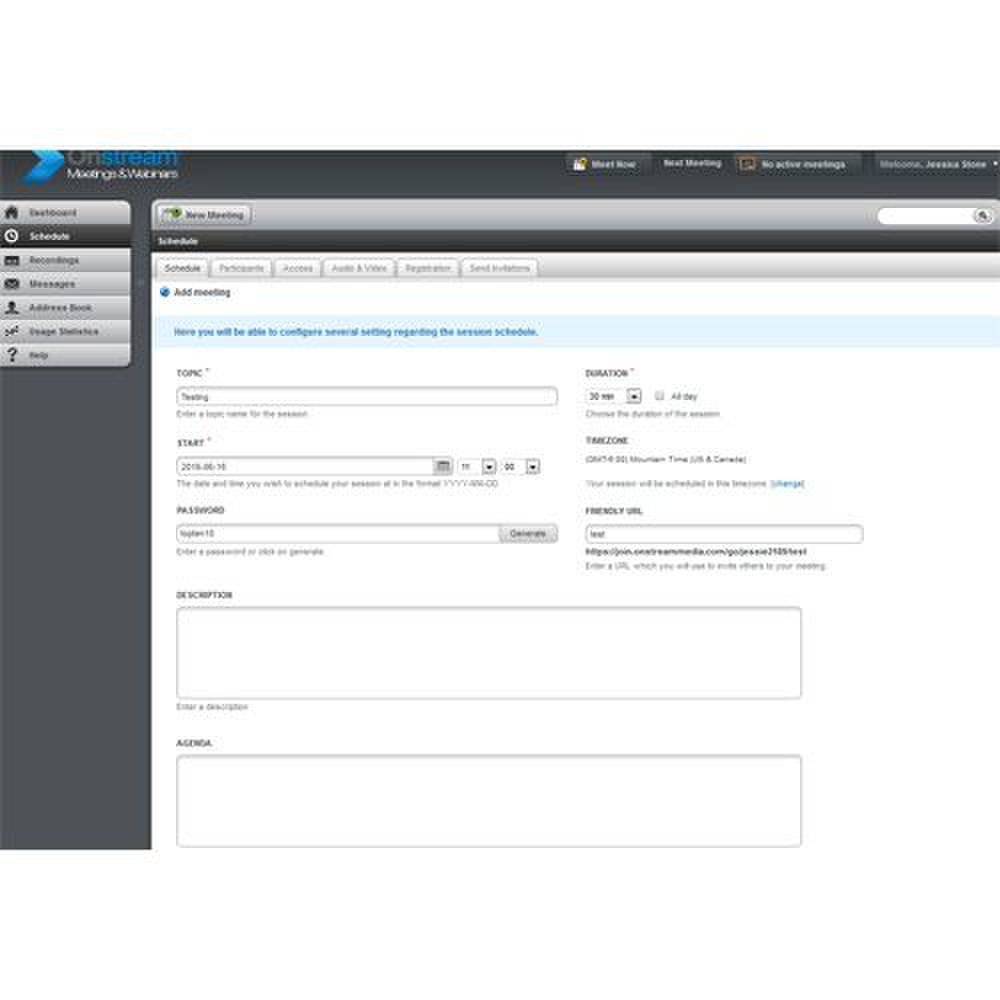 Onstream Webinars image: You can customize the invitations for each webinar that you set up.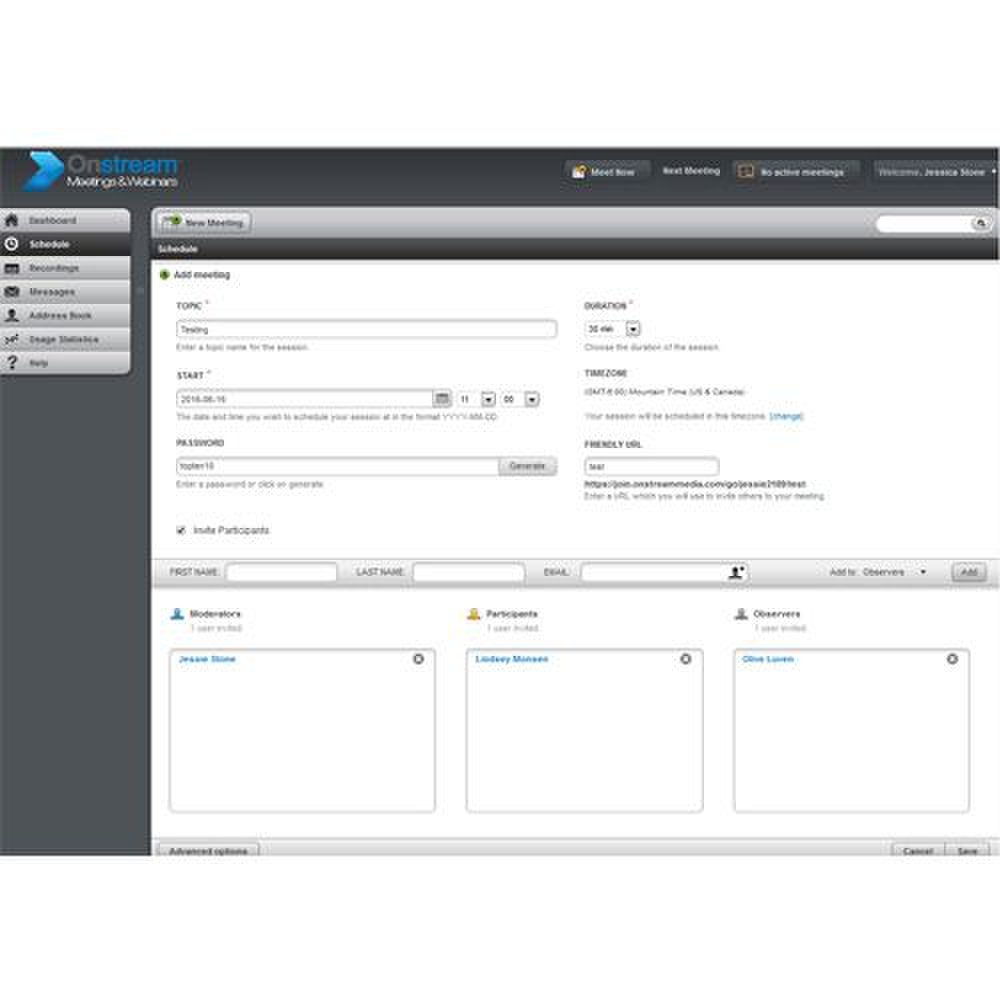 Onstream Webinars image: When creating a meeting, you can place attendees into roles that determine how much control they have in the webinar room.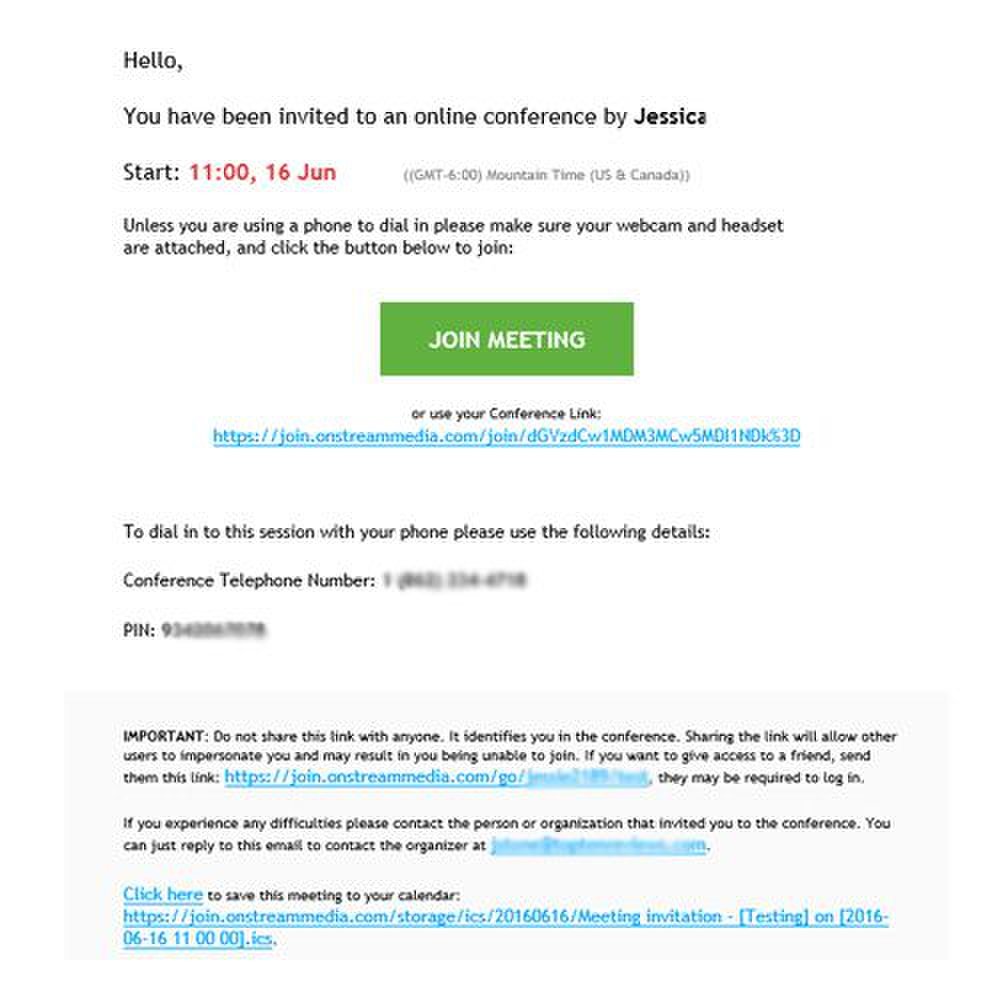 Onstream Webinars image: The meeting invitations provide a link that gives direct access to the webinar.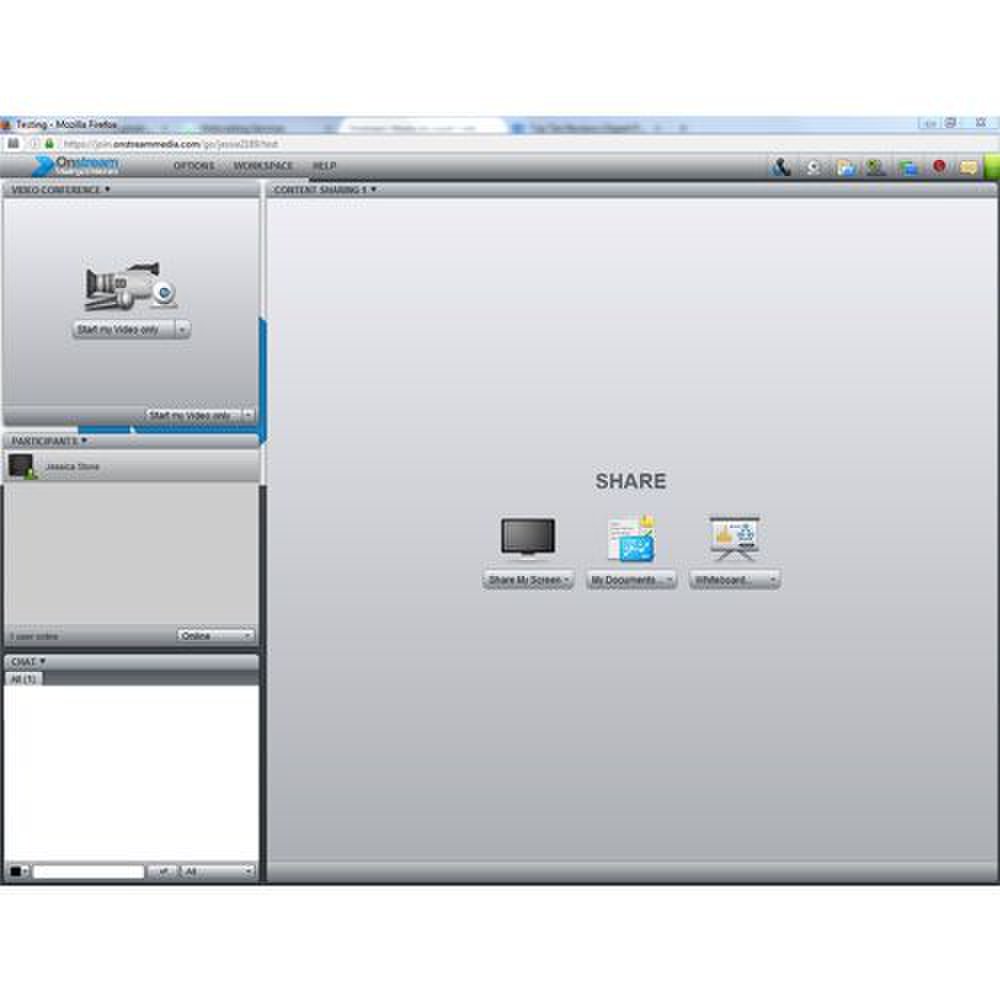 Onstream Webinars image: You can customize the webinar room for the type of meeting you are having.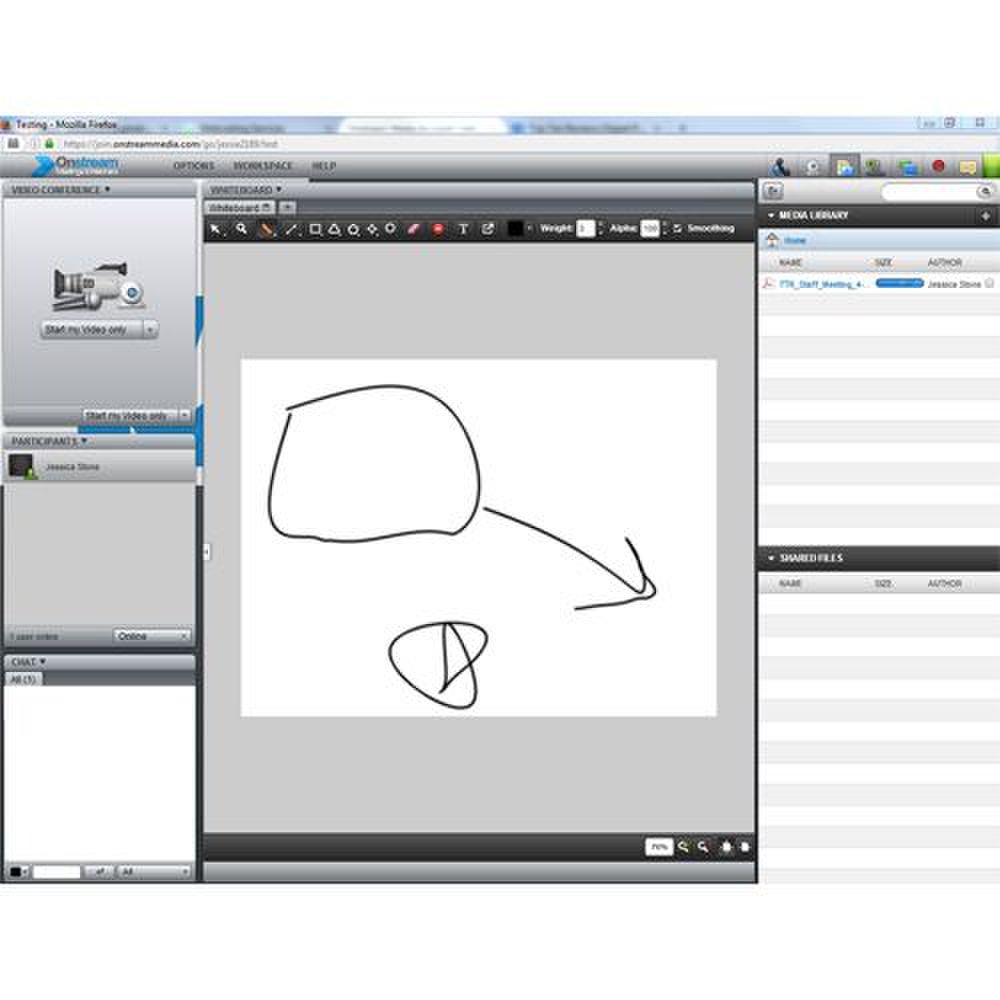 Onstream Webinars image: You can use the whiteboard tool during your presentations.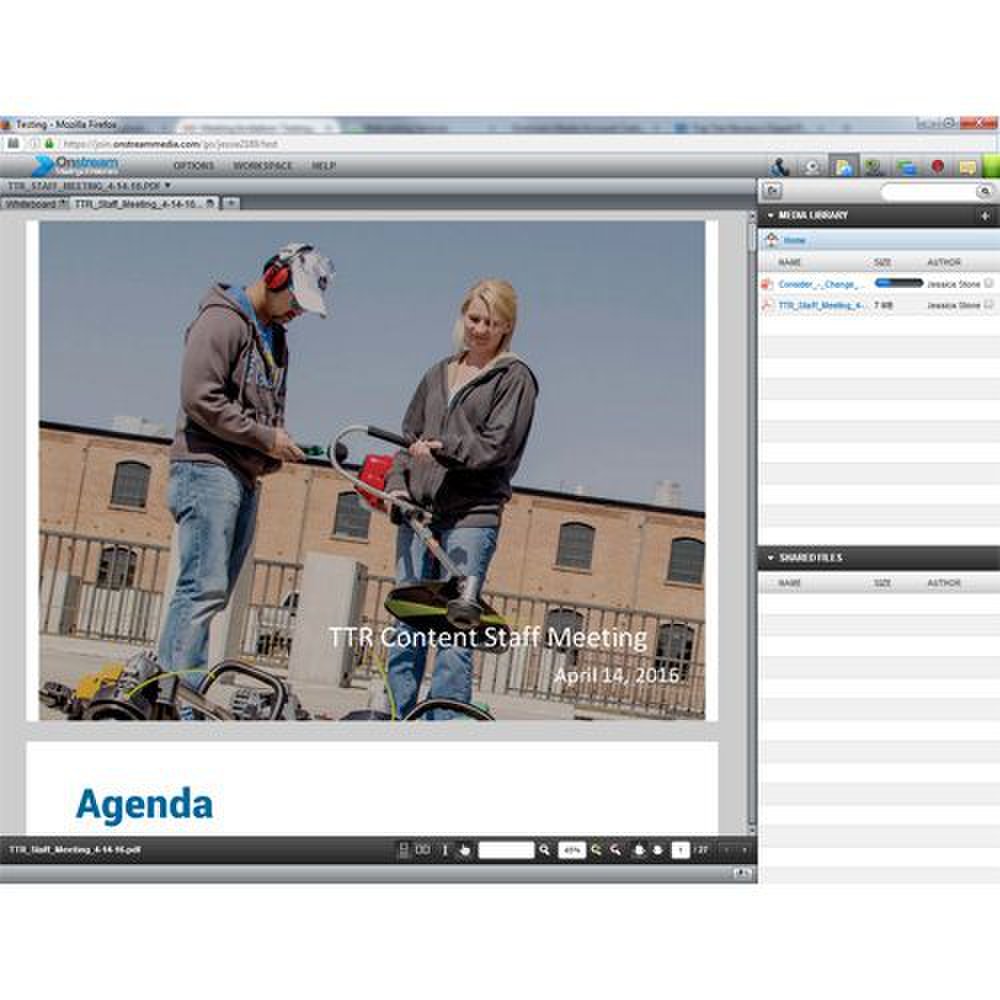 Onstream Webinars image: You can upload different file types to present to your audience, including PDFs and PowerPoints.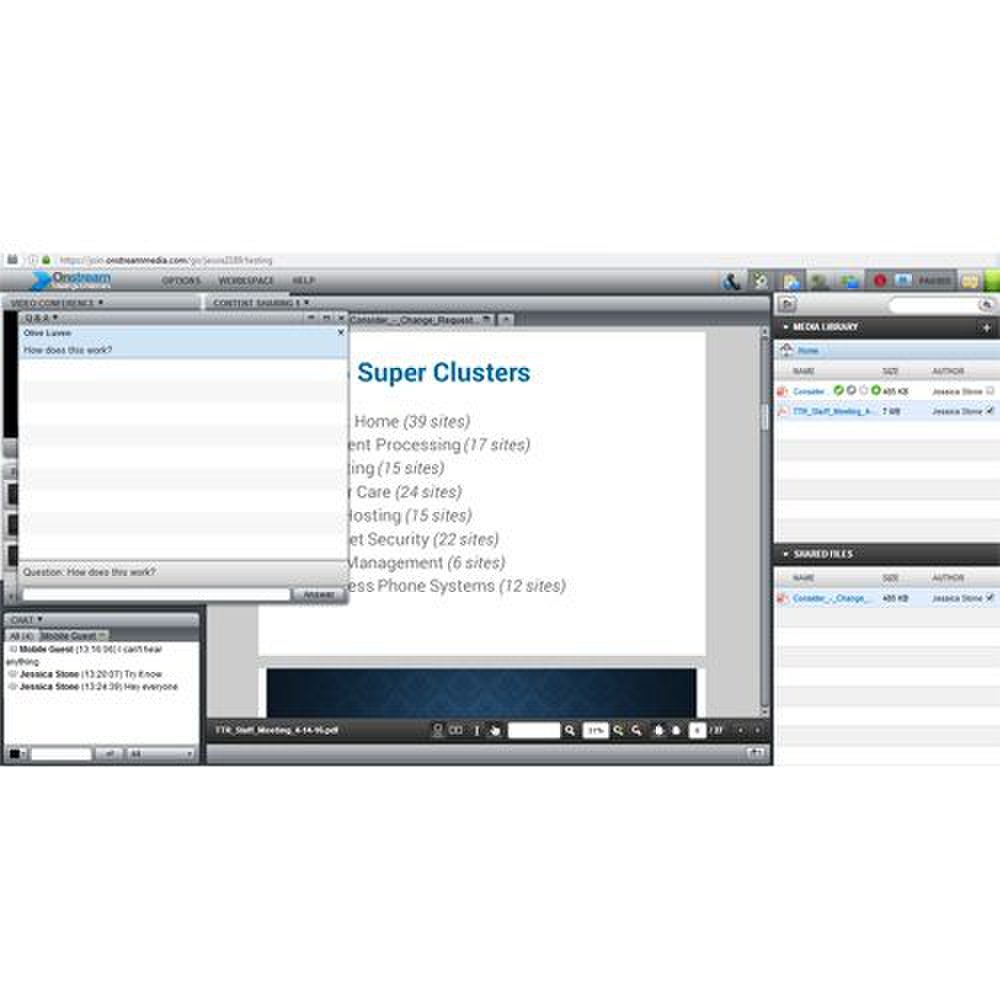 Onstream Webinars image: The Q&A tool allows you to screen questions before displaying them to the audience or answering them.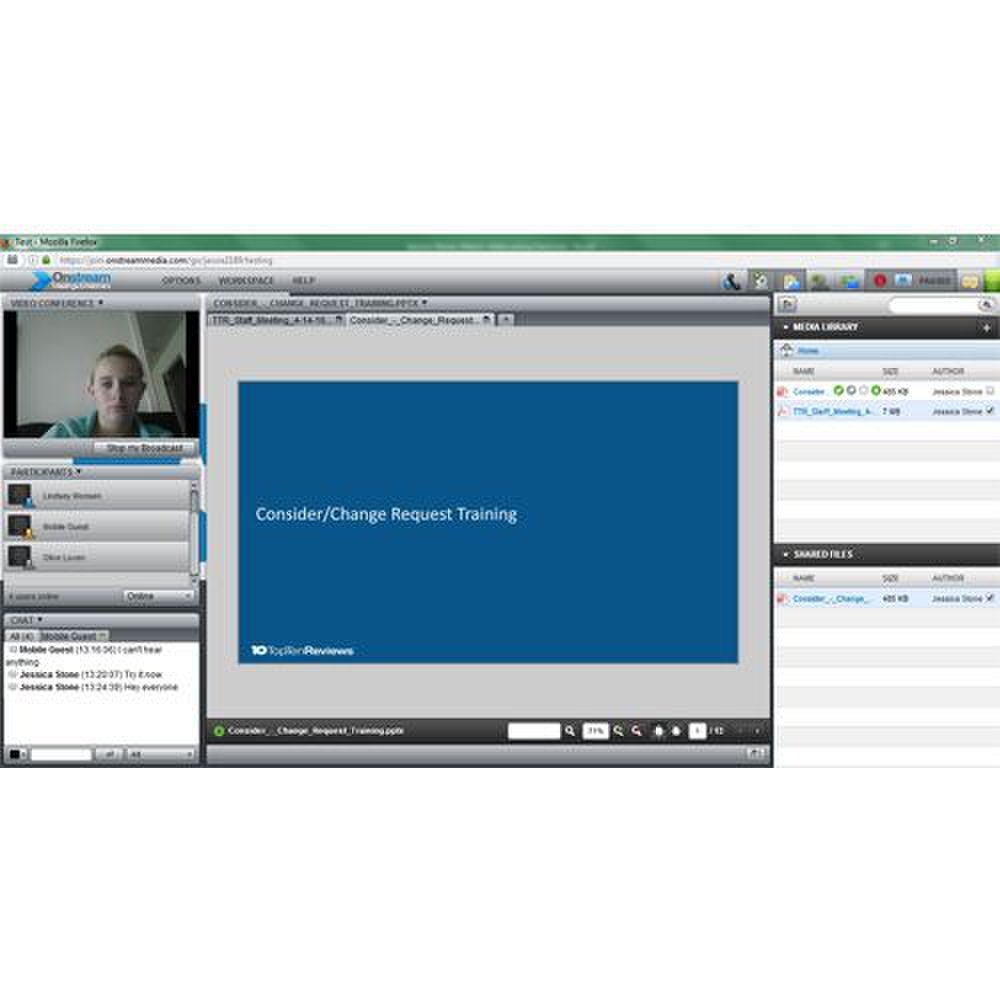 Onstream Webinars image: The library has a list of all the documents you have used during the webinar for your audience to access.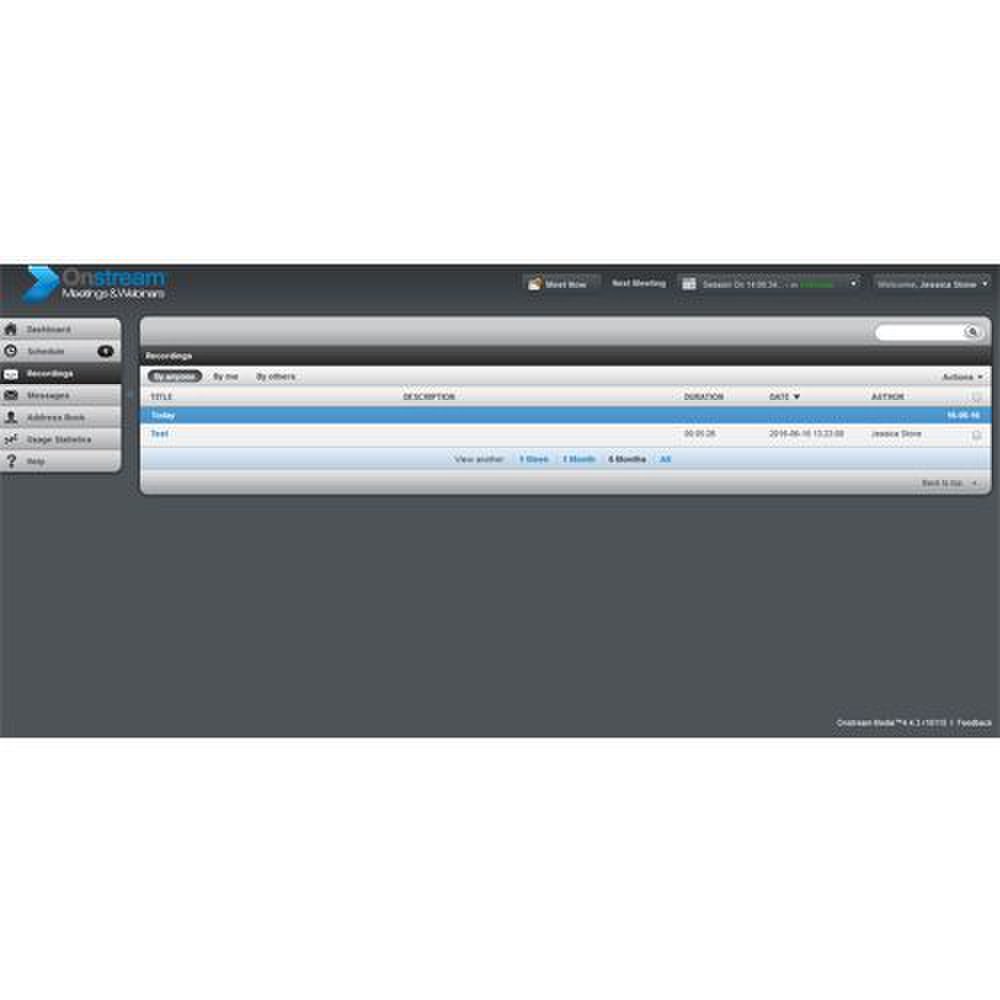 Onstream Webinars image: The dashboard has a place to store all of your recordings for up to 90 days.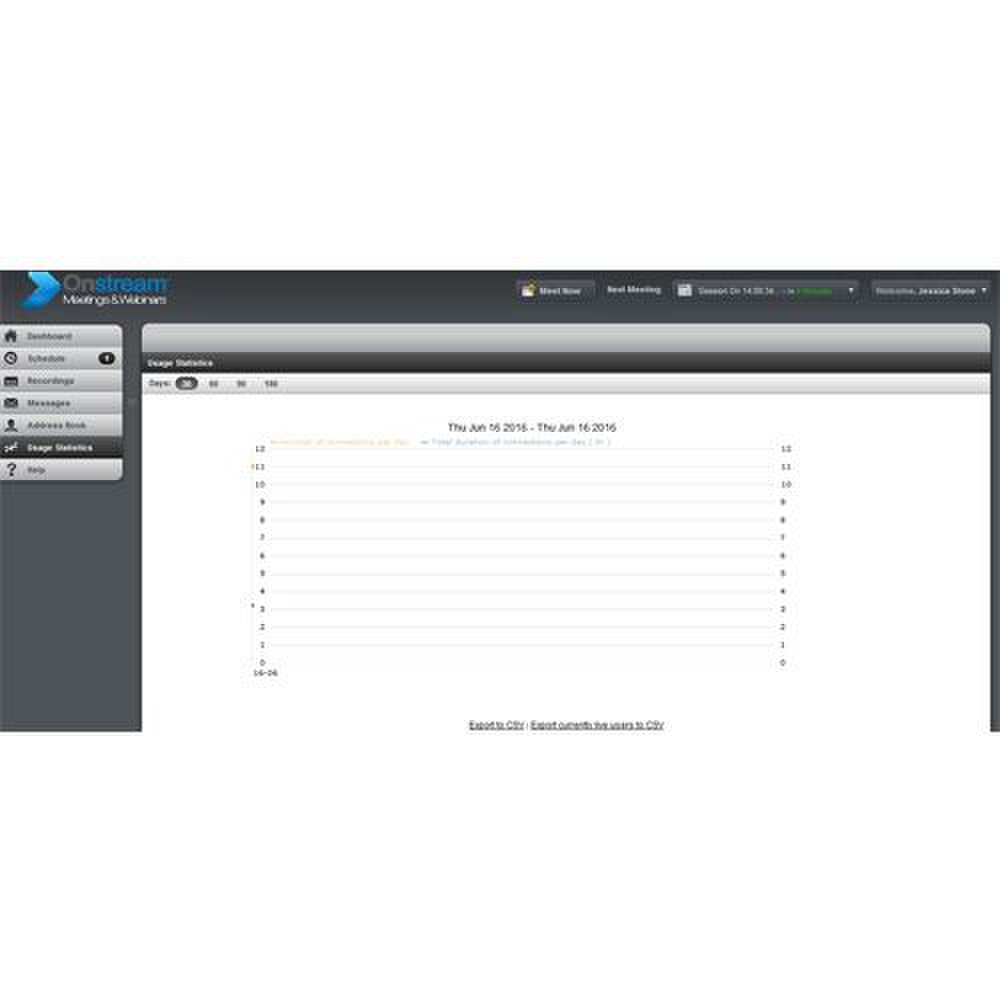 Onstream Webinars image: Among the various reports, the service keeps track of each webinar, and it displays the information under the Usage Statistics tab.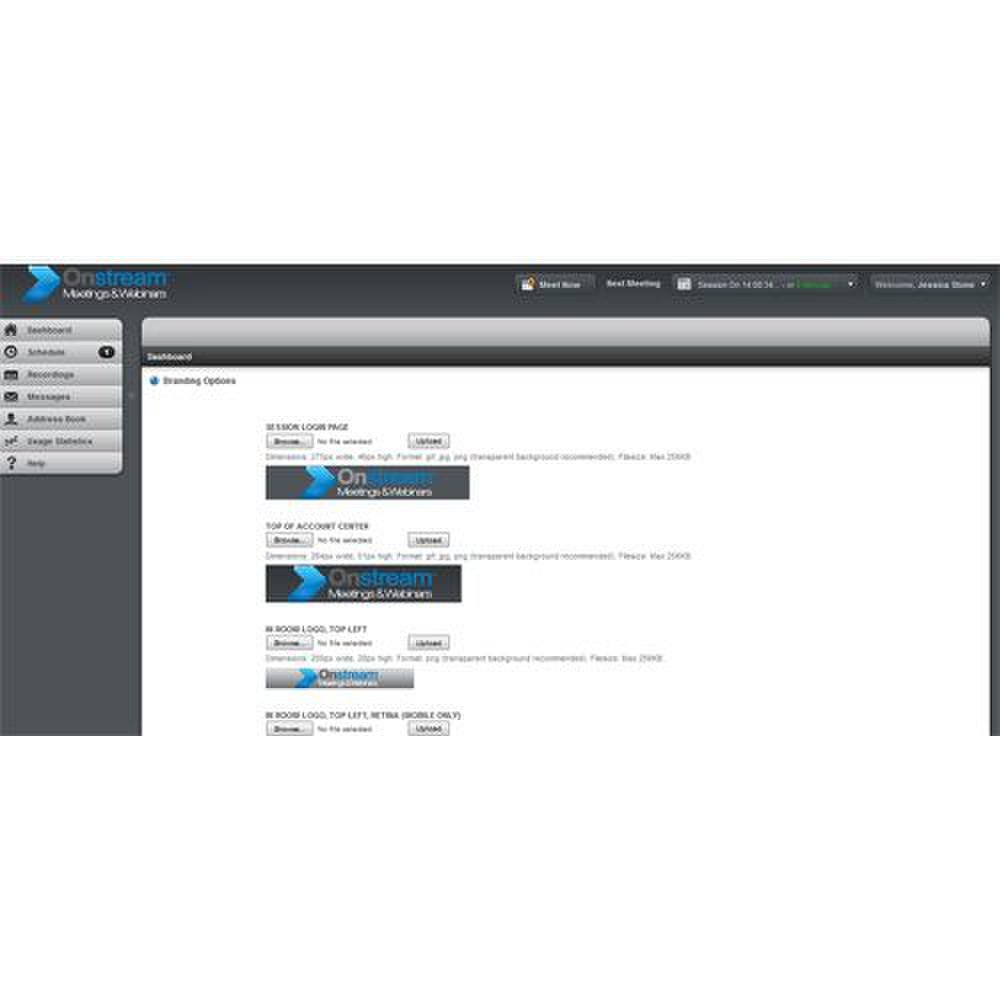 Onstream Webinars image: You can upload your company's own logos to the webinar to enforce your brand.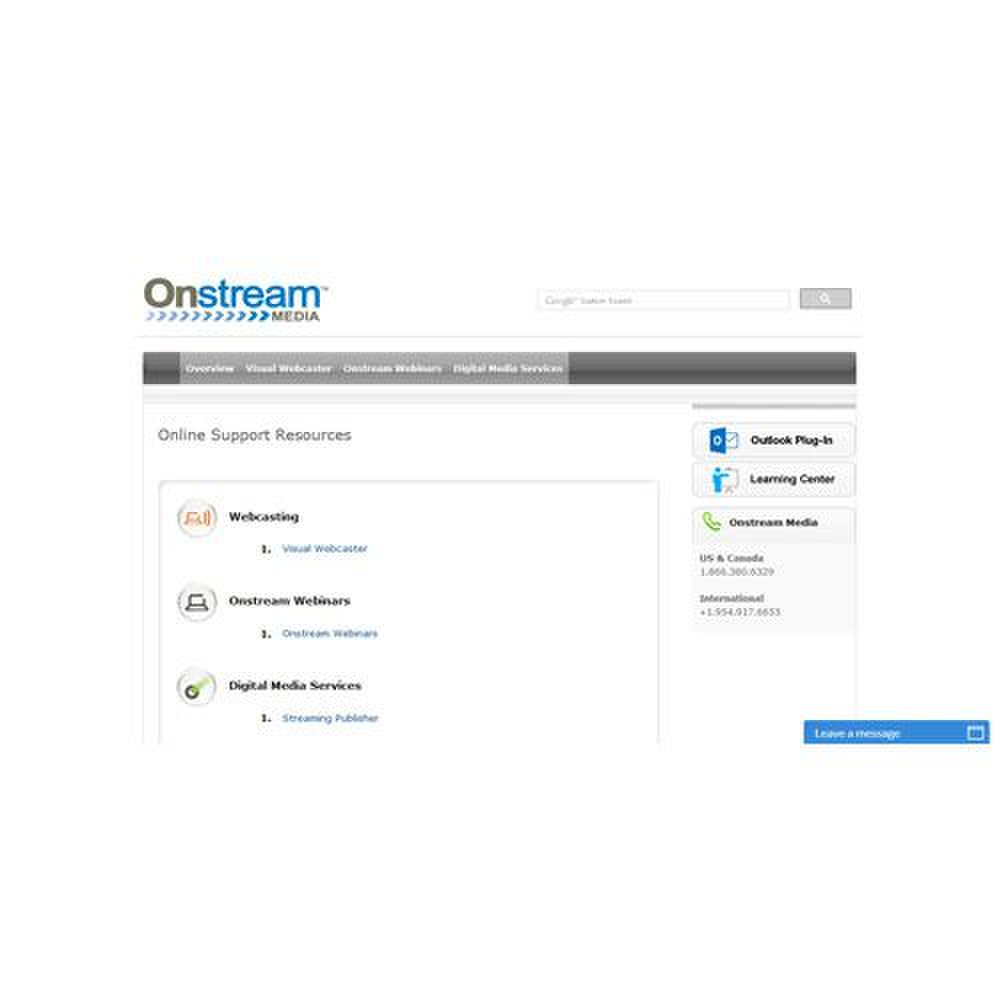 Onstream Webinars image: The service's learning center has several resources, such as video tutorials for presenters and user guides for attendees.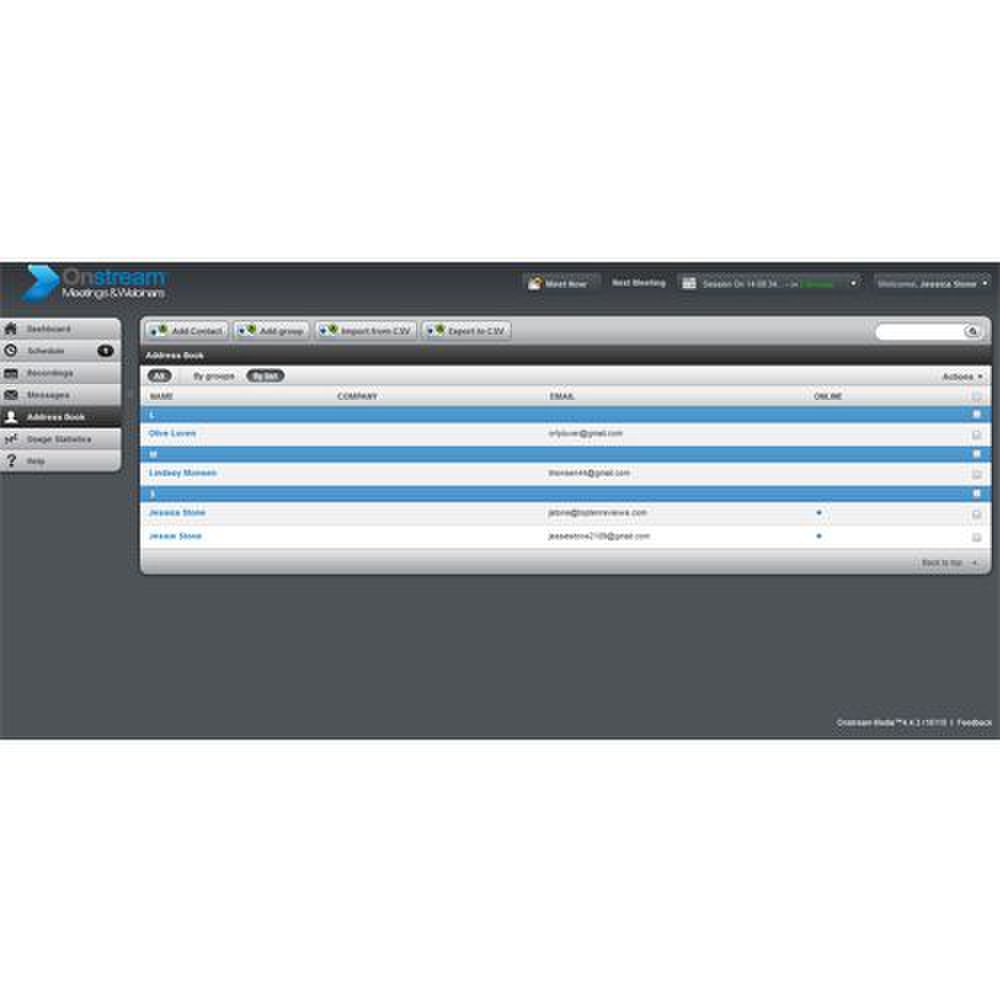 Onstream Webinars image: The address book helps you organize and keep track of all of your audience members.
The Onstream Webinars service makes it easy to run webinars for training, education and marketing. It offers multiple standout features without creating a complex dashboard. Due to its great balance of features, ease of use and operator support, Onstream Webinars is one of the best.
Your workspace menu allows you to present in a few different views. As the host, you can resize, add and move your windows as you like. The standard webinar view keeps the webcam video of the host on the left side, along with the participant list and a chat screen. Most of the dashboard is dedicated to application sharing or a slideshow. When hosting multiple presenters, to share the presentation or hold a panel discussion, you can change the view to emphasize their webcams instead.

While running a slideshow or sharing your desktop, you may need to emphasize a particular part of the screen. The two ways of doing this that we found helpful are zooming in on a slide and using the annotation tools. The whiteboard saves your highlights on a page-by-page basis. This means that if you mark up a page and have to refer back to it at some point, your marks will still be there.
One standout feature of this webinar software is the drag-and-drop feature. You can open a file, like a PowerPoint presentation, and drag it to the webinar software, and it will display on the screen for your attendees. If you annotate a slide, those annotations clear when you move to the next slide. Not all webinar programs do this.
This software has some of the best attendee-permission controls of all the webinar platforms we reviewed. Account holders have all controls. Meeting hosts have nearly all the controls but cannot demote the account holder. Participants can listen, chat and use specific features granted by a host. Observers are restricted to watching and listening only. When you invite participants, you assign them each a participant status. However, you can promote people to any level during the webinar, including up to host level.
There are audio Q&A tools so that attendees can request permission to speak, and it has question screening. These are useful tools for keeping control of a large webinar. In addition, if you feel you need additional help, Onstream can provide you with a professional assistant who can walk you through the entire process, from preparation to conclusion, and attend the webinar as a moderator. It costs extra but can mean the difference between a smooth-running presentation and one that leaves attendees and presenters frustrated and confused.
Onstream's webinar platform offers some useful branding features. You can modify the platform with your logo or background image and design the email and registration forms to reflect your company look. Onstream customer service can help you with these tasks as well. You can also program a redirect link for logout. This sends attendees who leave to a URL of your choice, such as for a product information page, survey or purchase page.
However, the other monetization features of this software are not as strong as with other webinar platforms we reviewed. Integration with a customer response management software requires programming, and while Onstream has an open API to make this easy, other programs automatically allow integration. The platform features lead-generation tools to prioritize leads. Finally, the only way to collect payments for webinars is through registration on a separate site. While not unusual or difficult, it's still an inconvenience in this day of full automation.
The company's excellent customer service options make it stand out. It assigns every account a live customer service coordinator who walks you through the setup process, webinar practice sessions and session-reporting tools. You can do a practice run with Onstream's support team who will give you feedback and tips. This is especially useful if you have an important presentation or are new to video conferencing.
Onstream provides 24/7 phone support and chat support during business hours. If necessary, a technician can access your webinar for troubleshooting. There is live training and several video tutorials. It lacks an orientation video for attendees but has a downloadable user guide focusing on participant tools. You can direct people to this guide by including it at registration or in a link in the invitation. A user guide saves a lot of frustration and time by explaining the functions of the site when you want to get into the presentation.
The scheduling and registration features are similar to those found with other webinar services. The online email function lets you use HTML code and offers standard variables for information already stored in the system. If you wish, you can download a CSV file with the names and emails of participants, customize an invitation, and set reminders. You can program the platform to integrate with Outlook, making it easier to send bulk invites to attendees.
You can access social media features on the registration page to promote your event on Facebook, Twitter or LinkedIn. You can also modify the webinar platform to provide a link to your Facebook or other social media page.

Your attendees can access the event on mobile devices and computers. This webinar platform works with a content-delivery network that spans 100,000 servers in 75 countries, facilitating secure, high-quality audio and video. Your files and chat messages are further secured with 128-bit AES encryption.
Like all webinar services, Onstream allows you to record your event. It has limited editing capability and stores your recording on its servers for up to 90 days. You also can pay an additional fee to have your recordings saved on Onstream's servers indefinitely.
Onstream Webinars features several standout functions that set it apart from most webinar software, but the monetization features lack capabilities many of the other webinar platforms offer. Therefore, it is one of the best choices for webinar services if you want webinars that provide training, education or general promotion of your company or product.

Ready to choose your The Best Webinar Services of 2019? Here's a breakdown of our complete coverage:

Business.com Editorial Staff
The purpose of our community is to connect small business owners with experienced industry experts who can address their questions, offer direction, and share best practices. We are always looking for fresh perspectives to join our contributor program. If you're an expert working in your field – whether as an employee, entrepreneur, or consultant – we'd love to help you share your voice with our readers and the Business.com community. We work hard to only publish high-quality and relevant content to our small business audience. To help us ensure you are the right fit, we ask that you take the time to complete a short application: https://www.business.com/contributor/apply/ We can't wait to hear what you have to say!