Optima Tax Review
By Business.com Editorial Staff
Last Modified: November 5, 2018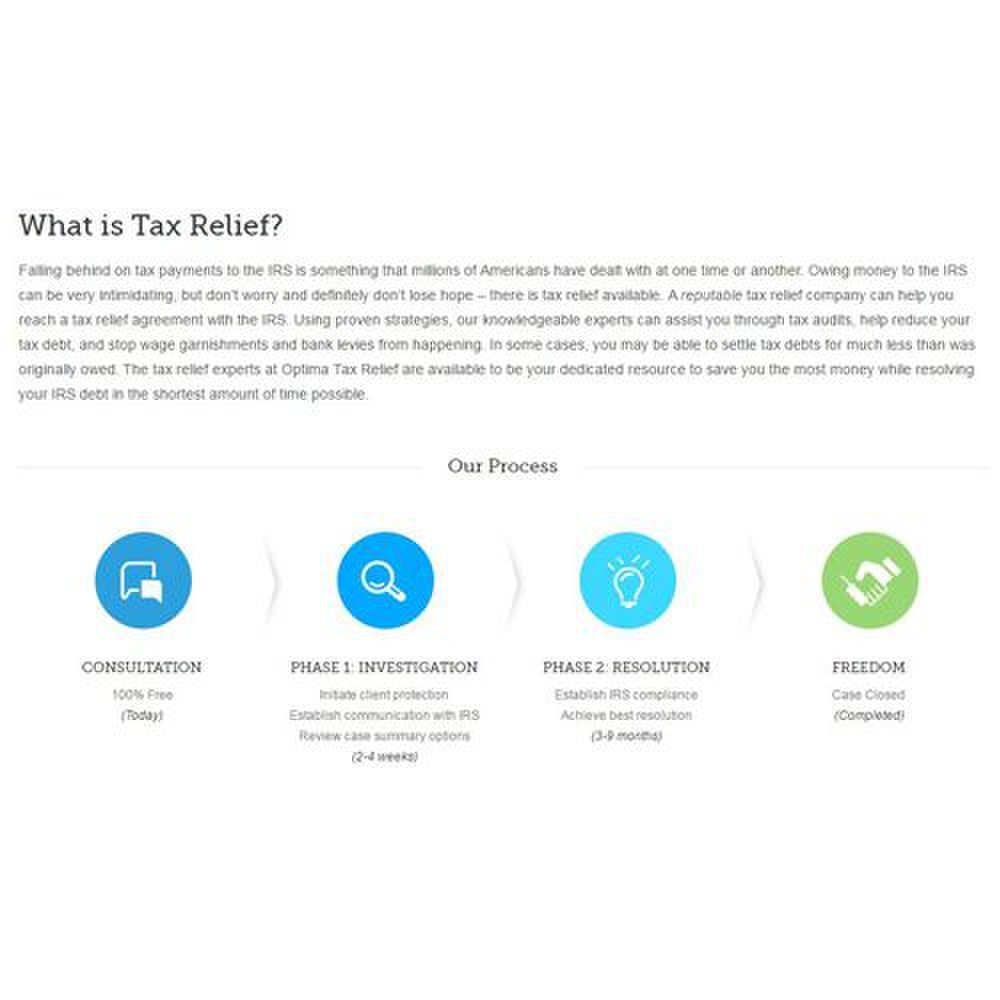 Optima Tax Relief image: This company has three steps to its process: a consultation, an investigation, and finally, a resolution to your tax problem.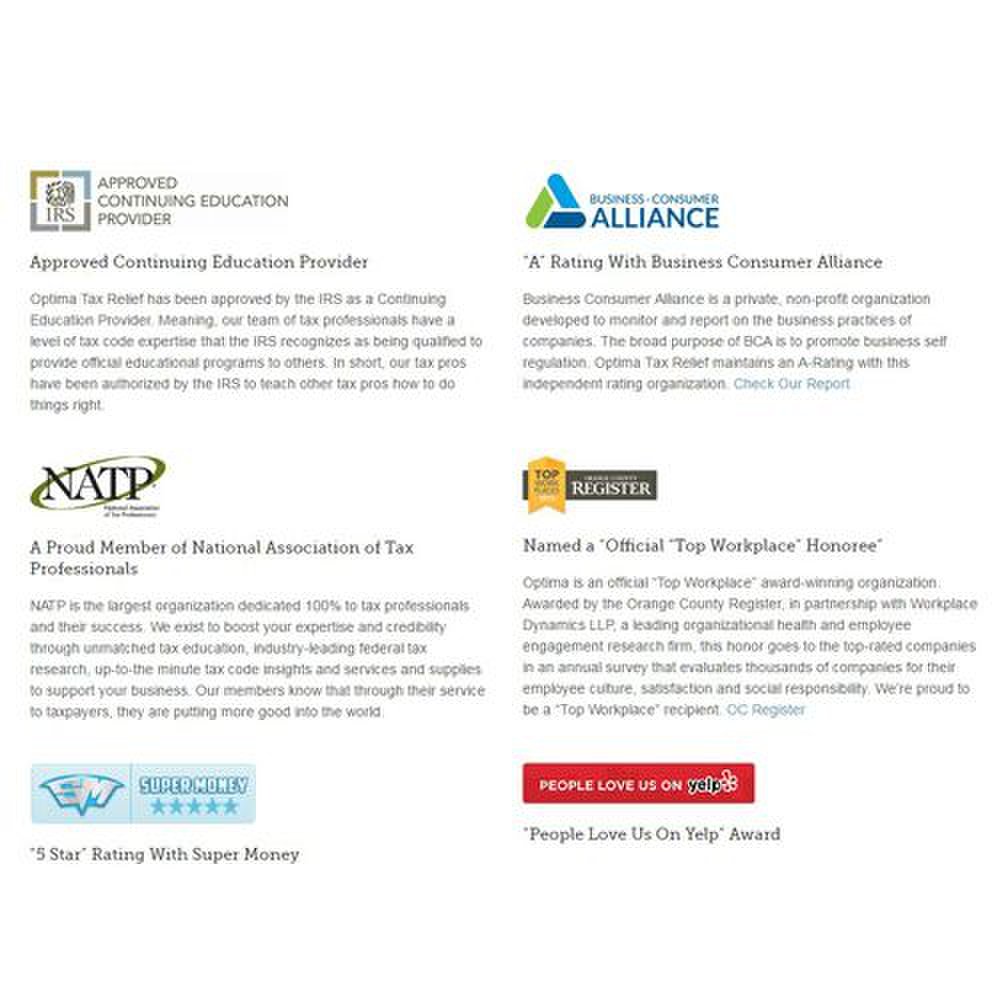 Optima Tax Relief image: Optima Tax Relief has earned many accreditations and awards for its tax debt relief service.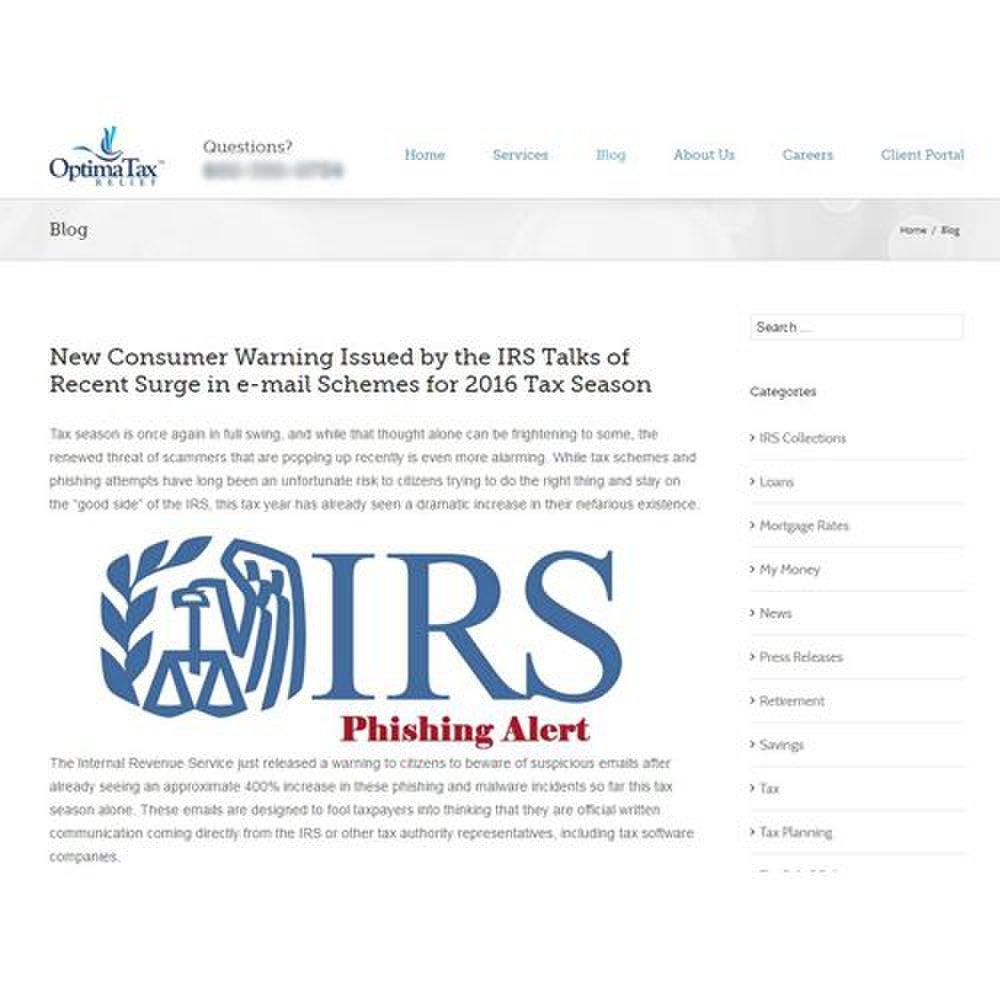 Optima Tax Relief image: The company's blog is regularly updated and includes educational information on taxes, the IRS and other information.
Optima Tax Relief image: Once you become an Optima Tax Relief customer, you can log in to a client portal online to keep track of what's happening with your tax case.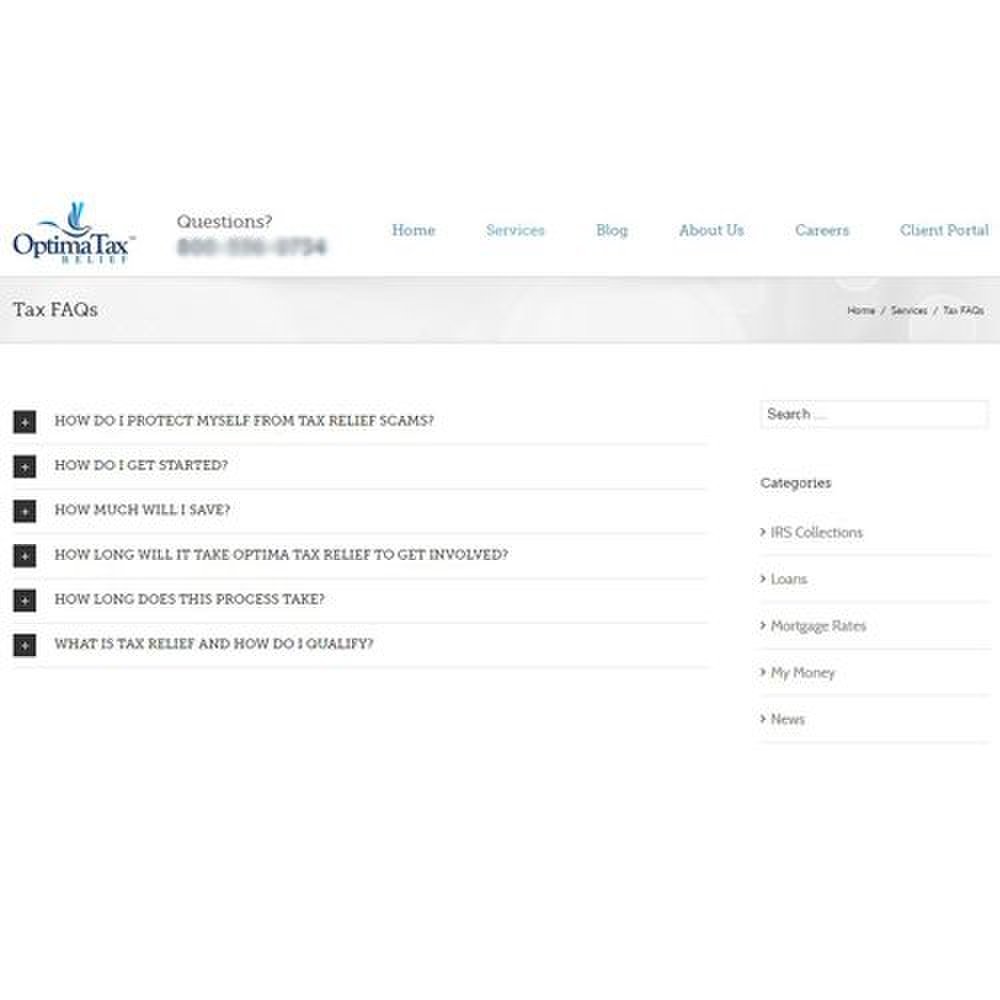 Optima Tax Relief image: The FAQs page on Optima Tax Relief's website helps you find answers to common questions about tax relief and Optima's services.
Optima Tax Relief's popular tax debt relief services can help you if you find yourself with more than $10,000 of tax debt. This company has three different types of tax professionals working on your behalf with the IRS, which provides you with comprehensive expertise when it comes to taxes and the inner functions of the Internal Revenue Service.
This tax resolution service can help you with federal and state tax problems. It can also work to protect you from liens on your credit and levies on your property. If you already have these actions in place against you, Optima Tax Relief may be able to lift these restrictions by contacting the IRS for you.

Optima Tax
Tax Debt Relief Services
The Verdict
While the rates and fees for this company are higher than others, Optima Tax Relief's investigations and services are extremely thorough.
Visit Site ▶
Optima Tax Relief can also negotiate with the IRS on your behalf. They may be able to negotiate for settlements like an offer in compromise, which can help you lower the amount owed depending on your financial situation, and installment agreements, which can break up the lump sum you owe into more manageable payments over time. They may also be able to help with innocent spouse relief, which can free a spouse of responsibility if they were unaware of the tax problem, or currently not collectable, which means that Optima Tax proves that the IRS cannot currently collect on your tax debt because of your financial situation. Keep in mind that Optima Tax Relief can only negotiate on your behalf for programs and benefits for which you are eligible.
We reached out to Optima Tax Relief at different times on different days to test its customer service, how knowledgeable its agents are, its communication and other aspects of the company. We separated these experiences into two scores: a competency score and a reliability score. The competency score considers the thoroughness of the answers we were provided, the consistency of the information given, whether or not the representatives told us how to fix the tax problems we presented, and other qualifications. Optima Tax Relief earned full marks in our competency score because of its representatives who were thorough, knowledgeable and consistent. The representatives we spoke with took the time to understand our testers' situations, answer our questions, and point us in the direction we should go to alleviate the tax problems we presented to them.
Optima Tax Relief also earned a high reliability score. This company followed up with us, was available via phone, and communicated well and professionally in all of our interactions. However, there is no email address listed on its website for potential customers, though there is an email address for current customers to contact.
Only three types of tax professionals can legally represent you before the IRS. These are tax attorneys, certified public accountants (CPAs) and enrolled agents (EAs). Optima Tax Relief has all three types of these professionals on its team, so you have access to the full range of tax expertise.
The tax professionals on your team work in two phases. The first phase is a protection and investigation phase. This phase protects you from liens and levies while the company investigates your case with the IRS to find out what kind of tax trouble you're in and what caused it. The cost for phase one is a flat retainer fee, which is the highest retainer on our lineup.
Phase two of Optima Tax Relief's tax forgiveness program consists of your team negotiating with the IRS on your behalf. The time this takes will vary depending on your case and the amount of work that needs to be done. The fees for phase two vary on a sliding scale based on the complexity of your case.
Optima Tax is one of the largest tax debt relief services in the nation. It offers all of the tools you need to resolve your tax issues, including three types of authorized tax professionals, IRS negotiations and more. However, its prices are among the more expensive among the services we reviewed.

Optima Tax
Tax Debt Relief Services
The Verdict
While the rates and fees for this company are higher than others, Optima Tax Relief's investigations and services are extremely thorough.
Visit Site ▶
Business.com Editorial Staff
The purpose of our community is to connect small business owners with experienced industry experts who can address their questions, offer direction, and share best practices. We are always looking for fresh perspectives to join our contributor program. If you're an expert working in your field – whether as an employee, entrepreneur, or consultant – we'd love to help you share your voice with our readers and the Business.com community. We work hard to only publish high-quality and relevant content to our small business audience. To help us ensure you are the right fit, we ask that you take the time to complete a short application: https://www.business.com/contributor/apply/ We can't wait to hear what you have to say!