PDFelement - Document Scanning Services Review
By Business.com Editorial Staff
Last Modified: December 11, 2018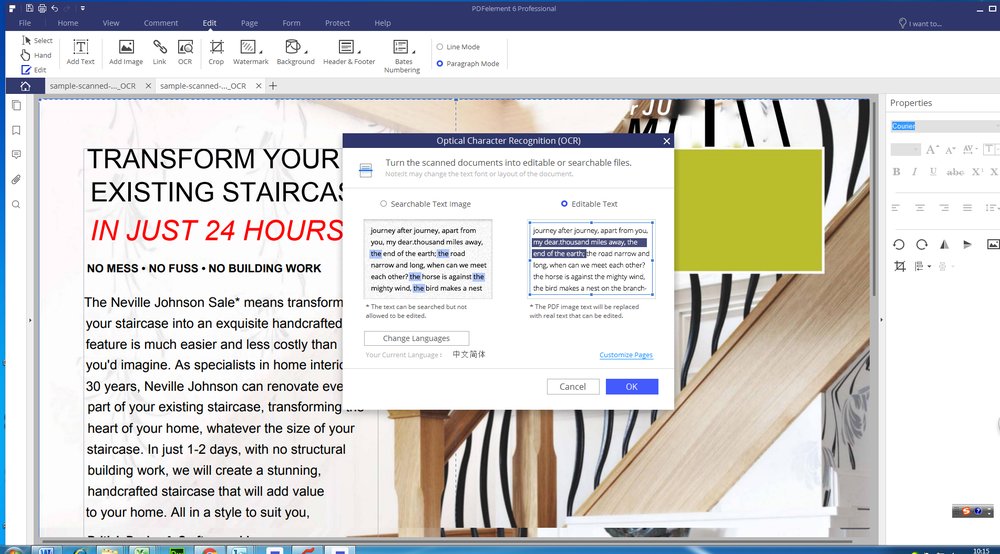 PDFelement's optical character recognition (OCR) software allows you to convert any document into an electronic file.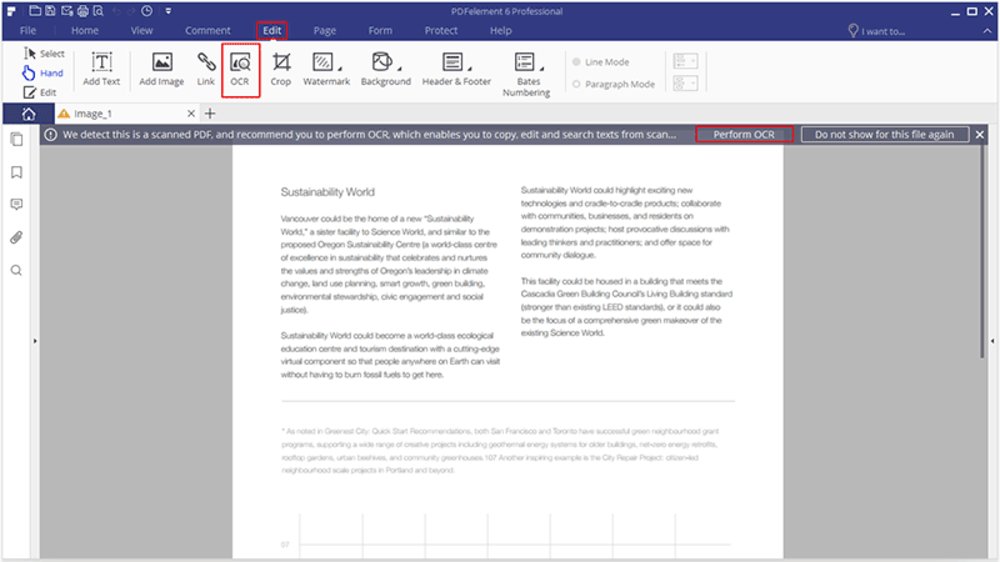 The software auto-detects scanned documents and recommends performing OCR.
Your scanned documents can be turned into searchable or editable files.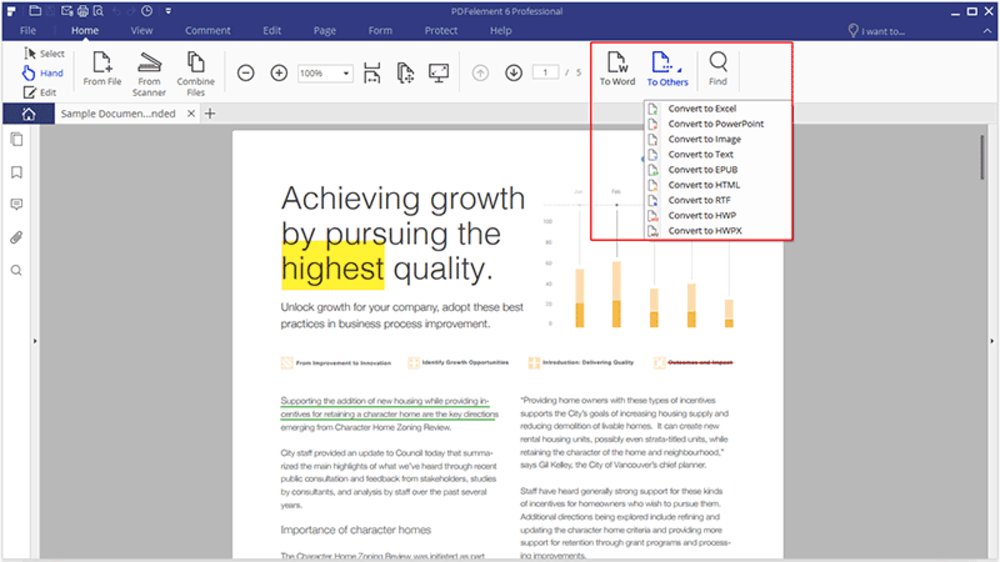 After you scan an image, you can convert it to a Word, Excel, PowerPoint or other text file format.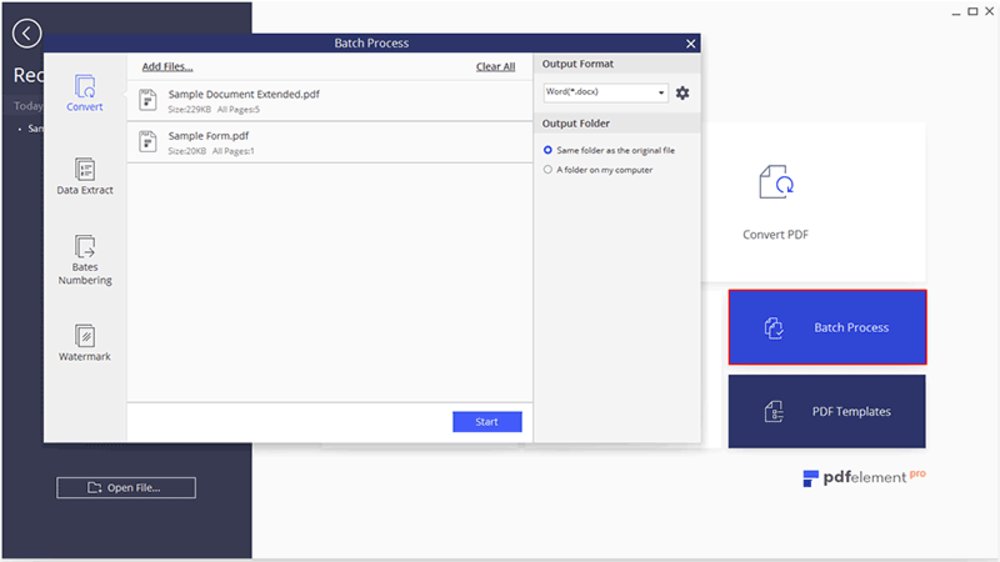 With batch processing, you can perform OCR on several files at once.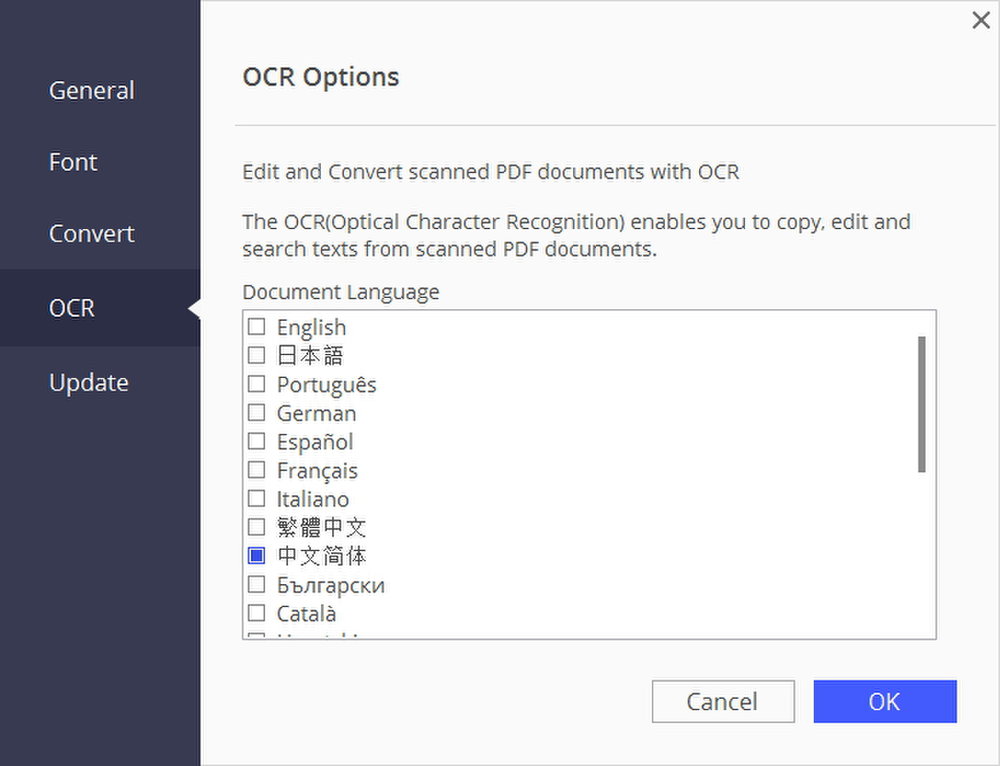 The software recognizes over 23 different languages.
Editor's Note: PDFelement 6 is now available. The manufacturer lists the new version as offering the following features: enhanced editing capabilities; new form recognition capabilities and an updated interface. We will evaluate, rank and review PDFelement 6 when we next update the OCR Software reviews.
Wondershare's PDFelement is OCR software for Mac, Windows and iOS devices. This software can be downloaded on multiple platforms so you can access it at any time. Not only is it easy to use, but it also consistently produced accurate conversions of paper documents in our tests.

Between PDFelement's setup wizard and other support options, we found that it was the easiest program to use in our review. Not only does the software have a clean, easy-to-navigate interface, but there is also a user manual in the application. You can download the software on Windows and Mac computers, as well as iOS devices, making it one of the most versatile programs.
During our tests, we found that when we converted paper documents to either word documents or PDF format, the tables, images, symbols and text were consistently accurate. The program recognizes over 23 languages, so it is a good option for companies that do international business. The OCR program retains the original document's layout, fonts and tables. We did find a few inconsistencies with spacing on the tables, which resulted in a lower accuracy score.
The software does not have image editing tools to fix warped images. You can convert scanned files, digital documents and even pictures from your mobile device. PDFelement integrates with several cloud storage services, Microsoft Office applications, HTML and eBooks. The software features batch OCR so you can convert several documents at once, as well as multipage recognition for your larger projects.
Wondershare has strong customer support. You can access the user manual directly in the optical character recognition software. Also, the product's website has tutorials and videos, as well as a knowledgebase with frequently asked questions. If you need additional help, you can contact customer support by phone or email.
PDFelement is a high-performing optical character recognition tool. It is both easy to use and highly accurate. You can access the software on several desktop and mobile devices, which makes it a convenient and a good option for companies that need to convert paper documents to an electronic format.

Ready to choose your The Best Document Scanning Services of 2019? Here's a breakdown of our complete coverage:

Business.com Editorial Staff
The purpose of our community is to connect small business owners with experienced industry experts who can address their questions, offer direction, and share best practices. We are always looking for fresh perspectives to join our contributor program. If you're an expert working in your field – whether as an employee, entrepreneur, or consultant – we'd love to help you share your voice with our readers and the Business.com community. We work hard to only publish high-quality and relevant content to our small business audience. To help us ensure you are the right fit, we ask that you take the time to complete a short application: https://www.business.com/contributor/apply/ We can't wait to hear what you have to say!