Phone.com Review
By Chad Brooks
Last Modified: December 23, 2018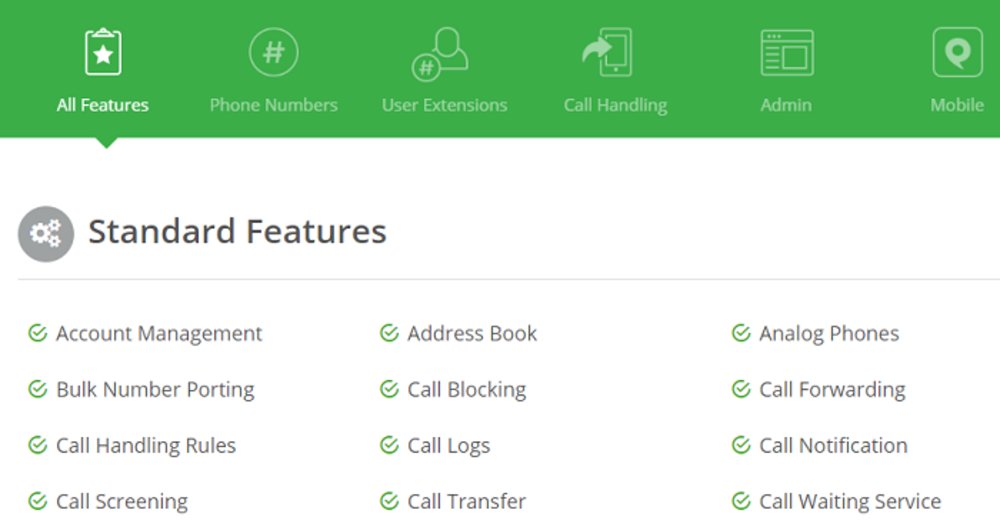 Phone.com offers a variety of different features.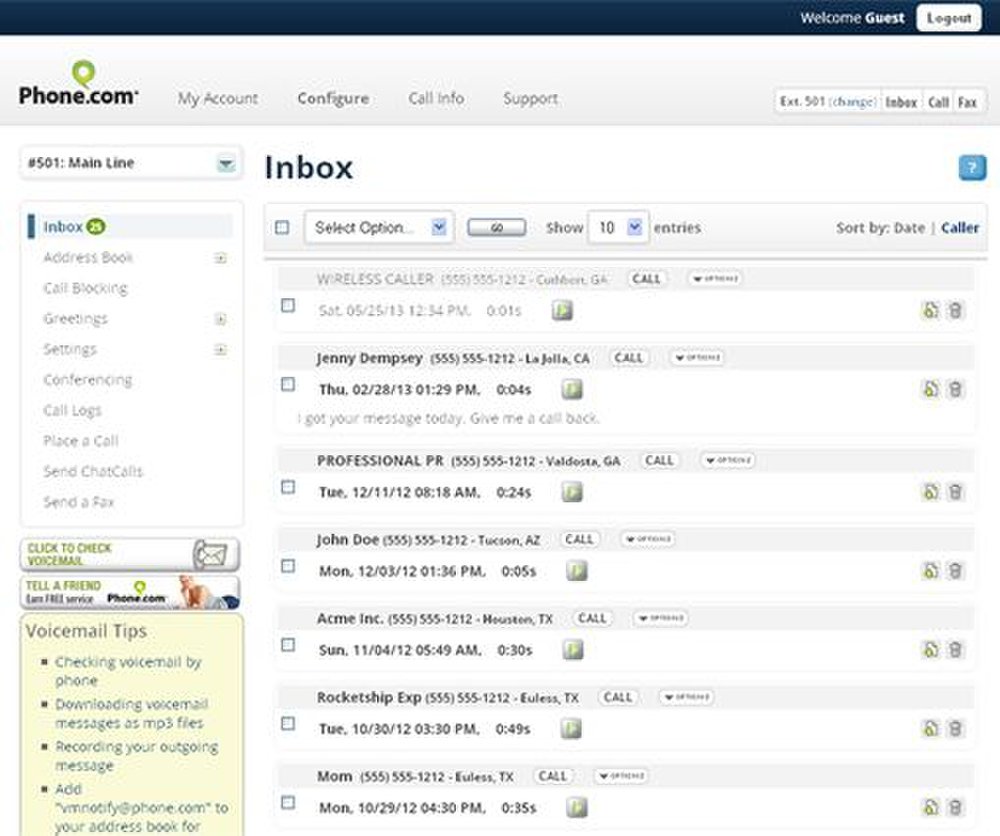 Phone.com converts your voicemails to text. You can access them online or through a mobile app.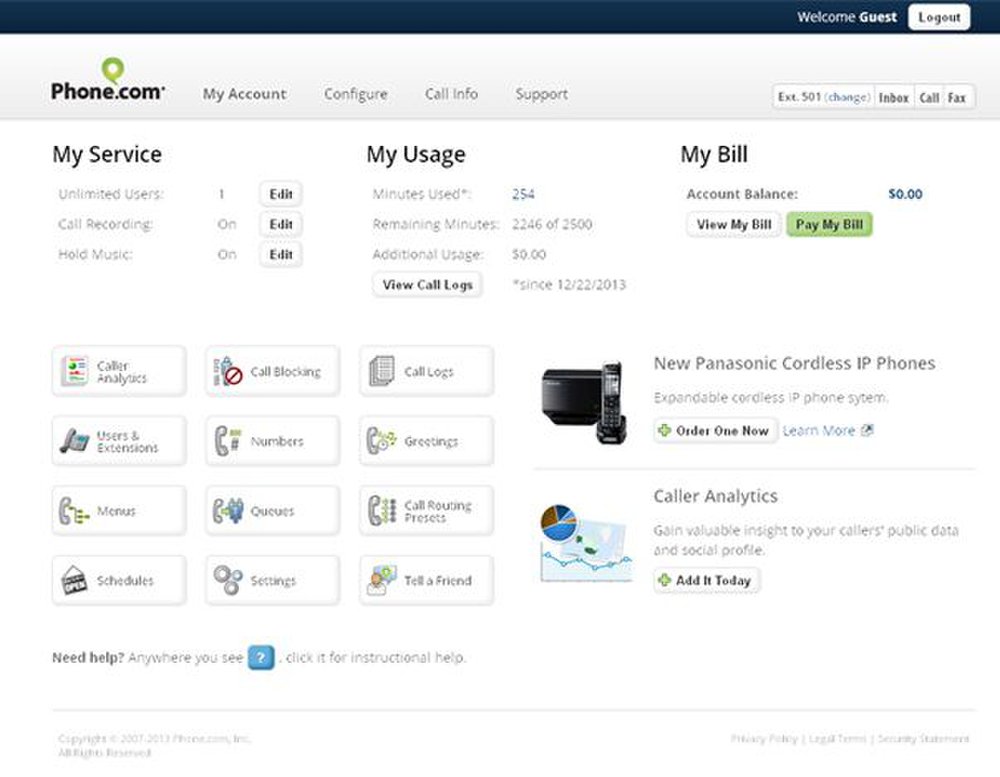 The My Account portal is where you can view call analytics, scroll through call logs, upload custom greetings and adjust general settings.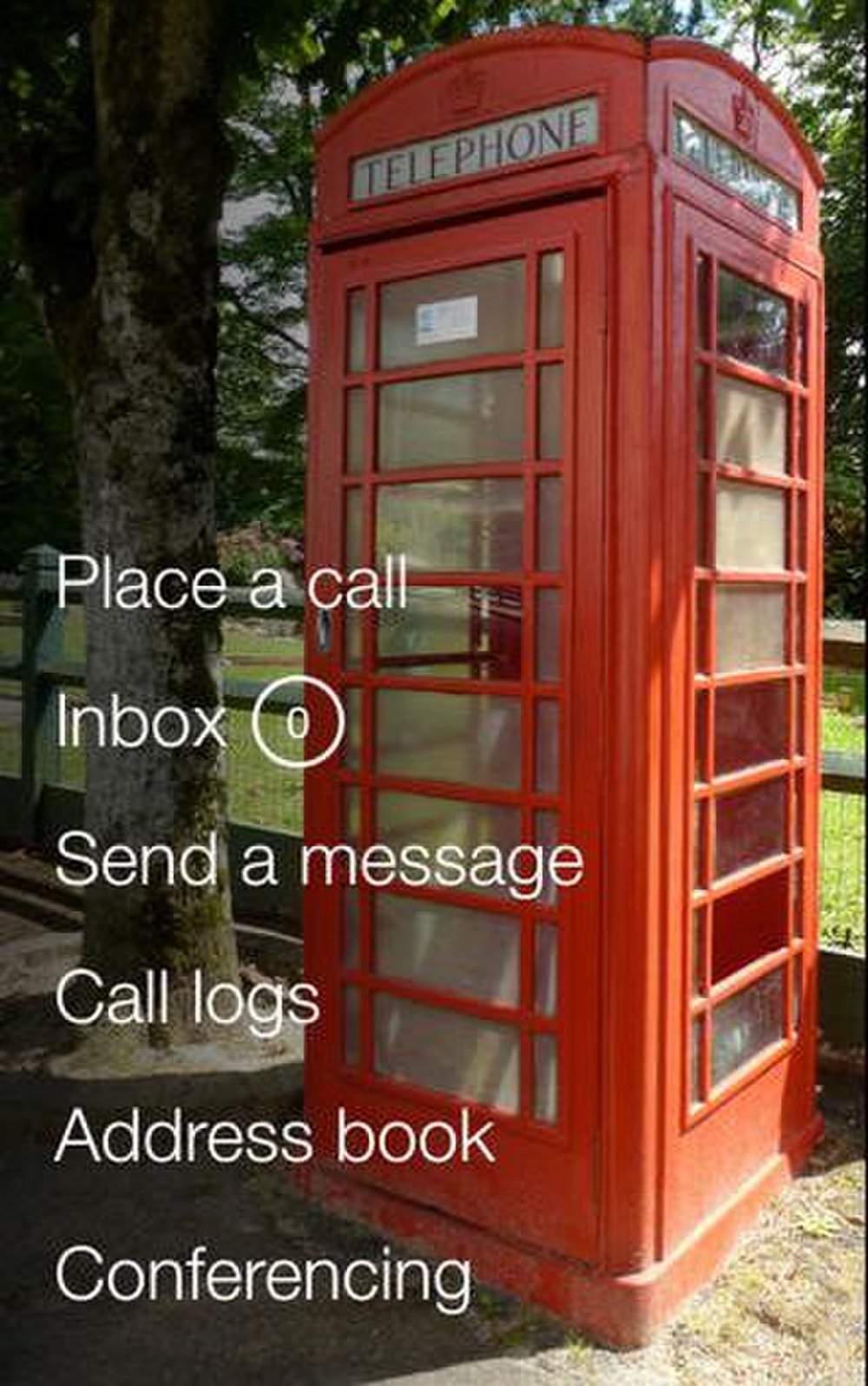 The free mobile app works for both iPhone and Android smartphones.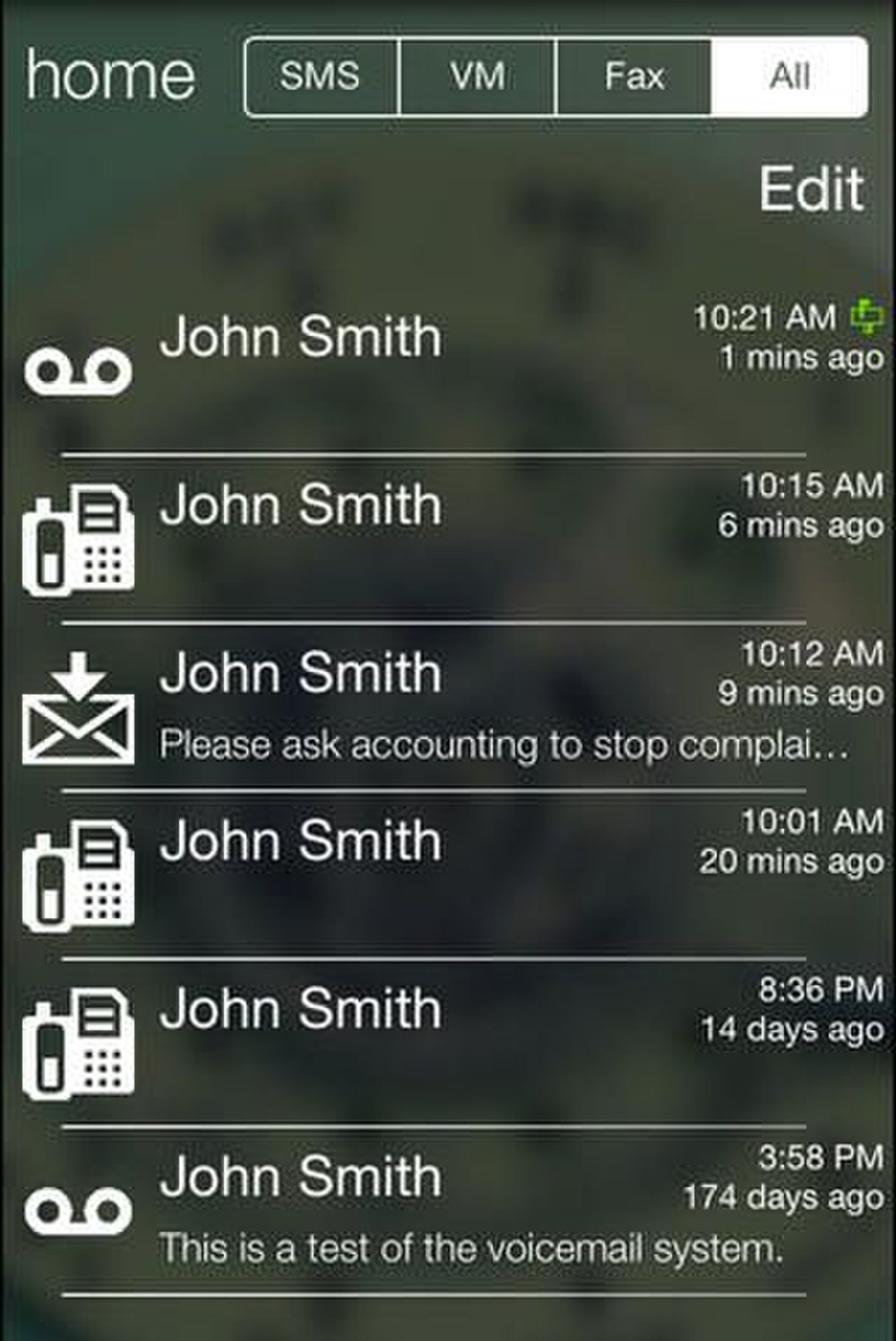 You can access your business VoIP system away from your desk as long as you have an internet connection.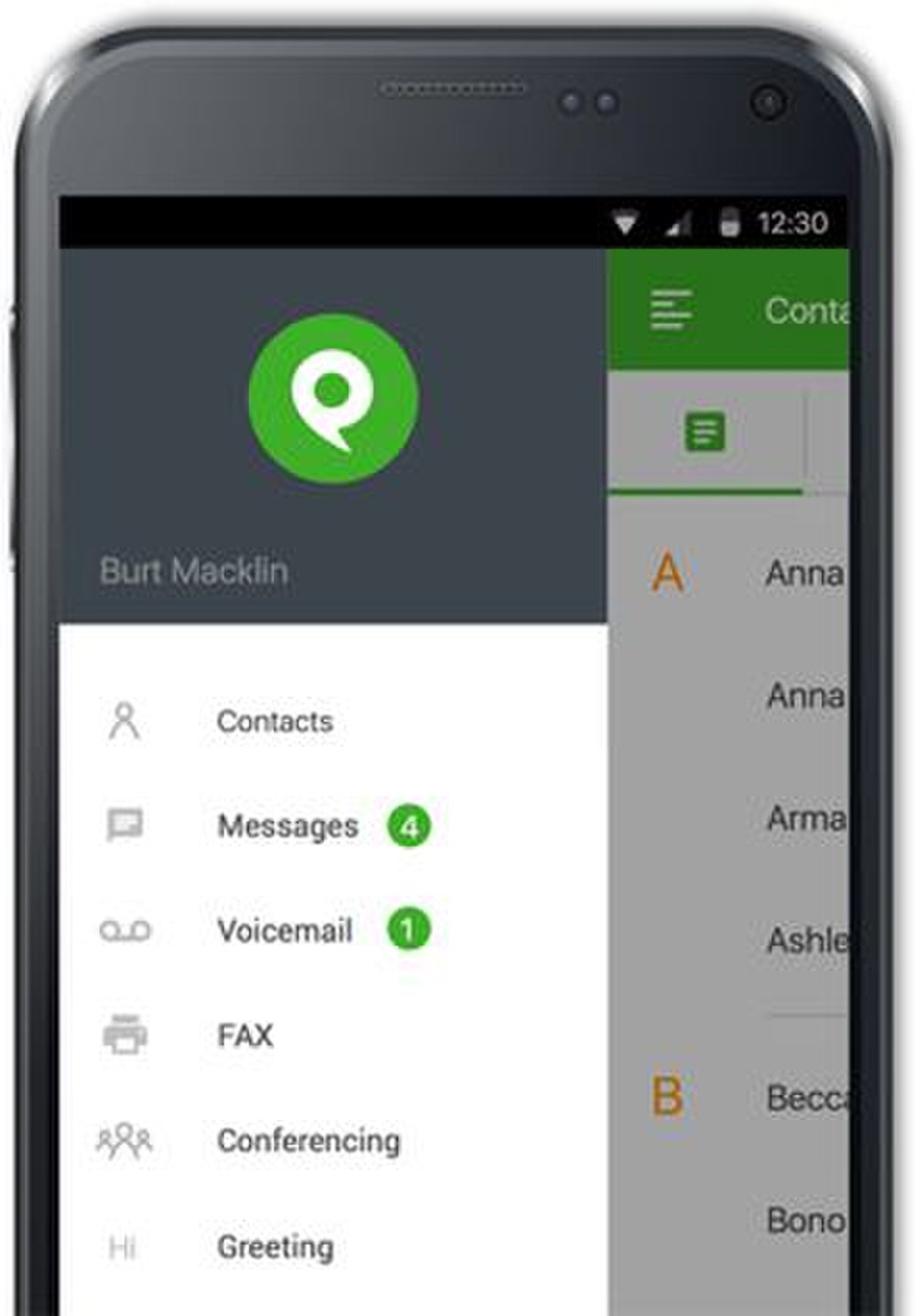 You can listen to voicemails and check your messages as well.
Phone.com is a competitively priced, cloud-based business VoIP system with more than 40 features. The system requires no hardware or maintenance, and its setup is almost instantaneous. Phone.com provides free adapters so you can use your own phones or gives you the option of leasing IP phones. The system, which integrates with popular CRM programs, is available in both unlimited and pay-per-minute plans. Phone.com's easy setup, feature set and compatibility with your existing telephones are definitely all advantages.
View all our recommendations for business phone systems on our best picks page.

Competitive Pricing and Terms
With Phone.com, you have three service plans to choose from: Base, Plus and Pro. Each plan is available in unlimited and per-minute options.
Unlimited talking plans cost $22.99 per user per month for the Base, $24.99 for the Plus and $27.99 for the Pro plan. Prices drop by $2 per user per month for the Base and Plus plans, and by $3 for the Pro plan if you pay annually instead of month to month.
The per-minute plans start at $12.99 per user per month for the Base plan, which includes 300 minutes. The Plus plan, which includes 500 minutes, is $19.99 per user per month, and the Pro plan, which includes 1,000 minutes, is $39.99 per user per month. If you pay annually, the Base plan drops by $3 per month, the Plus plan drops by $5 per month, and the Pro plan drops by $10 per month.
Base plan users are eligible for a 30-day money-back guarantee.
There are some additional charges you may incur, depending on the plan you choose and the included features.
Phones: $4.99 per phone per month
Local or toll-free phone numbers: $4.99 per month each
Global phone numbers: Starting at $4.99 per month
Call recording: Starting at $4.95 per month for 300 minutes
Caller analytics: $3.99 per month
Premium hold music: 99 cents per month
Human transcription: 25 cents per voicemail
Automated transcription: $1.25 per month per extension
Professional recording: Starting at $79
Phone.com Features
More than 50 calling, collaboration and mobile features come standard with every plan. There are also 10 premium features that are in only some of the plans.
Phone.com's standard features include the following:
Call-handling tools, such as auto attendants, call forwarding, a dial-by-name directory, dial by extension, call transfer, call blocking, scheduling, call voice tagging and Find Me/Follow Me
User extension features, including voicemail, voicemail-to-email, personalized greetings, call logs, call screening, Do Not Disturb and call transfer
Call notification, call queues, click-to-call, on-hold music and online faxing
Phone.com's premium features include the following:
Call recording
Caller analytics
Voicemail transcription
Video conferencing
Custom local and toll-free numbers
Professional recording
Conference Calling
Phone.com has a complete conference calling service built into its phone system. With the conference bridge feature, which is included for no extra charge, each employee has the ability to hold their own conference call with up to 300 callers. If your company is looking to host conference calls with more people than that, you will need to use a conference calling service. These services allow hundreds, sometimes thousands, of people on each call. You can find more information on these services on our conference call services best picks page.
Additional Considerations
Several other factors make Phone.com a business phone system worth considering:
Phone.com's mobile app, available for both iOS and Android devices, allows you to make and receive calls from your mobile devices, send text messages from your business line, conduct conference calls, and review online faxes.
The phone system has built-in integrations for Zoho and Salesforce CRMs. The integrations feature screen pops, click-to-dial and call tracking, all from within your browser.
With its special adapter, the system works with any analog phone.
Phone.com is an accredited member of the Better Business Bureau with an A+ rating. In the past three years, 15 complaints have been filed against the company with the BBB. Of those, seven were resolved to the satisfaction of the complainant.
Drawbacks
The biggest downside to Phone.com is the extra costs for various features that many phone system providers include for free, such as call recording, analytics and video conferencing. You also have a monthly charge for your phone number, regardless of whether it is local or toll-free.
Another negative is that Phone.com's website doesn't have as many support materials as some of its competitors do. While it does include getting-started guides, troubleshooting articles and a FAQs page, it isn't as extensive as competing providers' help pages.

Editor's note: Looking for a business phone system? Click the Compare Quotes button below to have our sister site BuyerZone connect you with vendors that can help.

Ready to choose your The Best Business VoIP Phone Systems for 2019? Here's a breakdown of our complete coverage:

Chad Brooks
Chad Brooks is a Chicago-based writer and editor with nearly 20 years in media. A 1998 journalism graduate of Indiana University, Chad began his career with Business News Daily in 2011 as a freelance writer. In 2014, he joined the staff full time as a senior writer. Before Business News Daily, Chad spent nearly a decade as a staff reporter for the Daily Herald in suburban Chicago, covering a wide array of topics including local and state government, crime, the legal system and education. Chad has also worked on the other side of the media industry, promoting small businesses throughout the United States for two years in a public relations role. His first book, How to Start a Home-Based App Development Business, was published in 2014. He lives with his wife and daughter in the Chicago suburbs.