PinPoint Review
By Adam C. Uzialko
Last Modified: February 22, 2019

PinPoint has a comprehensive search function for your company's database, with fields for names, content and metadata.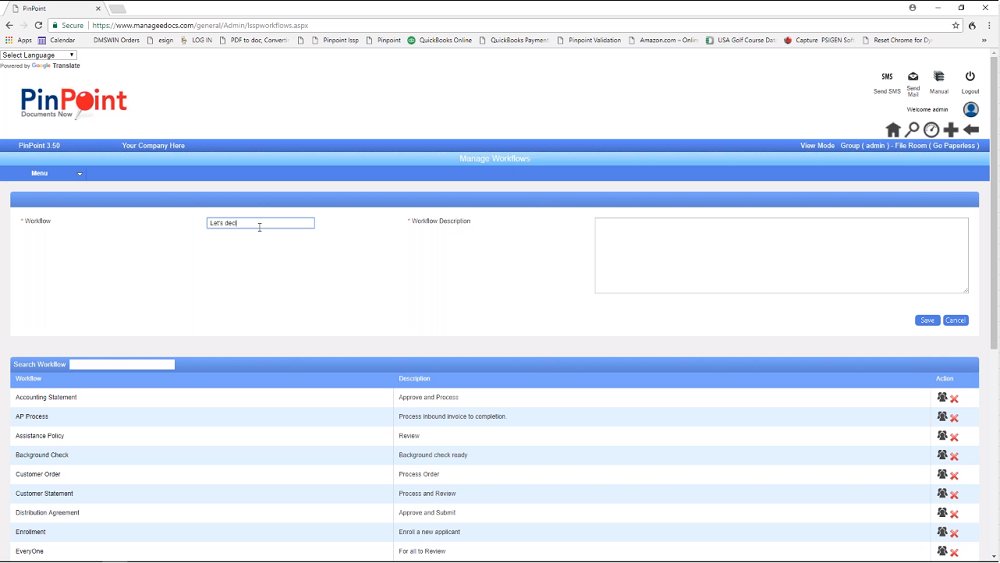 PinPoint's workflow manager helps you create and edit processes for users to follow with certain documents.
The gallery view lets you browse, view and edit documents within the database.
PinPoint is a highly customizable document management system that gives you a high degree of control over the way you organize your company's documents. The system also allows for a fair degree of collaboration on documents between team members, including comments, feedback and edits. Data stored on PinPoint is accessible on multiple devices, including PCs, Macs, smartphones and tablets.
View all our recommendations for document management software on our best picks page.

PinPoint offers both cloud-based and self-hosted options for an annual price based on the number of users your company needs on the system. It is rooted in an SQL database that is accessible through any browser and any operating system. Even with its strong selection of features, PinPoint is an affordable option.
Pricing and Plans
PinPoint's pricing is based on the number of users your company requires on the system. Depending on the package you select, PinPoint's pricing per user per month ranges from less than $3.50 to $25. This pricing is extremely competitive considering the slate of features and is among the best values we found in our reviews. The pricing plans include the full-featured software.
Up to 3 users: This plan costs $900 annually and includes up to three read-only users in addition to the three users included in the plan. It works out to $25 per user per month.


Up to 5 users: This plan costs $1,375 annually and includes five read-only users. It works out to about $23 per user per month.


Up to 10 users: This plan is priced at $2,000 annually and includes five read-only viewer accounts. It works out to just over $16.50 per user per month.


Up to 25 users: Priced at $3,600 per year, this plan includes up to 10 read-only accounts. Its cost breaks down to $12 per user per month.


Up to 50 users: This plan is priced at $5,400 annually and includes up to 15 viewers. The cost works out to $9 per user per month.


Up to 100 users: This plan is priced at $7,000 annually and includes 25 viewer accounts. It breaks down to just under $6 per user per month.


Up to 250 users: The largest plan available, this package is priced at $10,000 annually and includes 50 viewer accounts. It works out to be $9 per user per month.
Pros and Cons
PinPoint combines affordability, a good slate of features and scalability to provide an effective solution that a small business can continue using as it grows. On the downside, there is no free trial to let you test the software before buying. Instead, you'll have to rely on a live demo the company sales department provides to become acquainted with the system prior to purchase and implementation.
Pros
Flexibility: PinPoint is accessible through any web browser on any operating system, making it a flexible and versatile solution. It's especially useful for teams with multiple different devices and operating systems, or with remote workers who are not on the organization's core architecture.


Scalability: PinPoint is a highly scalable document management system that doesn't restrict access to any of its features even on the lowest pricing plan. All subscribers gain access to every feature and can simply upgrade their pricing plan if they need to add more users.


Comprehensive features: For the price, PinPoint is a relatively comprehensive document management system that offers the core features we looked for, as well as additional features that improve team collaboration and automate workflows for common business processes.
Cons
No free trial: Unfortunately, PinPoint does not offer a free trial. Live demos are available through the company's sales department, but prospective buyers will not be able to take the software for a test spin themselves. Most of the other leading document management systems we reviewed offer no-obligation free trials.
Features
PinPoint offers most of the features we looked for in a document management system, including all the most important document management features, as well as collaboration tools, workflow automation functions and mobile device access. Here are some of PinPoint's key features.
Document imaging and optical character recognition (OCR): PinPoint captures documents that are scanned or imported into the system and creates a viewable image file alongside the file format that was uploaded. OCR helps to automate the metadata capture function, allowing for easier search and streamlining the process of importing new files.


Search: PinPoint's search function covers both full-text and keyword searches, which are automatically available with the OCR engine. Users can add to documents' metadata to make them easier to find and organize the system with tags that better classify documents by their purpose.


Collaboration tools: Users can access documents from any device with a web browser. So long as a user has the appropriate permissions, they can view, comment on and edit any file stored in the system. Version control allows users to reference older versions of a document and view the current live version. Updates are saved and changes are automatically archived as part of the versioning function. PinPoint also offers a check-in/checkout function so multiple users aren't editing the same document at once and creating two contradictory versions.


Workflow tools: PinPoint's workflow tools include a task management function that allows managers to assign tasks, deliver automated notifications to users, change tasks on the fly and generate supervisory reports that hold users accountable for their responsibilities.


Permissions: Admins can set a variety of permissions based on individual users or groups within the organization. The permissions setting can be used to tailor which users are allowed to view, comment on and edit files stored in the system.


Mobile access: PinPoint is accessible on any web browser, including on mobile devices. Users can log in to the system from smartphones and tablets running iOS or Android and securely view, comment on, and edit documents stored in the system.


Integrations: PinPoint's highly flexible architecture allows virtually any third-party application to easily integrate with the software.
Limitations
We were disappointed that PinPoint does not offer a free trial like most of the other document management software vendors in our review. The company only offers a live demo of the product, so businesses considering PinPoint will not be able to try it out for themselves before making a decision.
Editor's note: Looking for a document management system for your business? Fill out the below questionnaire to have our vendor partners contact you about your needs.

Ready to choose your The Best Document Management Software of 2019? Here's a breakdown of our complete coverage:

Adam C. Uzialko
Adam C. Uzialko, a New Jersey native, graduated from Rutgers University in 2014 with a degree in political science and journalism and media studies. He reviews healthcare information technology, call centers, document management software and employee monitoring software. In addition to his full-time position at Business News Daily and Business.com, Adam freelances for several outlets. An indispensable ally of the feline race, Adam is owned by four lovely cats.