PinPoint Review
By Andreas Rivera
Last Modified: December 10, 2018

PinPoint features a comprehensive search functionality for your company's database, with fields for searching for names, content and metadata.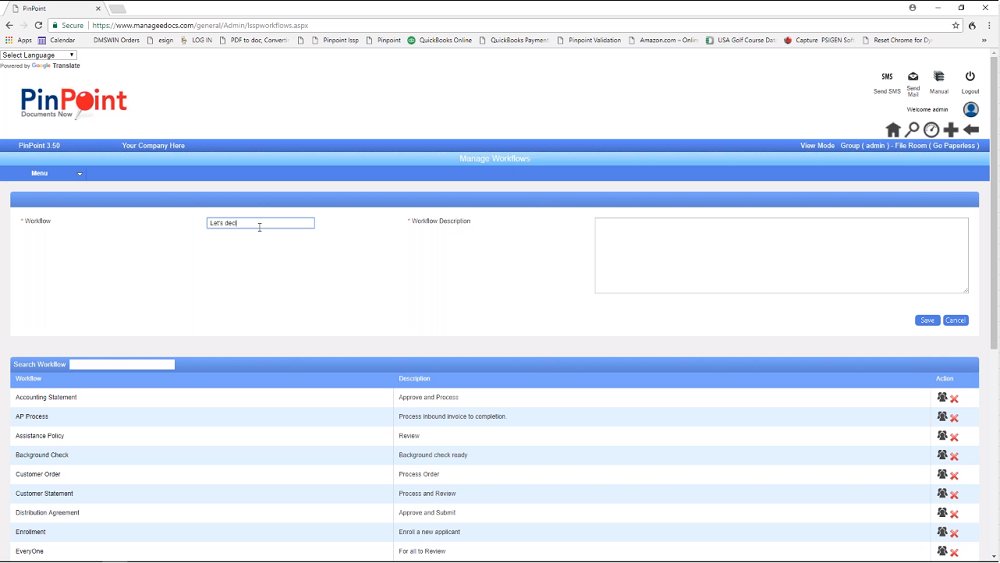 PinPoint has a workflow manager to help you create and edit processes for users to follow with certain documents.
Pinpoint has a gallery view that lets you browse, view and edit documents within the database.
PinPoint is a powerful document management software (DMS) program you can run from your server or from PinPoint's cloud data center. With the right permissions, you can access your stored data using PinPoint on any PC, Mac, tablet or smartphone.
Like most DMS applications, in addition to saving the original native file, PinPoint creates a viewable PDF for any authorized user to see. But unlike other DMS programs, PinPoint's viewable PDFs allow your employees or other stakeholders to add their comments or feedback to a document without requiring that they use PinPoint.

This functionality means your key people don't need specialized software in order to edit or provide feedback on your company's key documents. The application, though, allows others to check out the document and make needed changes to the original if they have PinPoint installed.
One feature that differentiates PinPoint from other DMS applications is that it files documents automatically without the need for human intervention. The software searches each document for file type, name, topic, date and other pertinent information. It then files links to that particular document using those parameters.
For example, if you are working on an invoice, and a company name, address, and date appear on the bill, PinPoint files it as a bill, retaining the other pieces of information. If you later search for that specific invoice using the billing date, the most recent version will be there. Add "bill" to your search terms and all of the most recent invoices will be presented.
PinPoint integrates seamlessly with many common business applications, including accounting software, Microsoft Office applications, Adobe's Creative Suite, customer relationship management programs and cloud storage applications. It is also compatible with most browsers.
You can find training classes and video tutorials on the company's website or through the application. The website does not offer live chat.
PinPoint document control software is easy to use, has an excellent support structure and a strong list of features, including a time-saving function that files your documents automatically. It's also ideal for flexible workspaces with mixed computer devices because it works with Macs, PCs, tablets and phones.

Ready to choose your Best Document Management Software? Here's a breakdown of our complete coverage:

Andreas Rivera
Andreas Rivera graduated from the University of Utah with a B.A. in Mass Communication and is now a staff writer for Business.com and Business News Daily. His background in journalism brings a critical eye to his reviews and features, helping business leaders make the best decisions for their companies.