Point2 Property Manager Review
By Business.com Editorial Staff
Last Modified: December 18, 2017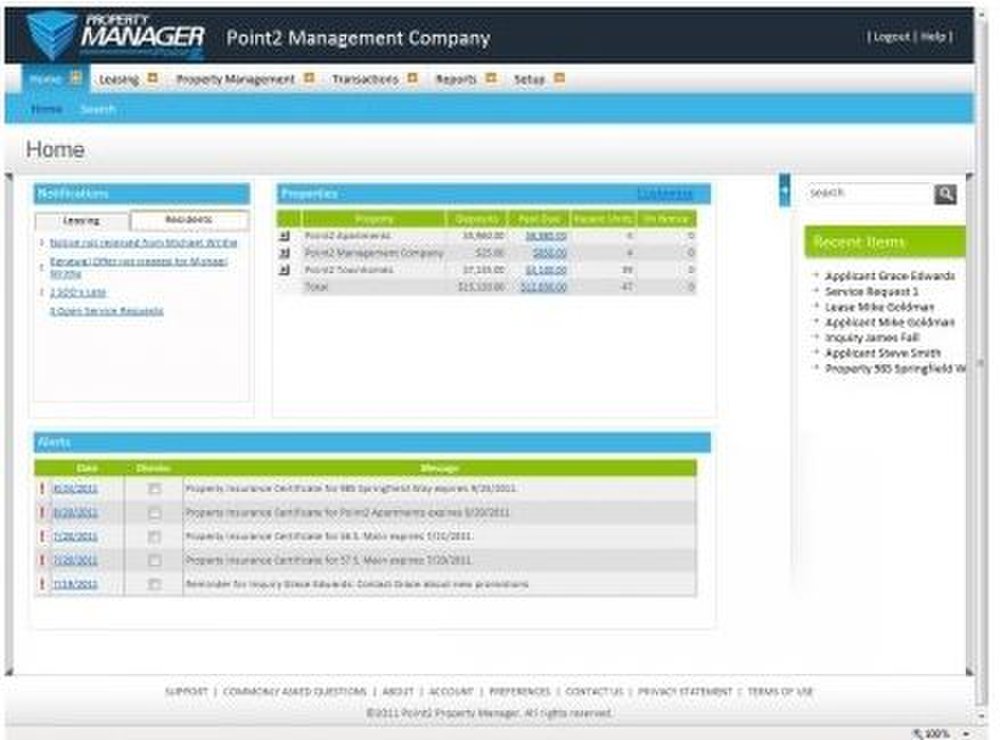 Point2 Property Manager image: You can see a brief overview of your properties on the home screen.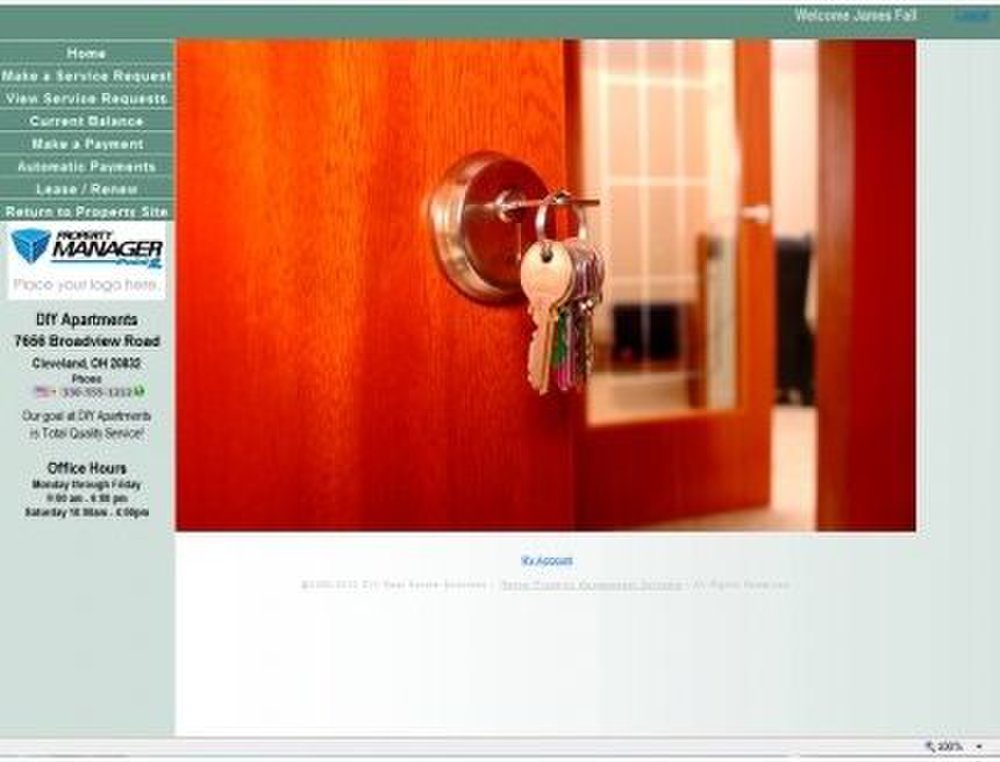 Point2 Property Manager image: The tenant portal allows your residents to perform a variety of tasks, including paying rent online.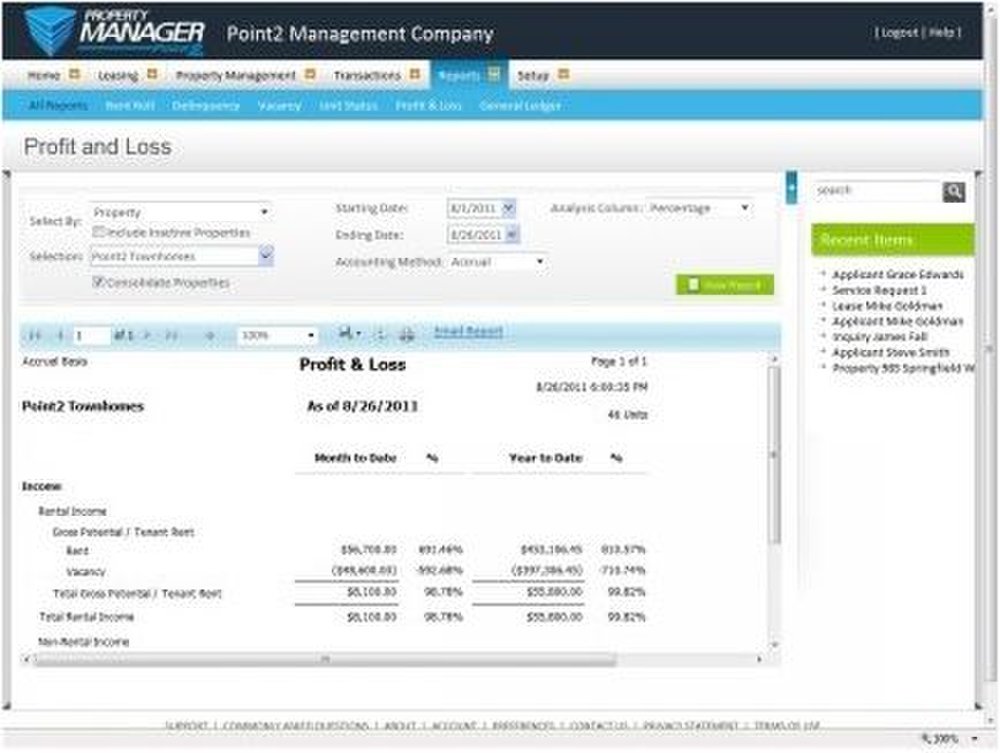 Point2 Property Manager image: The reporting features of this property manager software can help you keep tabs on profit and loss.
Point2 Property Manager is a complete online property management software system for owners of property management companies with as many as 1,000 units under management. This property management software has a strong and useful set of features for marketing, tenant management, facilities management, accounting and reporting.
Point2 Property Manager offers web design tools and templates to create personalized customer websites hosted by the company. The customer-branded website can list properties with photos and floor plans, provide directions, and receive guest cards. In addition, it can accept applications, online application fees and security deposits. The product also allows you to easily post vacancies on many popular rental websites.

Point2 Property Manager
Best Property Management
The Verdict
Point2 Property Manager is an all-in-one property management solution with several features to help make your job easier. There isn't an easy way to migrate your data from other services to this application, though.
Visit Site ▶
The product includes services for background checks, credit screenings and debt collection services. From the tenant portal, renters can view lease balances and payment histories, and renew their leases. Tenants can authorize automatically recurring rent payments via the tenant portal. The software includes integration with Solveras Payment Solutions to accept online rent payments using credit cards or ACH check processing.
You can track payment histories and view lease agreements, and post utility charges, NSF fees and late charges to tenant accounts. It is also possible to track delinquencies and assess late charges. Another useful management feature is the ability to design and print property management forms. Access to a debt collection agency comes with this property manager software.
Point2 Property Manager tracks maintenance service requests. Tenants can submit service requests through the tenant portal and managers can turn the requests into work orders. The product tracks the status of all repairs, and calculates and generates utility bills.
This rental property management software supports different levels of user access. Owners have online access to their financials and can receive electronic payments, monthly owner statements, details and summaries. A library of management reports is online and user-defined forms are supported. Reports can be exported to Excel, PDF, CSV, SML, TIFF and web archive formats.
The best property management software has a completely integrated accounting system, which Point2 Property Manager has; however, because it can export data to QuickBooks, you can use Point2 Property Manager for property services while maintaining QuickBooks for accounting. You cannot import data from another system, though, so if you're switching over from a different system, you're likely going to do a lot of manual data entry.
Point2 Property Manager's accounting tools can record invoices when received and pay them when due, maintain and reconcile multiple bank and credit card accounts, post journal entries, and maintain separate accounting books for different properties under a Point2 Property Manager account. Before generating financial reports, you can choose cash, accrual or modified cash accounting methods according to the different requirements of owners and fee-based property solutions. Managers usually track business on a cash basis; owners usually want the accrual method.
Fee-based online property managers can configure the product to extract the commissions and fees due to them from owners and post them to the general ledger. A management-income link on the company setup page allows you to specify income by category along with percentages to be retained by the management company. After you define management fees on the property management menu, it automatically calculates management fees.
Support is included with this service. A quick-start guide is also available. The product contains online help screens. Point2 Property Manager hosts a blog and is on Facebook and Twitter.
Point2 Property Manager is a full-featured online property management product for owners or fee-based managers. It receives electronic rent payments and can pay owners electronically. It includes useful services such as the ability to perform background checks and connect with debt collection agencies.

Point2 Property Manager
Best Property Management
The Verdict
Point2 Property Manager is an all-in-one property management solution with several features to help make your job easier. There isn't an easy way to migrate your data from other services to this application, though.
Visit Site ▶
Ready to choose your Best Property Management? Here's a breakdown of our complete coverage:
Business.com Editorial Staff
The purpose of our community is to connect small business owners with experienced industry experts who can address their questions, offer direction, and share best practices. We are always looking for fresh perspectives to join our contributor program. If you're an expert working in your field – whether as an employee, entrepreneur, or consultant – we'd love to help you share your voice with our readers and the Business.com community. We work hard to only publish high-quality and relevant content to our small business audience. To help us ensure you are the right fit, we ask that you take the time to complete a short application: https://www.business.com/contributor/apply/ We can't wait to hear what you have to say!